Become a PADI Professional Divemaster and Live the Dream
Do you love scuba diving? If you want to use your scuba diving skills and help other divers, or start a career in diving, then the PADI Divemaster course is where it starts!
Sign up today and you can turn your love of scuba diving into a career.
Try it Free
If you aren't sure if you wish to commit to the Divemaster yet, then you can try out the theory free of charge and with no further obligation, just hit the button below to get started!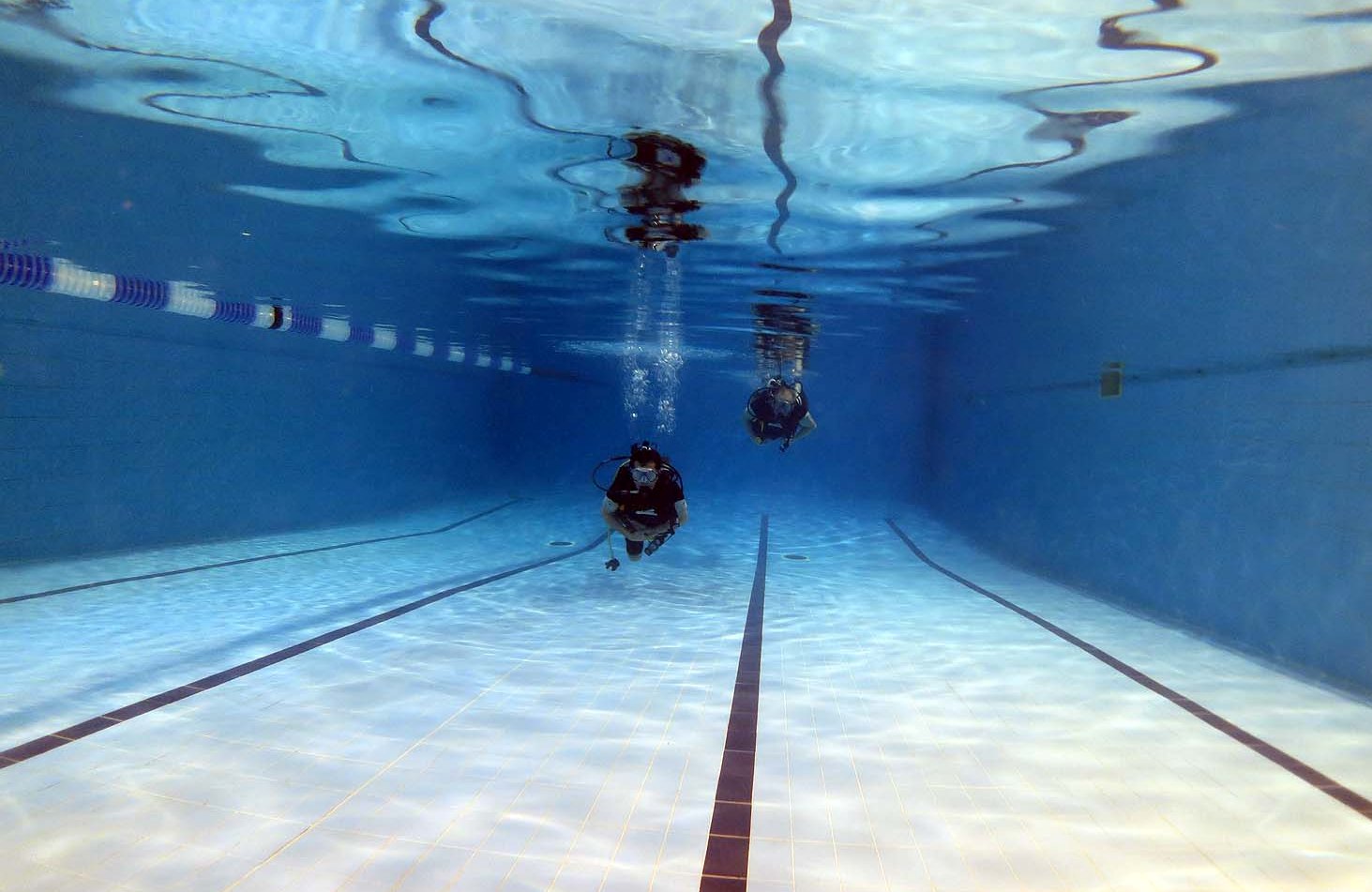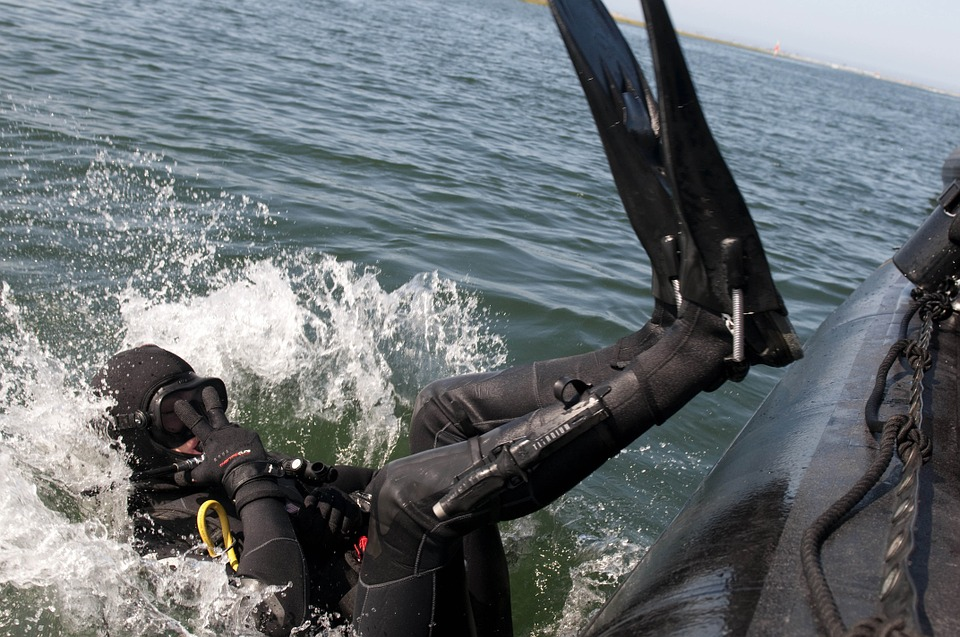 Requirements for the Divemaster Course
As a budding trainee divemaster, you will need to be 18 years old and you will also need the following qualifications:
Emergency First Response Primary and Secondary Care training that has been completed within the past 2 years.
A log of at least 40 dives to begin the course, and a final log of 60 dives to earn the Divemaster certification.
A medical statement that is signed by a physician who has assessed you within the last 12 months.
A medical statement that says you are 'fit to dive'.
PADI Rescue Diver certification.
What Do You Learn on the Divemaster Course?
The PADI Divemaster course teaches you how to become a confident diver and leader. Through the development of various water skills, exercises, workshops, and hands-on practical assessments, you will develop the necessary skills. By taking part in the Divemaster course, you will learn a whole range of skills, including:
Awareness of the dive environment
Mapping an open water diving site
Conducting programmes and specialised skills
Supervising dive activities and assisting with student divers
The role and characteristics of the PADI Divemaster
Dive setup and management
Organising a search and recovery project and a deep dive.
These are just some of the skills you will learn on the Divemaster course. For the full details, get in touch with the Oyster Diving team.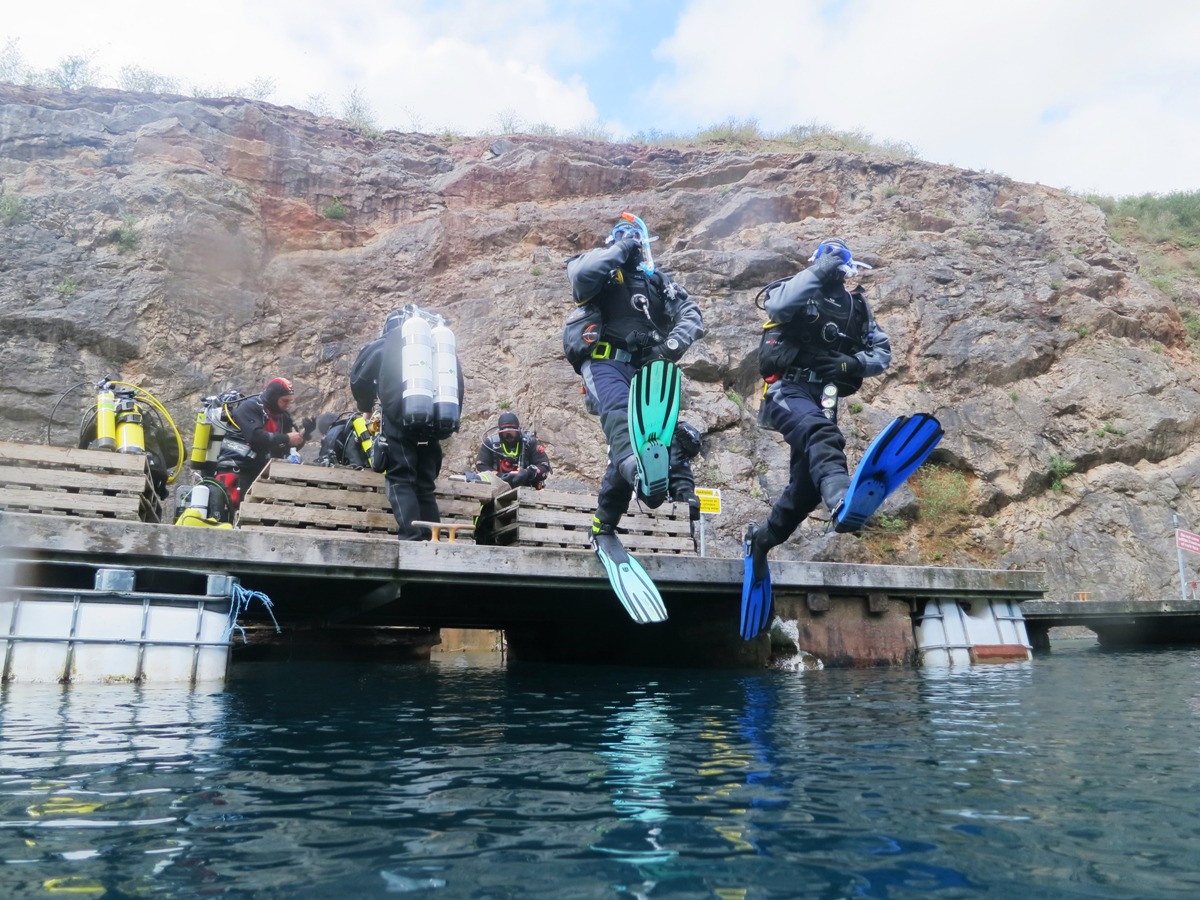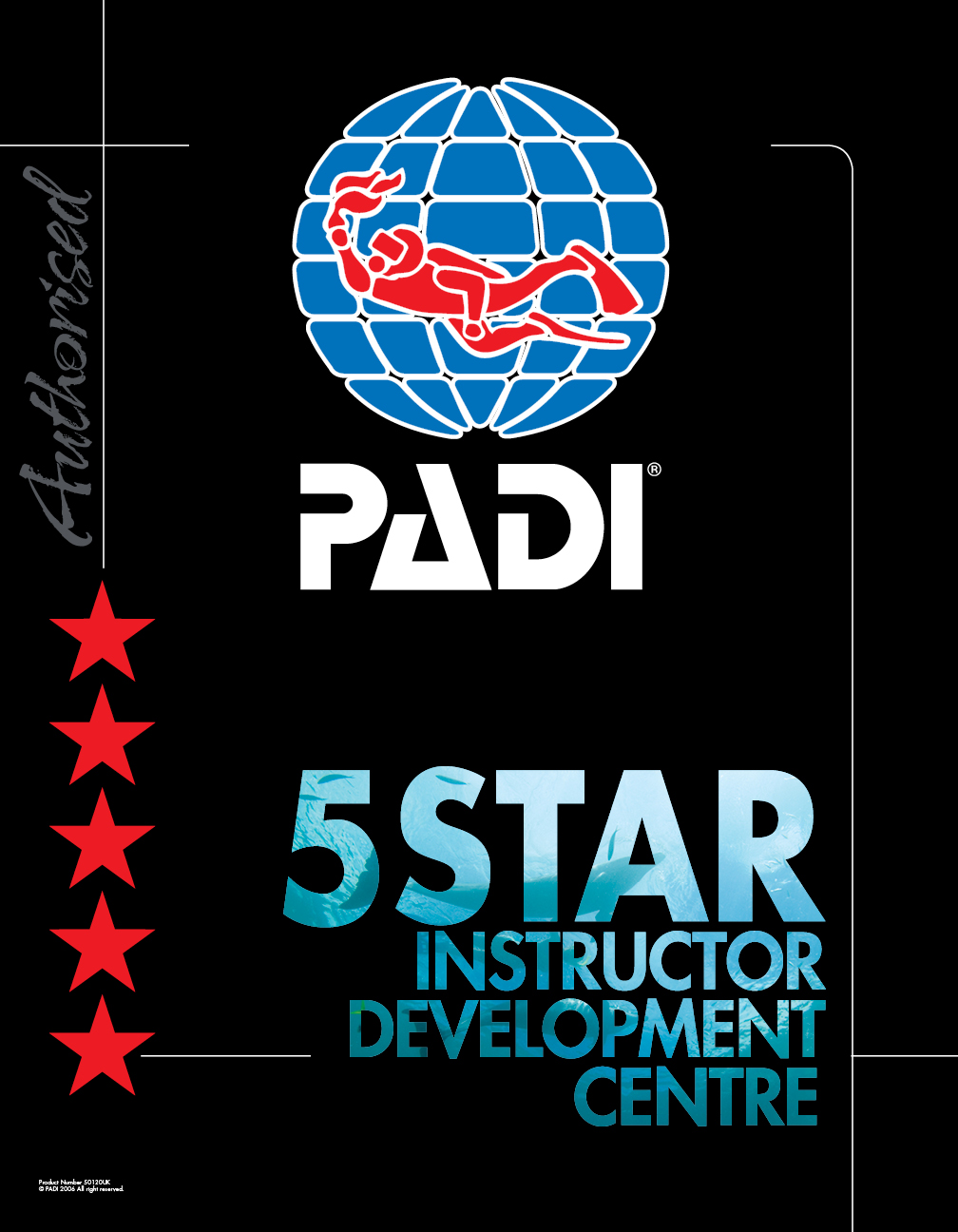 Why Complete your Divemaster Course with Us?
We are a PADI 5-star IDC multi-award winning scuba diving and travel centre. We have been teaching Divemasters for over 17 years in the UK.
We have a dedicated team of professional fun and enthusiastic instructors
We have 6 heated pool locations for you to choose from
We have our own exclusive lake that offers good visibility, is very naturally pretty, has lots of fish life, and we frequently have BBQ's on a Saturday afternoon
As a PADI 5-star IDC centre you can choose to complete your PADI Instructor course with us afterwards (you get paid more and there are more opportunities)
You get free entry to the lake (normally £15/day) when you assist with courses
You get free equipment hire for the duration of your course allowing you to learn and gradually build up your own kit
You get free club membership that includes benefits such as 10% off Apeks, Fourth Element and Aqua Lung kit
Price
£695 plus £220 Divemaster Crewpack. The Crewpack contains:
1 x Online learning
4 x Divemaster Slates
1 x Divemaster instructor manual
1 x Encyclopaedia of Recreational Diving online
1 x Professional Training Log
Includes equipment hire where necessary. Does not include PADI membership fee (paid directly to PADI on completion of the course), entry to lakes, travel and air fills.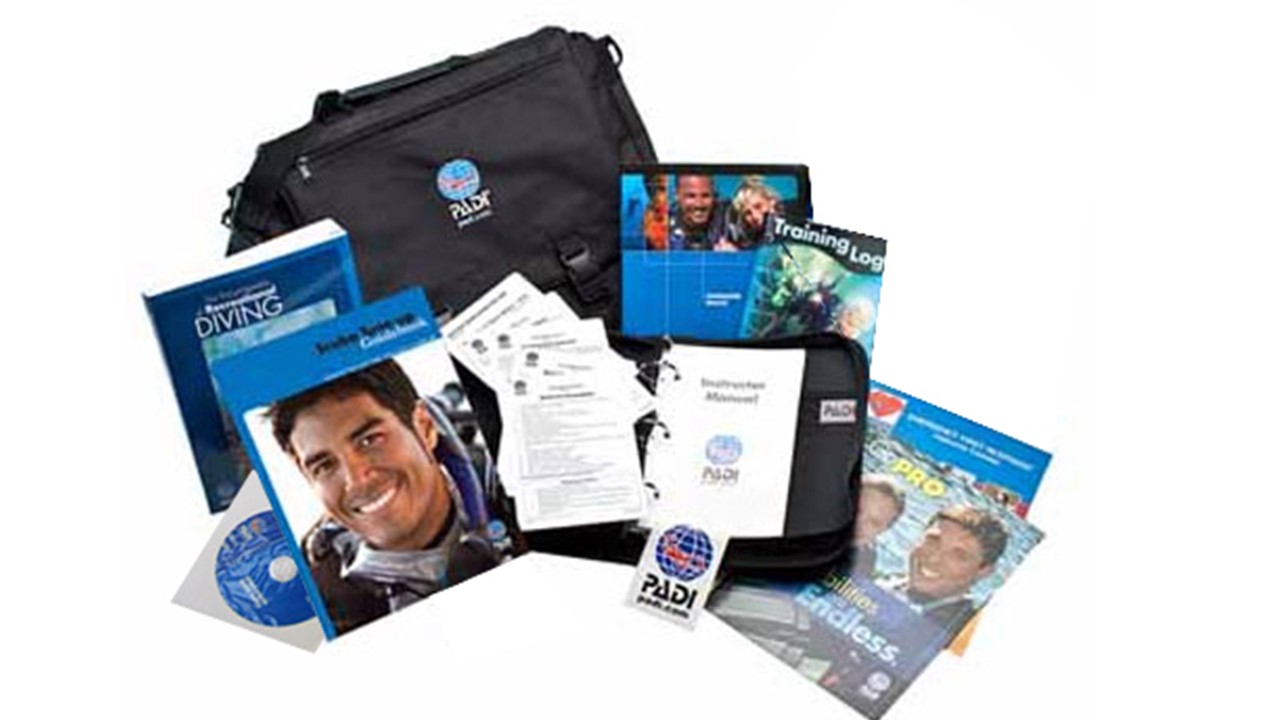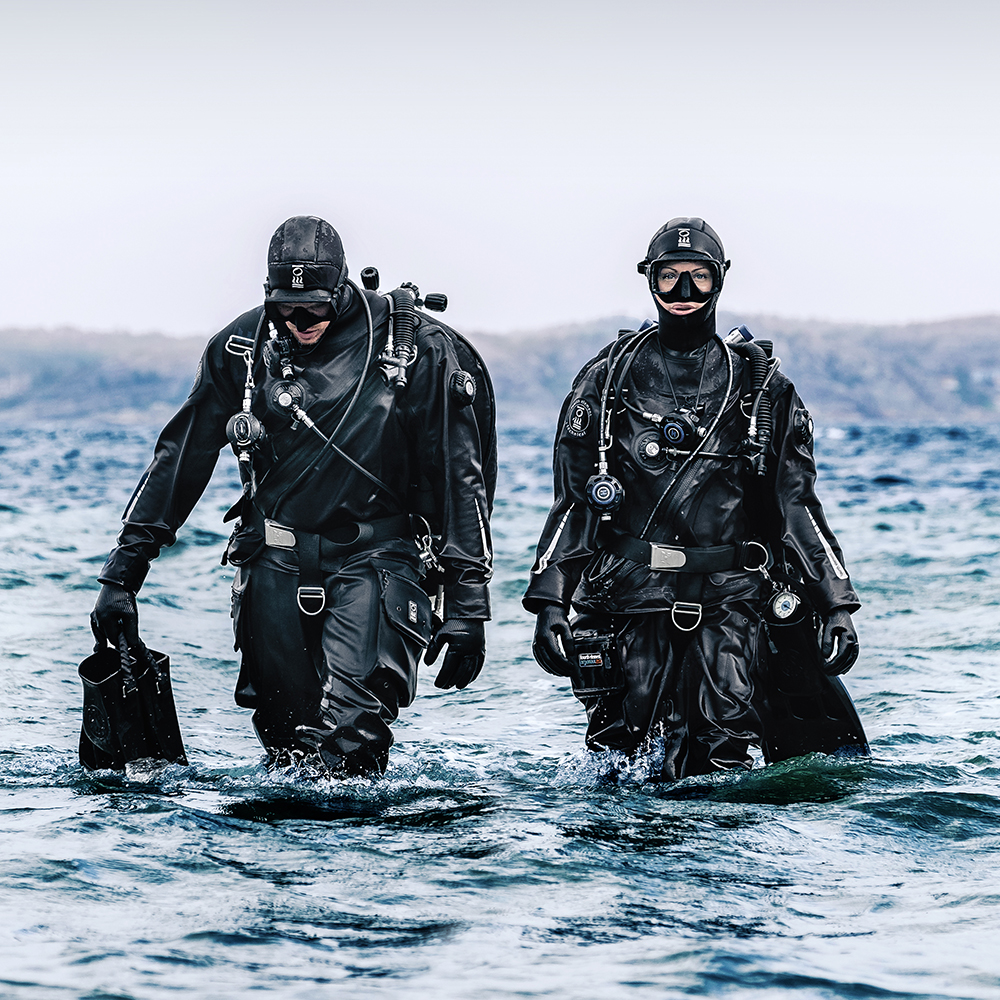 What Equipment Do You Need for the Divemaster Course?
If you're looking to become a dive professional, it is important to look professional, so having your own scuba diving gear is imprtant. It should include a dive computer, at least two surface signalling devices, and a dive knife. If you have any questions about the equipment required for the Divemaster course, please do not hesitate to contact our team for further advice.
What Can Divemasters Do?
Once you have qualified as a Divemaster you will be able to assist the diving instructors as they teach others.
You will be able to take certified divers on guided dives in open water
You can teach various courses (see below)
You'll be qualified to advise customers on purchasing the right dive equipment for them
If you choose to take the PADI Divemaster course you will be qualified to work at any PADI dive centre around the world.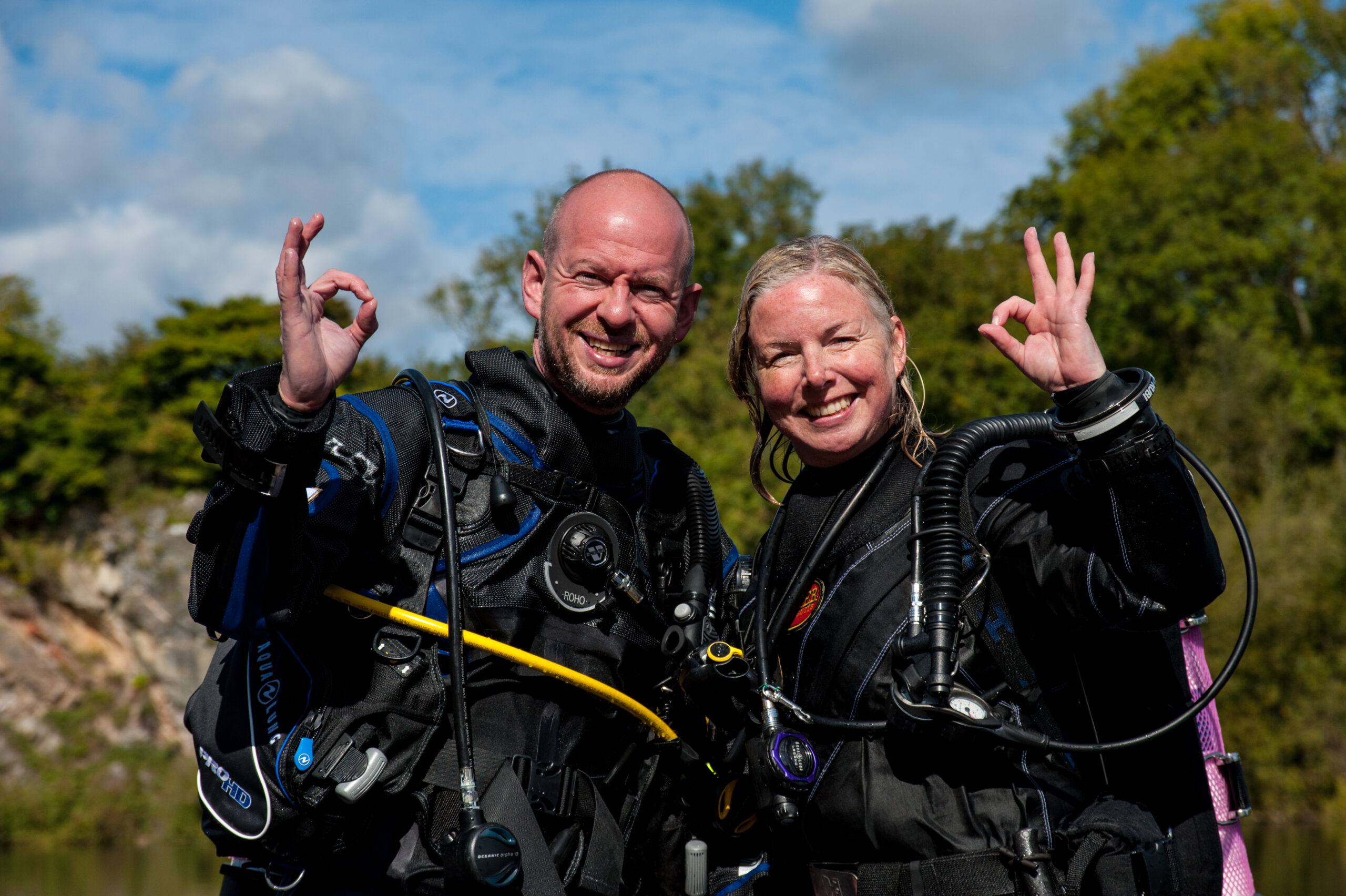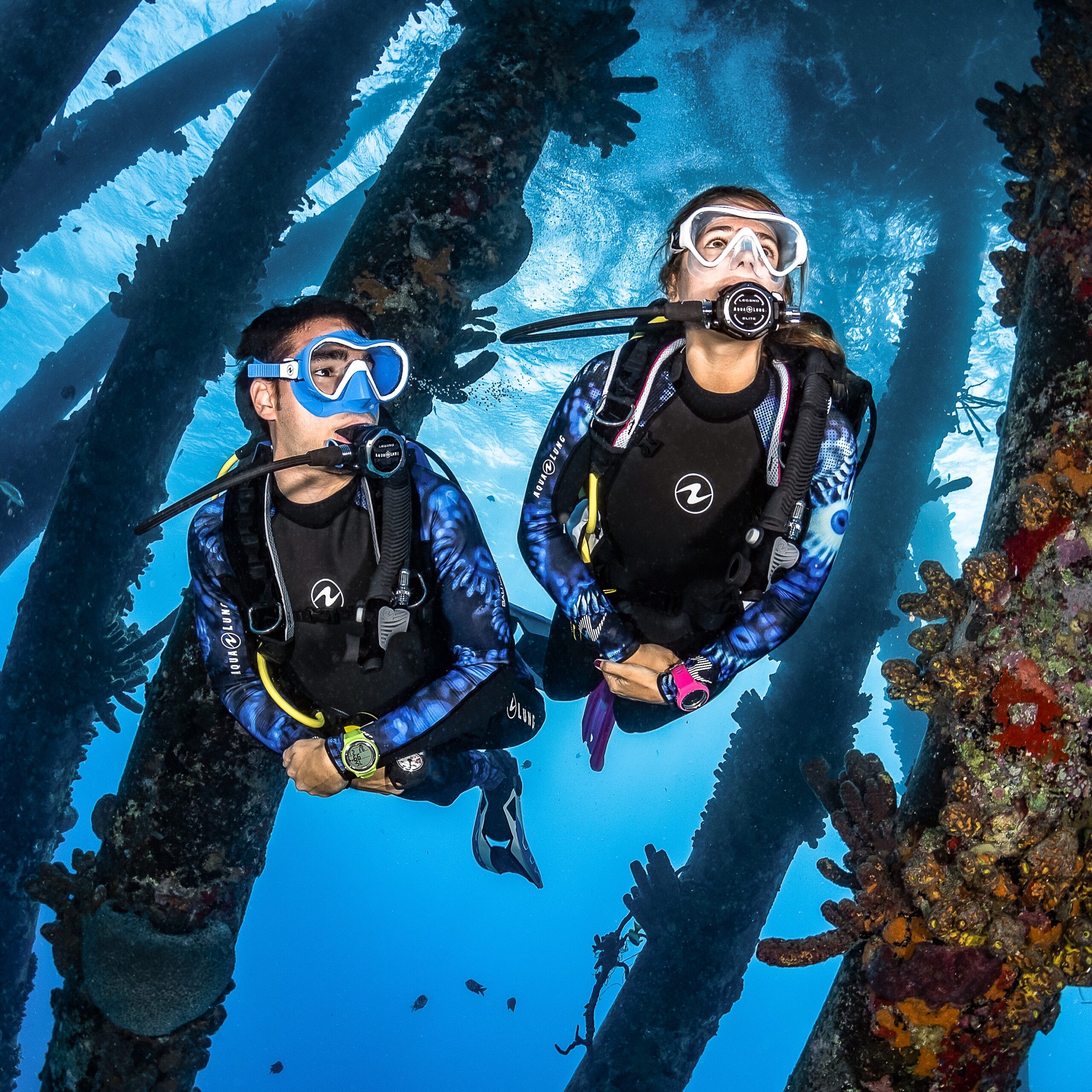 What Can You Teach as a Divemaster?
After becoming a qualified Divemaster there are so many aspects of diving you can teach, including the following:
Supervise both training and non-training-related activities by planning, organising and directing dives.
Assist a PADI instructor during the training sessions for any PADI diver course
Conduct the PADI Skin Diver course and PADI Discover Snorkelling programme.
Conduct the PADI Discover Local Diving experience.
Conduct the Refresher Course.
If qualified as a Discover Scuba Diving Leader, independently conduct the PADI Discover Scuba Diving programme.
Earn the PADI Digital Underwater Photographer Specialty Instructor rating to be able to teach the PADI Digital Underwater Photographer speciality.
Independently guide Open Water Diver course students on the tour portion of Open Water Diver course Training Divers 2, 3 and 4 at a ratio of two student divers per certified divemaster.
Accompany Open Water Diver students under the indirect supervision of a PADI instructor during surface swims and ascents or descents.
Accompany student divers during Adventure Dives or specialty training dives under the indirect supervision of a PADI Instructor.
Conduct the PADI Seal Team Skin Diver Specialist AquaMission.
Conduct subsequent dives under an instructor's indirect supervision for Discover Scuba Diving participants after participants have satisfactorily completed the first dive with a PADI Instructor.
Teach Emergency First Response courses after successfully completing an Emergency First Response Instructor course.
We have a dedicated 'Divengers' WhatsApp group and dedicated instructor for teaching your course
Be part of team at one the largest dive schools in the UK
Optional Bolt-On | Stunt Performer Specialty Package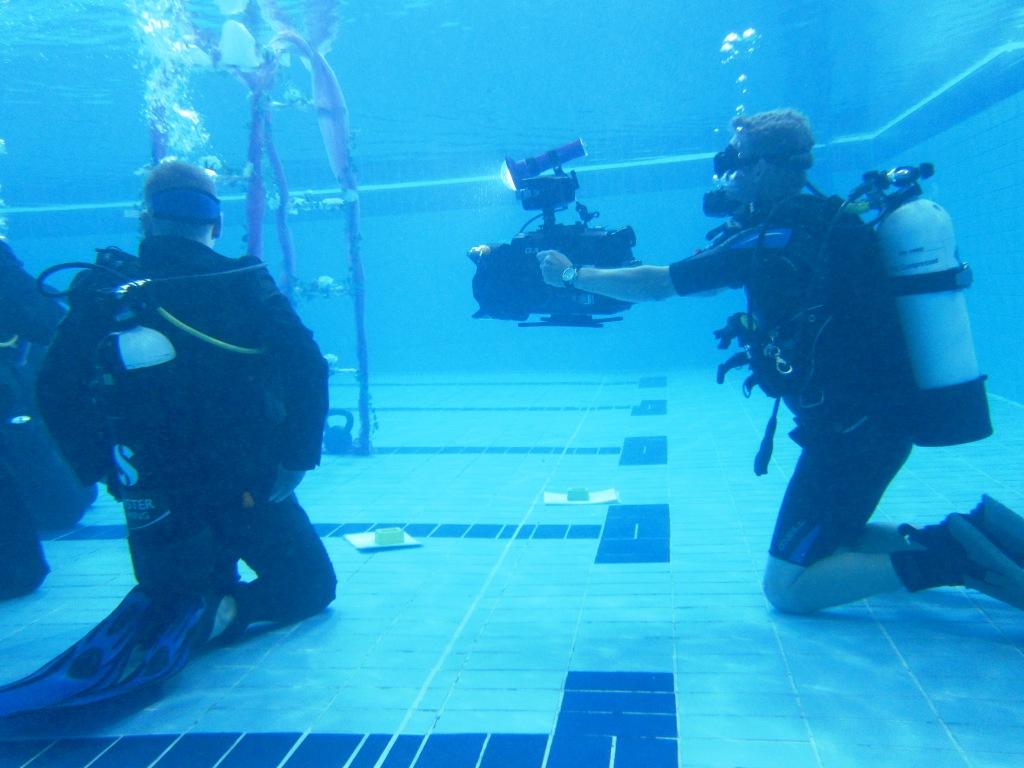 To become the ultimate Divemaster and for those training to become stuntmen and performers we have developed a bolt-on optional package to include the following specialties:
Nitrox – stay deeper for longer
Deep spec – qualify to dive to 40m
Equipment specialty – learn how to look after and maintain your gear (not servicing)
Navigation specialty – be more competent at guiding and finding your way around a dive site
Dry suit – gives you the option to dive in all weather temperatures and to stay warmer. It is now mandatory for stunt performers to have completed a minimum of 30 cold water dives (below 12 degrees). For those completing their stunt course we can offer you free equipment hire to log the cold water dives and build experience in exchange for assisting on courses
Save £627.50
RRP. £1,255. Bolt-on price only £627.50
Is the Divemaster Course Very Difficult?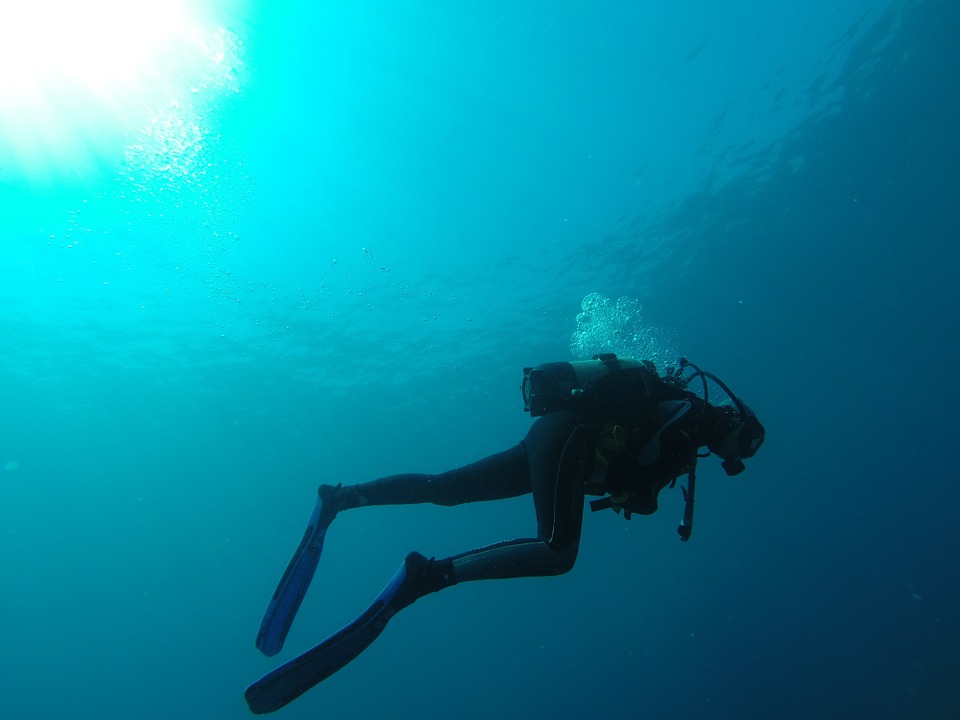 The Divemaster course is difficult in the sense that it requires hard work and dedication from you. While taking the divemaster course, you will be diving weekends and evenings, learning dive theory and how to prepare the equipment. You will also have to sit a few dive exams and pass the divemaster 400m swim and the divemaster 800m swim.
However, there are so many aspects of the divemaster course to enjoy. Not only can you get to enjoy some lovely locations, but you will also train with a group of people who are as passionate about scuba diving as you are.
Develop Your Diving Knowledge
On the Divemaster course you will develop your diving theory to an extremely high standard. The Divemaster test will test your diving knowledge in the final exams to test your knowledge and theory of PADI standards.
Explore New Depths in the Water Skills Assessment
The water skills assessment ensures you meet the high standard required to become a PADI Divemaster. During the water skills assessment, your swimming strength, ability to cope with stress, and the overall level of the diving skills you have.
Practical Diving Application
The course allows you to develop your leadership qualities through numerous workshops, scenarios, and practical assessments. This mix of practical applications will help provide you with the hands-on skills and experience needed to become an expert Divemaster.
Benefits of Taking the Divemaster course with Oyster Diving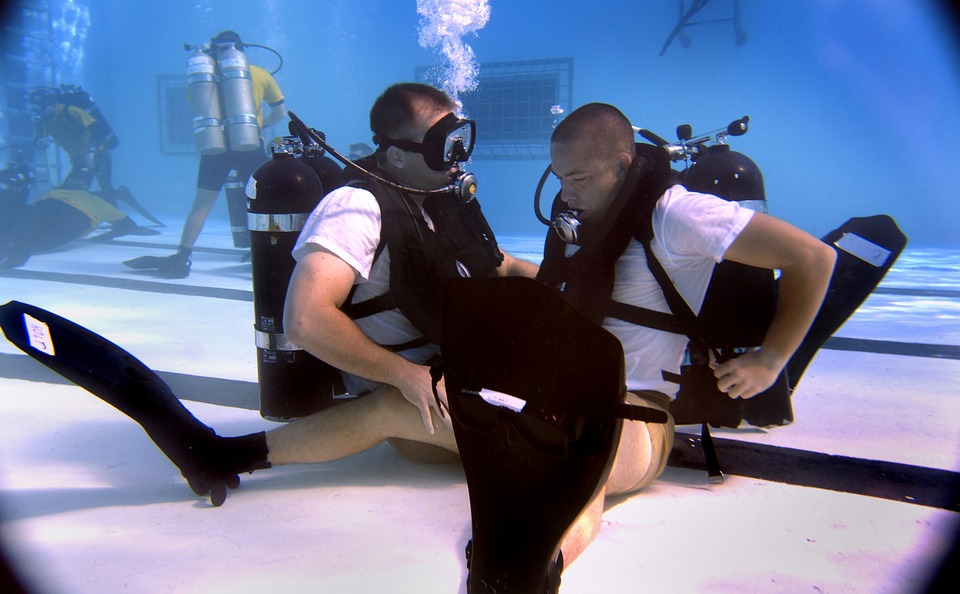 You will be taught by PADI qualified diving instructors throughout your dive training at one of the busiest dive schools in the UK, ensuring your receive some of the best diving advice available. Booking your divemaster course with Oyster Diving permits you a FREE club membership for 12 months' worth £95! You can also join our exclusive Whatsapp group, 'Divengers Assembly' where you can liaise with other Divemasters and ask our instructors questions. So, if you want some of the best benefits in the diving industry, Oyster Diving are the company for you.
Become a Divemaster and Work Abroad
Live in a country you've never been too before, with warm waters and gorgeous dive sites and become a professional Divemaster. Once you have completed the Divemaster course with us, the whole world is your oyster. All you have to do is find the perfect diving job for you. The PadiPro website is a great source for job hunting and will regularly post new job listings for Divemasters looking to work abroad. Some of the top destinations our passed Divemaster students have worked include:
Florida
Canary Islands
The Red Sea
Malta
Thailand
Mexico
And more. Turn your dream of becoming a divemaster abroad into a reality. Train with the team at Oyster Diving and you'll be living out your dream diving experiences soon enough.
Book Your Divemaster with Oyster Diving Today!
The Divemaster is one of the most popular courses we offer at Oyster Diving and it's not hard to see why. Become a qualified PADI divemaster and you can share your love of diving with others all over the world! Take the plunge and sign up with us today, you don't want to miss out!