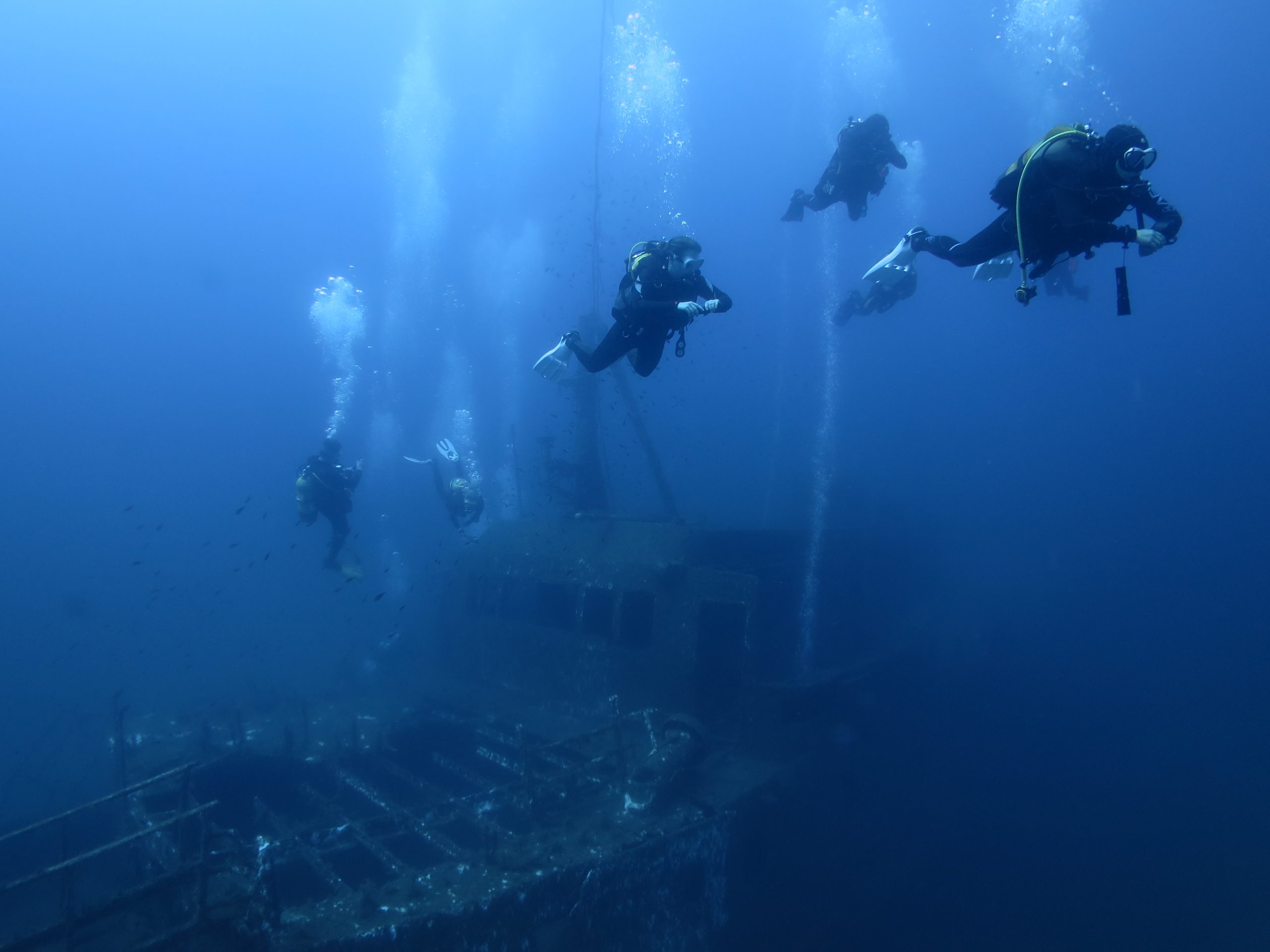 The world's most popular scuba diving course
The PADI Open Water Diver course is the world's most popular and recognised scuba diving certification. It has introduced millions of people from around the world to the adventurous diving lifestyle. Once qualified as an open water diver you will have a life-long open water certification that enables you to dive around the world to a maximum depth of 18m. Please read below how we deliver the UK's best open water courses at our PADI 5-star Instructor Development Centre.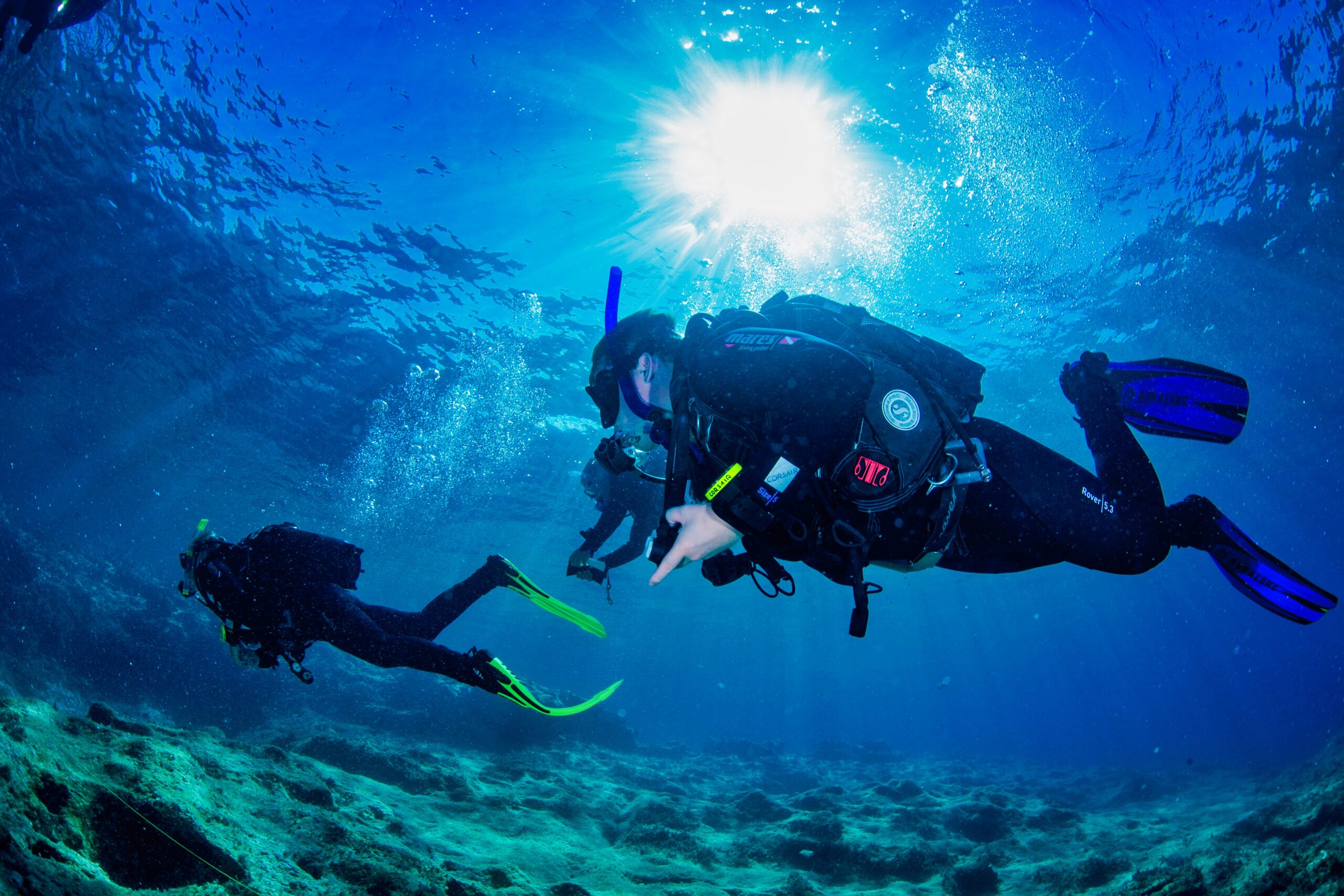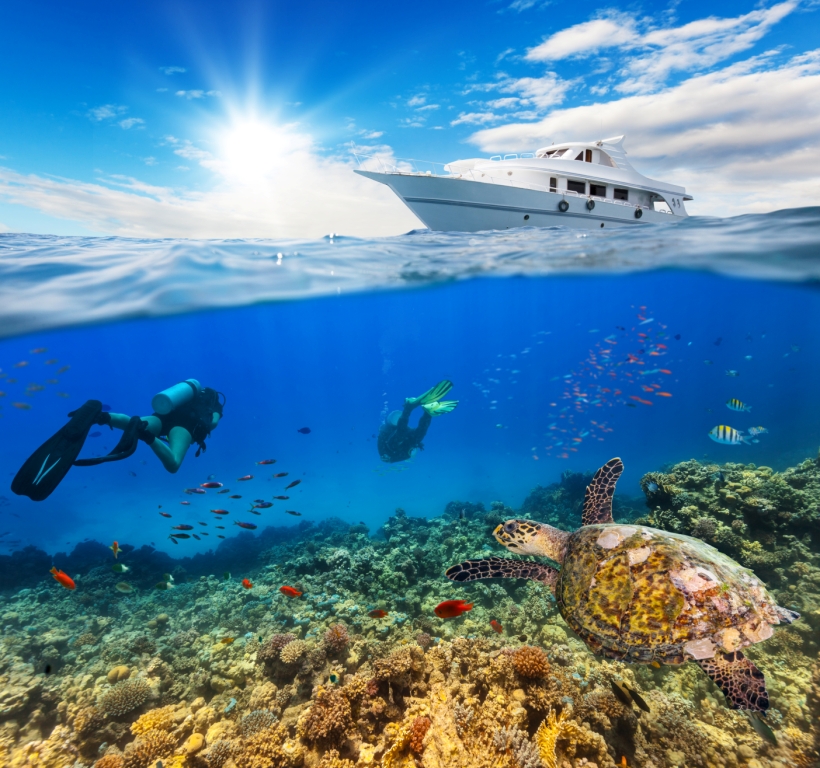 How do you become a qualified PADI diver?
There are 3 steps to becoming a PADI Open Water diver:
Theory – on signing up to the course you will receive your uniue code that allows you to complete all of the theory on a PC, Mac or tablet
Confined water – come to one of our 5 heated pools and learn all of the skills to become a scuba diver
Open water – Once you've learned in the pool, then you need to do

four

open water dives. These are normally done over 2 days. You can complete them with us over a weekend, or at any other PADI centre around the world.
Convenient Course Options
We split our courses into 2 options to make it easier to build the course that suits you better:
Part A £345 : Theory and Pool
Part B £245: Open water dives at our exclusive lake at Mercers Country Park.
Book Part A and B package: £565 (save £25)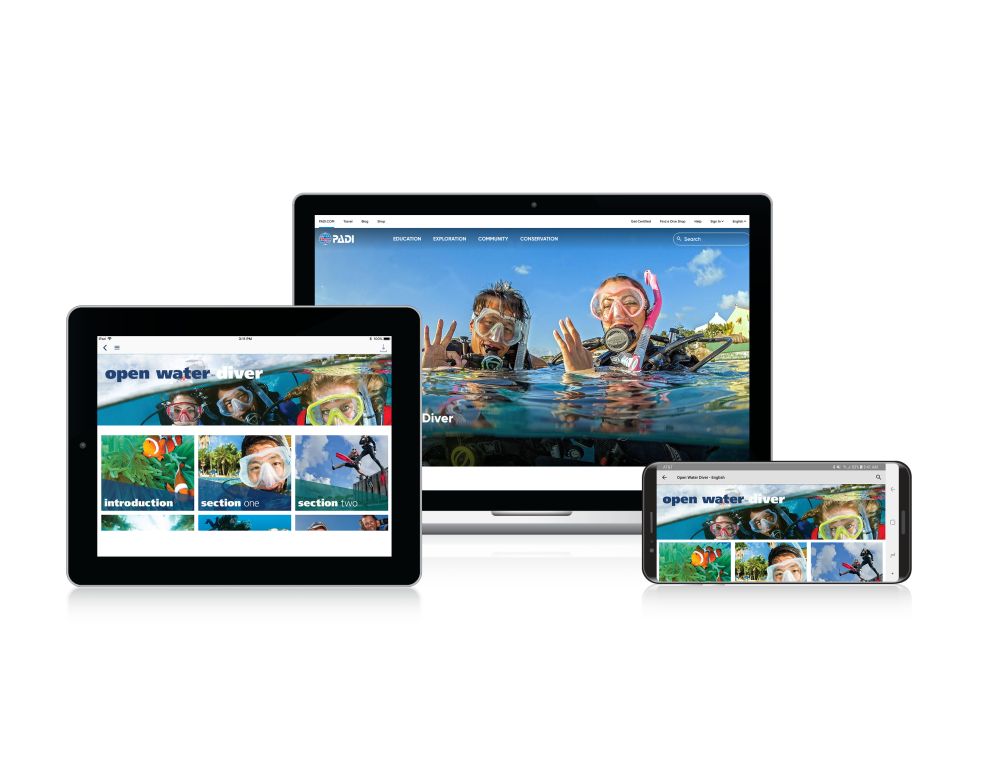 ---
---
START YOUR ADVENTURE TODAY AND
SEA THE WORLD
We offer the most fun, convenient and comprehensive diving courses in London and the South East.
Here's why: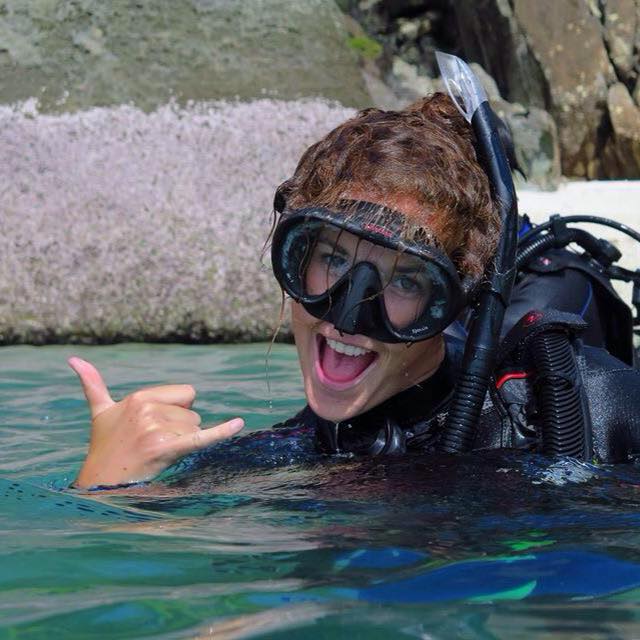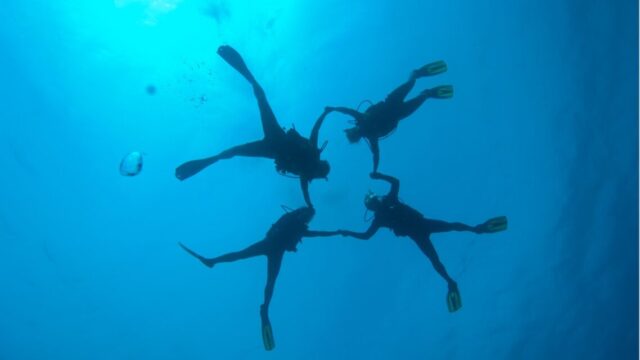 Multi-Award Winning Dive Centre
Our many accolades include having twice won 'UK Dive Centre of the Year', 'Instructor of the Year', PADI's Diver Aqusition Award.

Convenient Pool Locations
All of our heated pools have been hand-selected to offer the ideal setting for learning to dive:
PADI Open Water Pass Guarantee
Upgrade your course to the Bronze package to include our PASS GUARANTEE. This means that if you do not complete all of the skills or requirements to complete the Open Water Diver course then you can come back as many times as you like until you do pass (subject to availability). Once you've completed the PADI Open Water Course, you have learned the basic principles of scuba diving and you are equipped with the knowledge and experience you need to enjoy open water dives.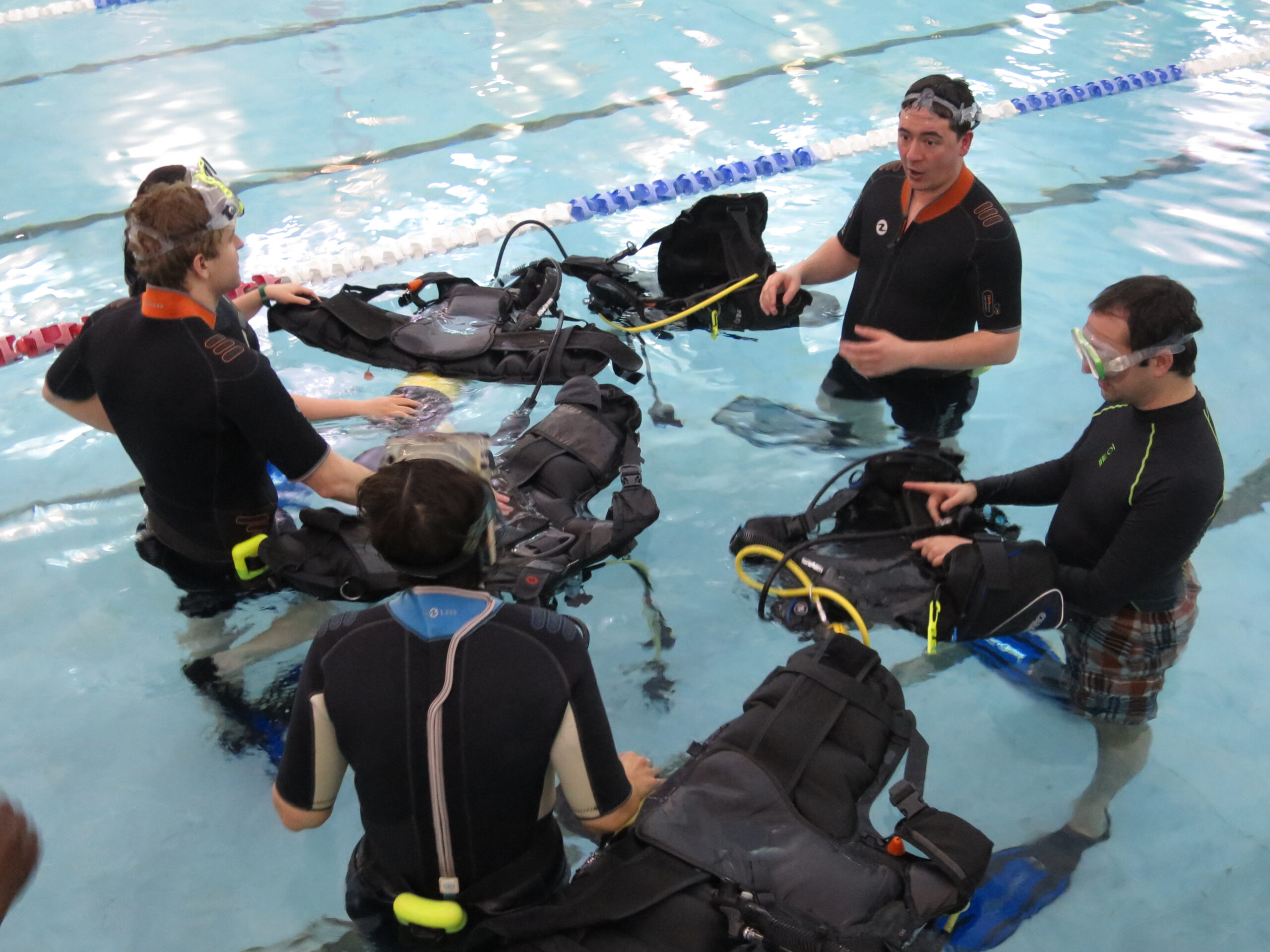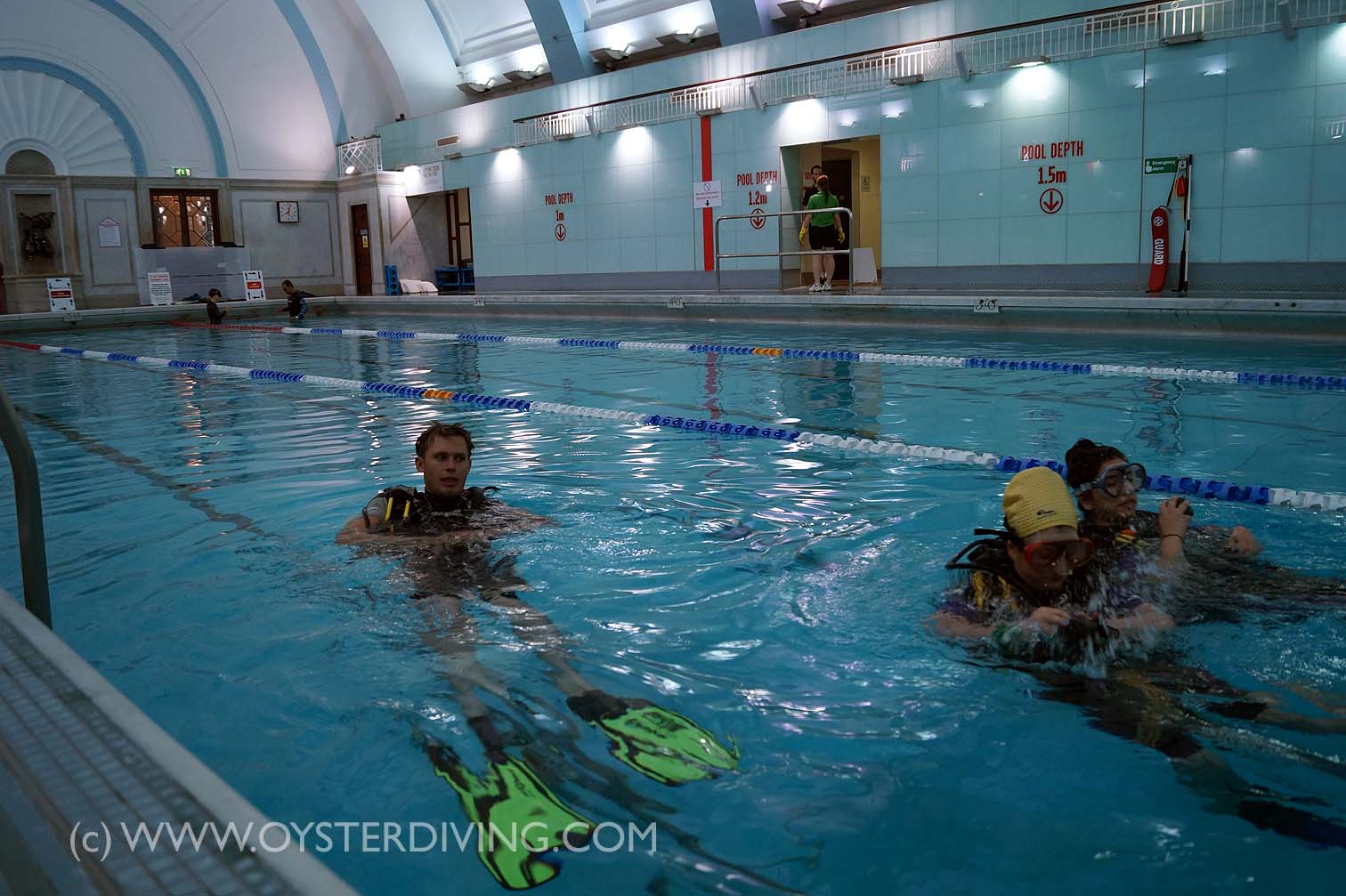 Open Water Diver Training in Small Group Sizes
Having other people learning to dive at the same time makes your dive experience and scuba training more fun, plus it can help put your mind at ease when others are asking questions too. However, we believe that class sizes should be relatively small so we like to keep them to a maximum of 6 students to 1 scuba instructor, more often than not it is less than this! You can also request a 1 on 1 or 2 on 1 class. Just call us.
PADI Open Water Diver Certifications and Prerequisites
To enroll in the PADI Open Diver course or Junior Open Water Diver course, you must be 10 years or older and be in reasonable health but you certainly don't need to be an Olympic athlete.
You will need to be able to swim 200m (any stroke) and float/tread water for 10 minutes. See below for full details.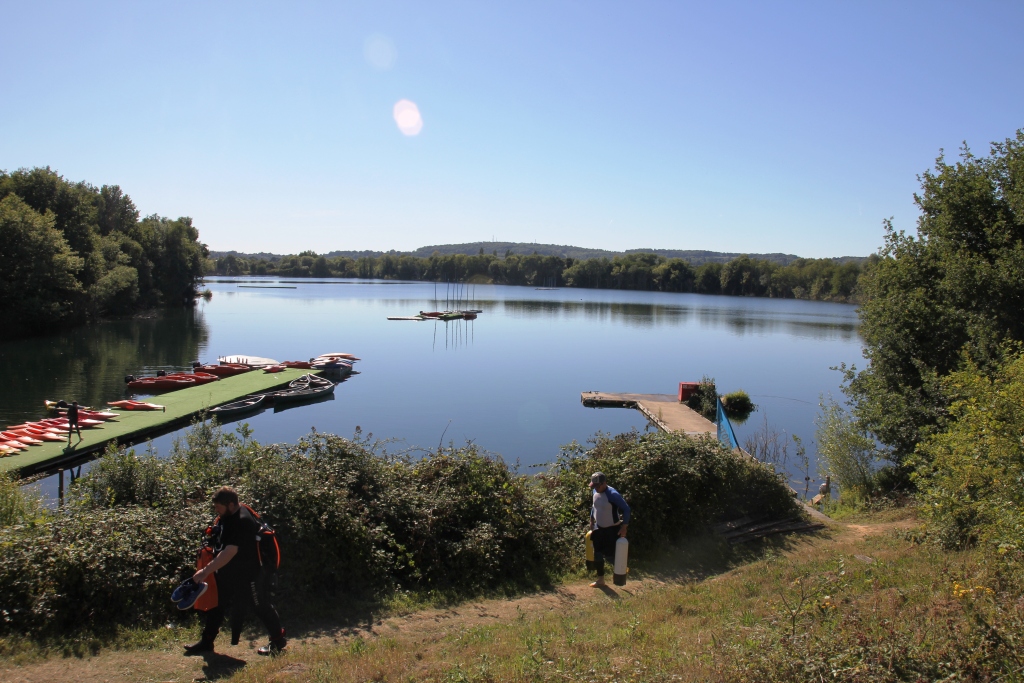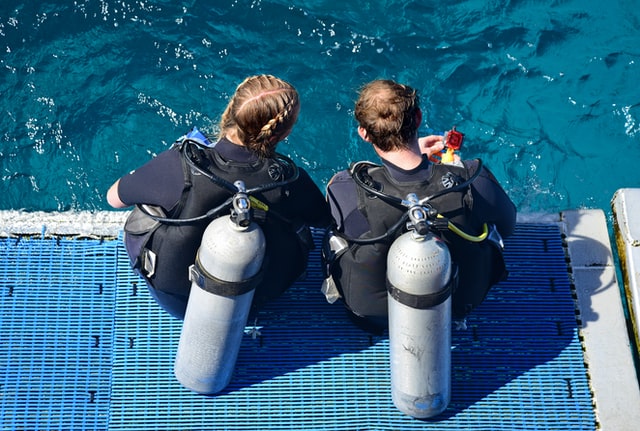 The Open Water Scuba Gear You'll Use
During the PADI Open Water scuba certification course, you learn to use full basic scuba diving gear, including a dive computer and standard accessories. If diving in winter then you also use a dry suit to keep you warm and toasty. We use the latest gear from Aqua Lung, one of the worlds top diving manufacturers. All equipment is provided so all you need is your swimwear and a towel but we do recommend that you have your own diving mask & snorkel. If you are interested in purchasing your own equipment then you might find this article useful.
How Long Does it Take?
Theory – this is completed on line and takes in the region of 10-12 hours depending on your ability and how many sessions you break it up in to
Confined water pool skills – For our pools in Caterham, Old Windsor, Brighton & Hove and, Bloxham, all of the pool skills are conducted in an 5-hour single session. Our Tuesday evening Soho pool sessions are 3 Tuesday evenings.
Part B Open water dives – there are 4 dives in total which we normally complete over 2 days. We meet at the lake at 9.30am and aim to finish around 2.30pm or a little later if we light the BBQ and stay around and have a little natter. If you complete the dives overseas (called a Referral) you will need to contact the dive centre there to see how they run it.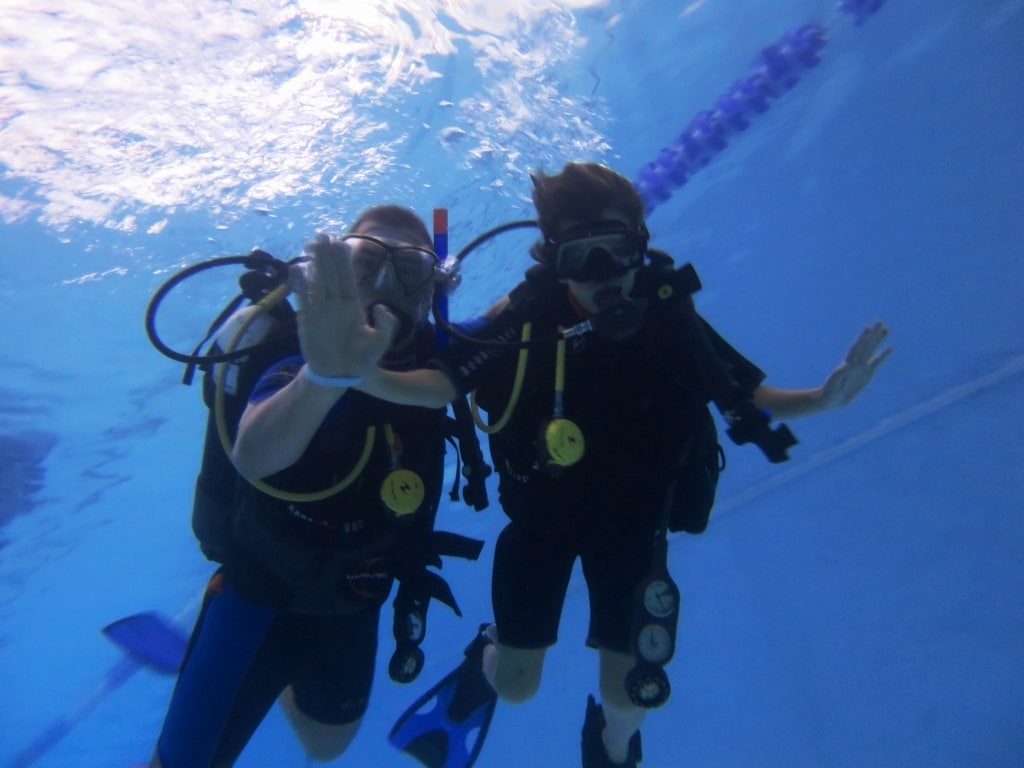 Exclusive Open Water Location
Mercers Lake, Redhill, Surrey. Located close to the M25/M23 turning. Direct train from London.
Clear water, friendly staff, underwater woodland, convenient location and loads of fish, make this the ideal place to learn to dive. We are the only dive centre allowed to use this location!
Want to see how easy it is, then try the Theory FREE
If you would like to see how the online learning works and how easy it is then simply sign up today. We will then send you your unique code for you to have a go at the first open water section. See how easy, fun and interesting it is.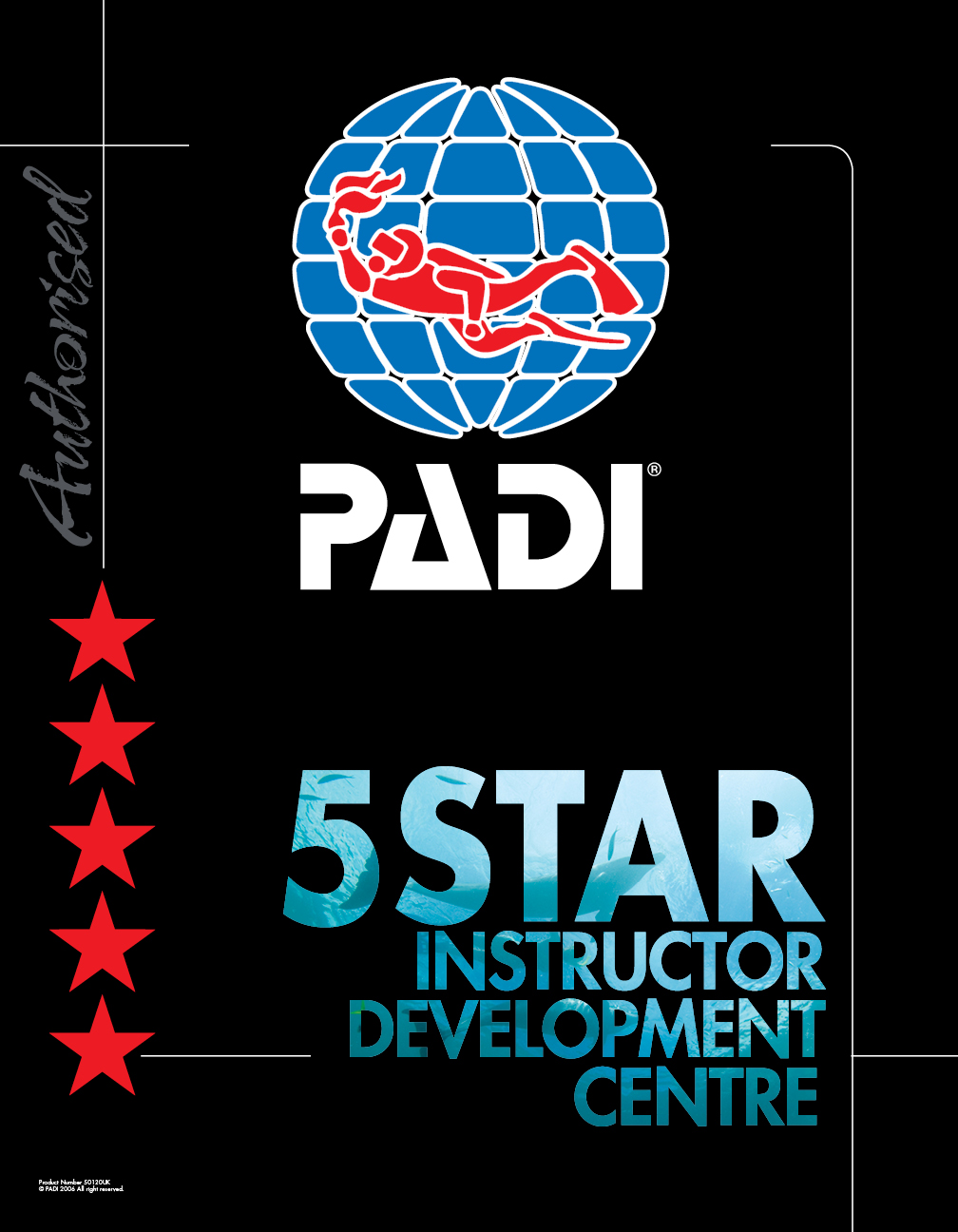 There are two options to complete your open water course….

Full Course


(Part A & B)

Referral Course


(Part A)
Online Theory
PADI's new 'eLearning system' is the easiest, most comprehensive and convenient method to learn the theory. You can go at your own pace, take breaks when you like and complete it in the comfort of your own home. Works on tablet, PC and Mac.
Pool Skills
The confined water dives take place in one of our heated swimming pools. You'll learn how to use the scuba equipment, complete extensive safety skills and practice how to become totally weightless while underwater.
Open Water Training Dives
UK Option
We will meet you at our exclusive lake Mercers Country Park to complete your four open water dives. Dives take place on a Saturday and Sunday morning (9am to 2.30pm). This means you will be a fully qualified diver at the end of the weekend.

Malta Option
For those who are less keen in jumping in the lake in the UK, we work closely with a dive centre in Malta where you can complete the dives over a long weekend. Malta offers clear, warm waters and exceptional value for money. Read more here.
Complete Training Dives on Holiday
We will sign a Referral form in your log book (provided with the referral course) which you can hand to any PADI dive centre around the world. This allows you to complete the four open water training dives with them.
Extras: There are NO additional costs for the Referral course. The ONLY additional costs for the certification dives; entry to the lake on arrival x 2 days @ £15 each and 3 air fills at £5 each.
Private courses are also available – please get in touch!
Tailored Packages
To enhance and let you get the most of your diving course we have designed a couple of packages. If there is something
Part B: Open Water Dive Packages
BASIC
STANDARD
SILVER
PLATINUM
+£60
+£195
+£340
4 x Open water course completion dives over 2 days at our exclusive

Dive computer rental

Small group sizes
1 extra dive – enjoy a guided dive as a qualified diver (subject to time constraints)

Pass guarantee – if you don't complete your dives on the day, then you can return to try again until you pass.

Mask defog – much more effective then spitting in your mask!

Dive boots – clean, warm and hygienic!
Standard plus

PADI dry suit specialty course incl online learning and certification fee

Gloves

Hood

Dry suit hire

Silver package plus

Enriched air Nitrox course includes online learning and certification fee.
Pre-requisits
The minimum age is 10 years old (in most areas). Student divers who are younger than 15 earn the PADI Junior Open Water Diver certification, which they may upgrade to PADI Open Water Diver certification upon reaching 15. Children under the age of 13 require parent or guardian permission to register for PADI eLearning.
All student divers complete a brief scuba medical questionnaire that asks about medical conditions that could be a problem while diving. If none of these apply, sign the form and you're ready to start. If any of these apply to you, your doctor must, as a safety precaution, assess the condition as it relates to diving and sign a medical form that confirms you're fit to dive. In some areas, local laws require all scuba students to consult with a physician before entering the course. Download the scuba medical questionnaire.
Before completing the PADI Open Water Diver course, your instructor will have you demonstrate basic water skills to be sure you're comfortable in the water, including:
Swim 200 metres/yards (or 300 metres/yards in mask, fins and snorkel) without stopping. There is no time limit for this, and you may use any swimming strokes you want.
Float and tread water for 10 minutes, again using any methods you want.
You can read about our open water course in more detail here.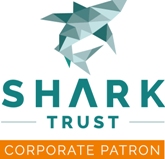 As corporate patrons of the Shark Trust you are also able to make a small donation to help with shark conservation helping divers and the planet to continue to benefit from these magnificent marine creatures.
Frequently Asked Questions
You may be wondering why you should choose Oyster Diving for your PADI open water diver course. We are a multi-award winning PADI scuba diving school offering affordable and professional open water dive training throughout the UK. From private lessons to group holidays, you can learn the principles of scuba diving at affordable prices. Book your PADI open water dive training with Oyster Diving today and enjoy the highest quality dive trainer service, equipment and facilities.