PADI Scuba Diving Courses in Brighton & Hove, Sussex
A fantastic pool to learn to dive in!
Learning to dive in Brighton & Hove in Sussex is one of the best locations to complete a PADI open water course in the UK. We are a multi-award winning PADI 5-star Instructor Development dive centre that have been teaching for over 15 years.
With access to a fantastic heated pool with a flexible depth and just metres from the sea, this is a great location to try diving or complete your PADI open water certification course.
Sussex's Brighton and Hove is one of the most vibrant, exciting and cosmopolitan cities in the UK – and there is so much to explore under the water too! Once you've learnt to dive with us then you can discover the colourful variety of marine life and many wrecks dotted along the Sussex coastline.
Learn to scuba dive with Oyster Diving and start your adventure today.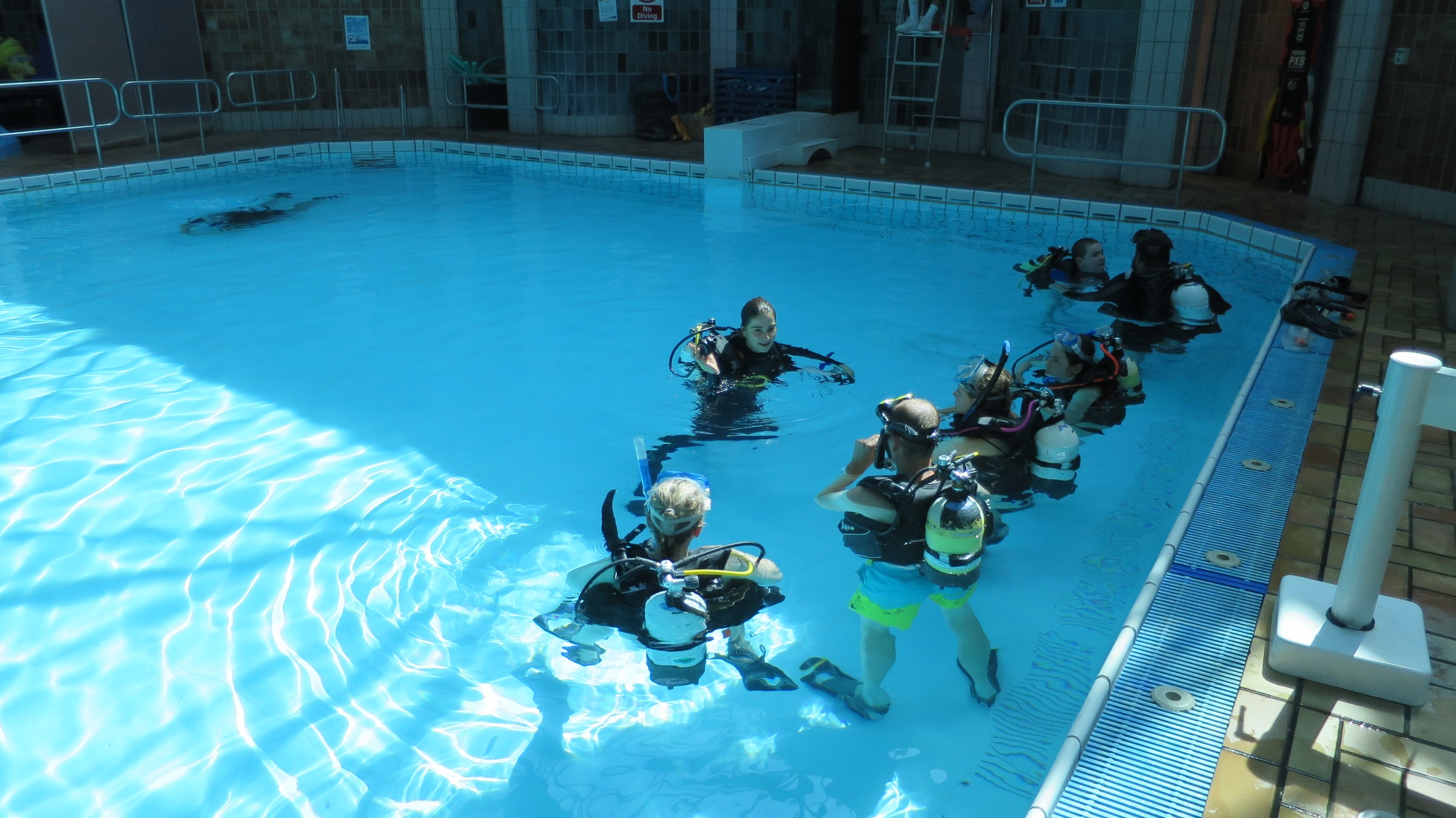 Complete Your PADI Diving Lessons in Brighton, Sussex
At our pool in Brighton we are able to teach trial dives, open water and refresher courses.
Once qualified or as part of your training, we offer sea diving off the Sussex coast, plus we have an exclusive lake about 40 minutes north of Brighton in the village of Merstham close to Redhill, M25, M23 and M3 motorways.
This freshwater lake has plenty to see such as an underwater woods and loads of large fish.
Scuba Diving Courses in Our Brighton Pool
We offer diving courses on Sunday mornings all year round at the Prince Regent swimming complex in central Brighton, a stones throw from the Royal Pavillion.
With sole use of the heated flexi-pool we can control the depth of the pool throughout your training as you develop your dive skills and your confidence grows. With a wapping 3m max depth and plenty of room to swim around in, it is perfect pool for learning to dive in.
This Sussex location allows you to dive in a controlled environment where you can safely learn new skills, follow the guidance of your instructor, and get comfortable using your scuba gear.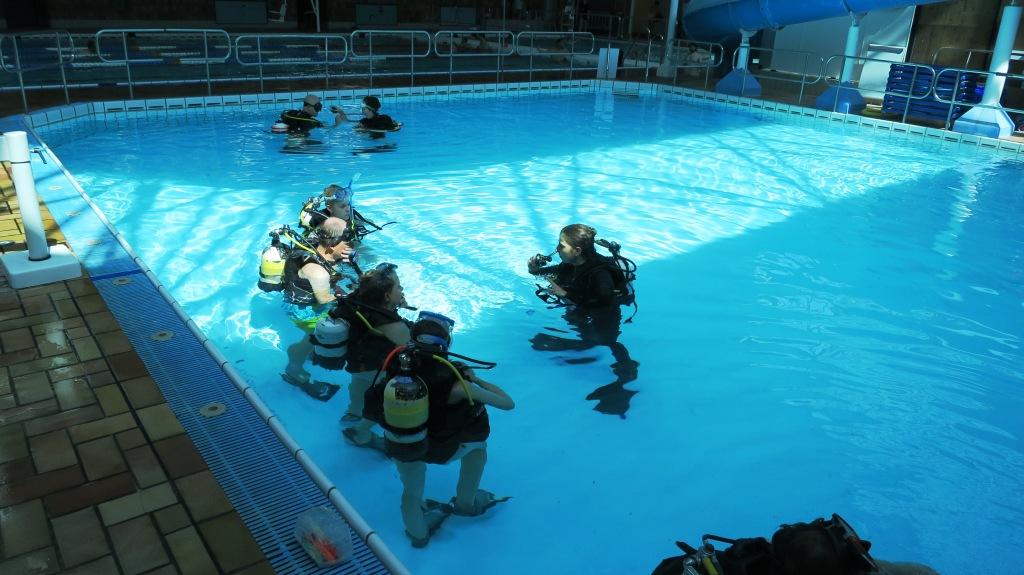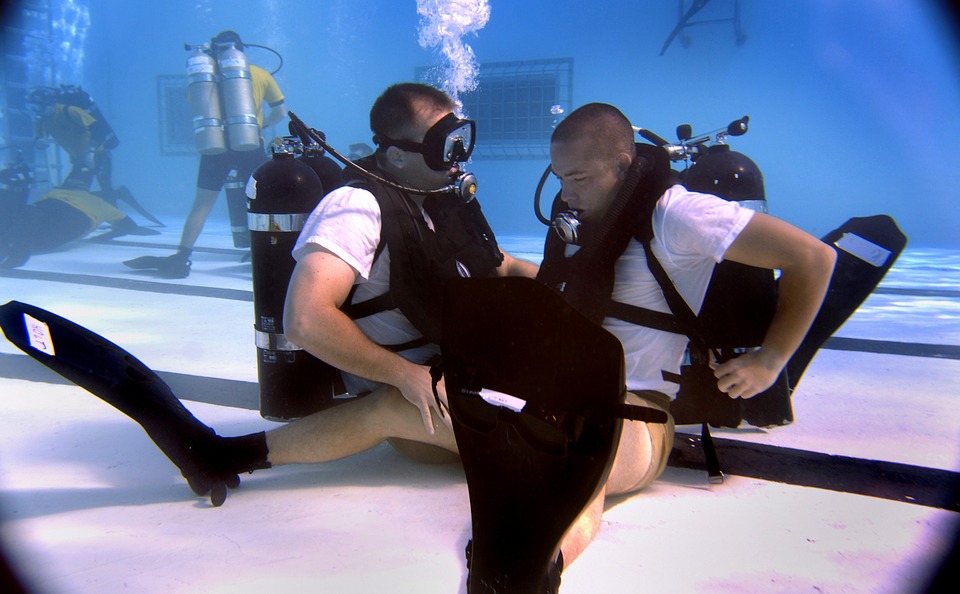 The Open Water Referral
The Open Water Referral means that you will complete steps one and two of your scuba diving training (theory and confined water lessons) with us in Brighton and will then finish four open water dives on holiday. If you are doing the Open Water Referral then we will complete the PADI Referral Form contained within your log book after the pool session. You can then simply present this to any PADI dive centre around the world. At Oyster Diving, we always say "if you can dive in the UK then you can dive anywhere in the world"!
Get comfortable in the water
Learning to dive in a swimming pool is important to get comfortable in the water and learning to scuba dive in a swimming pool is the essential first step. Our scuba diving lessons in the swimming pool mean you will be required to practice and perfect your scuba diving skills, like breathing underwater, controlling your buoyancy, and safely removing your mask underwater. Our PADI Open Water Scuba Diving courses take place at the Prince Regent swimming pool in Brighton, which you can find here:
Church St
Brighton
BN1 1YA
E. Sussex
(please note that we have no shop or offices here)

If you want to complete your four open water dives while on holiday, why not go with a group? We run regular group trips abroad for students who wish to complete their course with the same scuba instructor, while meeting fun and like-minded people. Alternatively, our Travel Centre would be happy to provide you with a quote so that you can complete your dives anywhere of your choosing.
The great thing about learning to scuba dive with Oyster Diving is that online learning can be completed at a time and location to suit you. This means you can learn in your own time and at your own pace. If you would like to find out more details about scuba divers online training, our dive theory or our e-learning system, visit our Open Water Courses page.
Why Learn to Dive with Us in Brighton & Hove, Sussex?
We are a multi-award winning PADI scuba diving school with dive training facilities based in Brighton and Hove. Our friendly, professional, and fun scuba diving courses in Brighton and Hove are just what you've been looking for. If you want to learn how to scuba dive, here's why you should learn with us in Brighton and Hove:
PADI professional and award-winning dive instructors
We offer a PASS GUARANTEE on all PADI open water courses
We have won 'UK Dive Centre of the Year' twice and runner-up once
PADI 5* Dive Centre status and 'Approved Youth Training Centre'
Convenient locations in London and South East in heated swimming pools
Small group sizes
Flexibility of open water courses combining the new PADI e-learning system
Quality scuba diving equipment
All of our recreational courses include equipment hire, training materials and PADI certification fees
Excellent value for money
If you want to experience scuba diving Brighton UK that combines everything you love about this hobby, you've come to the right place. At Oyster Diving, we provide unrivalled scuba diving lessons and training courses in Brighton and Hove so that you can start your adventure!