Thank you for taking the time to visit our website, we hope you find it informative and interesting.
We are a small, independent, and privately owned PADI Scuba Diving and Travel Centre designed specifically for the more discerning customer. We pride ourselves on our service, flexibility, resourcefulness and imagination allowing us to create diving courses and holidays that really are tailor-made to your requirements, no matter how demanding they might be. In 2010 and 2012 we won UK Dive Centre of the Year.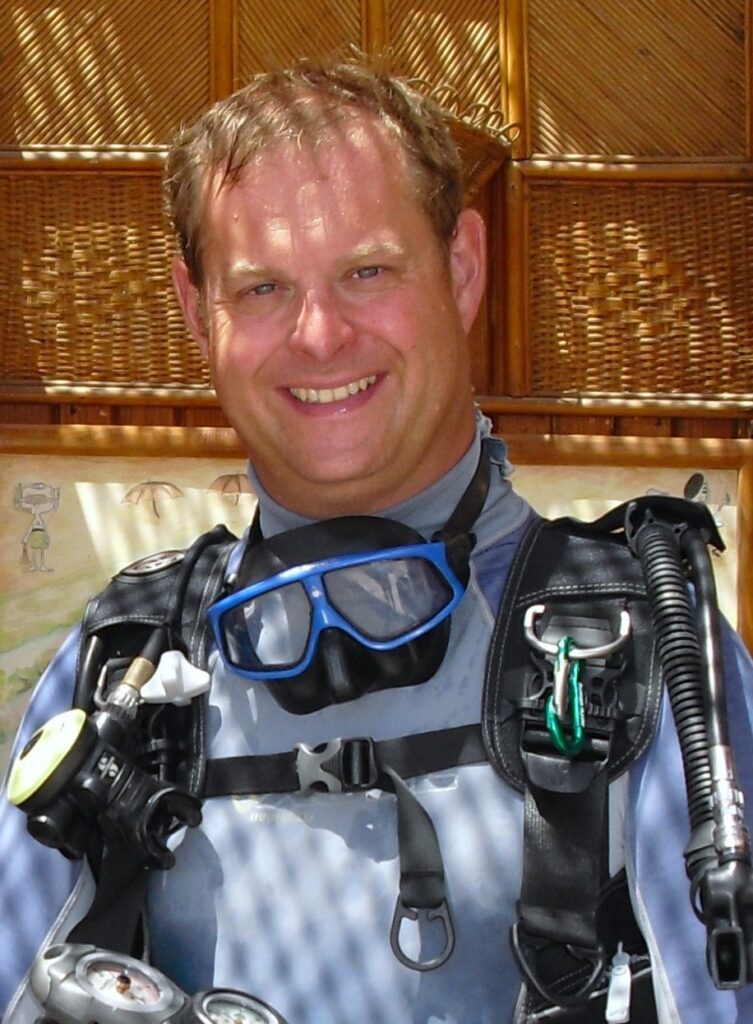 Mark Murphy
Master Scuba Diver Trainer and Owner
Having worked as a Divemaster and then Instructor in the Virgin Islands, Thailand and Egypt, Mark returned to the UK in 2006 when he founded Oyster Diving. His principal aim for the diving centre was to appeal to the more discerning customer by offering the best facilities, highest standards and having an integrated travel agency so customers can complete their dives abroad as well as in the UK. In 2010 Mark won Sport Diver magazines' 'Best Diving Instructor'.
Favourite destination?
Djibouti – On one dive I was surrounded by five Whale Sharks and ended up in the mouth of one of them. Thank goodness they only eat plankton!
Favourite Dive Site?
Shark Reef, Egypt – I was still new to diving and it was the dive that changed my life forever. Being surrounded by a school of circling barracuda's, I was only feet away from about three feeding black-tip sharks. One of the sharks swam right passed me with a Barracuda hanging out of its mouth as if to show off its prize. I didn't feel threatened at all and it made me appreciate the beauty and value of sharks in the wild.
Favourite marine life?
Any shark, but I also love Turtles, Bat Fish and can spend hours playing with clownfish (Nemo).
Which countries have you dived in?
Australia, Portugal, Spain, UK, Egypt, Djibouti, Lanzarote, Menorca, France, Maldives, Cayman Islands, Malta & Gozo, Tobago, Mexico, Virgin Islands, Saudi Arabia, Aruba, Sudan, Galapagos, Bahamas, Thailand, Philippines and Barbados.
Equipment
TUSA Paragon mask, Aqua Lung Rogue BCD, Atomic T3 regulators, Apeks RK3 fins, Aqua Lung i770 computer, Ocean Reef full facemask, Aqua Lung Balance Comfort wetsuit, Aqua Lung Fusion Sport with SLT dry suit.
Diving Qualifications
PADI Master Scuba Diver Trainer and Emergency First Response Instructor. I also can teach the following specialty diving courses; Deep, Navigation, Search & Recovery, Peak Performance Buoyancy, Project Aware, Wreck, Drift, O2 provider, Digital underwater photography, Enriched Air, Night, Search & Recovery, AWARE Coral Reef UW communications and Ocean Reef Full Face Mask & Underwater Communications.
---
Tom Inett
Operations Manager and Master Scuba Diver Trainer, Freediving & EFR instructor
Tom started his diving career by leaving his 9 to 5 job in the UK in favour of a Coral Conservation project in the Seychelles. Later Tom moved to Thailand where he completed his professional training and worked as a lead instructor in a busy dive school. Tom is passionate about introducing new divers to the underwater world.
Favourite Dive Destination
The Similan islands, Thailand
Favourite Marine Life
Turtles and macro life.
Which countries have you dived in?
The Seychelles, Spain, Thailand, UK, Malta
Equipment
Apeks XL4 Regulators, Xdeep Ghost BCD, Fourth Element Hydra Drysuit, Garmin MK2i Dive Computer, Apeks RK3 Fins
Diving Qualifications
PADI Open Water Instructor, EFR instructor Freediving Instructor. He can also teach the following specialities: Night Diver, Underwater Naturalist, Enriched Air Nitrox, Deep, Wreck, Project Aware, Peak Performance Buoyancy, Full-face mask, Underwater comms, RNLI sea safety, DPV, SMB, and Project Aware Shark Conservation.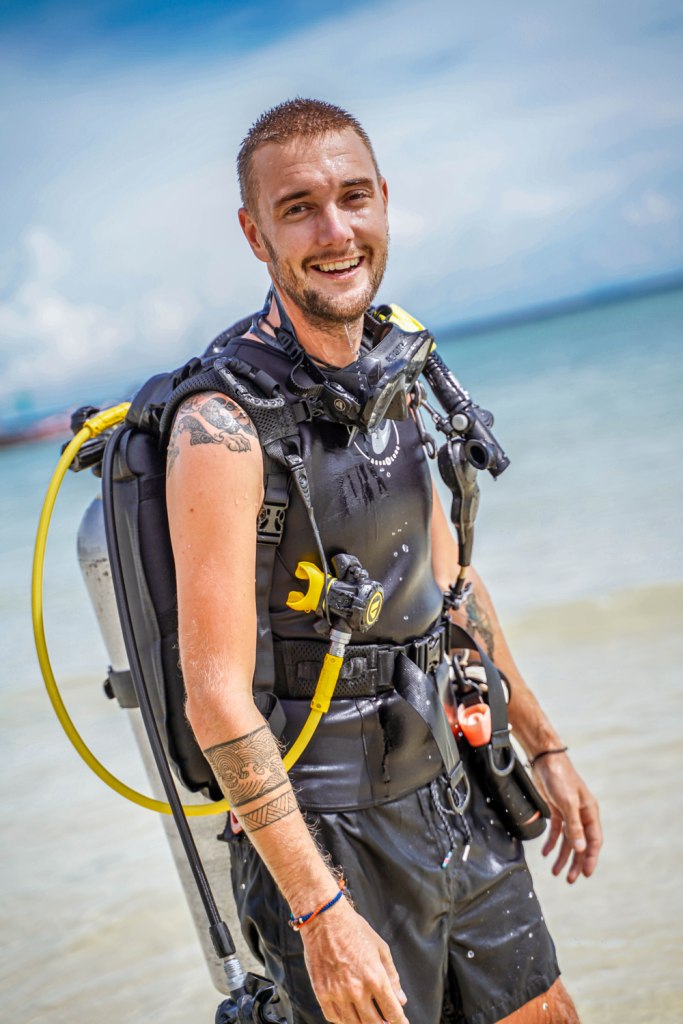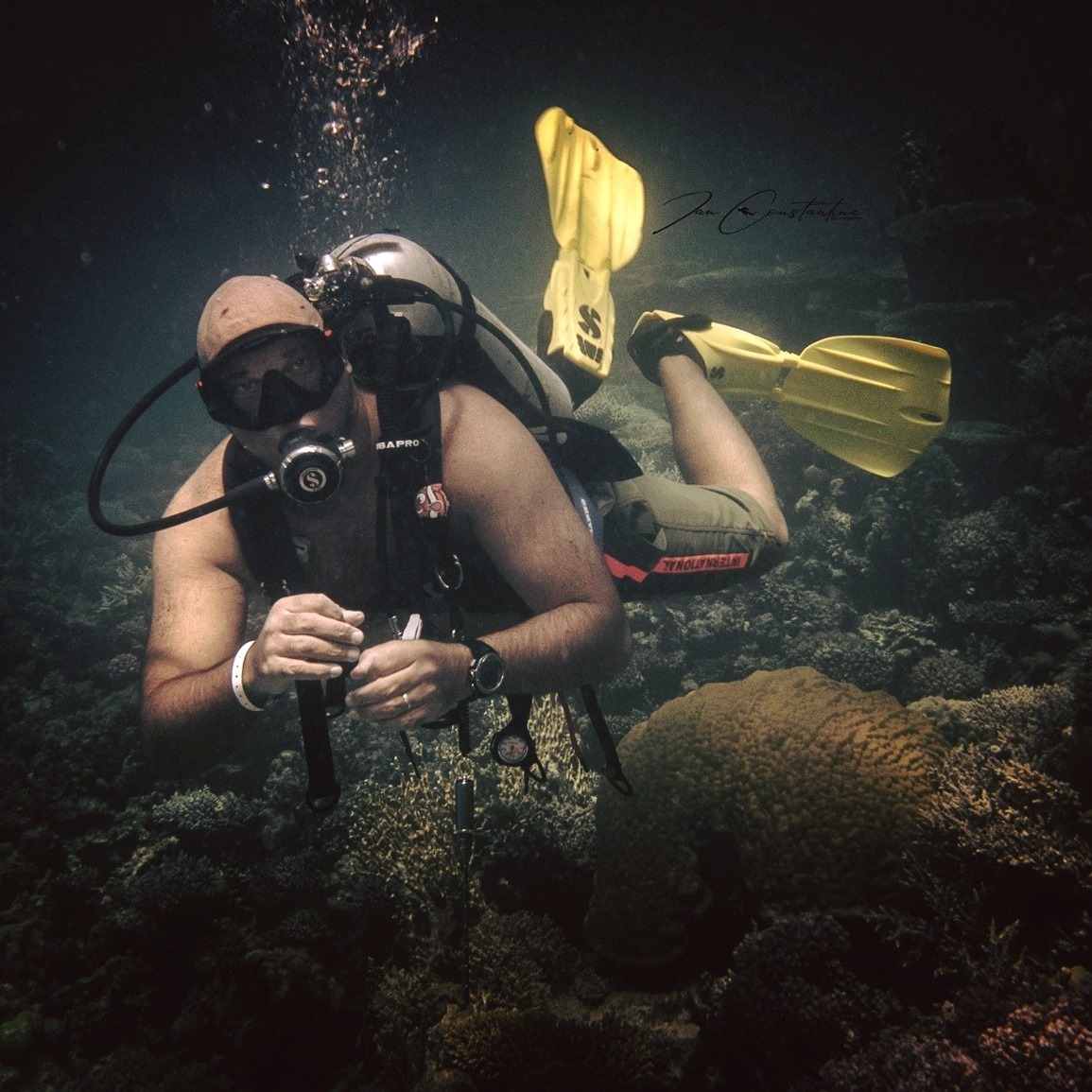 Ian Constantine
Dive Site Manager and PADI Open Water Scuba Instructor
Having been a holiday scuba diver for many years, Ian eventually took the plunge and completed his PADI Divemaster and Instructor courses with us. Ian now runs our diving sessions in the pool and open water dives to ensure things run smoothly and safely.
Favourite Destinations
Red Sea, UK and Oman
Favourite Marine Life
Octopus and sharks
Diving Qualifications
PADI Open Water Scuba Instructor, EFR Instructor and various specialties
Kwang Pitcha
Shop Executive, PADI Divemaster and Freediving Instructor
Kwang is responsible for our online website, shop and sending out your orders. She is also a PADI Divemaster and Freediving instructor.
Favourite Destinations
Coming from Thailand she is very loyal and says this is the best place in the world. She was happily surprised when she dived in the UK and saw the fantastic wrecks and seals!
Favourite Marine Life
Seals, Orca and Titan Triggerfish!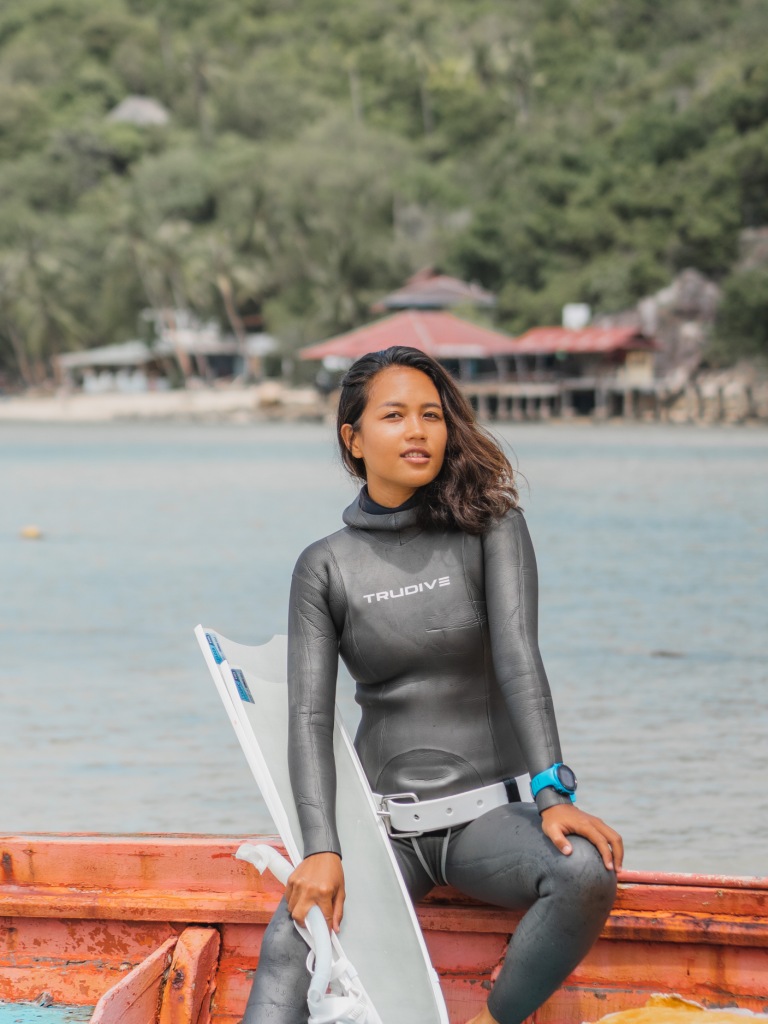 ---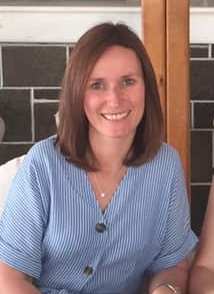 Sam Davey
Travel Consultant
Due to our continued growth in the diving holiday market, Sam has joined us with a wealth of experience having worked in travel since 1998.
Previous companies include American Express Corporate Travel and Lunn Poly. She is an expert on booking holidays to Egypt, Maldives, Mexico, Malta and Carribean. There is no obligation to book with Sam if you wanted to get a few quotes or ideas.
---
Kristie Murphy
Assistant to Head of PR
Daughter to the owner, in her 10th year Kristie is just embarking on her scuba adventures. So far she has done some Discover Scuba sessions in the pool but is too scared of sharks to go diving in the sea at the moment.
She often answers the phone when we are underwater and looks after our Head of PR!
Equipment
Currently under negotiation.
Favourite Destination
She has yet to go anywhere outside of a swimming pool in Egypt, but would like to meet Ariel in her Underwater Kingdom.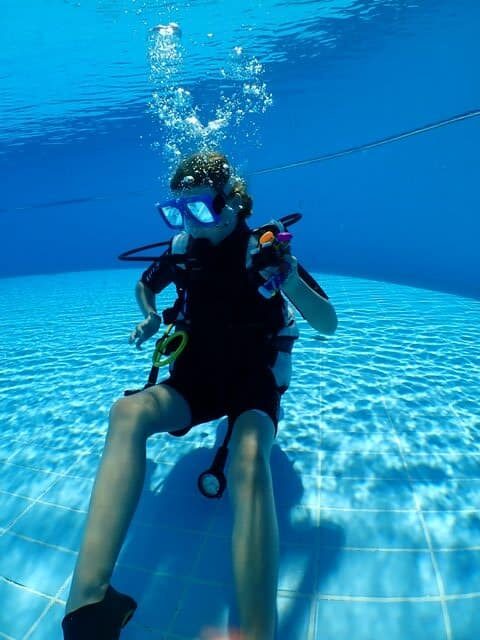 ---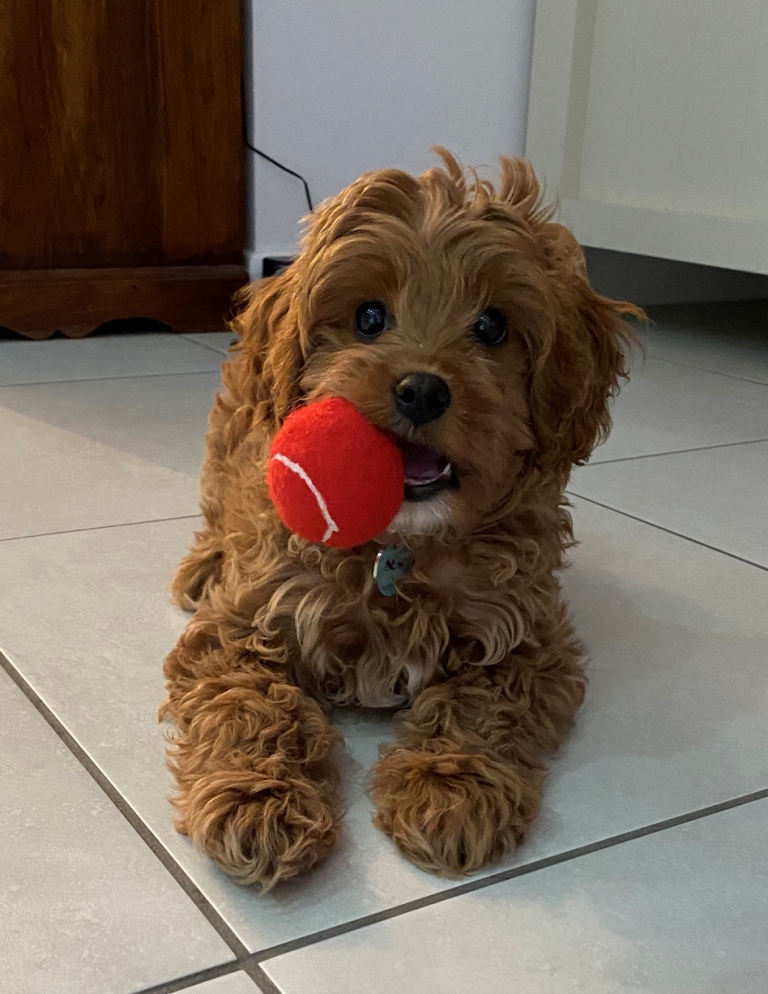 Cookie the Dog
Head of PR
Cookie is always on hand to 'fetch' gloves and boots for customers, instructors and divemasters. He loves fish, preferably in a bowl with the some cool water. You can visit him at our shop on most Mondays, Wednesdays and Fridays and sometimes he heads to the lake, especially when the BBQ is lit.
Favourite Destination
UK – it's the only place he's ever been!
Favourite Marine Life
Cod, preferably without batter.
Which countries have you dived in?
None as yet but he's hoping to change that.
Favourite Equipment
I love anything that fits in my mouth – Aqua Lung gloves, dive boots and hoods are my favourites. I'm not keen on regulators that freeflow.
---
Cornelia Moy (Nelly)
PADI IDC Staff instructor and Technical Instructor
Nelly completed her open water course in Cambodia whilst travelling southeast Asia. This snowballed into working her way up to instructor, staff instructor and tripping into tec. Happiest in caves, sidemount and a stage, floating somewhere between the halocline.
Favourite Destination
Mexico, Mexico, Mexico. Clear water, caves and cookies.
Favourite Marine Life
Garden Eels
Which countries have you dived in?
Australia, Cambodia, Thailand, Tenerife, Mexico, Maldives, UK, Indonesia, Greece
Equipment
X-Deep Wing, Razor pouch;), Santi dry suit, XTX50s, M1 Mask and RK3s
Diving Qualifications
Staff instructor, adv trimix and full cave certified. Able to teach following specialities; Deep, Drysuit, Nitrox, Emergency O2, Full Face Mask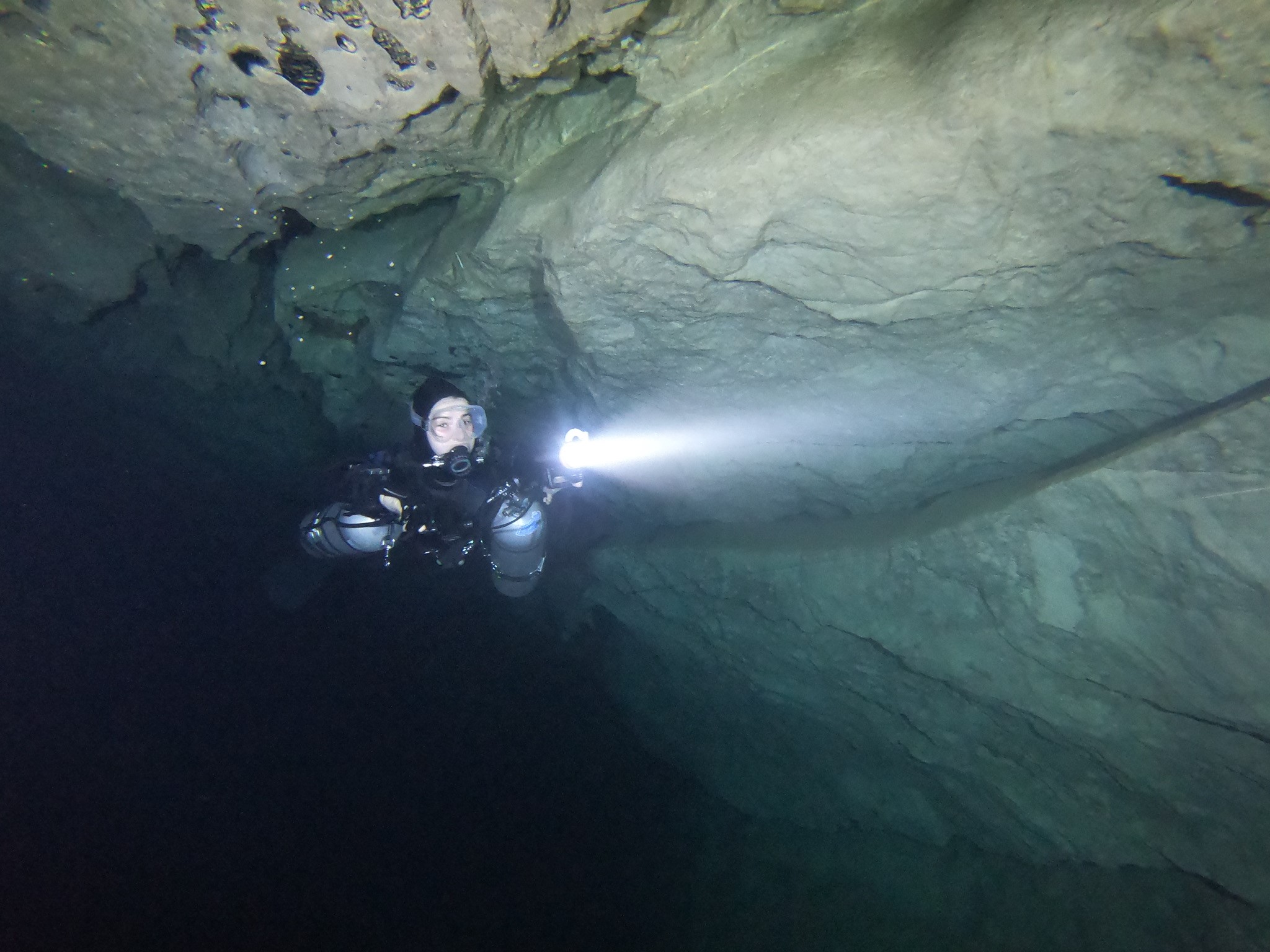 ---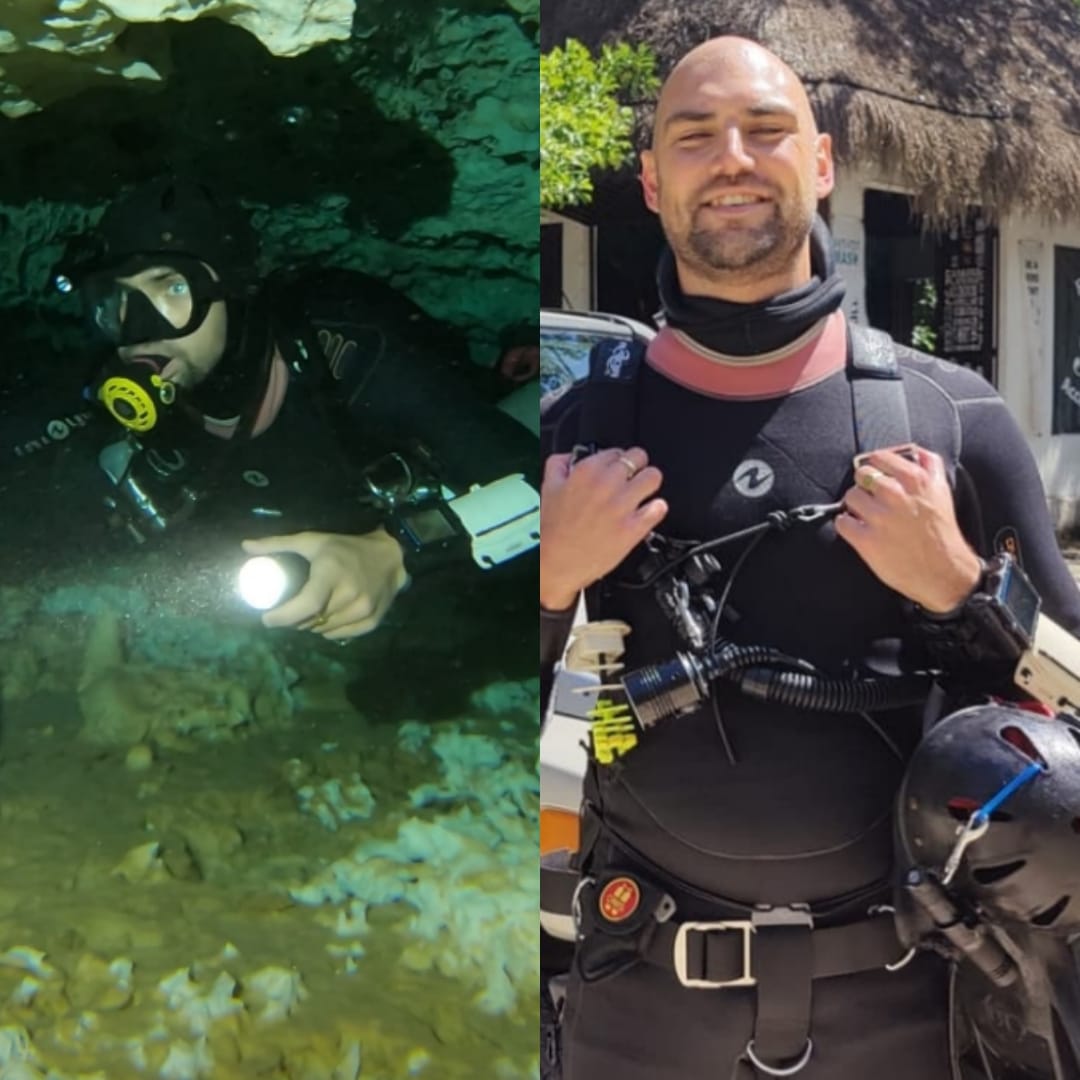 George Poynter
Open Water Scuba Instructor and Cave Diver
George's passion for diving began in 2015 with his OW course in Thailand and has most recently led him to completing his full cave training in Mexico, a long-term dream of his. His diving journey has led him to experience a small amount of technical diving and to develop a love for exploring wrecks. In terms of marine life, George is particularly fascinated by octopuses, as he considers them to be real-life aliens.
George's diving adventures have taken him to numerous destinations, including Mexico, Egypt, Tenerife, the UK, Colombia, and Thailand. His most memorable diving experience to date is the Red Sea liveaboard, which remains his favourite diving holiday. George takes great pride in guiding his students through their diving journey, and in witnessing their growth in confidence and skill.
Kate Hatcher
Open Water Instructor
Kate loves trips (especially if they involve diving) and tries to spend as much time as possible exploring overland and underwater. Kate did her Divemaster qualification with Oyster and became a PADI instructor last year.
Favourite Destination
Malta for its twisted metal, Maldives for sharks and rays and Egypt for a bit of both.
Favourite Marine Life
Big things – whale sharks, eagle rays, manta rays and I still love a good turtle when I see one.
Which countries have you dive in?
Maldives, Egypt, Malta, Philippines, Malaysia, Spain, USA, UK, Mexico, Indonesia, Hong Kong.
Equipment
Aqua Lung Fusion Fit Drysuit / Fourth Element Xenos 5mm wetsuit, Apeks VX1 mask, Aqua Lung Rogue BCD / Apeks WTX-25 harness, Apeks MTX-R regulators, RK3 fins.
Diving Qualifications
Padi Open Water Scuba Instructor, EFR instructor. I can teach the following specialties: Dive Against Debris, Adaptive Techniques, Sidemount, Deep, Drysuit, Emergency Oxygen Provider, Enriched Air, Wreck, Night, Peak Performance Buoyancy, Project Aware, Aware Coral Reef Conservation.
---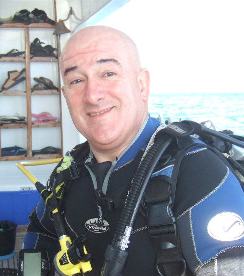 Melvin Grant
PADI IDC Staff Instructor
Melvin is a highly experienced PADI instructor who is renowned for his patience, friendliness and good sense of humour. He is just as happy teaching children to dive as adults. At the 2012 Sport Dive Awards he came runner-up as 'PADI Instructor of the Year'.
Favourite destination
Galapagos – the shear variety and abundance of marine life.
Favourite marine life
I love a sandy bottom and coral pinnacles, it's home to small macro marine life where I can spend hours studying to find what's lurking in the nooks and crannies.
Countries you have dived in?
Malta, Cuba, Maldives, Cyprus, Mexico, Tenerife, Lanzarote, Djibouti, Red Sea, Sudan, Galapagos and the UK.
Equipment
Mares Liquidvision mask, OThree Drysuit, Aqua Lung Axiom BCD, Apeks XTX 50 regulators, Bare wetsuit.
Pete Wells
PADI Open Water Scuba Instructor
Pete has recently completed his Masters degree in Marine Science and has goals to promote marine conservation in schools in the South of England. His love of diving mainly centres around alien encounters and he's on a mission to meet the biggest monsters possible.
Countries you have dived in?
Pete has dived in Mauritius, Thailand, Spain, the Canary Islands and Egypt but will soon meet his biggest beasts yet on upcoming trips to the Maldives and Guadalupe. As much as he loves warm water diving, Pete tries to make an annual pilgrimage to the Farne Islands, where he'll happily endure the North Sea to play with the local seals.
Equipment
Aqua Lung Rogue BCD, Apeks MTX-R regulators, Apeks RK3 fins and an Aqua Lung Fusion Bullet drysuit when diving in chiller climes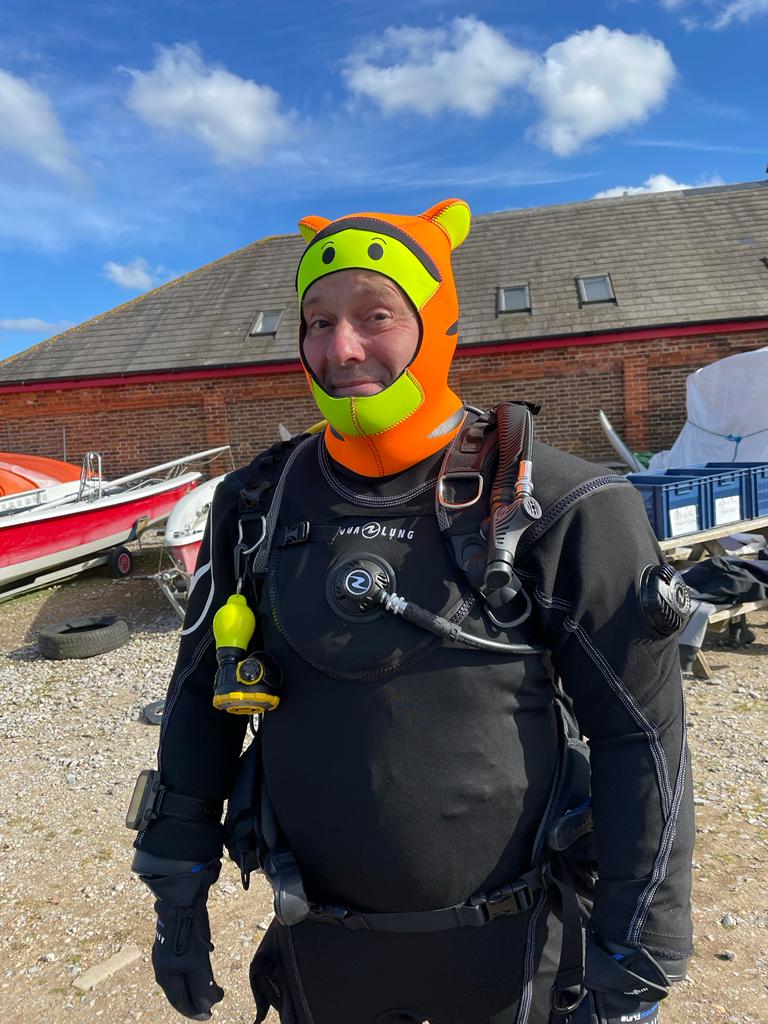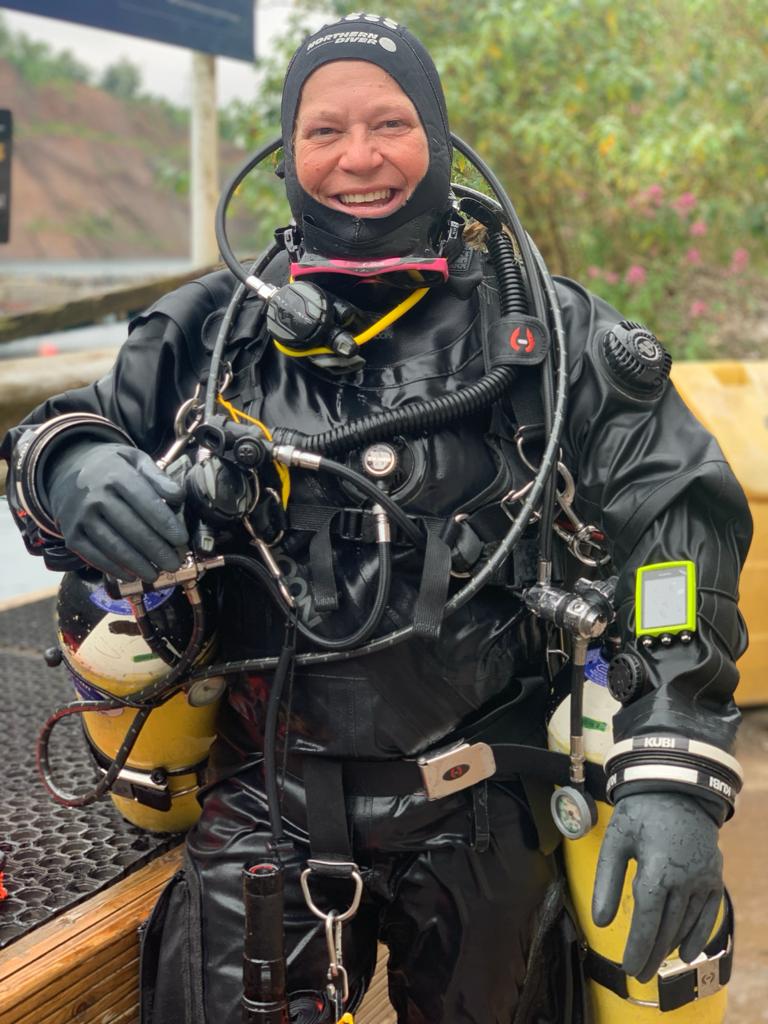 Jill Turner
PADI Staff Instructor
My name is Jill Turner, I am 49 and have been diving for 25 years. I love cold water diving (crazy right), but it's so refreshing getting into a cold body of water to see what creatures love to live in it. Wrecks have a fascination that will never grow old. No matter how many times I dive the same wreck, every dive is different. Who does not like Sharks, but I am a crazy lady diver who loves Eels. Bigger the better. I can just hover there watching them all day or night long.
My favourite destination has to be Borneo. I stayed on Mabul Island in 2018 and spent a day in Sipadan, diving with the most stunning fish and turtles I have ever seen. From the tiny Nudibranchs to the giant Bubble Head Fish I was never disappointed.
Countries you have dived in?
I have dived all over the world, Portugal, Spain, Egypt, Dubai, Turkey, Dominican Republic, Cuba, Mexico, Thailand, Borneo, Maldives, Malta…. wow that is a lot, but so many more places I need to dive.
What Equipment Do You Use?
UK diving I rely on my trusty Typhoon Nautilus dry suit with Kubi dry glove system. Under that I have the Fourth Element Onsie thermal to keep me toasty warm. I dive sides with a Hollis Katana II wing. The lift is perfect for me and I only need 4kg lead when using 2 x 7ltr 323 cylinders. But for warm water is a 3mm shortie wetsuit and wing. Using a side mount diving system has allowed me to get into the smallest of cracks between boulders and small holes and openings of wrecks.
What Courses Can you Teach?
Open Water, EFR, Emergency O2 provider, Underwater Navigation, Underwater Naturalist, Care for Children w/AED, PPB, Project Aware, Coral Reef Conservation, Fish Identification, Boat, Deep, Digital Underwater Photography, Drift, Dry Suit, Enriched Air, Self Reliant, Search & Recovery, Wreck, Sidemount, Twins, MSDT & IDC Staff
I am a Tec 40/45/50 diver and hope to gain my Instructors Qualification in Tec 40/45 & 50 this year.
Neil Cockbain
Master Scuba Diver Trainer

After originally having a dislike of open water, but then receiving the gift of a Discover Scuba Diving course with Oyster's boss Mark Murphy, it changed my perception of being underwater…. I loved it and was hooked!
Back then I didn't realise it was going to be the start of a scuba diving career.
Five years later, after working through various courses, qualifications and gaining vital diving experience with Oyster Diving, including: Rescue Diver, Dive Master, Open Water Scuba Instructor, I'm now one of their Master Scuba Diver Trainers.
To continue my diving knowledge & experience I've now began my technical diving certifications with: Advanced Nitrox Diver & Decompression Procedures Diver
Favourite destinations:
Egypt Red Sea (Liveaboard) – Daedalus, St. Johns, the Brothers & Elphinstone
Maldives (Liveaboard) – Maaya Thila, Nassimo Thila & Manta Point
Favourite marine life:
Big stuff… Sharks & Mantas particularly. Nothing beats getting into a current and watching the sharks glide by
Which countries have you dived in:
UK, Malta, Egypt, Maldives, Aruba & Croatia
Equipment:
Regs: Apeks XTX200 BCD: Aqualung Rogue Fins: RK3 (HD) Dry Suit: Bare HD Pro Dry (Neoprene)
Side Mount kit:
Regs: Apeks MTX-R Side mount BCD: X-Deep Stealth Tec 2.0
Diving Qualifications:
PADI Master Scuba Diver Trainer and Emergency First Response Instructor. I also can teach the following specialty diving courses; Deep, Dry Suit, Wreck, Delayed Surface Marker Buoy, Peak Performance Buoyancy, Enriched Air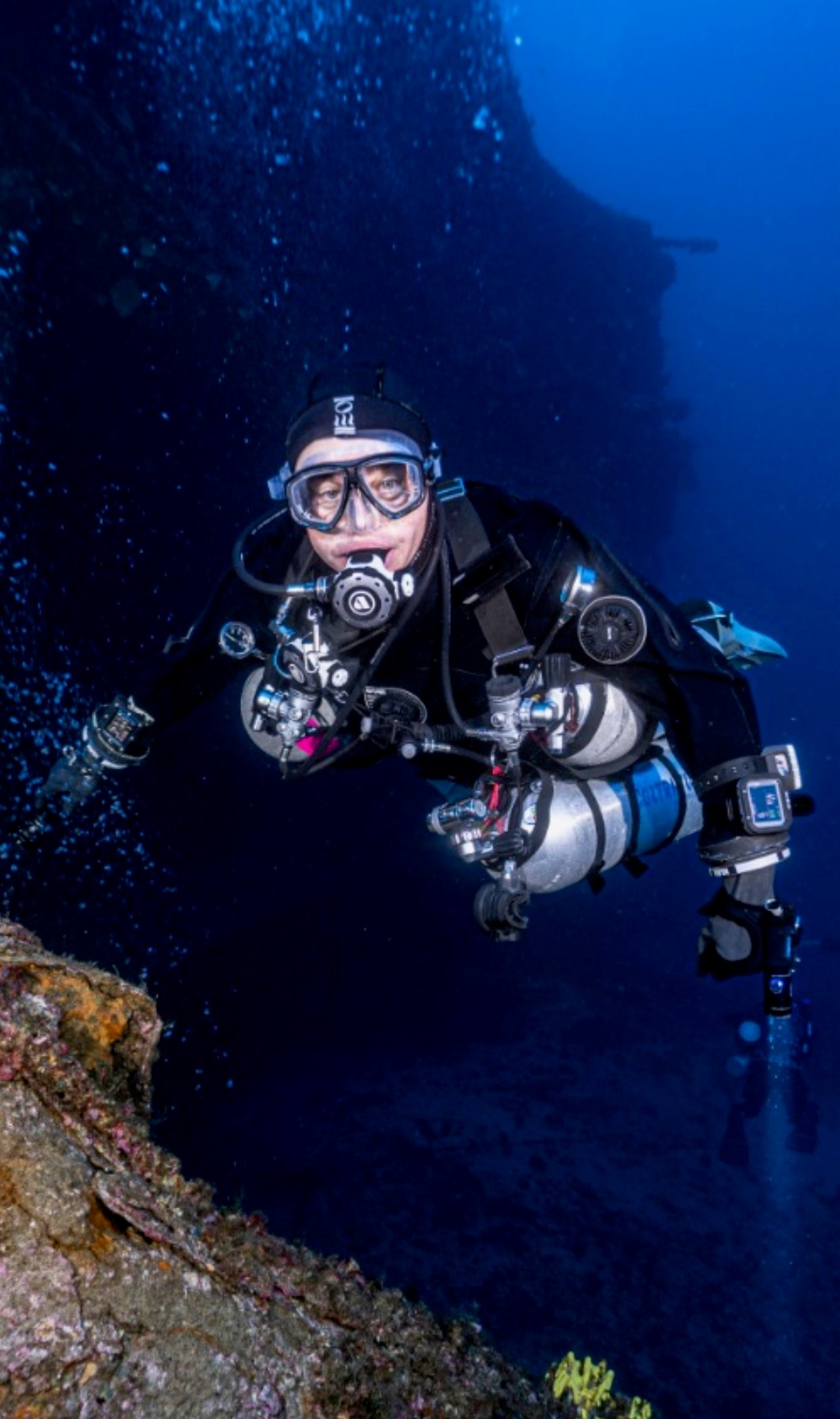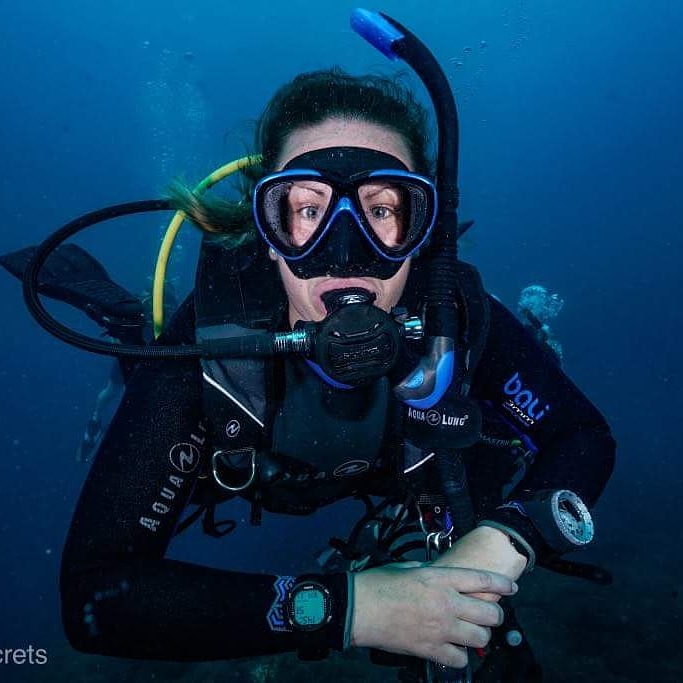 Hayley Pearce
PADI Staff Instructor
I started diving in 2013 and fell in love instantly. I completed my pro training in Thailand in 2017 and worked full time as the schools 'eco instructor', dividing my time between teaching courses and organising island clean up projects. I love introducing people to the thing I'm passionate about, especially when I get messages from them telling me all the exciting places they are going/have been diving.
Favourite destination: Tough choice. I'll stay loyal to where it all started and say Thailand.
Countries you have dived in: Croatia, Thailand, India, Sri Lanka, Mexico, Cyprus, The Red Sea and New Zealand.
What courses can you teach: A PADI Staff instructor (and lapsed SSI) with specialties in O2 provider, Enriched air, Deep, Wreck, Search and Recovery, AWARE Dive against debris, Peak performance buoyancy
Favourite marine life: I love them all but have an obsession with sharks.
Soaps
Master Scuba Diver Trainer
I'm a Master Scuba Diver Trainer (MSDT), with a medical background as a paediatric A&E senior charge nurse. I have a huge passion for diving and the many different types of underwater
worlds and their inhabitants. For me now, diving is not just a hobby, it's my therapy and a way of life.
I'd always been a water baby, competitive swimmer, snorkelling, windsurfing, and taking any and all water sports and sailing chances i could. I spent my early childhood growing up in Australia
so water-sports was life. So with hindsight i'm surprised i waiting so
long to get under the water.
I did my first try Dive in Soho pool back in my early 20's, my sister was a Dive instructor for Oyster Diving and took me for my birthday.
I remember it vividly, they do say you never forget your first
breathes underwater.
For me, that was it, hooked. As soon as I could I did my Open water and never looked back diving whenever possible. When I moved back to Australia I progressed through the courses before taking on
a dive master trainee position on a liveaboard on the Great Barrier Reef. I gained a lot of experience and sea time In Australia, eventually becoming PADI MSDT instructor.
Favourite Destination
Best dive locations I've experienced so far are the Thetford Reef, Great Barrier Reef, Australia, I guess it has such special place in my heart and I know it so well for all the years living over and working amongst her reef colonies. Also the Red Sea, Egypt, here the Hammerhead Sharks made it so memorable and the pristine
reef formations.
With many more around our world I'd love to explore, one day I hope to go to Maldives and the caves of Mexico.
Favourite Marine Life
As an animal and ocean lover it's hard to choose a favourite
species, if I had to say then my favourite underwater animals are octopus, nudibranchs and sharks. oh, and turtle of
course! However, I am yet to see a Manta Ray or Whale shark. I have a feeling when those dreams come true they may tip that scale.
Which countries have you dive in?
UK, Greece, Australia, Thailand, Caribbean and Egypt.
Favourite Equipment
I dive mostly with Scubapro and Aqualung gear. I especially love my Scubapro nova-wing fins that have great turning motion and simple and reliable Scubapro Chromis dive computer.
Diving Qualifications:
As a PADI MSDT I can teach all courses up to and including
Divemaster. In addition, I'm a speciality instructor for: Deep Diver, Night Diver, Sidemount Diver, Search and Recovery Diver, Enriched Air Diver, Peak Performance Buoyancy, SMB, Underwater Naturalist, Project Aware, Aware Coral Reef Conservation, Dive
Against Debris, and Project Aware Shark Conservation. Also an Emergency First Response Instructor, Emergency First Response
at Work Instructor.
---
Laura Skill
Open Water Instructor and TDI Cave Diver
Afraid of the open ocean, Laura took the only logical step – learning to dive in Thailand! This experience was in 2014, and she hasn't looked back since. She now can't get enough of it and loves to share her passion with others.
Favourite Dive Destination
Barracuda point at Sipidan, Borneo. Nothing like being surrounded by a tornado of barracuda. Cave diving in Ginnie Springs, Florida was ridiculously fun too!
Favourite Marine Life
Sharks, any species – the sand tiger sharks at South West Rocks, Australia are awesome! Would LOVE to see dolphins or whales on a dive but not been lucky enough, yet!
Which countries have you dived in?
I have worked in Mexico, Dominican Republic and UK. I've also been diving around South East Asia, Australia, USA and the Caribbean
Equipment
Recreational set up is an Aqua Lung lotus BCD with an Aqua Lung Mikron regulator and Oceanic shadow mask. Hammond drysuit. Tech set up is Apeks xtx50's with Apeks WSX sidemount set up
Diving Qualifications
PADI Open Water Scuba Instructor, EFR instructor. I can teach the following specialities: Night Diver, Drysuit Diver, Underwater Naturalist, Nitrox, Deep, Wreck, Project Aware, Peak Performance Buoyancy, SMB, and Project Aware Shark Conservation.
---
Paul Spindler
Master Scuba Diver Trainer, EFRI Instructor
Paul has been diving for over 12 years and has clocked up 1000+ dives. Having learnt to dive in Egypt Paul quickly progressed to Divemaster and spent 6 years assisting other instructors before completing his Instructor course. Give him a Tank, a set of regs and a body of water and he is in his element.
Favourite Destination
Egypt – Clear warm water great visibility a whole range of marine life- What more could you ask for.
Favourite Dive Site
The Thistlegorm in the Red sea. This wreck is just magnificent both day and night always lots to see and a great wreck for simple penetration dives. Other than that it would have to be Mala in Lanzarote – A Volcanic dive site – Fantastic underwater topography and always lots of Rays and Angel Sharks
Favourite marine life
I'm a huge fan of the Octopus and Giant Morays. But also love seeking out the nudibranch and sea horses.
Which countries have you dived in?
The UK (what a great place to dive) Egypt, South Africa, Mexico, Lanzarote, Thailand
Equipment
Hollis M3 Mask, Waterproof D10 Drysuit, Apeks XTX 200 Regs, Hollis fins, Mares BCD, Aqualung i770R computer
Diving Qualifications
PADI Master Scuba Diver Trainer and Emergency First Response Instructor. Paul also can teach the following specialty diving courses; Deep, Search & Recovery, Dry Suit, Peak Performance Buoyancy, Project Aware, Wreck, Emergency O2 provider, Enriched Air, Night, AWARE Coral Reef
---
Rosco (aka Zippy)
Open Water Scuba Instructor | EFR Instructor
I started scuba diving in 2012 and joined Oyster Diving in 2017 and loved it so much that I went all the way to instructor with them. I'm now really proud to say that I now enjoy teaching for them.
Favourite Destination
Anywhere I can find wrecks.
Favourite Marine Life
Sharks and Trumpet Fish
Which countries you have dived in?
Philippines, Turkey, UK, Bulgaria, Iceland and Red Sea.
Equipment Used
Aqua Lung ProLT BCD, Mares Quattro fins, Apeks MTX-R regulators, OTTER dry suit, Aqua Lung Bali 3mm wetsuit
---
---
Alberto
Rescue Diver
At the end of a sea kayaking trip in the Philippines in 2015, Alberto saw a dive centre and decided to give it a go, quickly realising that things below the surface are even better than above. His main interests are technical diving and wreck penetration, so he can often be seen with lots of cylinders strapped to him.
Favourite destination?
World War II wrecks in South East Asia. Oh, and Silfra. Everyone should dive Silfra once in their lifetime.
Favourite marine life?
Manta rays and stingrays. And sharks, of course.
Which countries have you dived in?
Philippines, Indonesia, Lebanon, Iceland, UK
Equipment
XDeep Stealth Tec, Bare HDC Expedition drysuit, Apeks RK3 HD fins, Shearwater Perdix Computer.
Diving Qualifications
Advanced trimix, Tec DPV, Tec Sidemount, Advanced Wreck Diver
---
Diving in London & South East
If you are starting out on your diving journey or looking to improve your skills we offer a range of PADI diving courses in London and across the South East. Our locations can be found in Soho, North London/Hertfordshire, Surrey & Berkshire, Brighton & Hove, Oxford and our Open Water diving locations.
Diving Centre
Despite having dozens of historical wrecks dotted along our coastline and some fantastic and varied marine life, we understand that diving in the UK is not for everyone. We are happy for you to complete a Referral course which means that you complete your theory and pool skills with us and your open water dives when you get on holiday. That way you don't have to spend your valuable holiday time sat in a classroom and instead can spend it under the sun or water!
Using our extensive knowledge of the best places in the world to dive and visit, many of our customers ask us to arrange their holiday or a long weekend to complete their diving course, so as part of the service we offer a fully bonded travel agency.
We've trotted the globe to find the best holiday and diving destinations that offer a combination of extravagance, exclusivity, privacy and natural beauty.
So whether you are gearing up for your first dive, need a long weekend break, want to charter a luxury yacht in the Caribbean or bathe on the finest golden beaches, Oyster can build a package specifically around you.
For more details call us today on 0800 699 0243.
Many thanks and we hope to start or continue your underwater adventures soon,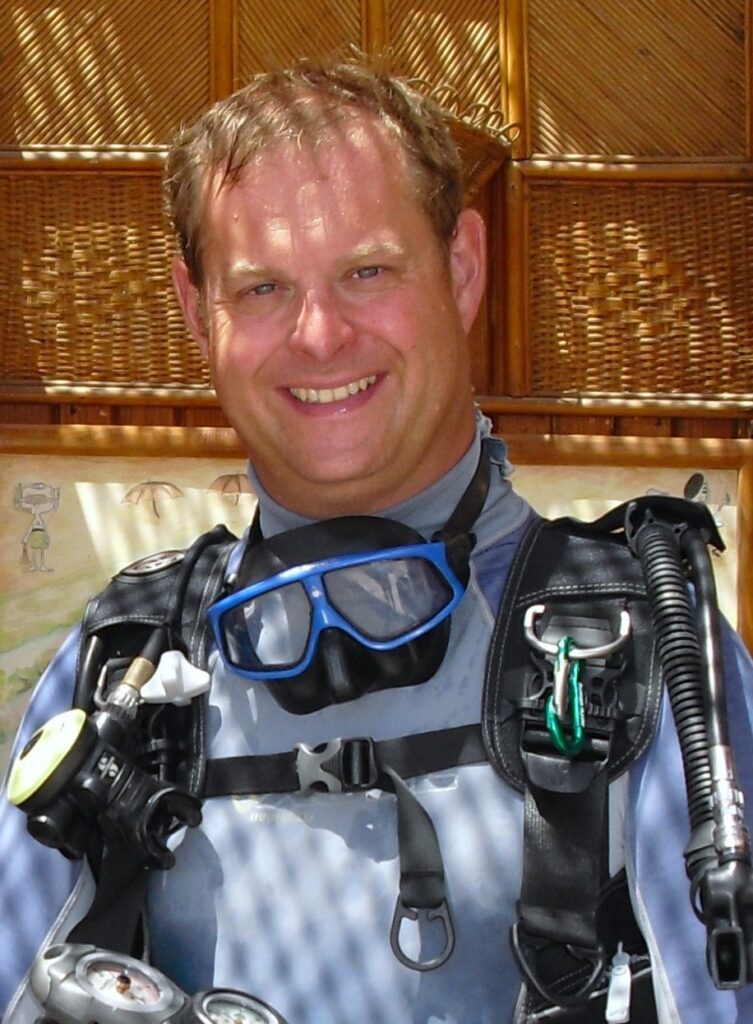 Mark Murphy
Director and PADI Master Scuba Diver Trainer