San Ignacio – Pacific Gray Whales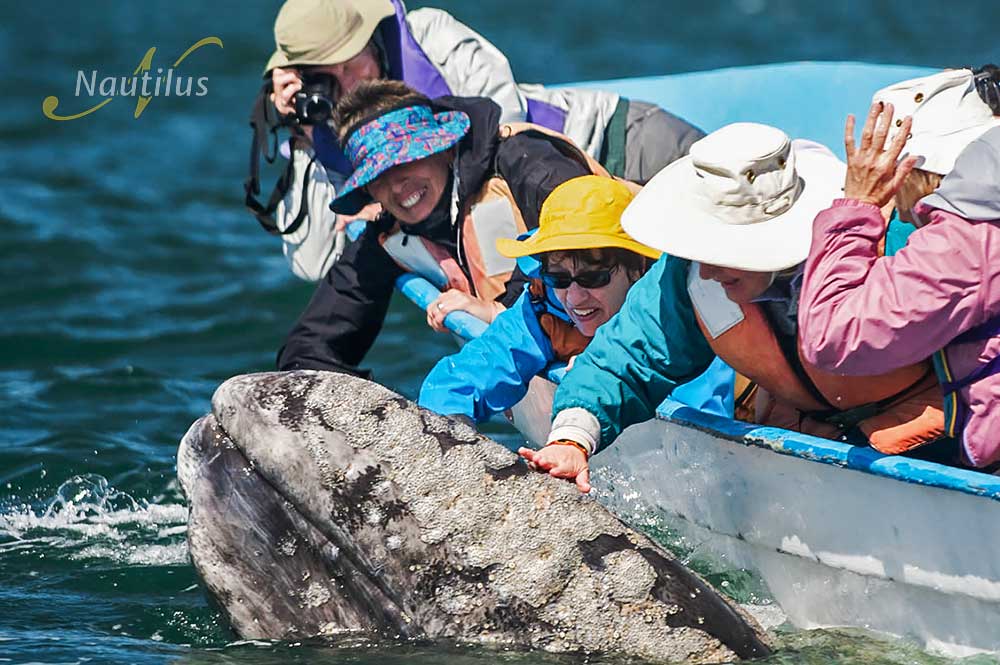 There is a legendary lagoon on the Pacific coast of Baja Mexico that is spoken of in hushed whispers, where gray whales finish an 11,000 mile migration from the Bering Sea and Alaska to mate and calve each year.
The gray whales here are uniquely curious and interactive, allowing for close-up, intimate encounters with these gentle giants and their newborn calves.
This is San Ignacio Lagoon, one of only 4 mating and birthing lagoons in the world, with the highest concentration of sociable whales, and the only lagoon still untouched by human development.
Overview
4 days of virtually unlimited whale watching
With a private charter flight from Cabo San Lucas, it has never been easier to arrive at San Ignacio for 3 nights of fully catered glamping and virtually unlimited whale encounters.
Upgrade your Glamping Adventure with our One Week Package Extension when completing your booking: 3 days San Ignacio Lagoon + local diving in Cabo + 4 days hotel + 1 day Sea of Cortez!
Your adventure starts with an 8 am 2 hour charter flight from Cabo San Lucas to the Lagoon. The airstrip is located right at our beach camp and we will be waiting with your glass of champagne and ready to whisk you straight out for your first whale watching encounter.
Returning to Cabo 1:30 pm. after a last morning of whale watching.
Please come by See Creatures for a visit when you get into Cabo and take advantage of a complimentary humpback whale watching adventure, complimentary Backscatter photo workshop or join us pre-trip to swim with whale sharks in the Sea of Cortez or visit Cabo Pulmo.
 Outfitter Tent (self-arrival)
Classic outfitter tents with twin or modified queen beds. Beautiful linen, rug, chandelier. Adirondack chairs on your porch. Hot tub and fire pit nearby. SHARED TOILET AND SHOWER.
Glamping Tent
Top of the line weather haven tents with private ensuite toilet and shower. Internet access. Twin or modified queen beds. Beautiful linen, rug, chandelier. Adirondack chairs on your porch. Hot tub and fire pit nearby.
Additional Stay
Why not stay in a luxury hotel before or after your whale watching holiday with a few nights in Cabo San Lucas? Take a day trip to the Sea of Cortez to snorkel with sea lions and whale
sharks, or book a day dive with our See Creatures Dive Center. Extend your trip and join one of our Liveaboard Dive sailings to Socorro or Guadalupe. Or, relax by the pool and enjoy some sun at one of our partner resorts.