Scuba Diving Holidays in Saudi Arabia
One of the true last unexplored coral seas of the world has recently been made accessible to tourists. So, our advice is to go and see before the crowds of holiday divers get here!
This has to be one of the greatest new underwater adventures anywhere in the world and we have teamed up with an beautiful boat offering several itineraries offering spectacular reefs, walls and marine life!
M/Y Almonda
Almonda is a luxury Red Sea livaboard based in Saudi Arabia. She was built in 2017 to a very high standard. She is 40m long with an 8.6m beam meaning she is incredibly stable in the water.
Sleeping up to 24 guests in 12 spacious staterooms that include 8 deluxe cabins that have twin beds, 2 double cabins with a queen bed, and 2 master suites with queen beds.
As well as the restaurant that serves 3 buffet meals through the day, Almonda has plenty of room to chill out in between dives including a salon, partially covered sundeck and a larger open sun deck where the jacuzzi is located.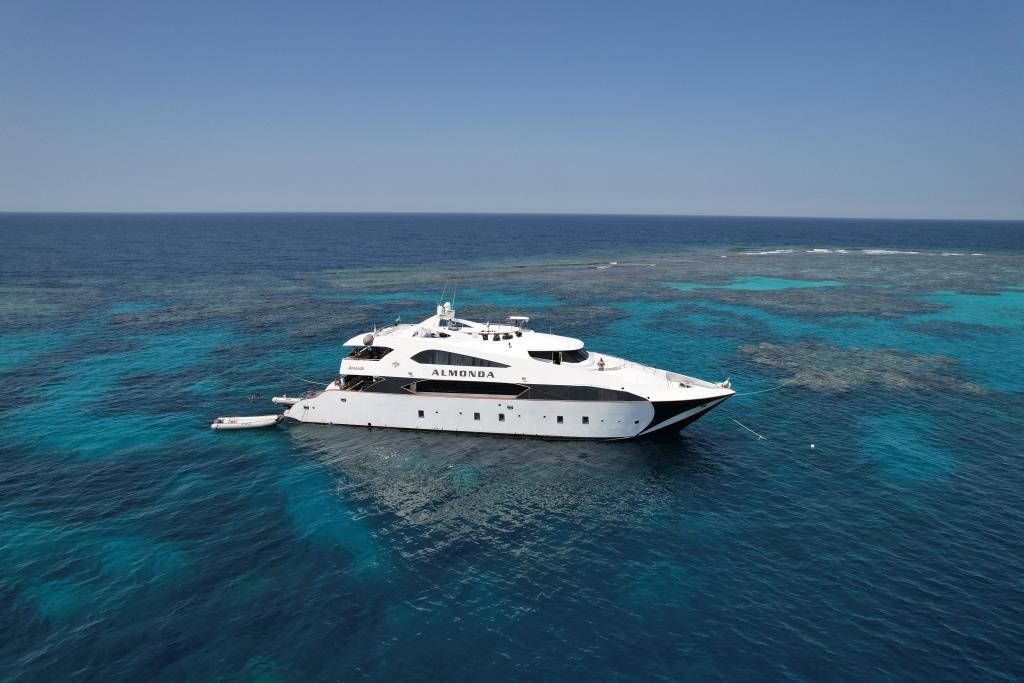 Saudia Arabian Liveaboard Itineries
Farasan Banks
The Farasan Banks are a pristine reef system and islands that are home to birdlife including gannets, and ospreys. Underwater, divers can expect to see whale sharks, hammerhead sharks, white tip reef sharks, black tips, turtles, hard & soft corals, as well as all of the usual marine life you would expect to find in the Red Sea.
Seven Sisters and Five Corals
Five Corals have an extraordinary abundance of marine life including pelagics and colourful coral formations and is home to several shark species including whale sharks, hammerheads, white tips, black tips, silkies, silvertips and possibly even a Tiger Shark!
Seven Sisters is has several plateaus that stretch out to the blue making it possible to see hammerhead sharks, silkies, silver tips and the occasional manta ray. The reef walls are littered with gorgonian forests as well as other hard and soft corals.
Divers should be a minimum of Advanced open water with 35 dives.
---
---