Bahamas Liveaboard November 2020
Bahamas Tiger and Hammerhead Shark Experience
1st to 9th November 2020
SADLY THIS SHIP HAS NOW DEPARTED, PLEASE GET IN TOUCH IF YOU ARE INTERESTED IN A FUTURE TRIP
Made up of some 700 islands scattered over 100,000 square miles, this coral based archipelago starts from Florida's southeast tip and continues to stretch southeast, crossing the meeting point of the Western Atlantic and Caribbean Sea.
It's a nation that consists of only about 30 inhabited islands and is home to some of the clearest waters on the planet, stunning white beaches and a rich culture which translates straight into the delicious cuisine. It's a destination made for uninterrupted holiday bliss, and so much more.
Check out the boat and itinerary here….
Beneath the surface of the big blue, the Bahamas is hiding fascinating wrecks, blue holes, tunnels, deep walls and caverns. Oh, and the third largest barrier reef in the world.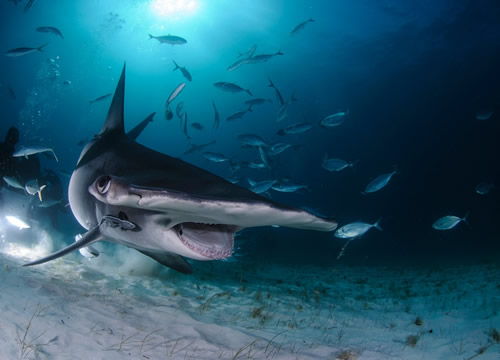 Among these underwater locales, diversity of marine life is high but the bigger pelagics are the draw for many. Several species of dolphin frequent the archipelago as well as humpback, pilot and sperm whales, manta rays, whale sharks and manatees.
However, there are none bigger in terms of pull than the numerous species of sharks that call the Bahamas home. And this itinerary is tailored to getting you in the water with more than a few of the ocean's most impressive predators. Making up the list are bull sharks, lemon sharks, great hammerheads, Caribbean reef sharks, oceanic whitetips and the most famous of all in the Bahamas, the tiger shark. Nowhere else will you give you such an opportunity to see all these species in one area.
Bahamas Master – Once in a lifetime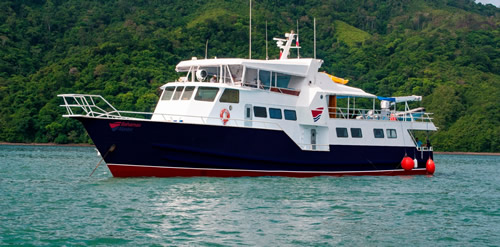 Our home for the week, Bahamas Master is equipped with eight well-designed cabins with panoramic windows that can comfortably house 16 divers between them. You'll have a choice of three cabin types: two master cabins on the forward upper deck containing double beds as well as private en-suite bathrooms; two en-suite premier cabins; and four standard cabins sharing two bathrooms between them.
Between dives, you can relax in the communal areas of both the upper and main decks or in the indoor lounge which is kitted out with sofas, comfortable chairs and a TV and DVD player. Upstairs you'll find a spacious outdoor covered bar and dining area as well as a sundeck where you can relax and top up your tan after a day spent underwater.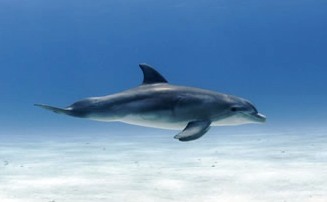 The rear of the main deck is where it all happens though. Here you'll find space to set up and store all dive equipment in a personal location with under bench storage for masks, fins and anything else you need. Underwater photographers can take advantage of the central camera set up table which has dedicated rinse for post dive as well.
Other than that there's the Captains fly-bridge where you're always welcome to soak up the incredible views of the paradise that is the Bahamas.
Planned Group Itinerary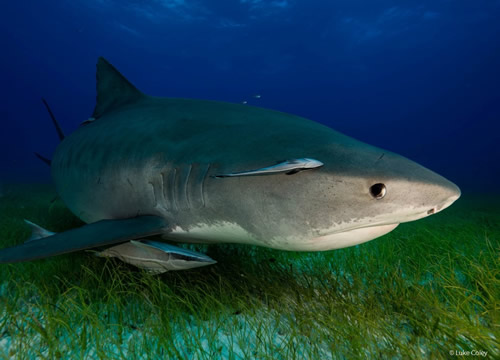 The Bahamas are known to have the clearest waters on earth with an abundance of sharks. It's the third largest barrier reef area in the world with flourishing and diverse marine life as well as excellent dive site diversity: reefs, walls, drop-offs, drift dives, wrecks, caves and blue holes. Besides sharks, keep an eye out for several species of dolphins and whales as well as the endangered Nassau grouper, considered the national fish of the Bahamas, which can reach over a meter in length.
Our Hammerhead and Tiger Shark Experience covers the best of the West End of Grand Bahama Island plus the renowned Bimini Islands. Expect to see lots of sharks including hammerheads, nurse sharks, lemon sharks, tiger sharks, and even bull sharks, as well as dolphins, rays, grouper, turtles and octopus.
This 10 night liveaboard adventure allows up to 30 dives including several night dives (depending on conditions). In some areas the diving is comparatively shallow and there will be an 'open platform' policy to allow diving as and when you like between 8am and 10pm.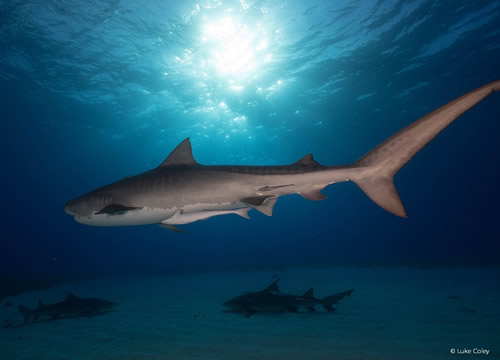 The diving day aboard M/V Bahamas Master has a typical schedule as follows:-
Light Breakfast followed by a briefing and dive 1
Full Breakfast, relaxation period, briefing and dive 2
Lunch, relaxation period, briefing and dive 3
Snack relaxation period, briefing and dive 4, where possible
Dinner
---
Price
Standard twin share cabin £3,213 per person
Premier twin cabin upgrade + £320pp
Deluxe double upgrade + £560pp
What's Included
Included
Full board accommodation (based on double occupancy)
Drinking water
Tea
Coffee
Fruit juice & soft drinks
Land excursions
Up to 4 dives daily
Single 12ltr cylinder with air fills
Weights and weight belts
Open pool diving outside of chummed dives
Handling Disembarkation Day
Obligatory surcharges
Marine Park & Port Fees: 10 nights – $150
Extra costs
Flights
Transfers
Nitrox
Equipment hire
On board merchandise
Alcoholic drinks
Crew and dive guide gratuities
---
Flight Details
| | | | |
| --- | --- | --- | --- |
| Outbound Flight | | Depart London – time tbc | Arrival Freeport – time tbc |
| Return Flight | | Depart Freeport – time tbc | Arrive London – time tbc* |
* denotes arrive next day.

Non-divers
Non-divers are welcome and there will be some snorkelling opportunities, plus and you may wish to extend your stay on a Bahamian island resort afterwards? Please call us for various options and prices.
Payment schedule:
Non-refundable deposit required £325
Deposit 2 required 1st November 2019 £475
Flights payable 1st January 2020
Balance payable 15th August 2020
Dive Equipment
If you need to hire equipment then it is £95 from us for the entire duration including BCD, regs, weight belt, mask, fins and boots. Does not include torch, SMB or dive computer. Diving courses are available but extra charges will apply.
All prices are subject to availability and may change. The earlier you book the less chance there is of any price increases!
---
To book
Please contact us directly…
0800 699 0243
There are only 16 spaces available so please book your space ASAP to avoid disappointment.
Diving and Travel Insurance
If you are planning on diving while on holiday ensure that your travel insurance policy covers you for diving. Many standard travel insurance policies don't include diving or put unrealistic depth limits and other factors within the policy so that they can avoid a payout. While diving is considered a very safe activity it is still advisable to carry out adequate insurance as accidents can and do happen.
Oyster Diving offers and sells flight packages as the agent of ATOL holders. When you pay us for a flight package you will be supplied with an ATOL certificate. Please ask for it and check to ensure that everything you booked (flights, hotels and other services) is listed on it. For further information or for more information about financial protection and the ATOL Certificate go to: www.atol.org.uk/ATOLcertificate.