One of the Diving and Snorkelling Wonders of the World
The diving in Belize is second to none in the Caribbean with stunning coral atolls with some of the most pristine reefs and bustling marine life to be found and of course, the famous Great Blue Hole which is on many divers to-do list. Most of the diving departs from Belize City and the surrounding Cays and heads to the Turneffe and Lighthouse Atolls for some spectacular day trips and there is also good local dive diving around Ambergris Cay and Cay Caulker catering to all levels of experience.
Overview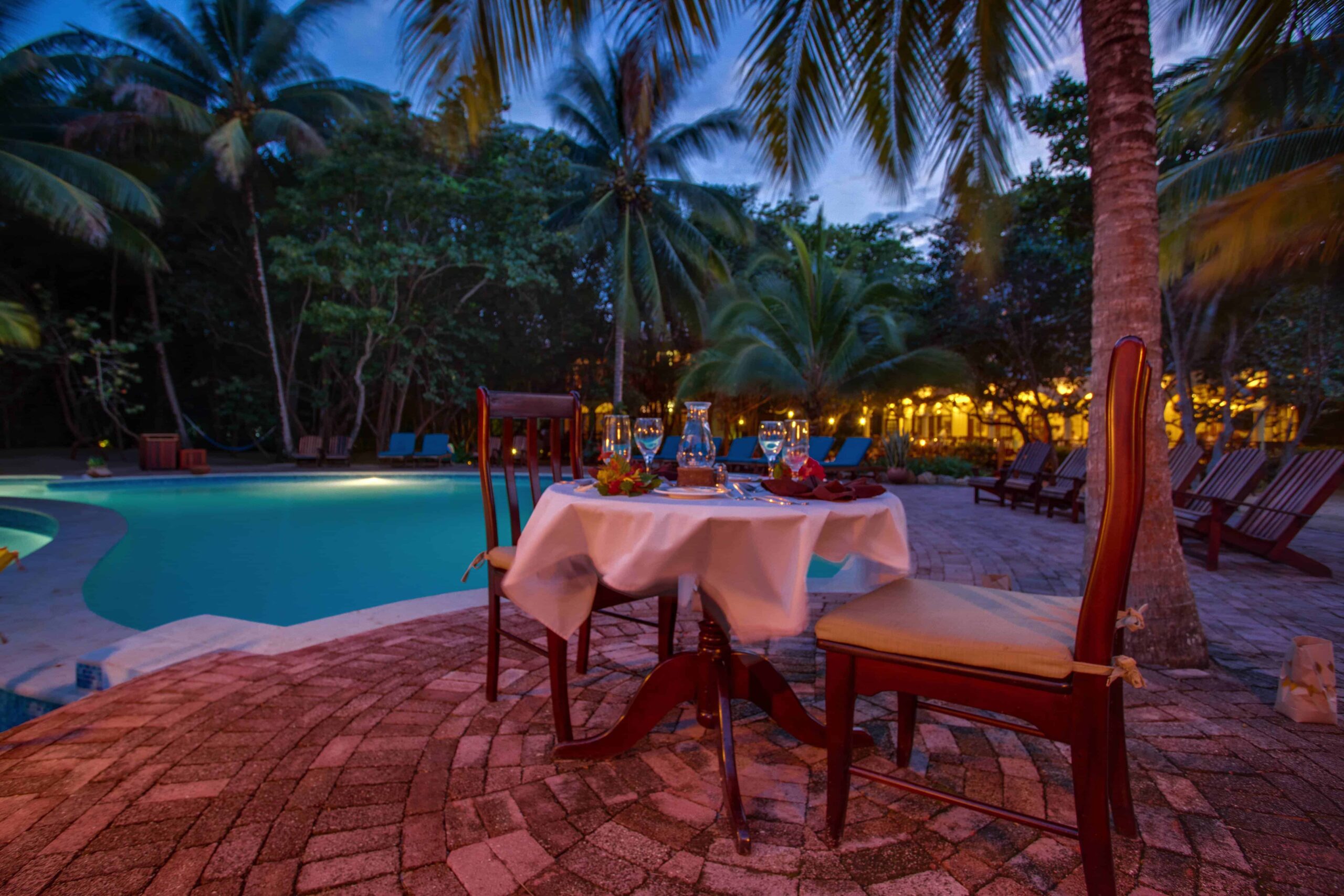 Are you ready to experience both the marine and jungle adventures of Belize? The Reef & Rainforest package provides the most flexibility and savings. Perhaps you want to celebrate your anniversary, honeymoon or special occasion? Check out which of Hamanasi's Belize all-inclusive packages is right for you!
Nestled between the lush Maya Mountains and the turquoise Caribbean Sea, Hamanasi is a special place from which you can explore the best of Belize on and offshore. A secluded, intimate boutique resort located on the beach south of Hopkins, Hamanasi sits on hundreds of feet of Caribbean Sea beachfront surrounded by tropical flora on the finest stretch of beach in Belize. With a short flight from Atlanta, Charlotte, Dallas, Houston, Miami, New York, Panama City, Toronto or San Salvador you may let the warm tropical breezes melt away your hectic life for the laid-back pace of Belize!
Their signature Reef & Rainforest Packages are flexible all-inclusive Belize packages that are customized to your interests and the length of your stay. Stay in any of their rooms and choose from our most popular adventures both on and offshore. Explore the Reef, the Rainforest, or a combination of both!
The resort can offer dives to the Southern Barrier Reef, Turneffe Island Atoll, Lighthouse Reef Allot, and the Blue Hole.
Are you a diver, but your spouse is not? Do some in your family want to explore inland while some snorkel? Are you just so excited about all that Belize has to offer, that you want to do as many reef and rainforest activities as possible? Hamanasi's Reef & Rainforest package is ideal for guests who wish to explore Belize's marine and mainland activities or for guests travelling with companions who have divergent interests.
Most Hamanasi guests choose the Reef & Rainforest package as it makes travel hassle-free and includes all the basics.  Key feature: you can dive or snorkel every day, do only inland adventures or mix and match as you'd like.  Don't worry, you can schedule your adventures after you arrive at Hamanasi.  See your choices below!
– Air conditioning and ceiling fan in each room
– Private porches
– Full-service diving and snorkelling centre
– Restaurant and bar
– Freshwater infinity pool
– Lush tropical gardens
– Gift shop