Cave Diving: The Complete Guide to Underwater Cave Exploration
If you like to escape from the crowds and explore places not many people have seen, cave diving is the adventure for you. The meaning of cave diving is diving with an overhead environment and no direct vertical access to the surface, open air, or light. This can be daunting for some, but for the thrill-seekers, cave diving is a unique and beautiful experience.
Underwater Cave Exploration
There are some experts that estimate there are as few as 75 people globally who can call themselves professional cave divers. This is a specialist hobby and an expert diving qualification that was born from the needs of divers who want to go further than others before them, either for scientific, rescue missions, or for a unique adventure.
Dive with a Cave Diving Group
When divers take the plunge and explore some of the world's most amazing cave systems, they always dive in a group. Cave diving can be dangerous and it is easy to drift off course or get lost in a series of underwater caverns and tunnels. So, the best solution is to dive with a cave diving group so that you have other people there to support you and offer help and support, should you need it.
Extreme Cave Diving and the Dangers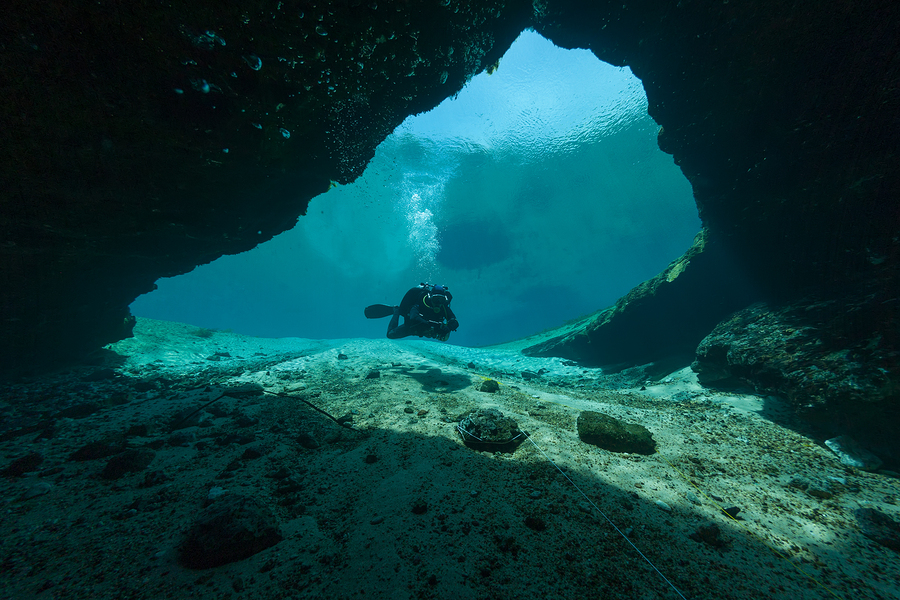 Cave diving is an extreme sport and is a way for divers to explore flooded caves for scientific investigation, research purposes, search and recovery, or for a technical challenge. However, extreme cave diving comes with a number of risks. While in scuba and open water diving, you know which way is up and that by swimming up you will eventually reach the surface, cave diving is different. In cave diving, you can easily become disorientated. Even if you are certain which way was up, the path to safety could be in any direction.
Scariest Underwater Caves
If you are scared at the thought of cave diving, this extreme sport is not for you. However, if you relish the thought of a technical challenge and you're excited at the chance to explore where others have not been, cave diving could be for you.
There are a number of beautiful and serene cave diving locations you could visit, and then there are those that present divers with an added element of danger. Below is a list of the world's scariest underwater cave systems.
Jacob's Well in Texas
Samaesan Hole, Thailand
Devil's Cave System, Ginnie Springs, Fla
The Shaft Sinkhole, Australia
Eagle's Nest Sinkhole, Fla
Freshwater Cave Diving
There is nothing that attracts photographers to diving more than capturing stunning underwater images. Freshwater cave diving allows photographers to capture images as crisp and clear as if they were taken above the surface. Freshwater caves offer crystal clear visibility and are popular with divers wanting to capture stunning photographs. Read on to discover our list of the world's best cave diving sites – we have some incredible freshwater cave diving locations to recommend!
Learn to Cave Dive: The Certifications You Need
Before you set off on your cave diving adventures, you need to learn how to cave dive. So, it is important to ensure you get trained and qualified in the following areas:
Firstly, you will be required to complete an Advanced Open Water course, which allows you to dive 130 feet.
You then need to take a specialist cavern diving course, which allows you to gain experience diving with overhead environments and low-light conditions.
Finally, you will be required to complete a night diving course so that you gain experience diving in low-light or conditions where your visibility is significantly reduced.
What is the Difference Between a Cavern Diver and a Cave Diver?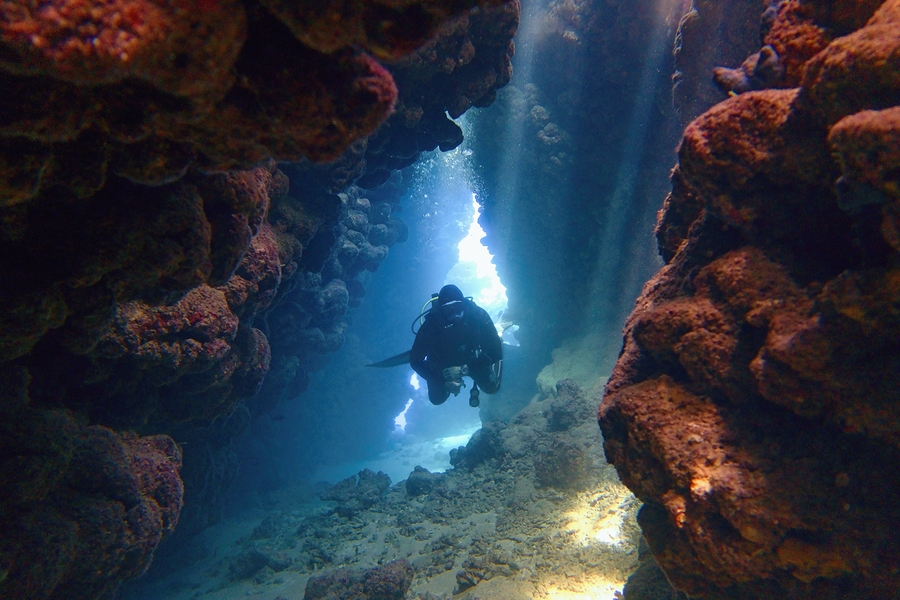 There are multiple differences between cavern and cave diving that it is important to differentiate. Cavern diving usually takes place in the mouth of a cave where the environment is lit up from daylight streaming through the water.
In contrast, cave divers can dive for miles under the water without any natural light and very limited water visibility. Cave diving is a specialist qualification that is only attained by the very best divers in the world. Cave diving is a dangerous and challenging adventure that requires significant and often life-saving training. If you want to partake in cave diving, you need the experience, temperament, and skills to safely navigate dangerous situations.
Is cave diving dangerous? Yes, it is. But with the proper training and plenty of diving experience, you will learn how to safely navigate some of the most beautiful caves in the world.
How to Prepare for Cave Diving
To prepare for cave diving, a lot of training is involved and you have to master a number of drills, including:
Calmly addressing equipment failure
How to deal with situations where your tank runs out of air
What to do if you lose your dive buddy in the cave
What to do if you lose the line that connects you to the exit of the cave
What to do if your dive buddy gets tangled in the line.
As you can tell, you could be faced with a number of extreme situations when cave diving, so you need to have no fear and keep calm. If you want to become a great cave diver, we recommend putting in many open water hours so that you are prepared and confident, even in challenging situations.
Types of Caves You can Dive in
There are four main types of caves that you can dive in, let's take a look at them:
Sea Caves: these caves are created naturally by waves and aren't usually very deep or long. They are most commonly found in coastal regions and are a great place to begin your cave diving adventures.
Coral Caves: these caves are carpeted in large formations of colourful coral. Diving in coral caves you will find many coral reefs growing together to form closed off caves. Coral caves are often shaped like tunnels and are home to an abundance of wildlife.
Lava Tubes: formed by volcanic activity, lava tubes are formed when a volcano erupts and hits the sea. As soon as the lava hits the ocean, the surface starts to cool and harden, while inside the lava is still moving, creating a tube. Some of the world's most stunning lava tubes can be found in Hawaii.
Solution Caves: these caves are formed over hundreds of years. Very slowly, water containing carbonic acid seeps through the limestone and dissolves the rock at the lower level, this is what creates the cave structure. You can find beautiful solution caves in Florida.
Cave Diving Equipment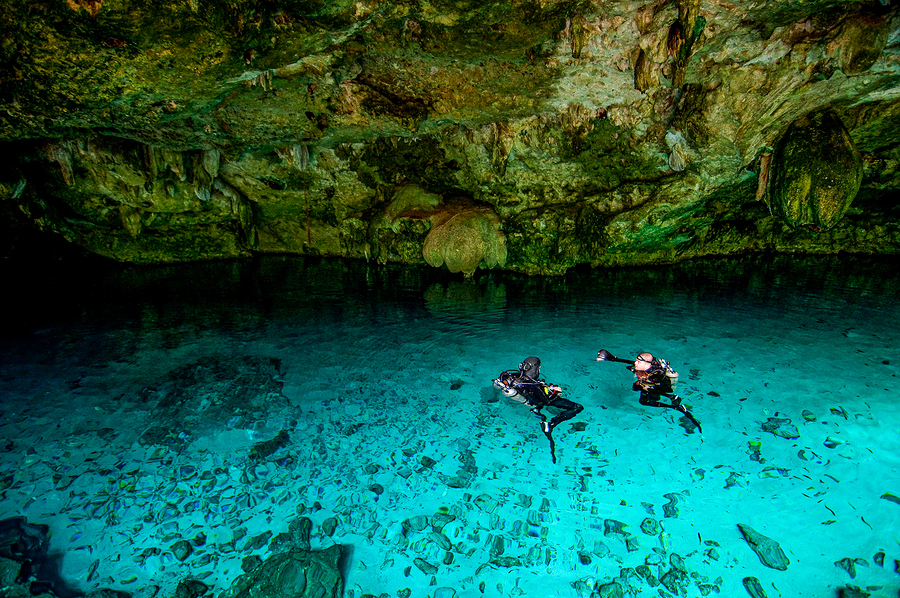 The most important part of any cave diving equipment is that it is firmly strapped down. This point cannot be emphasised enough. Lose equipment or flapping fin straps are a serious risk to cave divers as they can cause entanglement. So, all gauges, hoses, and regulators need to be tightly fitted to your suit and everything must be properly strapped down.
The most crucial piece of cave diving equipment is a diver's reel. This line is unwound as the diver explores the cave network. A diver's reel literally acts as a lifeline as it's how you will find your way back to the surface safely.
The World's 5 Best Cave Diving Locations
If you're going to make the plunge and experience cave diving, you want to make sure you're signing up for an incredible experience. That's why we have put together a quick list of the world's best cave diving locations, just for you.
1. Cenote Angelita – Tulum, Mexico
Found on the Yucatan Peninsula, the Cenote Angelita is a stunning cave diving experience. For years it has mystified divers with its layers of hydrogen sulphate. This creates a cloudy, almost mythical effect that separates the clear water from the salt water 100 feet below.
Required Certification: Advanced Open Water
When to Dive: May to September
2. Indian Springs – Florida, USA
The Indian Springs rae located on private property, just south of Tallahassee, and are widely regarded as providing the best dive experience in North America. There are several points of interest in this cave, including the Wakulla Room, the Power Room, and the Bone Narcosis Room. The main passage of the Indian Springs is 600 feet before divers reach a T-junction and can turn left to go downstream or right to go upstream. The Indian Springs present both the enjoyment of a cave dive with the challenges of a technical dive.
Required Certification: full cave diver, Trimix and proof of 100 cave dives.
When to Dive: late April to October.
3. Ben's Cave – Lucayan National Park, Grand Bahama
The Grand Bahama is home to the longest freshwater cave system in the world and is a must for adventurous cave divers. Home to freshwater eels, shrimp, and mosquito fish, there is a huge amount to see and explore.
Required Certification: open water
When to Dive: October to June
4. Nereo Cave – Alghero, Sardinia
The Nereo Cave is known as the largest underwater cave in the Mediterranean Sea. Both the sheer size of this cafe as well as its many arches and tunnels, attract cave divers from all around the world every year. If you are new to cave diving, the Nero Cave is the perfect location for you because it is easy to navigate and it within recreational limits.
Required Certification: Advanced Open Water
When to Dive: April to October
5. Kilsby's Sinkhole, Mt Gambier, South Australia
Kilsby's Sinkhole was one of the first sinkholes ever discovered in Mouth Gambier and since the 1950s, divers have been flocking to the area. The sinkhole itself is 65 meters deep and the limestone cavity is filled with crystal clear fresh water, so the visibility is beautiful. Kilsby's Sinkhole is the perfect cave diving experience for many divers as it boasts both overhead and non-overhead environments.
Required Certification: open Water (for non-overhead areas) or cave diver (for overhead areas)
When to Dive: All year round
Cave Diving Certifications for Beginners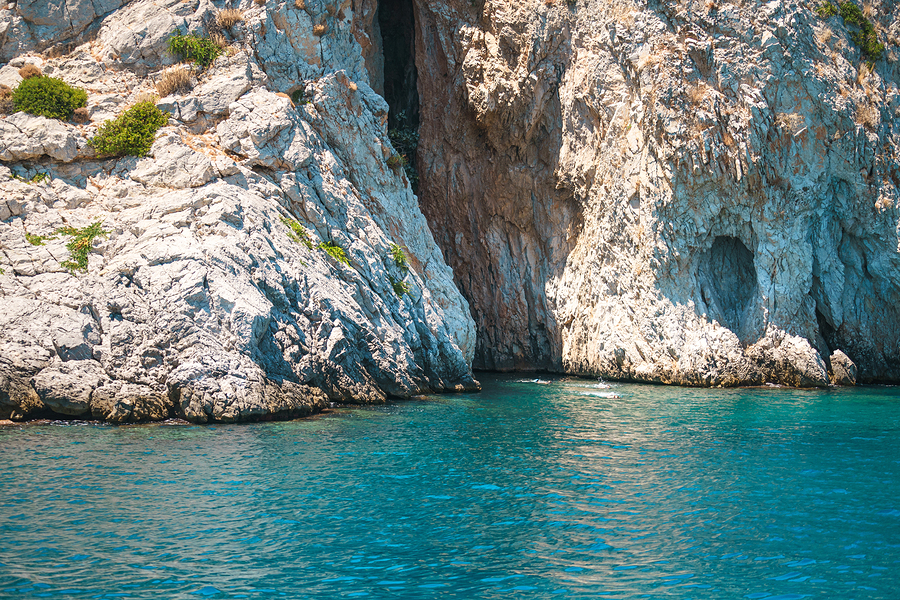 Do you want to explore some of the world's most challenging cave dives but don't know where to start? The PADI Open Water Diver course is the world's most popular and widely recognised scuba diving certification. The best place to start for anyone new to diving, the open water certification is a great introduction to diving and qualifies you to dive around the world to a maximum depth of 18 metres. So, you can enjoy exploring sea caves.
Qualifications for Advanced Divers
If you are a more advanced diver keen to take on a technical challenge, our PADI Advanced Open Water course is for you. Once you have completed this course, you will be a qualified PADI advanced open water dive. This means you will be qualified to dive around the world to 30m, opening up a whole new world of dive sites and underwater adventures.
Book Your Course Today
At Oyster Diving, we have a team of experienced PADI diving instructors who are passionate about what they do. Book an Oyster Diving course today and learn from some of the best. We will help you on your way to becoming a professional cave diver and help you gain all the qualifications you need to dive safely and confidently in some of the world's most challenging and impressive cave sites. Contact us today to find out more.