Great-Value Packages to the Best Red Sea Scuba Diving Resorts
There are many potential Red Sea scuba diving resorts to choose from. Most resorts in Egypt will offer some form of diving – but we have handpicked the very best. Whether you want to spend a few days diving and the rest just relaxing, or explore scuba diving sites every day, we can help you find a diving holiday package at a top beach resort that offers exceptional value for money.
Our incredible scuba diving packages give you full access to world-class diving centres, beautiful accommodation and, of course, wonderful marine life. We can take you to the following resorts:
We can cater to divers of all experience levels, as well as groups, couples or individuals, for a fun and social dive holiday at one of Egypt's finest resorts. Take a look at the links above for further details on each dive resort and to book, or just get in touch with us to reserve your space today.
What Are the Best Red Sea Diving Resorts?
Whichever resort you end up picking, we guarantee a safe, relaxed diving trip led by PADI-qualified instructors. There are resorts suitable for families and we will be happy to help find the best resort to suit your exact requirements, such as if a non-diver or snorkeler is coming too or you are travelling with a child.
To help narrow down your choice, the following are some highlights of the fantastic resorts we serve, which include options for a couple of different price points:
The Port of Ghalib, which is in Marsa Alam on the western shore of the Red Sea, is home to the Marina Lodge, a 4-star hotel with great facilities for sun, beach and diving holidays in the region. The hotel is in the Nubian style, which makes it distinctly Egyptian – unlike many other resorts.
The most notable features, facilities and benefits of the Marina Lodge include the following: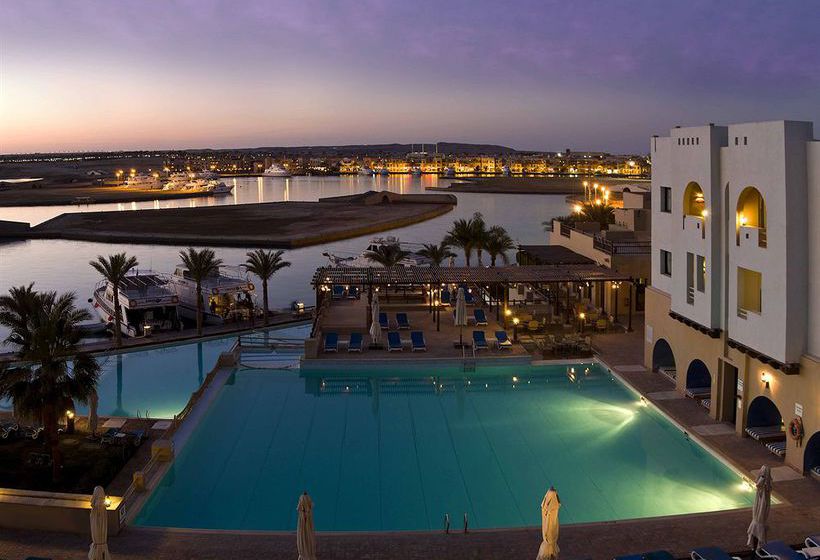 PADI 5-Star diving school: This is a dive-centric resort, as such it boasts an excellent diving school. Perfect for beginners and more advanced divers alike, the Marina Lodge allows you to practice and hone your skills – right next to your lovely accommodations.
Excellent rooms: 201 spacious, comfortable, air-conditioned rooms are waiting for you when you return from diving, or after dinner at the resort. You can choose from a nice garden view or an ocean view, which looks out onto the beautiful Port Ghalib marina.
Great location for dive sites: The Marina Lodge is perfectly situated on the shore of the Red Sea for easy access to top dive sites, such as Elphinstone and the wreck of the Hamada. Our dive partner, Emperor Divers, operate from right in front of the hotel too!
The Marina Lodge also has fantastic links for flights, which can make a short trip to the Red Sea very manageable and maximises your dive time. The resort also offers plenty of food, drink and entertainment options, with bars and restaurants, 24-hour room service and even a shisha area.
Checking into the Fort Arabesque Resort, Spa & Villas in Makadi Bay, just south of Hurghada on the Red Sea's western shore, will give you a wonderful base for diving and beach holidays. With rooms, suites and private apartments, there is something for families, couples and individuals.
Fort Arabesque is a fantastic option for keen divers and has the following features: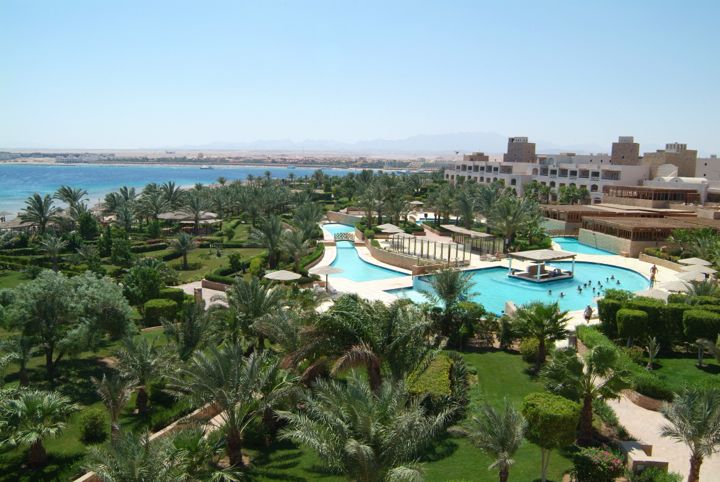 Beachfront dive centre: I-Dive, a 5-star PADI dive centre, is conveniently located on the beach. You can flit from comfortable 4-star accommodations to top-class diving in no time, so it is the perfect Red Sea scuba diving resort for ultra-keen dive enthusiasts.
Outstanding facilities: Three swimming pools, multiple restaurants and bars that serve food, a full-fledged spa, great water sports and beach facilities as well as a fitness centre make the Fort Arabesque fantastic for families and groups with non-divers.
Amazing dive sites: The Fort Arabesque is right by top dive sites such as the famous House Reef, directly accessible from the beachfront dive centre. Other dive spots to enjoy include the Relittino, full of marine life, and the haunting Salem Express wreck.
You can get so much from Fort Arabesque even if you are not diving – but if you are, it offers you access to life-changing dives right next to a luxurious, comfortable beach resort. The dive resort is designed in a Sardinian style, so it forms an intriguing site on the Egyptian coastline.
If you are looking for luxury alongside impeccable diving experiences then the Four Seasons Resort in Sharm el-Sheikh is the best option. Our Sharm el-Sheikh diving holidays come with many options, but this is arguably the top 5-star Red Sea scuba diving resort that we serve.
The Sharm el-Sheikh Four Seasons has the following outstanding features and facilities: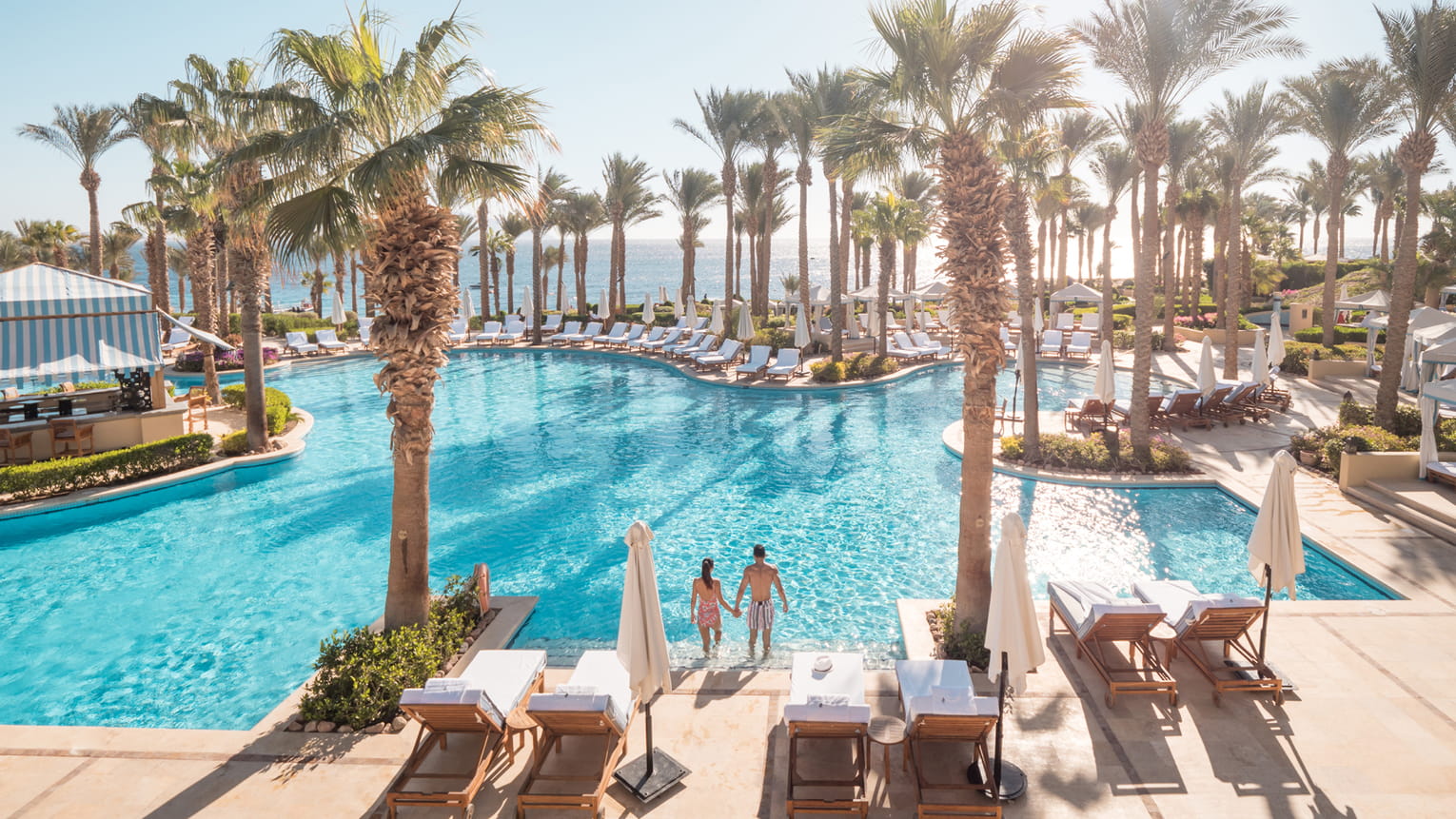 Awe-inspiring setting: The combination of greenery, surrounding desert and the wonderful sea gives this resort a breathtaking wow factor. Many people flock there with no thought of diving, and it is an enchanting traditionally-designed dive resort.
Easy access to dive sites: Although the resort has a secluded feeling, you can easily get a dive boat to the famous dive sites of Ras Mohamed and even the wreck of the Thistlegorm. There is also an off-site dive centre where you can explore coral gardens.
First-class accommodation: As a 5-star hotel you can expect grand rooms, but these are a cut above. You can choose from several types of rooms and their designs have a luxurious romantic feel, so it is ideal for couples but suits other groups and families too
As if that were not enough, the facilities also include a private white-sand beach, four swimming pools, tennis courts, yoga studios, an impressive spa and lots of kids activities. If you are looking for the most all-encompassing Red Sea scuba diving resort, the Four Seasons is truly the place!
Red Sea Scuba Diving Resort Prices
All the resorts we serve are either 4 or 5-star, so the price points settle in the mid and higher range. However, we can find flexible packages that will suit most budgets. Plenty of choices are available for accommodation and other upgrades, with many resorts offering an option for standard rooms, suites, villas, apartments and others, which can easily affect the price range.
We will be happy to discuss the options affecting costs and how we can help you find the right resort for your price point. Please feel free to contact us to find out more about holiday prices.
Why Choose Us for Your Red Sea Diving Holiday?
We can take you on a range of amazing itineraries across the Red Sea coast and further afield to open water dives, with epic day trips to fantastic sites or convenient shore dives – all the while you have the comfort of a luxurious well-equipped resort to look forward to once you return.
By choosing us you get the following advantages of our fantastic service:
PADI diving courses: Whether you are new to diving or an advanced diver, we offer great diving courses to help refine your skills or gain essential qualifications before your trip. We have many convenient locations to complete courses all over the UK.
Handpicked destinations: Our team scours the globe for the best dive sites and will make sure you enjoy the best dives under the highest standard of instructor, no matter what type of trip you decide to take with us.
Superb value for money: Our ongoing relationships with airlines, hotels and diving resorts all over the world mean we are the wise choice when you want to get a good deal that is completely hassle-free. All of our diving holidays guarantee the best value.
We cater to all levels of experience and pride ourselves on providing a friendly and social dive environment led by PADI-qualified instructors, who have a deep passion for diving and making sure everyone has a safe, fun time. We also offer fantastic equipment hire and purchase rates.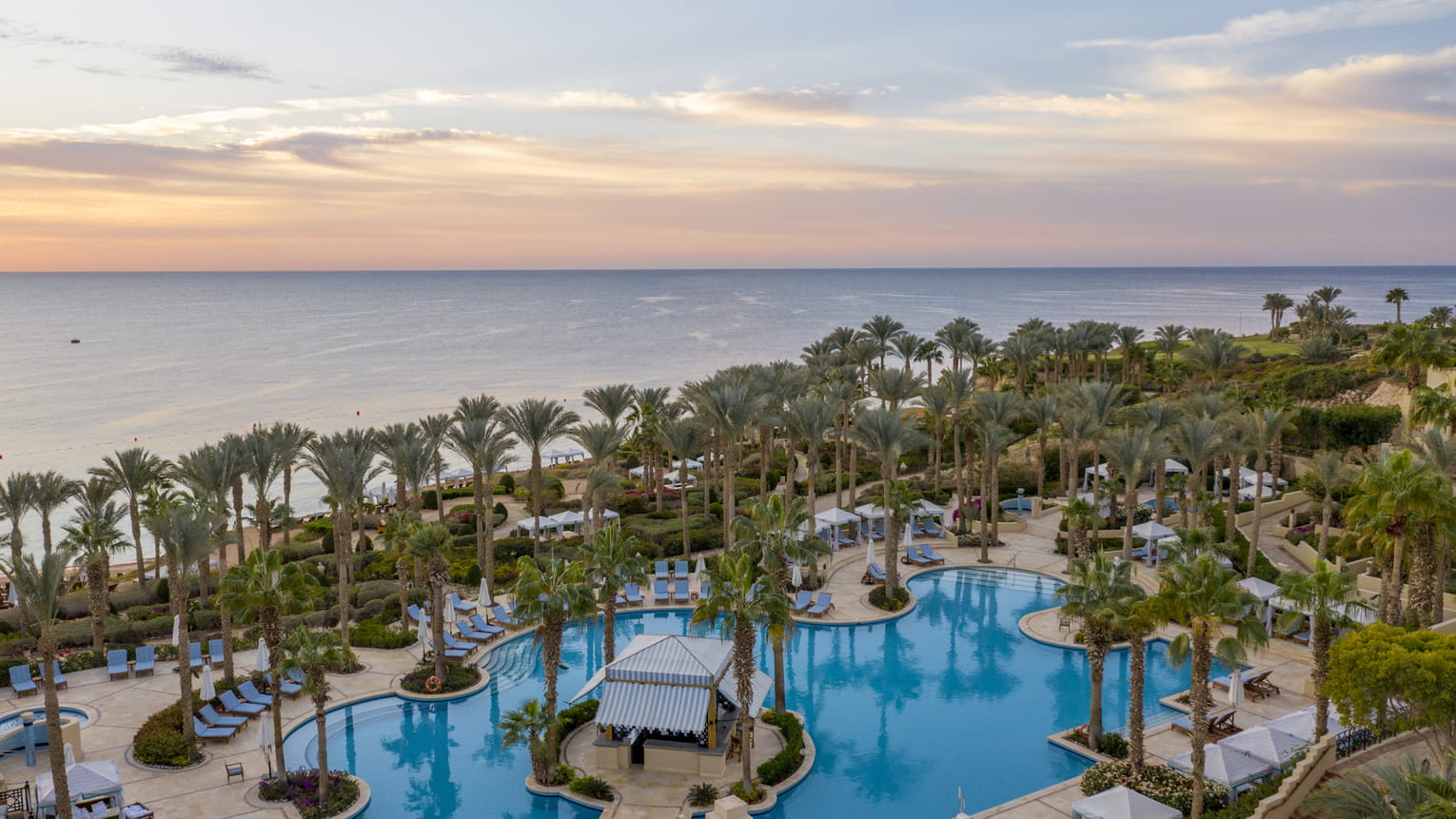 Is Hurghada or Sharm el-Sheikh Better for Diving?
It is a common question, but both offer fantastic options for diving. If you have a particular dive site you simply must experience then one or the other will become the natural option – but it is very hard to pick!
Aside from diving, Hurghada offers a bit better accessibility for the Ancient Egyptian tourist sites of Giza and Luxor, so it may well tip the balance – depending on your preferences for non-diving activities. Sharm el-Sheikh may be a little better for snorkelers and sea swimmers too, with nice corals and shore dives. Sharm el-Sheikh has more options for food outside the resort too.
Overall, there is no 'best' per se, but we will be happy to discuss what you want from your ideal resort holiday so you can make the right choice.
Would You Prefer a Liveaboard?
We offer many types of diving holidays in the Red Sea that include magnificent resort trips and liveaboards. If you would like to plan your dream holiday we are the best option for value and liveaboards are nice for packing in intensive diving sessions and having a fun, social group dive experience. Many of the accommodation options onboard can rival the resorts too!
Book a Trip to a Red Sea Scuba Diving Resort
There is no need to trawl individual hotel sites and flight options, we will do all of the bookings on your behalf. We are a top choice for a thoroughly enjoyable and hassle-free experience, as our years of providing outstanding dive holidays give us an insight into what will work best for you.
We provide exquisite resort holidays for diving all over the world. Whether you have one of our fantastic Red Sea scuba diving resorts in mind already or you want to find out more about the excellent value packages we offer, simply get in touch with us to book your trip today.