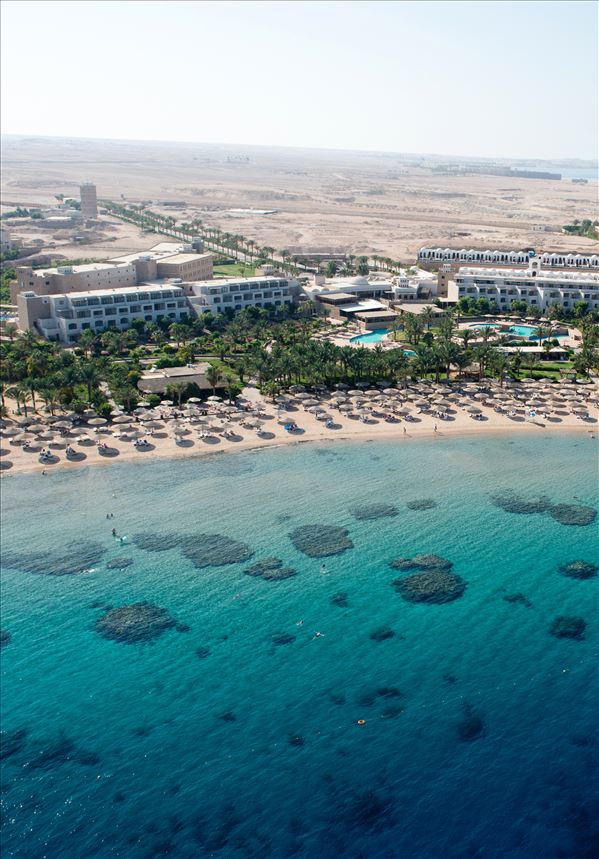 Located about 35km south of Hurghada, Makadi Bay is a quiet resort surrounding this pristine coral bay. Fort Arabesque is a great base for a diving holiday. Great for families, couples and groups. A lovely hotel with a friendly dive centre right on the beach.
Overview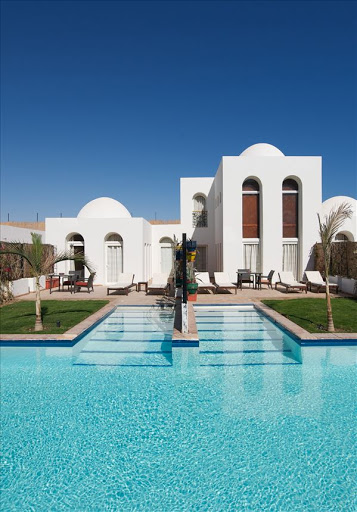 There are many room types in the "Fort Arabesque Beach Resort"; all have been remodeled recently to the latest standards of comfort and luxury. The 330 sea-view rooms and suites are well-appointed featuring spacious rooms, duplex suites, family apartments and the elegant "Presidential Suite".
"The Beach Resort" features 3 swimming pools (2 of which are heated), a shopping arcade, the "Main Restaurant" which serves breakfast, lunch, and dinner (buffet style).
It also includes the open-air poolside "La Piazza" (pizza and pasta bar/restaurant), The "Red Rock" lounge, "Le Jardin" Club de thé, and the "Beach Bar – Mediterranean Grill". "Room Service is available 24 hours a day.
In addition, the trendy "Club 159" serves an exquisite A la Carte menu and features contemporary live entertainment (Mix of Chillout, Blues, Jazz and Reggae music).
"The Verena Spa" offers an array of body treatments by professional Thai ladies. Eight massage rooms, Jacuzzis, steam, and Moroccan baths are available. The Gym features top-of-the-line equipment and an "Energy Bar".
"The "Arena" is the show-time amphitheatre, featuring nightly live shows by a talented international animator. It also features Movie Nights and broadcasts important sports events on giant screens.
The spacious lobby has a 24 hours reception desk, concierge services, games room, car rental, and ticketing for local tours.
Villas
Forty One Bedroom Villas/spacious contemporary bathroom, living room, wide terrace directly connected to the pool; a selection of Coffee/Tea and natural herbs, Fully stocked honor bar, private DVD player, LCD flat screen and a library of the latest international movies.
6 Two Bedroom duplex Villas, / 2 bathrooms, living room, wide terrace directly connected to the pool; private DVD player and a library of the latest international movies.
The West Bay
130 luxury rooms and suites in a peaceful setting for adults only. The West Bay is an upgraded accommodation, in-room amenities, and sumptuous dining, which features spacious rooms, junior suites and the incredible "Penthouse" with its spectacular view of the entire Makadi Bay.
The cozy heated swimming pool and the "Sunset Café" both command beautiful views of the Red Sea, as well as the unparalleled landscape with its beautiful gardens of bougainvillea, Jasmine as well as different kinds of palms, lemon, Orang and Tacoma trees. The "Wind Breaker" is a beachfront bar next to the surf shop and "I Dive" – an Italian diving center – among the best on the red sea.
The "West Bay Restaurant" serves rich international buffets, featuring live cooking over breakfast, lunch, and dinner. The cozy lobby has the "Quite Lounge" and shops including a clothing boutique, jewelry, a beauty center, and a convenience store.