Experience the rush of a Cancun shark diving adventure with an Oyster Diving holiday. Thanks to its prime location in the Caribbean Sea, Cancun has become a popular scuba diving spot, offering the opportunity to witness and swim alongside the fascinating species in their natural marine habitat.
With an Oyster Diving holiday, this life-changing experience in Cancun's azure oceans is within reach. Our trips include the best shark dive spots alongside luxury accommodations for rest and recuperation after a day spent in the water. Throughout our years of experience organising first-class scuba diving trips, we've delighted countless scuba divers with: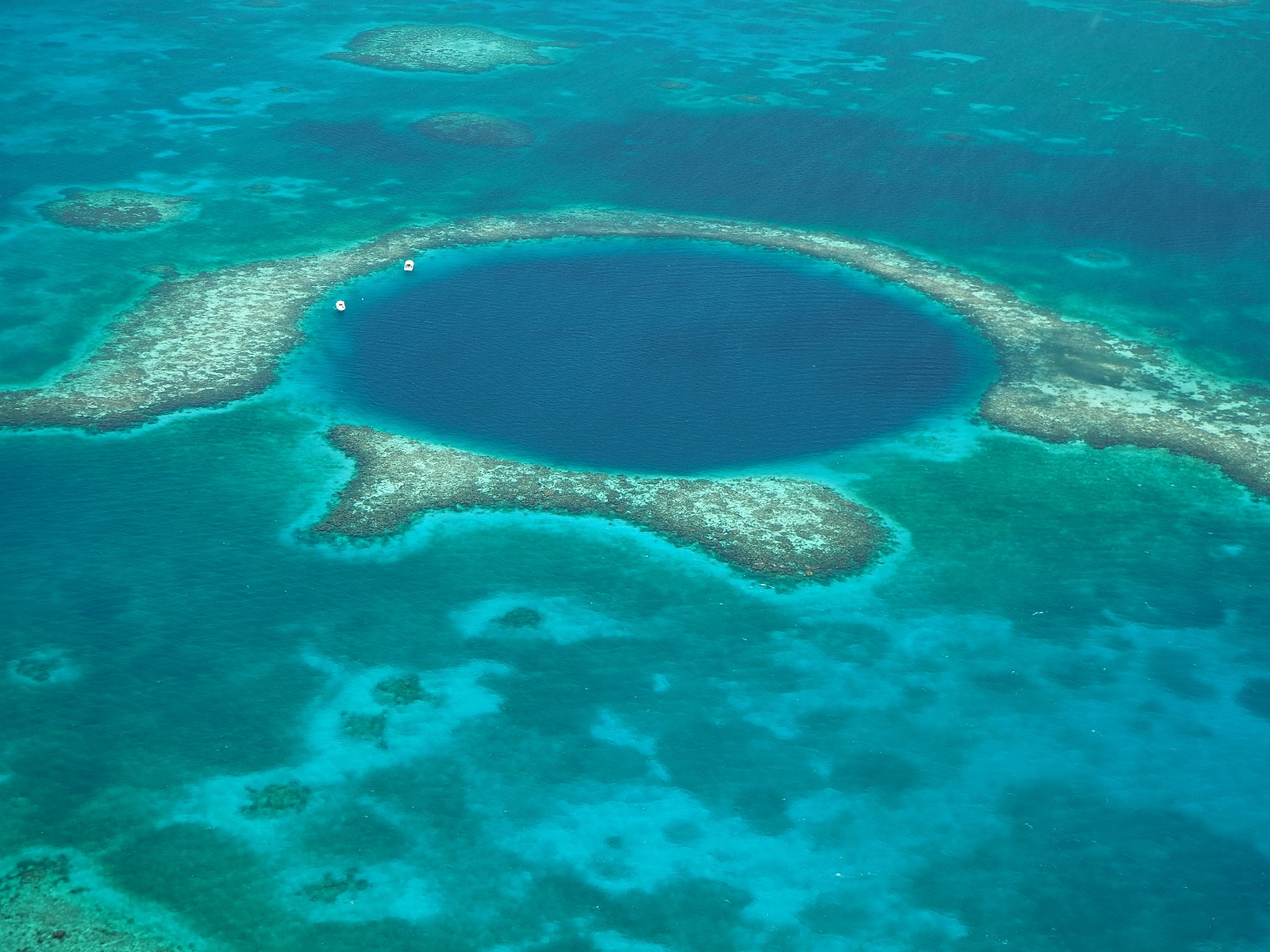 Varied experiences for all levels: Oyster Diving scuba diving holidays are designed to offer something for every experience level. From wreck diving to cage diving and everything in between, our PADI-qualified diving instructors have worked with divers of all levels and can help you find the best excursion to suit you, as well as offering support and advice during your trip with us.
The best dive spots: Our handpicked itineraries are the result of years of diving experience across the globe. The Oyster Diving holiday consultants hone in on the best dive spots at your dream diving destination, locating the optimal conditions to increase your chance of encountering sharks on a dive.
Great value for money: All of our shark diving trips offer unbeatable value for money, with incredible experiences on offer both in and out of the water. We've established relationships with the best hotels and boat crews to deliver unforgettable trips which justify the price tag.
Contact our travel consultants today for more information on our superior scuba diving trips.
Oyster Diving's Cancun Shark Diving Trips
On our Royal Hideaway trip in the luxury Playacar in Cancun, you'll spend your days exploring the unparalleled dive spots around Playa del Carmen, and by night you'll relax in a hotel surrounded by the Riviera Maya's white-sand beaches. This popular resort destination offers the best in Cancun scuba diving holidays, in an all-inclusive and adults-only setting.
During your time on our Royal Hideaway trip, you'll visit some of the best local diving sites including barracuda reef and bull shark point, as well as Jardines and cenotes known for their colourful coral, sponges and schooling fish.
Outside of the incredible shark diving opportunities, the luxury resort boasts six large swimming pools with impeccable views, a range of gourmet dining options designed by a team of professional chefs and a fully-equipped spa and wellness centre for rejuvenating treatments after the excitement of your shark dive.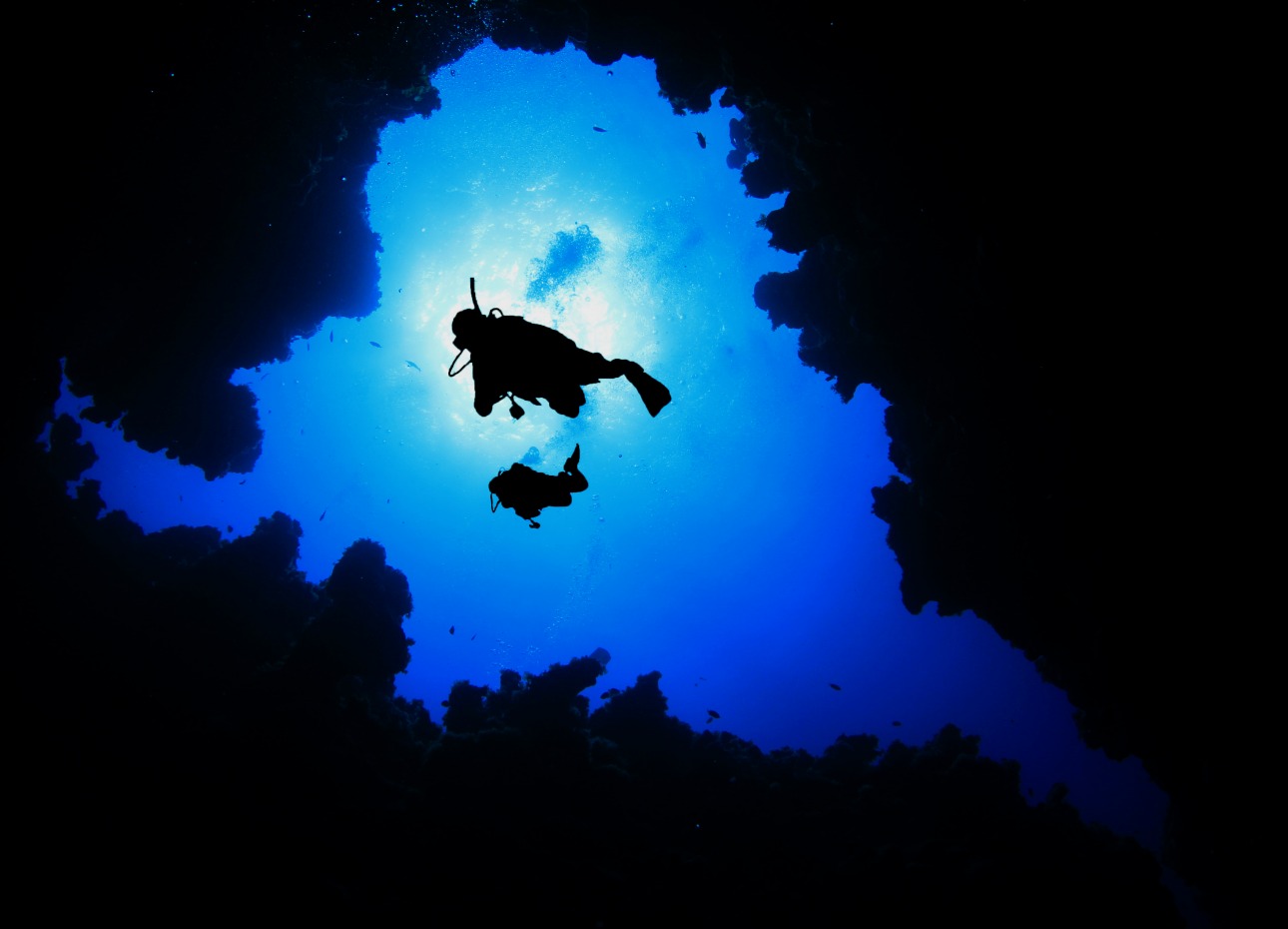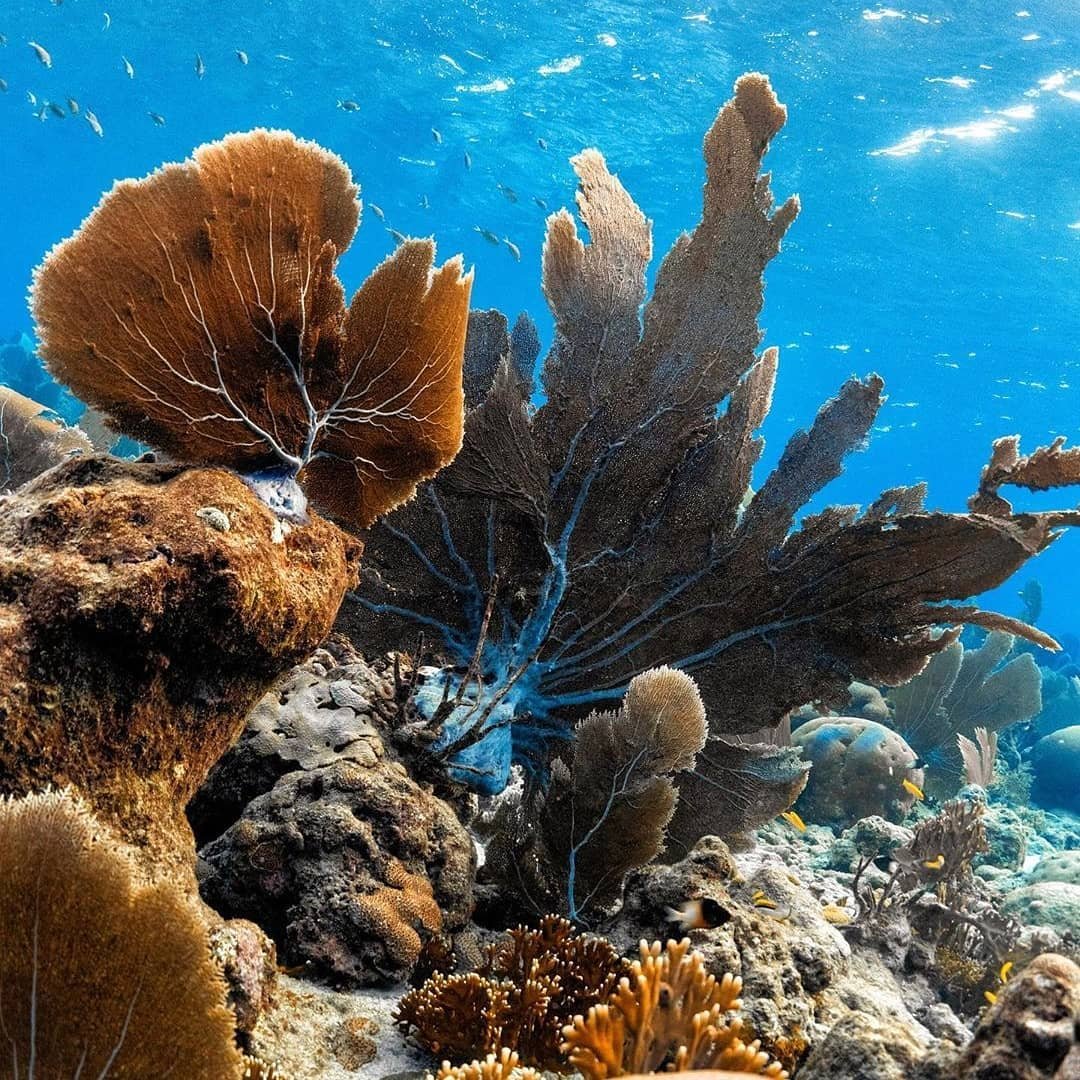 It's for good reason that Cancun has become such a sought-after destination for diving with sharks. Not only will divers enjoy unbeatable conditions in the Caribbean's welcoming waters, but the location's geography and topography are truly unique. Expect sightings of diverse species, from imposing apex predators to docile and peaceful sharks.
For some of the best shark diving in Mexico, Cancun boasts the following dive spots:
Playa del Carmen: Located in the stunning Riviera Maya region, Playa del Carmen offers a host of fantastic shark diving spots including barracuda reef and bull shark point. Beneath the waves, divers in Playa del Carmen can scuba dive with various marine wildlife, with a particular highlight being bull shark encounters. Witness populations of large female bull sharks congregating around the Quintana Roo beaches, attracted to the area by ample food sources and the flowing freshwater of the native Yucatan cenotes. Bull shark diving in Cancun is truly unforgettable, as divers can rest on the ocean floor surrounded by these mesmerising creatures.
Manchones Reef: Considered to be one of the best dive sites in Isla Mujeres, Manchones Reef boasts extensive coral reef and is famed for its impressive marine biodiversity as well as its incredible underwater sculpture museum. This is a popular spot which features on many Cancun shark diving itineraries, as scuba divers can enjoy encounters with docile nurse sharks along with vibrant coral reef vistas and schools of blue tangs, wrasse and snappers. Once they've enjoyed encounters with the local marine wildlife, divers can also marvel at Cruz bay where an imposing bronze sculpture of a cross has been erected in memory of people who have lost their lives at sea.
Isla Contoy: One of the best sites for whale shark diving in Cancun is Isla Contoy. Located in the north of the Yucatan Peninsula, these peaceful creatures migrate to the warmer Caribbean waters full of nourishing plankton, which results in a second-to-none whale shark diving experience. Typically seen in the summer months of June to September, this unforgettable spot also gives divers the opportunity to spot mata rays and dolphins.
Akumal Bay: A diverse scuba diving spot offering both shallow and deep diving, Akumal Bay is one of Cancun's premier diving spots, boasting 12 individual dive sites. Divers can enjoy a variety of diving environments including coral reefs and tunnels, and the gentle currents make for a more relaxed diving experience. Common marine wildlife in Akumal Bay can include white and blacktip reef sharks, bull sharks and manta rays, as well as a number of turtle species.
Wreck diving: The wondrous oceans surrounding Cancun are brimming with diverse scuba diving spots. In addition to the distinctive cenotes and open water diving, more experienced Cancun divers can enjoy fantastic local wreck diving. The C-58 wreck, originally a WWII US navy ship, was intentionally sunk to create an artificial reef, and now lies on the seabed around 26m from the surface. Rich marine wildlife can be seen including groupers, barracudas and even manta rays. Ultrafreeze, commonly known as El Frio, is another well-known Cancun diving spot which was originally sunk in 1979. During its long lifespan underwater, and also owing to strong local currents, the wreck is now home to sea turtles, groupers and manta rays.
Cancun's enticing waters are brimming with fascinating marine wildlife, so wherever you choose to dive, you're more than likely to witness something incredible below the surface. Joining our Cancun scuba diving trip is an excellent way to pack as much into your shark diving experience as possible.
What Species Can I Dive With in Cancun?
The abundant marine biodiversity in Cancun's waters offers some of the best scuba diving in the world, with vast areas of its coral reef protected in national parks. Divers can encounter a variety of shark species whilst exploring the area, including:
Bull sharks
Caribbean reef sharks
Whale sharks
Nurse sharks
Mako sharks
Hammerhead sharks
Lemon sharks
Although shark diving in Cancun is especially popular, there are countless opportunities to encounter other stunning marine species which can enhance any shark diving trip. Species you'll likely spot include:
Green sea turtles
Hawksbill turtles
Loggerhead turtles
Seahorses
Eagle rays
Splendid toadfish
Barracudas
Moray eels
Whilst the diverse range of marine species is one of Cancun's main scuba diving pulls, the expansive coral reef also makes for an incredible diving experience, as well as stunning underwater photo opportunities. Common species of coral in Cancun include:
Fire corals
Staghorn coral
Gorgonian coral
Brain coral
What Are Diving Conditions Like in Cancun?
Shark diving conditions in Cancun offer year-round diving potential, although some months provide more optimal conditions or an increased chance of encountering certain species. Drier weather from November to April makes it the diving high season, whilst the period of May to September offers a quieter, less crowded option.
Divers can typically expect the following conditions whilst shark diving in Cancun:
Water temperature: Water temperatures are relatively consistent throughout the year, usually settling at around 25 – 28°C and cooling somewhat during the winter months. Although wetsuits are recommended, a 3mm suit is usually sufficient to keep you comfortable in the water. Divers specifically hoping to explore the region's incredible cenotes can enjoy stable water temperatures of around 28°C all year.
Visibility: Although visibility differs slightly between the ocean and cenotes, it is generally impressive across both and ensures a good diving experience. When scuba diving in the ocean, divers can expect an average visibility of around 25m. However, when exploring the crystal clear waters of the cenotes, visibility is particularly remarkable with average visibility often reaching up to 100m, providing some truly spectacular underwater views.
Currents: The currents in the waters surrounding Cancun can differ, so it's always recommended to consult with an experienced diving professional to understand the best option for your experience level. Some spots, such as Punta Nizuc, benefit from slower currents, whilst dive zones such as Cozumel have more powerful currents and are therefore more suited to experienced divers.
Book Your Unforgettable Shark Diving Holiday in Cancun
A Cancun shark diving trip organised by Oyster Diving is the best way to explore this intriguing dive destination. All of our trips are designed to offer divers incredible value for money and long-lasting memories to bring back home. Our PADI-qualified instructors will be on-hand to ensure that you have an unforgettable experience, and have carefully-selected superior liveaboards and resorts to create holidays that deliver on every level.
To start your journey towards an incredible Cancun shark diving experience, our PADI instructors also offer award-winning diving courses. Whether you're a beginner taking your first breath underwater, or an experienced diver looking to enhance their qualifications, your local Oyster Diving dive centre can help.
To explore our shark diving holiday options, browse our destination finder or talk to our travel consultants today.
Take the Plunge – Get in Touch Today – info@oysterdiving.com
Places fill up well in advance so please contact us to book your place today. Here we will explore in more detail the best scuba dive sites available, the types of fish you can expect to see and the water temperatures and conditions you are likely to experience.
What Types of Sharks Swim in the Caribbean?
Many species of sharks are migratory and can be seen swimming almost anywhere on the planet. Although there are seasonal changes, and there is no guarantee that you will see a particular species, the following species of shark populate the waters of the Caribbean Sea: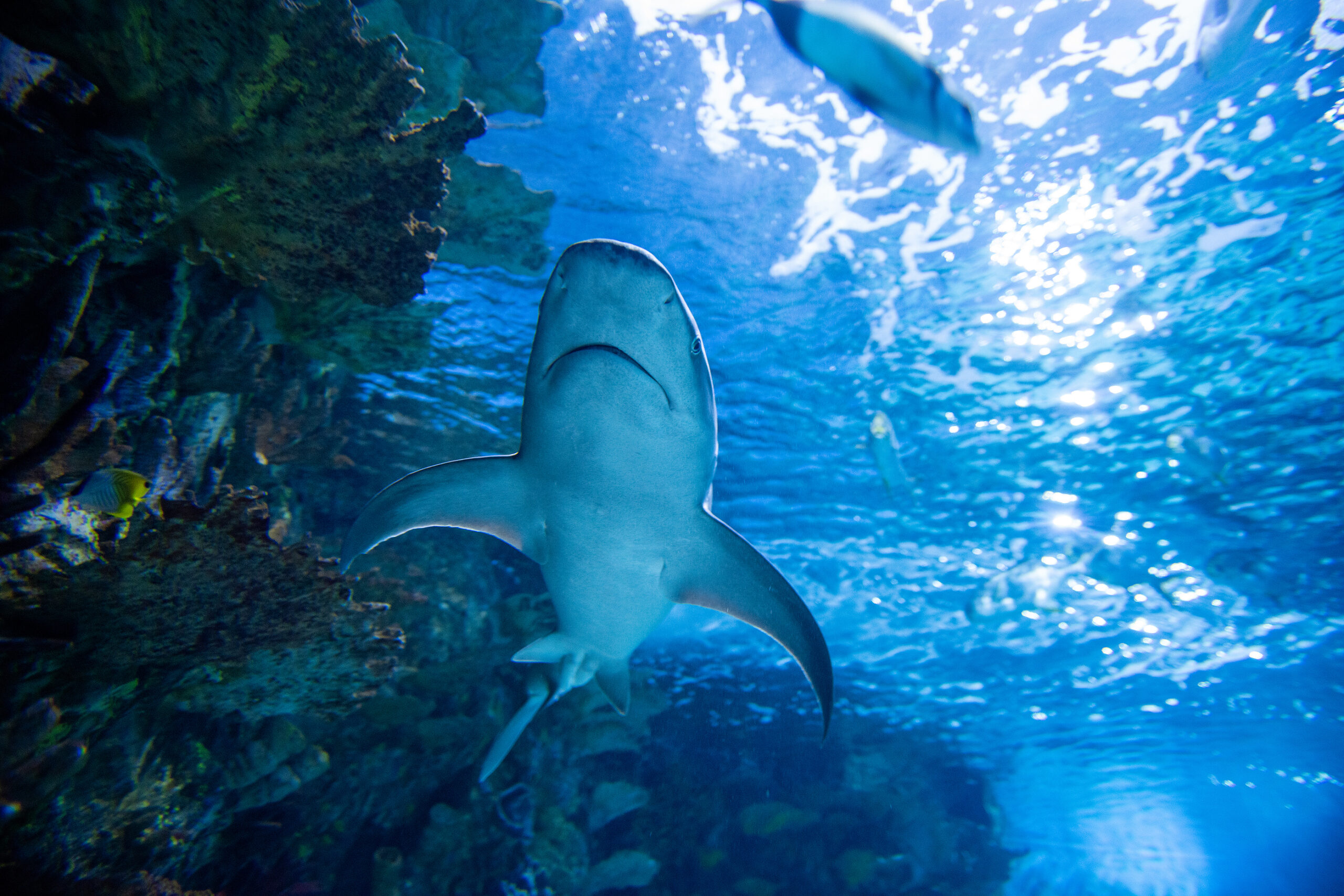 Bull sharks, a type of requiem shark
Caribbean reef sharks, another type of requiem shark
Great hammerhead sharks
Nurse sharks
Oceanic white tip sharks
Tiger sharks
Whale sharks
Sharks seek food sources around coral reefs and our guides and instructors can spot signs of dorsal fins popping out the water for an open water dive. If sharks are your thing, you will not be disappointed! Our team will help tailor the perfect package for shark diving in the Caribbean.
Important Information About Financial Protection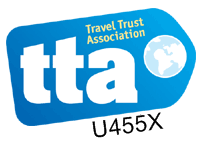 We are proud members of the Travel Trust Association.
The Travel Trust Association is a travel trade association. With 100% financial protection The Travel Trust Association exists to protect you, the customer, and they have been doing so for over 20 years. This means that any money you pay us is protected by the Travel Trust Association.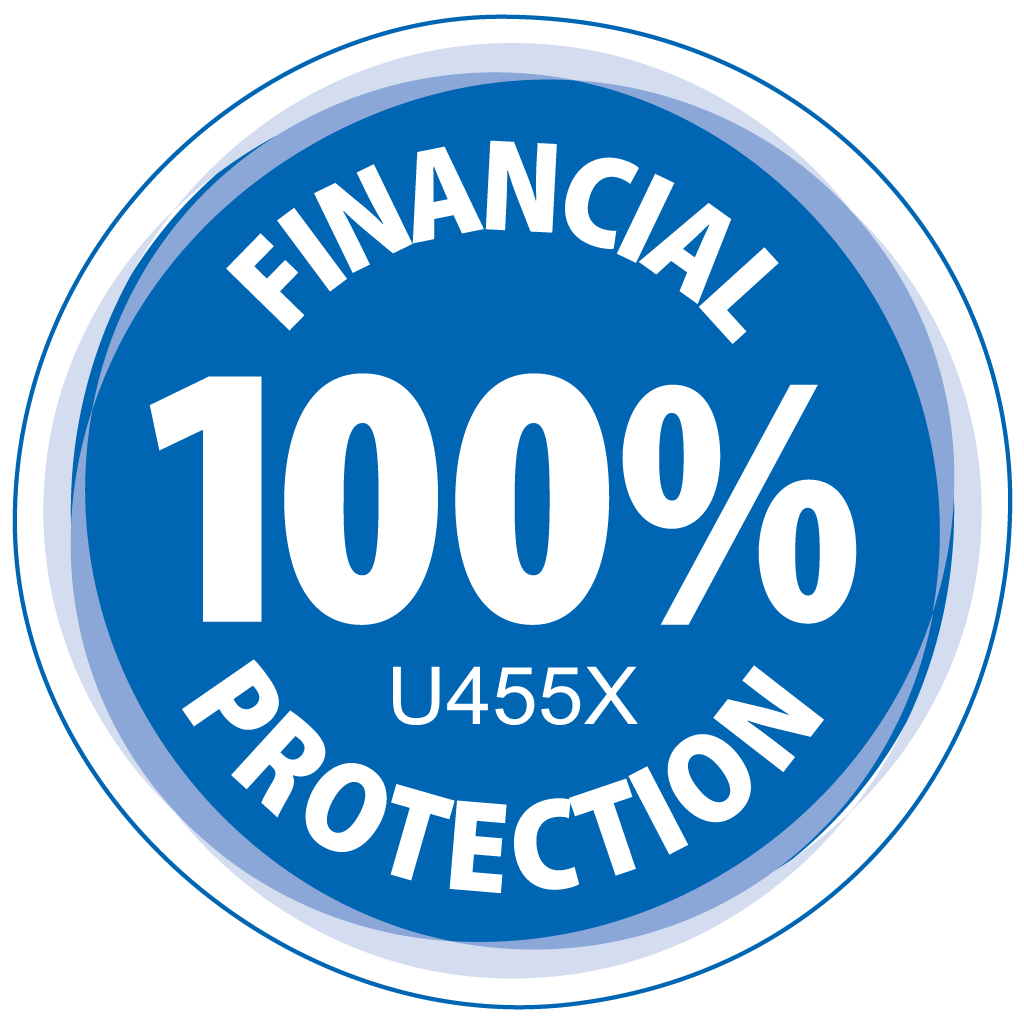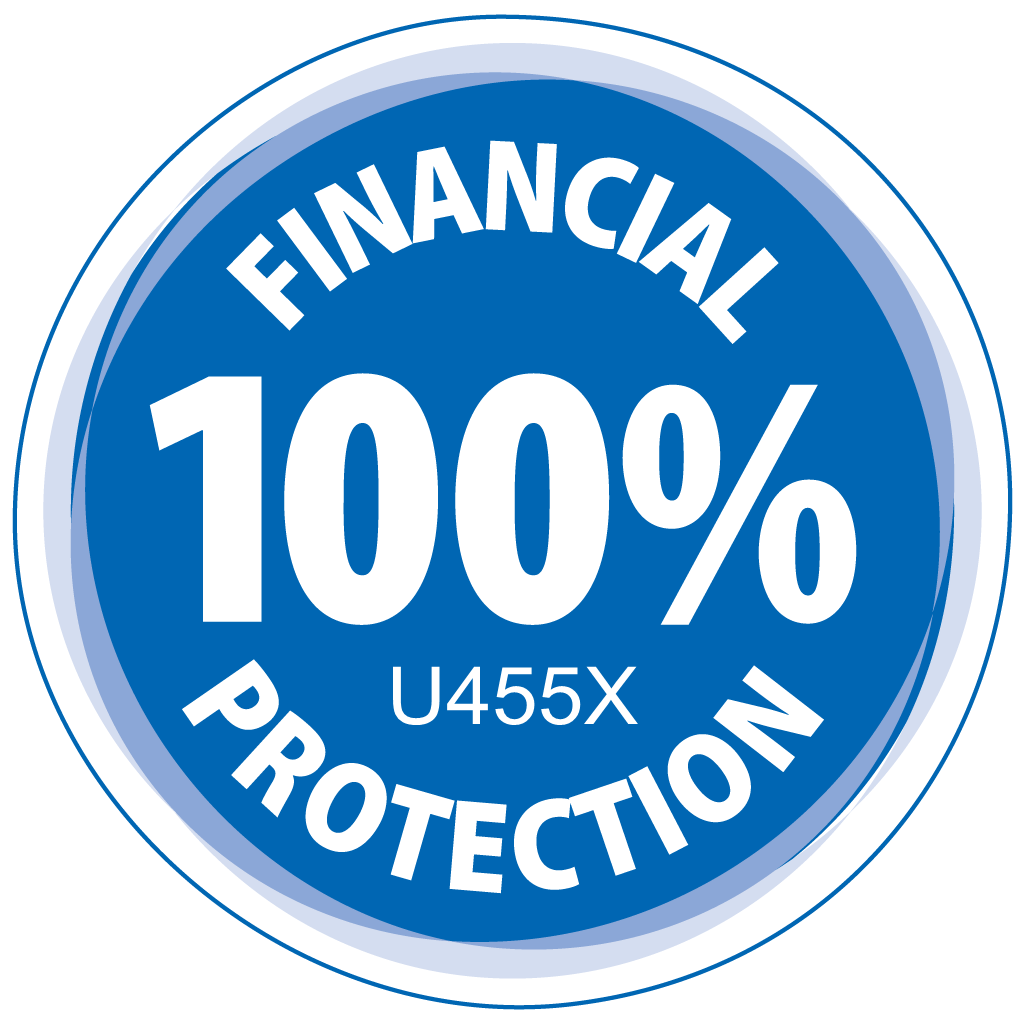 Where Else Can I Dive with Sharks?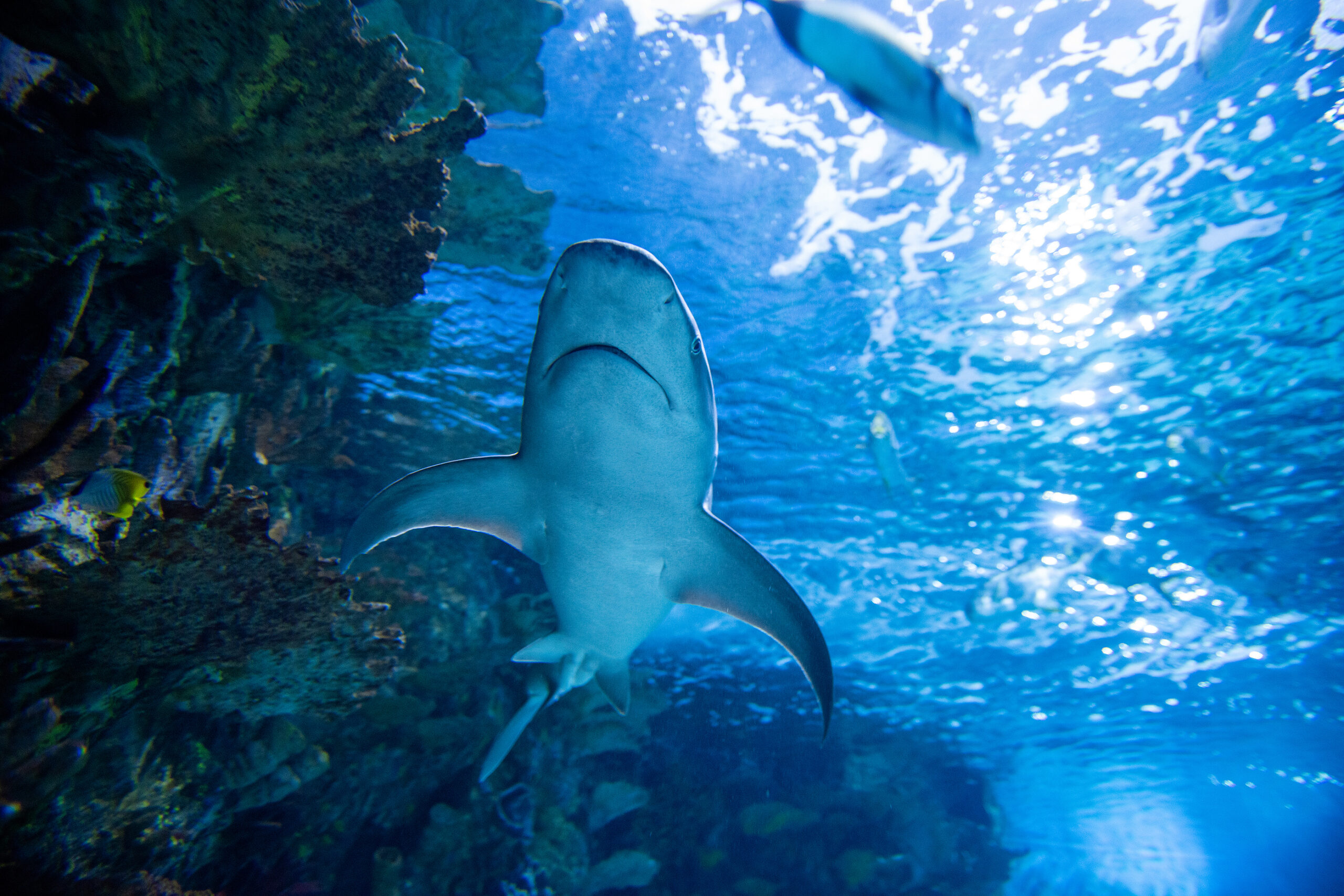 Not sure about the Caribbean? No problem! We offer incredible shark diving holidays across the globe, which include trips to locations such as the Maldives, Egypt, Indonesia, Guadalupe Island in Mexico, Thailand and Costa Rica. These trips will give you the chance to swim with great white sharks and other exotic species, all under the care of PADI-qualified instructors.
Book a Trip for World-Class Shark Diving in the Caribbean
We provide shark diving trips that offer exceptional value for money, with handpicked dive sites, PADI-qualified instructors and incredible liveaboard boats or resorts. Sharks in Caribbean waters are known to be quite placid and docile, so you will have a fun, safe thrill under total supervision.
If you would like to see a certain species of Caribbean shark or have a particular requirement, we can help to create a diving holiday package that meets all of your needs. We work with groups, couples and individuals. Please feel free to get in touch with us to book or to find out more.
FAQs and Useful Information
The following are some common questions about shark diving in the Caribbean:
Contact us to book a place and experience life-changing shark diving in the Caribbean today.