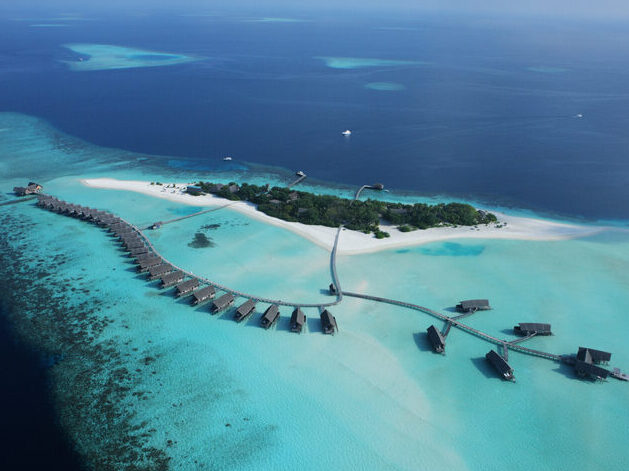 Located at Maldives' South Malé Atoll, COMO Cocoa Island enjoys a marine-rich lagoon full of pristine dive sites, such as the dramatic Kandooma Caves and the ever-popular shark cleaning station at Cocoa Thila.
As well as diving with sharks there is a good chance of seeing manta rays. Ideal for new and experienced divers.
Overview
COMO Cocoa Island, Maldives' South Malé atoll.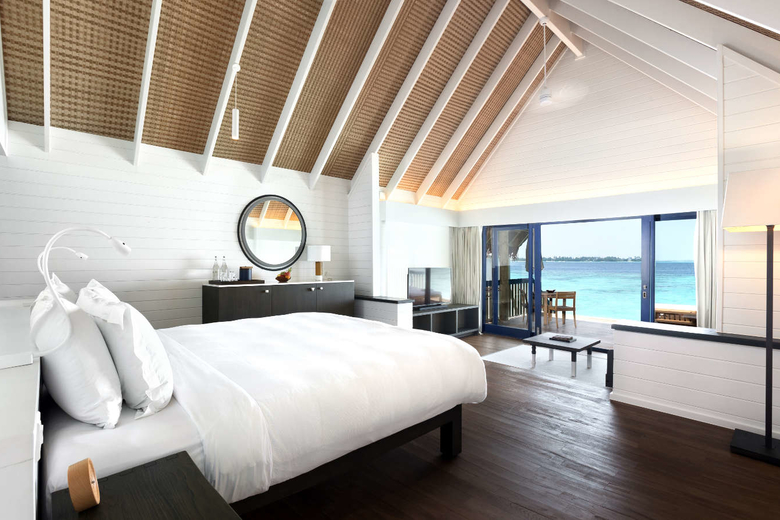 Diving is some of the best in the world with two private house reefs. Rooms are inspired by local dhoni boats in bleached wood with kajan roofs. They are reached via planked walkways stretching out into the warm lagoon. There is a COMO Shambhala Retreat dedicated to renewing body and soul. The restaurant, Ufaa, honours nature, featuring seafood and organic vegetables in exciting, healthful combinations showcasing a blend of European and Indian flavours.
COMO Cocoa Island is an understated private island resort in the Maldives, with 34 overwater villas allowing you to slip from your balcony into the turquoise lagoon to explore the sealife-rich house reef. It promises what few luxury Maldivian resorts can truly provide: peacefulness, privacy and the opportunity to do very little – very little, that is, aside from diving, strolling on silk-soft sand, snorkelling in a world of colourful marine life and simply relax, whether that's on a massage table or on a daybed staring out at the hypnotic azure ocean.
After months of silence, the underwater world at COMO Cocoa Island is thriving. The house reef is alive with colour, while the nearby dive sites are teeming with green turtles, reef shark and bigeye trevally. Nature has returned to the Maldives like never before.
Rooms and Suites
The style and design of the newly refreshed 34 overwater suites and villas are like that of no other luxury resort in the Maldives. Uniquely inspired by dhoni boats—the gently curving wooden vessels used by local fishermen—COMO Cocoa Island's rooms arc out from the island itself. Simple wooden walkways built above the shallow lagoon connect them, forming an overwater boardwalk pathway.
Some villas have private pools, and each has its own private terrace—all the better for slipping into the warm Maldivian sea, right from your room. Views from the floor-to-ceiling windows look across the watery expanse and horizon, as if you're floating on the ocean. Villas available include:
Dhoni Water Villas stand out for their unusual design: shaped like a traditional Maldivian 'dhoni' fishing boat, they make you feel like you're floating on the ocean. The generous living room is a calming space to relax, while the overwater private terrace has a staircase that leads to the lagoon's warm waters.
Shaped like a traditional 'dhoni' fishing boat, our Dhoni Loft Water Villas have an expansive lower level living area and a master bedroom on the mezzanine, making them great for families. The design is about bringing the outside space in, with floor-to-ceiling windows overlooking the water, and a private terrace touching the ocean.
Loft Water Villas, the horizon feels like it extends forever as you look out from your private sundeck or watch the ocean roll past the floor-to-ceiling windows. The elevated loft features a king-sized en suite master bedroom, while the lower deck's large and airy sitting area doubles up as a sleeping space for families. There is also a secluded outdoor rain shower with steps directly into the ocean.
One Bedroom Water Villa with Pool – These light-filled villas sit on their own secluded jetty, each with a private entrance deck, surrounded by the aquamarine ocean. Outside, there's a new private pool and a balcony with a daybed, where you can relax as the sun rises and sets on the ocean. Inside, the spacious living area with floor-to-ceiling windows provides plenty of space to unwind.
Como Water Villas – Situated on either side of the island, COMO Cocoa Island's two COMO Water Villas – Sunset and Sunrise – are arranged with two separate wings, both featuring an en suite bedroom and a private terrace directly above the ocean. The wings are connected by the living and dining areas, with balconies on either side that let you step directly off the deck into the turquoise lagoon. There's also a secluded deck, with a new private pool that almost touches the edge of the ocean.
Cocoa Water Villa with Pool – This new overwater villa features a large terrace with a 10-metre private swimming pool, offering some of the island's best views of the iconic Maldivian sunset. The villa was designed with space in mind: there's a living room, an en suite master bedroom, a private study and a gym. The villa can be connected to the COMO Sunset Water Villa via an overwater wooden walkway, or closed off for complete privacy.