The Art of Discovering Snorkelling | Tips on Learning to Snorkel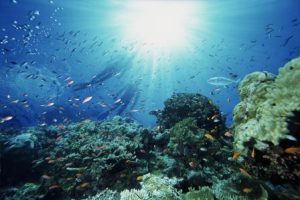 70% of the Earth's surface is covered by water. Sticking to dry land means you miss out on some of the planet's greatest gems. From turquoise blue waters, colourful marine life that comes in all shapes and sizes and pristine coral reefs are just some of the reasons to get in to snorkelling. As well as fulfilling your senses, snorkelling also opens a wealth of opportunities; you can get fitter, meet new people and can help bond a family.
Snorkelling is generally considered to be easy. Here are just a few tips that we would recommend:
Get a good mask & snorkel. There is nothing more off-putting than a leaky mask or a snorkel that lets in lots of water. Visit a local dive centre who will be able to help recommend a mask and let you try one on
Full face snorkel masks are brilliant. Some people don't think they look cool but they are and bring snorkelling to a whole new level. It's easier to breath, generally more comforable, they don't fog up and rarely flood. However make sure you go for a good one as the cheaper ones have been reported to cause Carbon Dioxide poisoning.
Comfortable fins – fins that are uncomfortable or don't fit properly can give you cramp and sore blisters
Avoid strong currents – look out to sea and check there are no strong currents. Even better go to a local snorkel centre who can give you a guide
If you are nervous or haven't done it before then a PADI Skin Diver course will help
Wear plenty of protection – the number injury suffered by snorkellers is sunburn. Wear a decent rash vest and apply lots of high factor suncream that is coral friendly. Avoid the midday sun and also cover your head
A buoyancy vest or similar adds safety and can provide reassurance
When finning keep your legs relatively straight and don't let your fins come out of the water as you'll just waste energy
Drink plenty of water and avoid drinks that can lead to dehydration such as tea, coffee and fizzy drinks.
There are thousands of places in the world you can snorkel. Some of our favourite destinations include the Red Sea, Maldives, Great Barrier Reef and Mexico. You don't have to spend loads of money travelling to exotic destinations, believe it or not there is some great snorkelling around the UK in places such as Cornwall and the West Coast of Wales.
For more details or to join us one of our group trips please visit www.oysterdiving.com or call 0800 699 0243.