Herbert Nitsch is named as "the Deepest Man on Earth" and for a very good reason! He is a multiple World Champion and the current holder of the World's Freediving Record. Nitsch holds 33 world records and can hold his breath for more than 9 minutes! Freediving is one of the oldest forms of diving and involves divers diving as deep as they can dive on one breath of air. You can read more about free diving in our article 'What is Freediving'. But it's essentially holding your breath for a really, really long time.
How long can you hold your breath for?
There are only 4 freedivers in the world who have dived beyond 560 feet and two have divers died trying. Nitsch is the world's only diver, so far, to have dived beyond 700 and 800 feet. There is a lot of history to freediving and it has been the determination of passionate free divers, pushing against the tide of nay-sayers, who have made what once was thought impossible, possible! Let's find out about the divers who have dived deepest.
The Deepest Free Dive Explained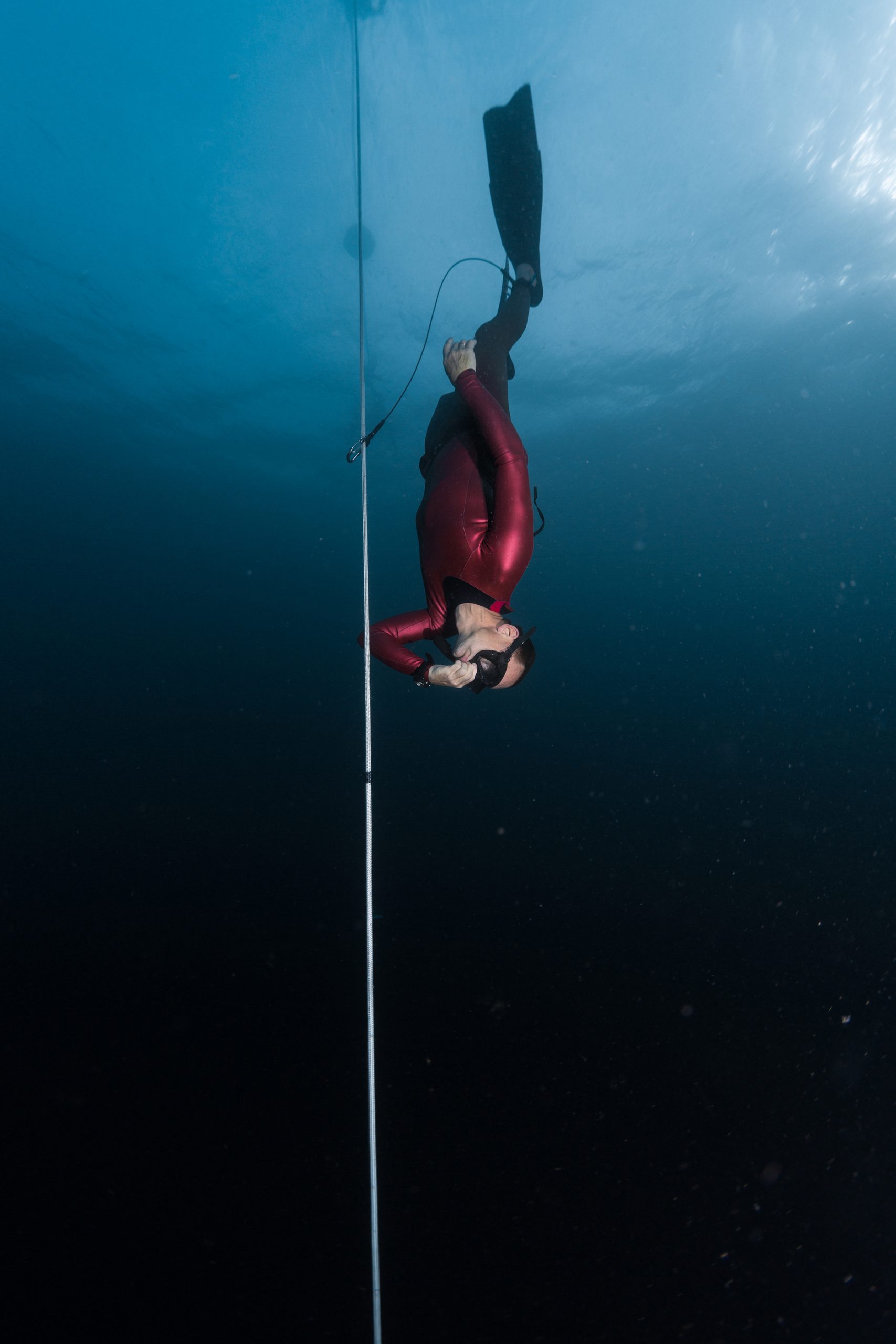 In the early days, scientists and physiologists were convinced that if humans dove beyond 100 feet, their lungs would collapse. They had carried out extensive research and worked out what they could about how the human body works and the effect immense amounts of pressure can have. But freedivers decided to risk it anyway and today they are swimming over 7 times deeper than the depth initially recommended.
Martina Amati, a free diver has tried to explain the mindset divers have when taking up the challenge of this extreme sport:
"There is an element of physicality but it's mainly mental. That's what is incredible about freediving. It's not about your physical ability, but about your mental skills and mental training basically. You need to let go of everything that you know and everything that makes you feel good or bad. And so it's a very liberating process. But equally you need to stay completely aware of your body and where you are, entirely in the moment." – The Conversation.
The Longest Free Dive World Record Holder
Freediving is one of the first underwater sports to come into existence. It has been around for a very long time. Traditionally, people used to freedive for food, sponges, coral, and pearls. Freediving only reduced after technology advanced, introducing us to more convenient fishing and foraging methods. However, in ancient cultures freediving was incredibly common and something the longest freediving depths were around 50 meters on one breath!
Today, freediving is a competitive activity and expert divers can last for up to 22 minutes submerged under the water. Expert freediver, Stig Severinsen, holds the Guinness World Record for the longest freedive under ice on a single breath of air – and he earned the record while diving in Speedos!
What is Freediving?
Freediving is also known as 'apnea' and is an underwater discipline that involves divers immersing themselves by a ventilation blockage system. Many people suggest that practising freediving provides a number of short and long-term benefits for the divers, including more self-awareness, breathing control, stress management, and relaxation of muscle tensions.
However, freediving can also pose a number of serious risks, such as your body losing heat 25 times faster than normal, decompression sickness, and the concentration of nitrogen in the body increasing. There are many more risks, however with the appropriate training and thorough guidance from a team of freediving specialists, you can learn how to reduce freediving risks and keep yourself safe underwater.
What is No Limit Freediving?
No limit freediving is the deepest and most extreme freediving-discipline. It uses a weighted sled to help the diver descend to the depths and a buoyancy device to ascend to the surface.
"Something amazing happens the second we put our faces into water. Our heart rates lower about 25 percent. Blood begins rushing from our extremities into the core. The mind enters a meditative state. At around 250 to 300 feet the heart rate of some of these free divers has been recorded to be about 14 beats per minute. That's about a third of a coma patient's. It should support consciousness, according to physiologists. And yet deep in the ocean it does. But no one knows exactly how." – The National Geographic talking to James Nestor.
There is something mystical about freediving that divers enjoy. Not only does it provide a physical challenge, it also challenges humans to defy the laws of nature and push their bodies beyond the limits of what everyone thought was possible. Whether you are a beginner, just dipping your toes into the water, or you are a seasoned and experienced diver, we provide freediving courses for divers of all levels and abilities.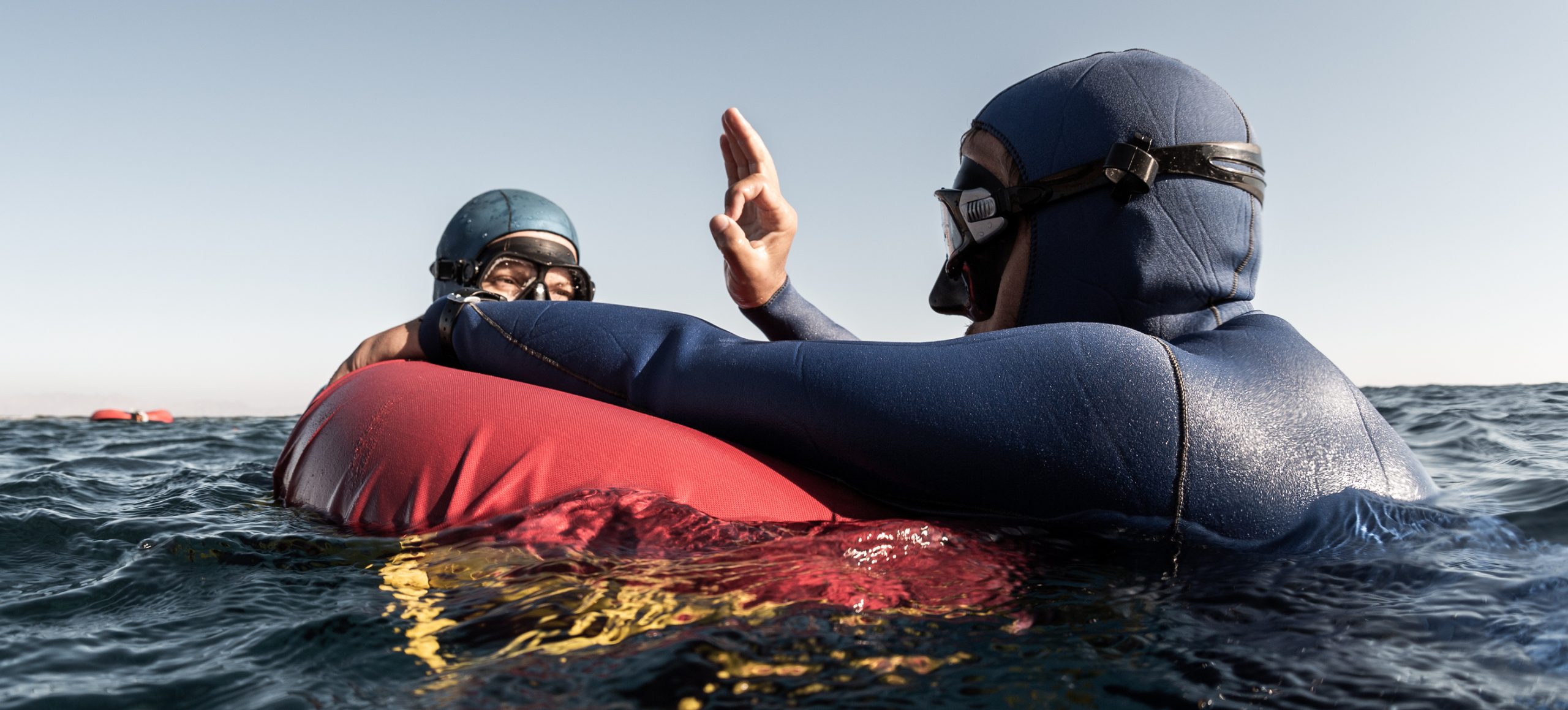 Freediving Records and Record Holders
If you are searching for the freediving record holder, it is important you know that there are multiple freediving categories divers can earn the record for. What's more, people and organisations are inventing new challenges and freediving disciplines all the time, so the goal posts are constantly changing for divers looking to compete. Let's take a look at the different types of freediving records and the record holding divers who have defied the odds.
Constant Weight Freediving
Many divers consider Constant Weight Freediving to be the purest form of freediving. It is split into two different disciplines: CWT (this is where divers are allowed to use fins, and CWF (this is where divers freedive without fins). The world record holders for Constant Weight Freediving are as follows:
CWT Record: Alexey Molchanov
Depth: 120 Metres
In October 2016, Alexey Molchanov broke the record for Constant Weight Freediving when he dove 129 meters in 3 minutes and 50 seconds in La Paz, Mexico.
CWT Record: Alessia Zecchini
Depth: 102 metres
In 2017, Alessia Zecchini broke the Constant Weight Freediving Record in the Bahamas by diving to a depth of 102 metres in Dean's Blue Hole. It took Alessia just 3 minutes and 30 seconds to descend 102 metres, making her the female record holder of this prestigious achievement.
CNF Record: William Trubridge
Depth: 102 metres
In april 2016, Sayuri Knoshita set the female record for this category by diving to the depth of 72 meters. Sayuri was completely submerged in the water for a total of 3 minutes and 14 seconds, making her the first ever Japanese woman to hold such a record.
Free Immersion Freediving (FIM)
William Trubridge set the world record in Constant Weight Diving without fins when he dove to the depth of 102 metres into Dean's Blue Hole. Breaking this record meant William Trubridge was awarded with his 18th world record.
CNF Record: Sayuri Kinoshita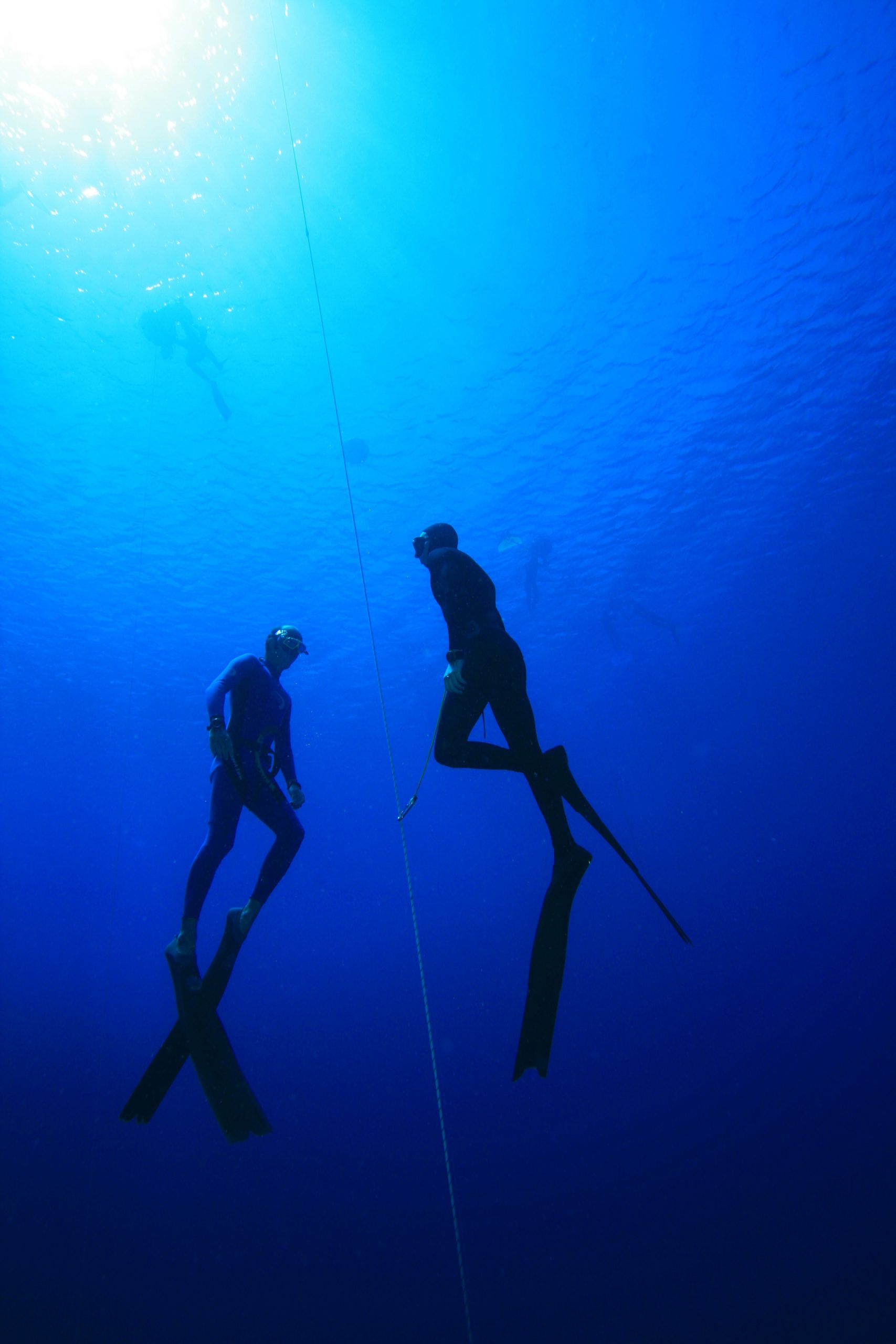 This freediving discipline involves divers diving to great depths without using any fins, meaning divers have to pull themselves up from the bottom by using the dive line. To ensure the safety of divers, a lanyard is attached to the diver's ankles instead of the wrist so that there is no interference when the diver is pulling themselves through the water.
FIM Record: William Trubridge
Depth: 124 metres
In 2016, William Trubridge broke his old freediving record of 121 meters by diving to the depth of 124 meters, holding his breath for 4 minutes and 34 seconds.
FIM Record: Jeanine Gasmeijer
Depth: 92 meters
In 2016, Jeanine Gasmeijer dove to the depth of 92 meters in just 3 minutes and 46 seconds. This made her the female world record holder for this discipline.
Variable Weight Freediving (VWT)
During Variable Weight Freediving, divers use a weight to pull them down steadily to the desired depth. Once they have reached the desire depth, the weight is released so that divers can safely make their way back up to the surface by using fins and pulling on the rope. While this discipline isn't strictly competitive, records can still be set in it.
VWT Record: Stavros Kastrinakis
Depth: 146 meters
Freediving in Greece back in 2015, Stavros Kastrinakis dove to depths of 146 meters in 3 minutes and 33 seconds, earning his first world record.
VWT Record: Nanja Van Den Broek
Depth: 130 meters
Nanja Van Den Broek has 20 freediving records to her name, so it came as no surprise when she set a new world record in 2015 by diving 130 meters in Sharm-el Sheikh.
No Limits Freediving (NLT)
No Limits Freediving is the discipline that requires the deepest free diving to be done. During No Limits Freediving, divers use a weight to pull them deep into the ocean and then a buoyancy control device to pull them back up to the surface.
NLT Record: Herbert Nitsch
Depth: 214 meters
Herbert Nitsch set a new record in 2007 by diving to a depth of 214 meters, earning him the title of "The Deepest Man on Earth".
NLT Record: Tanya Streeter
Depth: 160 meters
Tanya Streeter is the female World Champion free diver, diving to a depth of 160 meters in the blue water of Club Med Turkoise, Providenciales, in a total time of 3 minutes and 26 seconds.
Breaking Freediving Records
Freediving is an exhilarating and specialised skills, one that is said to be more dangerous than base jumping. However, this breath-hold form of underwater diving has even the most accomplished divers coming back for more. Have you ever tried freediving before? There is nothing quite like the feeling of taking your final breaths before your descent and many freedivers say that the feeling of resurfacing is like breathing for the first time. Hold your breath, because at Oyster Diving we take our divers to new depths!
Experience Freediving for Yourself and Book a Course Today!
Whether you are an experienced diver or not, if you want to explore new depths of the underwater world, our PADI Basic Freediver course is the first step in developing your freediving skills. During this course you will learn how to use a mask, snorkel, diving fins, and a weight belt (among other things). Our expert freedivers will train you up in the fundamental principles of freediving and you will learn breath-hold techniques used by the professionals in our confined and open water sessions.
What's Included in the Course?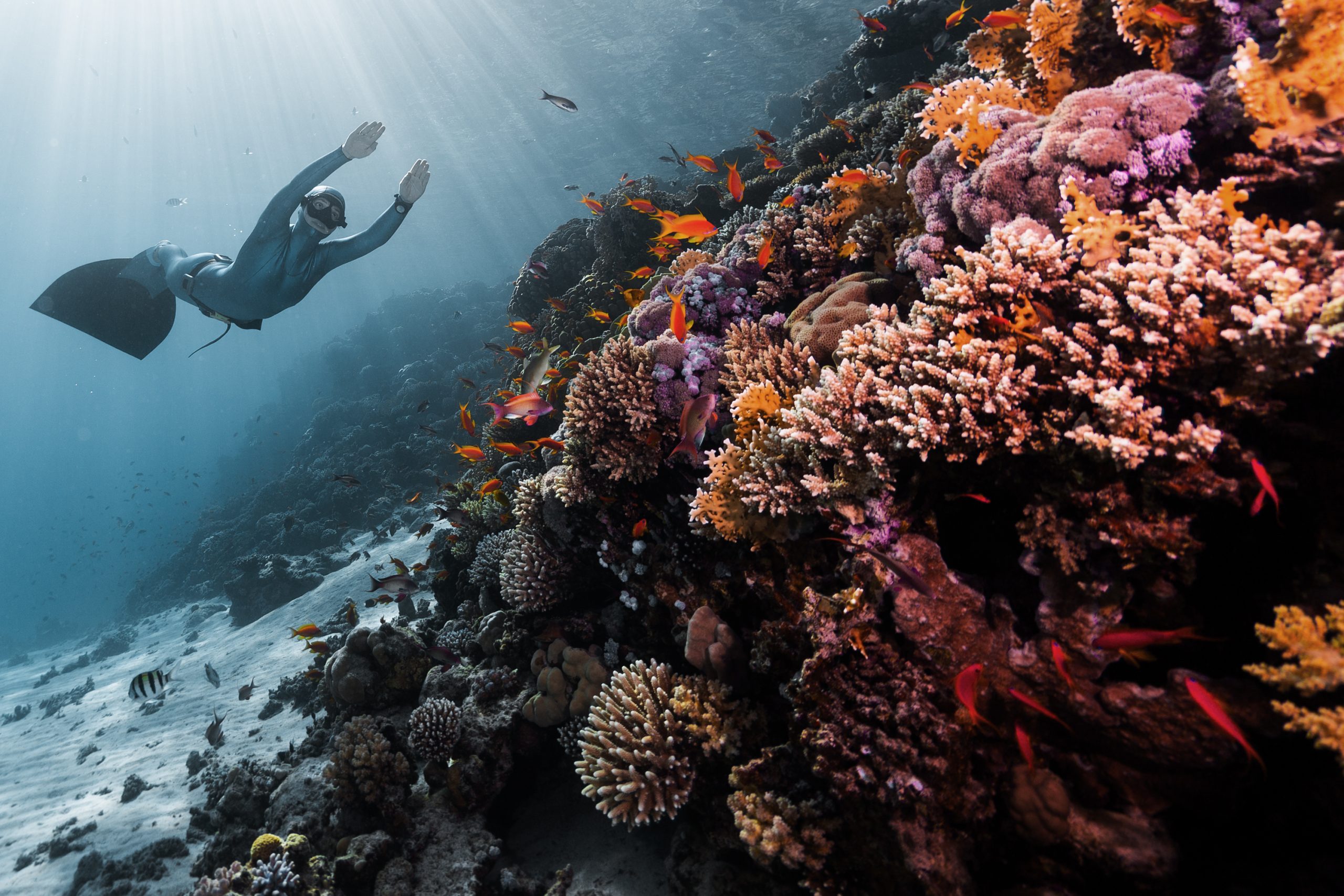 There is no better place to learn freediving than with our team! We are passionate about equipping divers with the knowledge they need to dive safely and confidently. We will equip you with everything you need.
PADI Freediver Touch (this includes Knowledge Development Reviews, Quizzes, Exams, and Videos)
All equipment hire
PADI Certification Fee
Tuition by a PADI professional Freediving Instructor who is fully insured and will adhere to the UK HSE regulations.
Small group sizes, making learning easy and fun.
Freediving Courses for All Abilities
We run freediving courses for divers of all levels and abilities. You can choose from our PADI Basic Freediver course, our PADI Freediver course, or our PADI Advanced Freediver course. Be sure to take your time and browse the course options we offer and if you have any questions, please do not hesitate to give us a call.
We would be more than happy to help! We want to train you up in freediving so you can get out there and get diving!