Djibouti Whale Shark Liveaboard Nov 2019
 Whale Sharks Migration Djibouti Diving Holiday
16th to 23rd November 2019
JUST 2 SPACES REMAINING
Trip Summary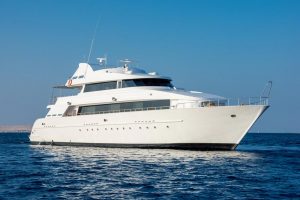 Djibouti is one of the worlds best places to dive and snorkel with whale sharks in huge numbers, so why not join us for the diving holiday of a lifetime.
During this fantastic itinerary, it will be possible to dive both in the Seven Brothers Islands and the Gulf of Tadjourah. The Seven Brothers Islands (also called the Sawabi) are one of the highlights of scuba diving trips to Djibouti. The archipelago itself is a chain of six volcanic islands, the "seventh brother" is not an island, but a volcanic hill at the northern tip of Ras Siyyan. Situated near the strait of Bab El-Mandab, just south of the entrance to the Red Sea, these uninhabited islands are connected by a stunning reef system. You will find a combination of amazing drop offs and untouched soft and hard corals gardens, Pelagic species (giant jack fish, manta rays, mobulas, snappers and many more) are found in large numbers and in sizes bigger than normal, as well as lots of schooling fish, simply amazing. Lucy is currently the only live-aboard organising a trip to the Seven Brothers Islands.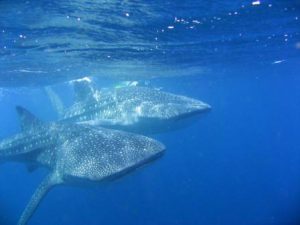 From mid-October to February, plankton 'blooms' develop in an enclosed bay named The Gulf of Tadjourah near Djibouti City. Although whale sharks can be seen throughout the year, encounters are especially common from October to February. These plankton -rich waters attract many of the great pelagic species into the area surrounding Djibouti. Recent research has recognised the particular importance of the bay in the development of juvenile whale sharks, which stay within the safe confines of Djibouti's coast line.
On a trip we ran here in 2010 we didn't bother getting in the water unless there were at least two whale sharks together and they were feeding. At one point we were surrounded by five of them.
Here's a video of the boat and similar itinerary….
Itinerary Highlights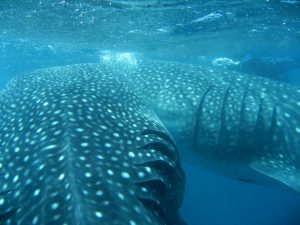 Saturday: arrival in Djibouti City, transfer to M/Y Lucy at 4 pm. The clients can stay at the Sheraton Hotel Breakfast + beach+ swimming pool.
Sunday: check dive at MOUSHA ISLAND, second dive at Obock, night navigation to Seven Brothers.
Monday: 3 dives Seven Brothers: Chinese Garden, The Boeing,The Arch of Tolka.
Tuesday: 3 dives at Seven Brothers: The south island, The east Island, Japanese garden.
Wednesday: 2 dives at Seven Brothers: The South Island, The Round Island, then cruise to Obock and 3rd dive. Cruise to Ras Koralie.
Thursday: Depending on the presence of whale sharks, diving or snorkelling with them in Ras Korali area
Friday: Depending on the presence of whale sharks, diving or snorkelling with them in Ras Korali area.
Saturday: Breakfast on board, transfer to the airport or to your excursion tour such as Lac Assal, the lowest point in Africa (-155meters) with a luxury coach featuring climate control, DVD, WiFi, toilet etc.
Non-Divers and Snorkellers
Many of the whale shark encounters are using snorkelling equipment as they often are found feeding at the surface. Therefore there is plenty of opportunity for non-divers to have close up encounters with these gentle giants.
At the end of the week there is also the chance to visit Lac Assal, one of the Earth's natural wonders!
---
 Price
Price £2,435*
The price includes return flights from London, transfers, one day at the Sheraton hotel at the start of the trip, 7 days diving all-inclusive accommodation on the liveaboard M/Y Lucy, tank & weights, 3-4 dives per day and 1 night at the Sheraton on our return.
Lac Assal tour is an additional £75. This is can be confirmed nearer to the time of departure. $90 entry visa is payable on arrival in cash and is not included in the package price.
There are only 19 places available and they will be awarded on a first come first serve basis! To book your place we require a £500 deposit. A second payment of £760 is required in January 2019. The balance of payment is due 14 weeks prior to departure (August 2019). Minimum age 18 unless accompanied by an adult.
*Please be advised that price is correct at time of publishing and may alter as a result in changes in price of flight prices.
To pay by card call 0800 699 0243
To pay by bank transfer send an e-mail to info@oysterdiving.com confirming that you wish to come on the trip and we will then send you an invoice.
To pay by cheque send an e-mail to info@oysterdiving.com with your details and we will send you an invoice with our details.
---
Frequently Asked Questions
What sort of people will be going on the trip?
There will be people of different sexes and dive experience. Our customers tend to be good fun, are not 'diving geeks', can be any age (as long as they are fit enough to dive) and have a sense of adventure. There is normally a fairly even split between men and women.
What are the other costs? Your trip includes flights, accommodation, transfers, guides, tanks, weights, all meals and soft drinks. The only additional costs are alcohol, Nitrox (optional at £70 per week) and sometimes we go out for dinner on the last night but you can eat on the boat if you prefer.
Will I get eaten by a Shark?
No*. There are very few shark attacks in the world. Whale Sharks generally feed on plankton and krill and have no actual teeth. In fact the most dangerous part of the holiday is travelling on the M25 to the airport! If you are scared of Sharks then feel free to hide behind one of our instructors.
What if I haven't done 30 logged dives?
No problem. Just join us for a few of our weekends away. Lets say you have only done 4 open water dives and therefore need another 31. If you do 4 dives in a weekend then it will only take about 8 weeks
Will there be any other single people there? The majority of people on the trip will be travelling alone. We will happily put you in a cabin to share with someone of the same sex and similar age/mindset.
What do we do when we're not diving? There is a great sun deck, a TV, DVD's and plenty of books to enjoy. There is also plenty of room if you wish to escape for a while and sit and listen to your i-pod. Most people hang out on deck and enjoy the banter.
What if a friend/partner wishes to come but they don't dive? No problem but there is no price reduction unfortunately.
When do I need to book by? As soon as possible. There are only 26 places and they are on a first come first serve basis!
Do I need a VISA? It is your responsibility to check that you have the correct visa. Blueotwo will provide temporary visas for people with EU passports which can be collected at the airport in Hurghada.
If you have any other questions please call 0800 699 0243 / 07920 516006.