BCDs: Everything You Need to Know About Buoyancy Control Devices
Buoyancy Control Devices, commonly referred to as BCDs, are the devices that give scuba divers control over their buoyancy during a dive. Put simply, the BCD allows a diver to rise or sink in the water by inflating or deflating the device of air. When you master the Buoyancy Control Device, you can hover, weightless underwater as you take in the beautiful sights around you.
A BCD helps put you in control under the water. If you want to sink deeper, you can adjust the pressure in your BCD, and the same goes for if you simply want to float comfortably on the surface. To do these things, you need to buy a BCD that fits you well and suits your style of diving.
Standard Features of BCDs
Expandable bladder
Deflator mechanism and overpressure valve
Adjustable tank band and sturdy back plate
Adjustable straps, bands, buckles, or releases
Low-pressure inflator and oral inflation mechanism.
Buoyancy Control Devices Styles and Designs
There are many different BCD styles and designs, the one you choose is basically comes down to your personal preference. Below we will take a look at the various styles below.
BCD Jackets or Wings
BCDs come in two basic shapes; wings and jackets. The majority of divers use a jacket style BCD as these inflate around your body and your waist, helping you feel safe and secure in the water. Wing BCDs inflate behind you in a donut or horseshoe shape and they tend to be preferred by more experienced divers because they do not obstruct your movements in the water when they are fully inflated. Winged BCD's are lighter and usually allow for easier adjustment due to the simple harness strap system.
Travel BCDs
Designed specifically to minimise weight and bulk under the water, and to make travelling easier, travel BCDs are made for divers who regularly travel to tropical locations. The thinner material of travel BCDs is what makes them lighter than other BCD styles, but it's important to note that this lighter material can also make these BCDs more fragile.
Travel BCDs can cope with dive after dive, but if there is too much contact with sharp rocks or debris, the BCD can puncture. So, we recommend that travel BCDs are best suited for open water diving.
BCDs with Integrated Weights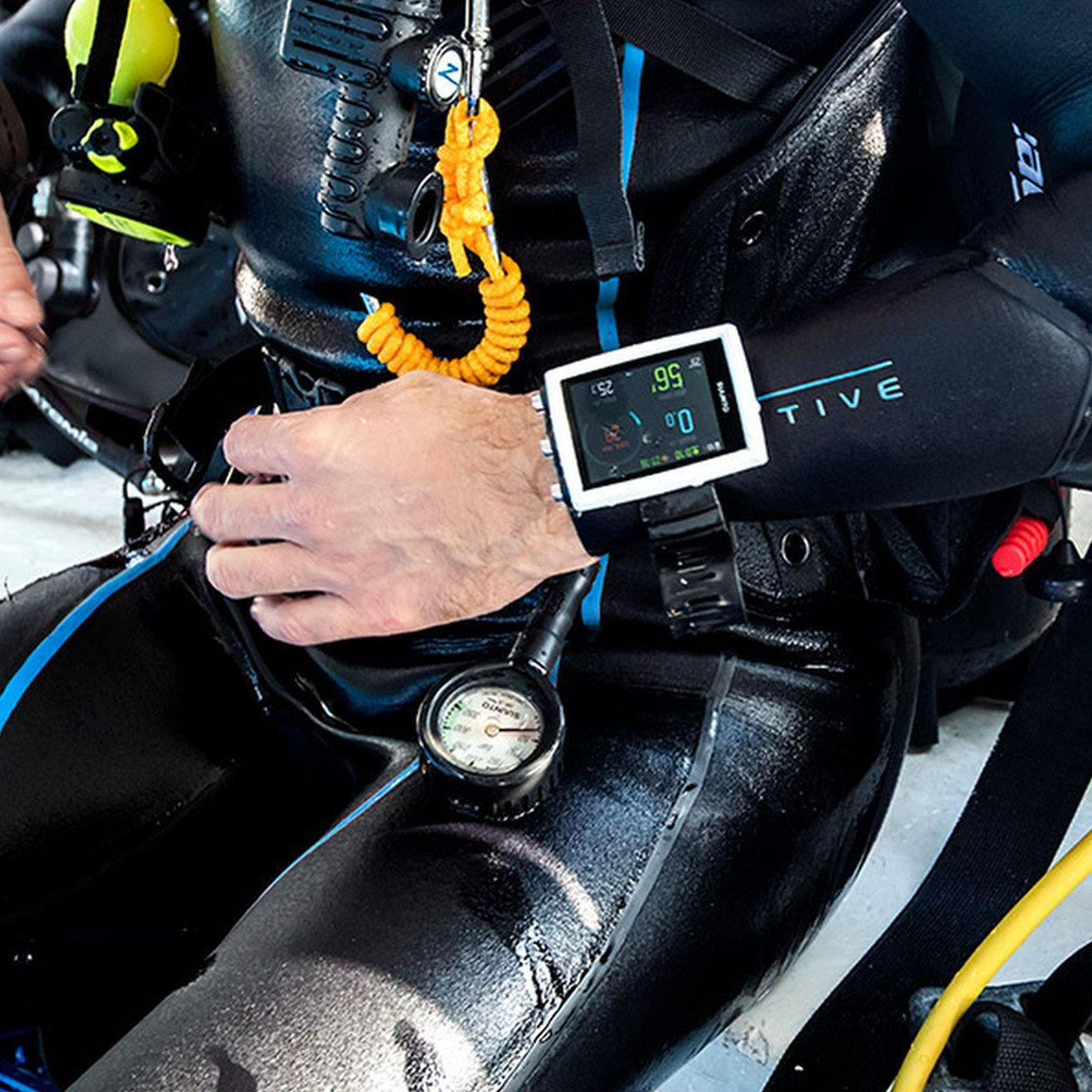 BCDs that have integrated weights mean that you don't need to wear a weight belt in addition to the BCD. Doing without a weight belt is a huge advantage as the weights can't slip down your waist. What's more, you have one less piece of equipment to remember.
The only disadvantage of having a BCD with integrated weights is that it does make your scuba unit heavy when carrying it around. However, if you don't mind carrying the extra weight when you get out of the water, an integrated weight BCD is perfect for you.
BCDs for Ladies
Thanks to advances in modern technology and manufacturing techniques, there are now BCDs made specifically for female divers. These are made to offer increased comfort and a far better fit in comparison to the unisex alternatives. Some key features include: a reduced back length, integrated weights, and no chest straps to avoid any constriction and help maximise comfort.
The Importance of BCD Pockets
An important and incredibly helpful feature of modern BCDs is definitely the pockets. In tropical waters particularly, having pockets will be useful when carrying things with you on your dive. Never underestimate the importance of BCD pockets – they really do make all the difference!
What are BCD Dump Valves?
Dump valves are how you release pressure from your BCD. Dump valves are basically pressure valves that, when opened, allow excess gas to escape so that you can safely adjust your buoyancy. Dump valves on BCDs are most often located behind your right shoulder. There you will find a small cord that can be pulled to open the pressure valve and release the excess gas.
Top Tip: you should take the time to learn where these cords are so that you can quickly find them by feel and easily adjust your buoyancy without even looking.
How to Choose the Right BCD Size
When buying a BCD, many people ask us how they can choose the right size. To help you with this, we have drawn an easy-to-understand sizing chart. We hope you find it helpful, but if you do have any questions, please do not hesitate to get in touch with our team. We would be more than happy to advise you.
| | |
| --- | --- |
| Size | Chest (Inches) |
| Extra Small | 36-38 |
| Small | 38-40 |
| Medium | 40-43 |
| Medium Large | 42-43 |
| Large | 43-46 |
| Extra Large | 46-48 |
| Extra Extra Large | 48-50 |
Questions to Ask Yourself Before Making a Purchase
Choosing a BCD is actually a very simple process and one that our experts at Oyster Diving are more than happy to help you with. Before making a purchase, there are basically three simple questions you need to ask yourself:
How much do you dive?
Do you dive in cold or warm water?
Do you want a wing or a conventional design?
Once you have the answers to the three questions above, you are far better equipped to find the perfect BCD. At Oyster Diving, we are passionate about equipping our customers with the knowledge they need to make an informed choice. We want to ensure that when you buy a BCD from us, you're leaving with a piece of equipment that is perfectly suited to your requirements.
How to Choose the Right BCD for You
Always try on a BCD for size before you buy. In fact, we would suggest trying on a couple of different styles to help get the right fit.
While wearing the BCD, try tightening and loosening the clips, try out the inflator and deflator mechanisms, and inflate the BCD completely to make sure that it remains comfortable and does not become restrictive.
Check that the inflator hose is compatible with your dive regulator.
Narrow down your choice by fit and comfort and then make a final decision based off your colour, brand, and style preferences.
A BCD is an excellent investment that should last for several years. So, it is important to take time over the decision. You should also avoid sacrificing fit and comfort for price, as you may end up with a BCD that you're not happy with just because you chose not to invest the extra money.
How to Maintain Your BCD Properly
Rinse your BCD thoroughly with fresh water after each use – both on the outside and on the inside.
Leave the BCD to dry completely and keep out of direct sunlight as much as you can.
Partially inflate the BCD and store it in a cool, dry place. Always remove the weights from the weight pockets when not in use.
Discover Our Range of BCDs Here
In the Oyster Diving Shop, we sell a huge variety of PADI recommended BCDs. Click here to browse our BCDs for sale. You are more than welcome to visit our store in person. If you would like specialist in-store support and advise, please book an appointment in advance so that we can cater to your needs during your visit.
At Oyster Diving, we are passionate about providing a top-quality service for our customers. That's why we only sell dive equipment and products that have been tried and tested by our team of diving experts. So, if you buy equipment from us, you can rest assured that you're receiving the highest standard equipment that will help you get the most out of your diving adventures. Get in touch today to find out more!