Blue O Two Scuba Diving Holidays
Blueotwo has one of the world's largest liveaboard fleets and also offers resort-based diving holidays too.
There are many excellent dive opportunities on our liveaboard fleet, which are operated by BlueOTwo. By not being tethered to a shore dive or a dive resort we can open up the number of dive spots you can access, with top quality boat crews to take you there in total comfort – and world-class dive guides to take you out once you arrive.
Living aboard a boat is an excellent way to get out to more exotic and far-flung locations, such as the following:
The Red Sea
Mexico, including Guadalupe
Maldives
Thailand
Indonesia
French Polynesia
Palau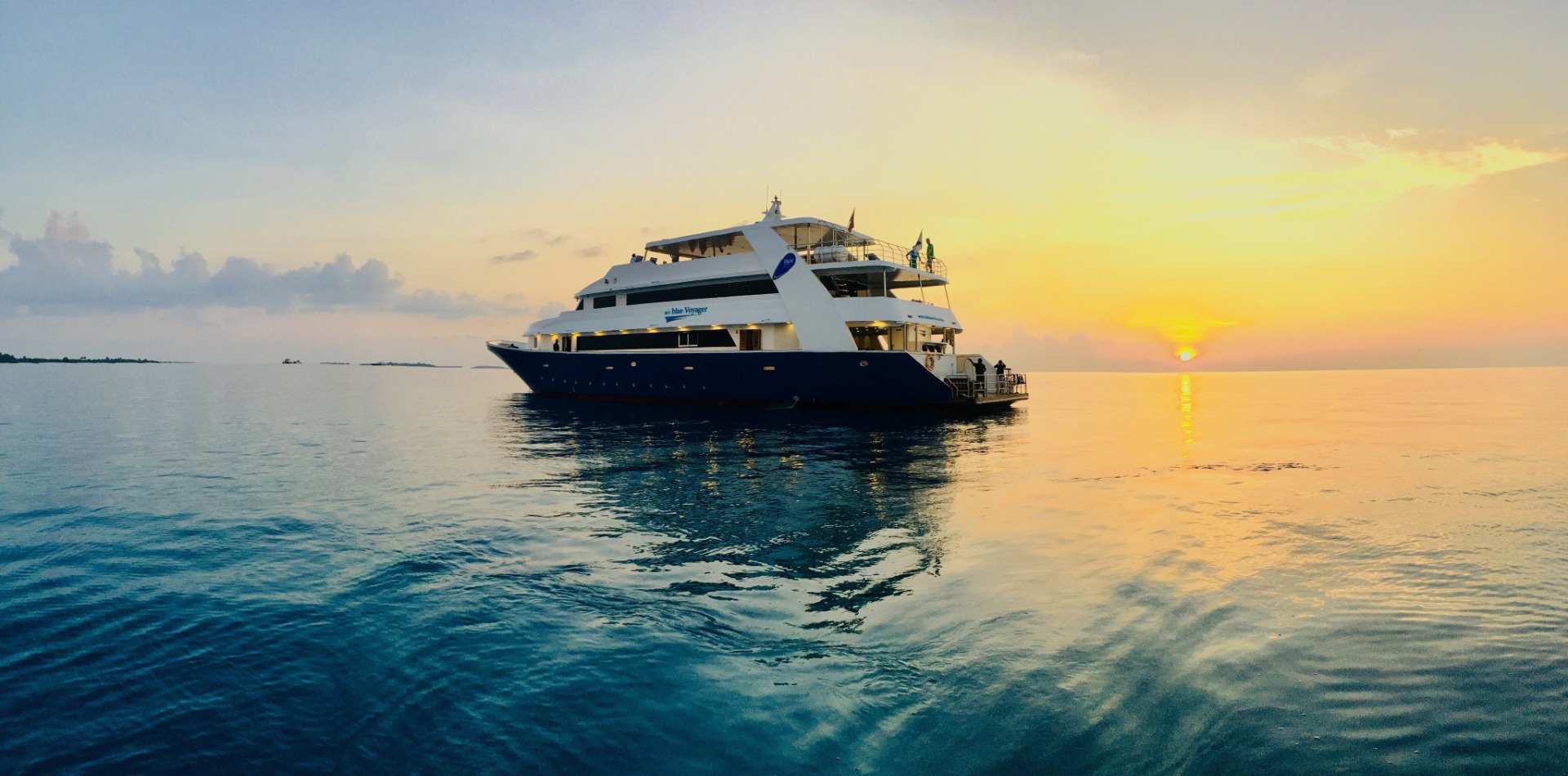 Oyster Diving can offer you your Blueotwo holiday inclusive of flights with the financial backing of our ATOL and Travel Trust Association membership.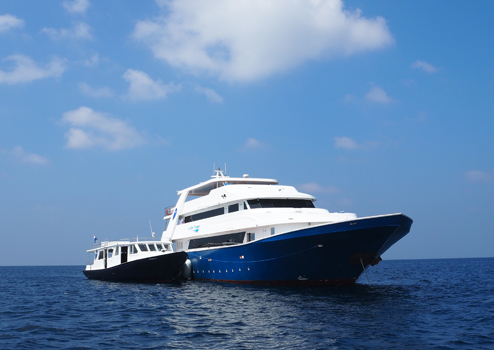 You won't pay anything more booking your Blueotwo holiday with us.
We sell the same price as you will find on the Blueotwo website.
Our latest offers will thrill you with their excellent wreck diving, shark diving and other dive opportunities. The majority of our current Blue O Two liveaboard trips will take place in the Red Sea, but we are always adding more amazing dive trips.
We take care of every aspect of dive travelling so you can simply relax and enjoy the experience in one of our award-winning liveaboard accommodations. You will see the amazing trips we have when you get in touch with us to book your place.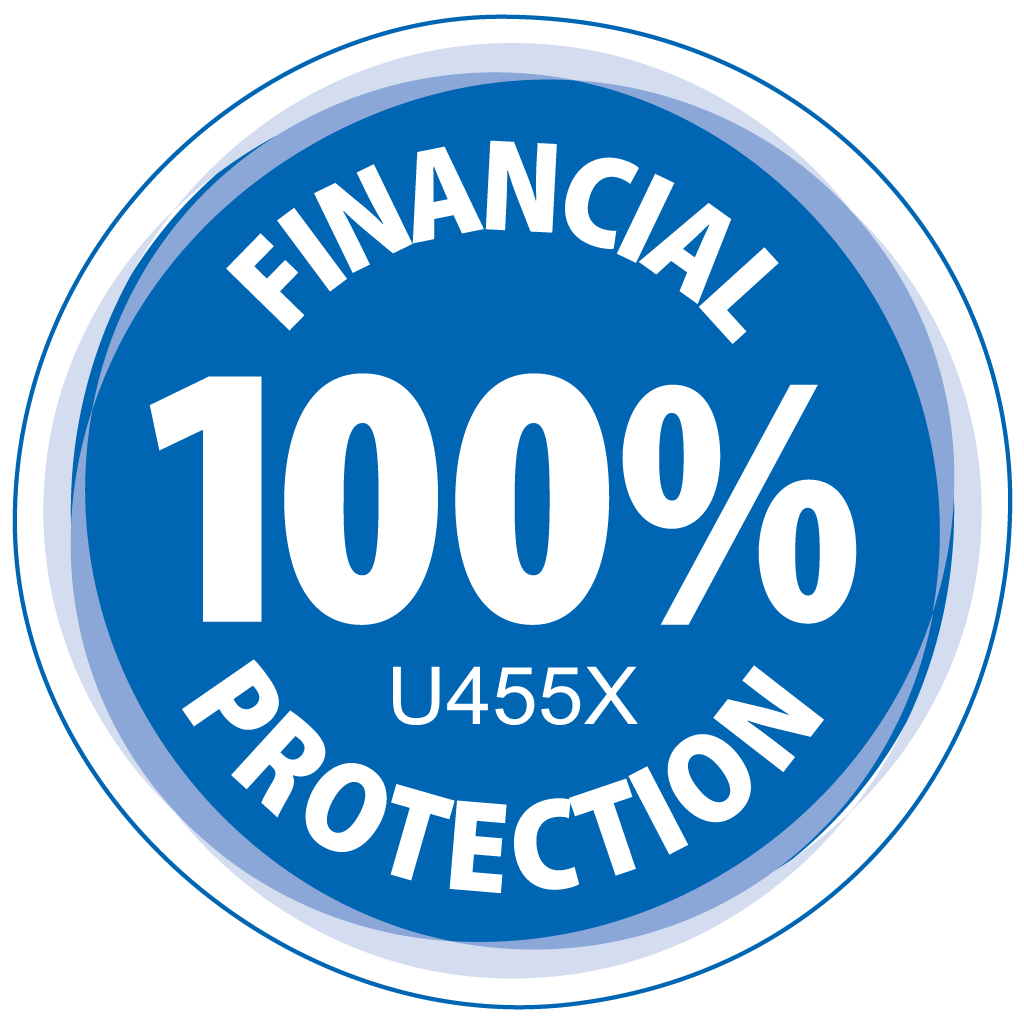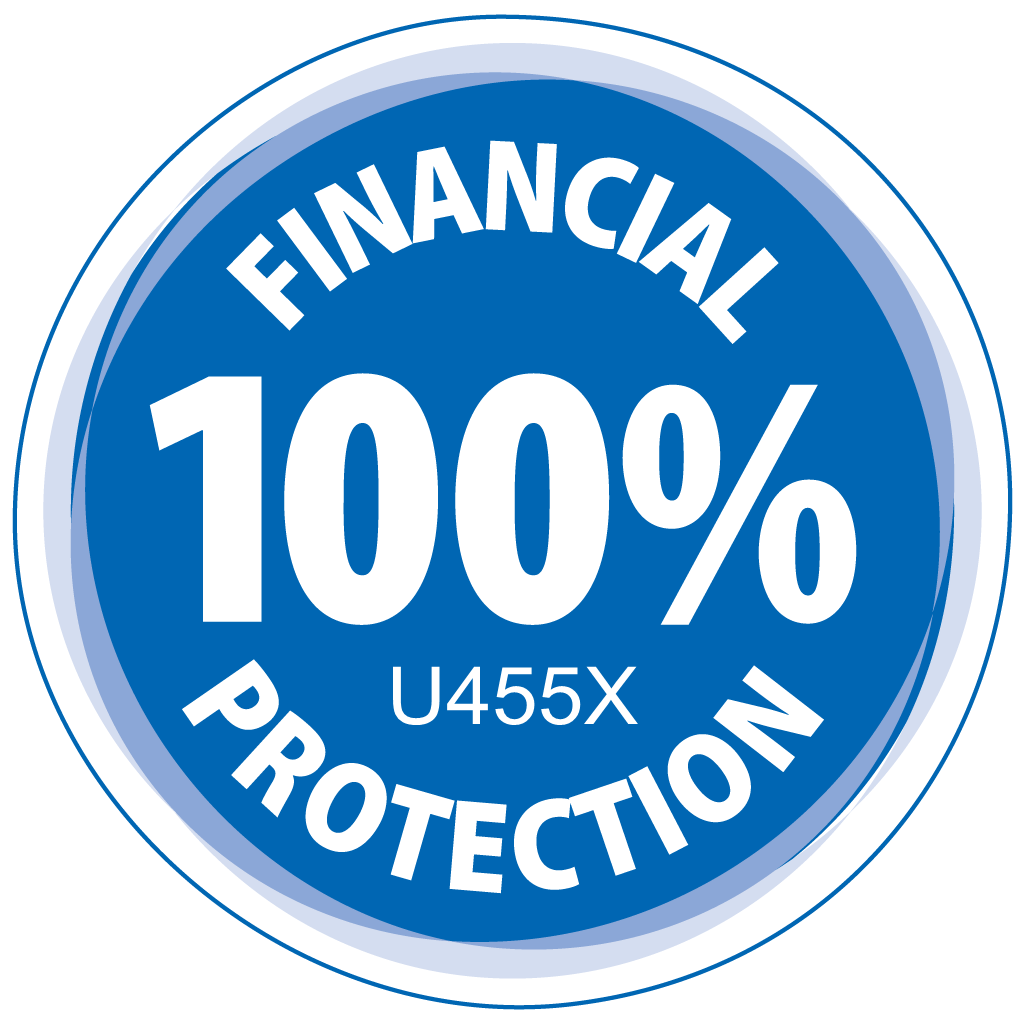 Important Information About Financial Protection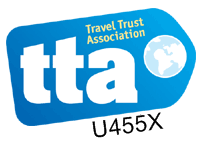 We are proud members of the Travel Trust Association.
The Travel Trust Association is a travel trade association. With 100% financial protection The Travel Trust Association exists to protect you, the customer, and they have been doing so for over 20 years. This means that any money you pay us is protected by the Travel Trust Association.
What Boats Are Available in the Blue O Two Fleet?
A liveaboard trip is a very popular type of diving holiday and the facilities in many cases rival those of resorts, with extremely comfortable and luxurious accommodation – as well as shared areas like bars and media rooms.
The following is a breakdown of our current fleet, which we mostly use for trips to the Red Sea – but occasionally elsewhere: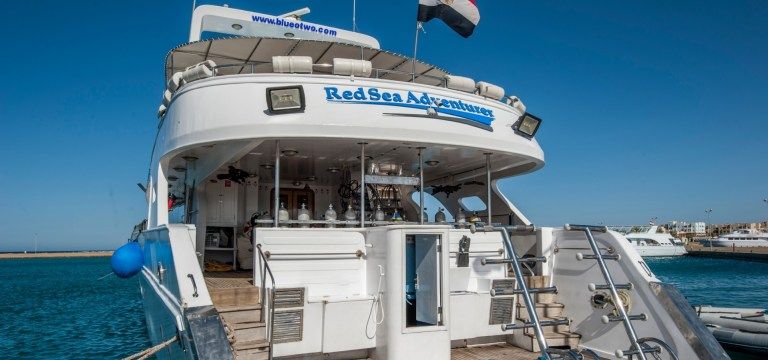 Blue O Two Red Sea Adventurer
The Red Sea Adventurer is a fantastic vessel and an important part of the Blue O Two fleet – it was fully refurbished in 2013. The Adventurer features a traditional Egyptian design and is available for our liveaboard trips to the Red Sea.
The Red Sea Adventurer has the following amazing features:
32 meters long, comprising of 12 cabins over 3 decks
Accommodation for up to 24 guests
En suite facilities in all cabins
Air conditioning in all cabins and throughout the boat
Shaded deck with communal dining, saloon and entertainment area
The Red Sea Adventurer also has the benefit of nitrox membrane equipment, which allows you to fill tanks using less nitrogen and spend more time at depth – perfect for wreck dives. There are many wreck dives in the Red Sea as well as open water dives, which can benefit from this highly-useful equipment.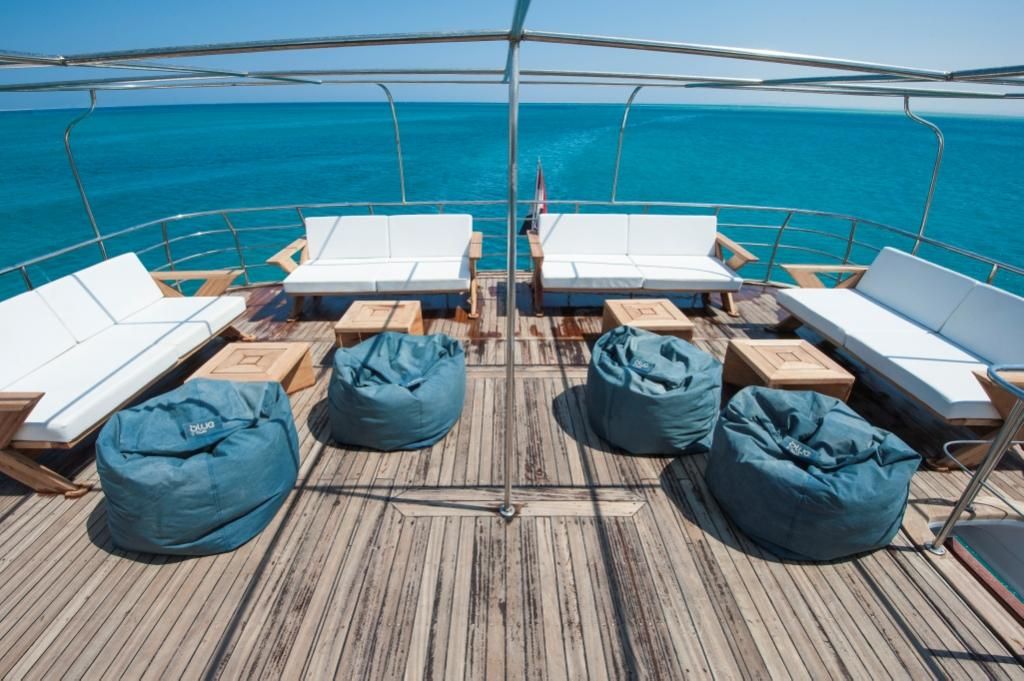 Blue O Two Melody
The Melody will be perfectly attuned to navigating the waters of the Red Sea. It is a very spacious vessel and underwent a complete interior refitting in 2008, followed by an extensive update in 2016 – so it is modern and perfect for groups.
Stepping aboard the Blue O Two's Melody you will see the following features:
A large separate sky lounge, perfect for relaxing between dives
Double and twin cabins, all with en suite facilities
Large dive deck, for easy kitting up and dive prep
Accommodation for up to 26 guests
Shared saloon and bar area
The Melody is an award-winning boat, with its superb dives receiving the Diver 2012 'Liveaboard of the Year' and the Sport Diver 2013 'Best Liveaboard' awards. The Melody is excellent for socialising so is good for larger groups but also individuals who are worried they might not have anyone to talk to on their trip!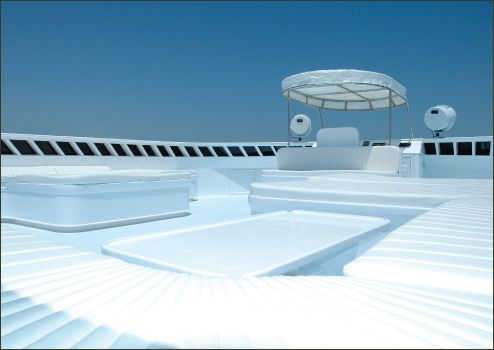 Blue O Two Horizon
The Horizon is one of the biggest and best vessels for world-class dive travel opportunities. As liveaboards go, this is a major standout in the Blue O Two fleet, a highly modern boat that is ideal for technical diving on the open water.
When you liveaboard the Horizon you can enjoy the following features:
The latest scuba diving, oxygen and safety equipment
Six luxurious suites with king-size beds, which are ideal for couples but also divers living with disabilities
Air conditioning, mini bar, ensuite and entertainment facilities in all cabins
Two separate saloon areas and a sundeck with an open-air freshwater jacuzzi
European and Arabian-style buffet meal options daily
You would be forgiven for simply staying on board and enjoying the Horizon's facilities and views. However, with top-class dive guides, you will be in good hands when you dive. You can explore the northern wrecks and reefs and dive in open water in the deep south of the Red Sea – all in total comfort aboard the Horizon.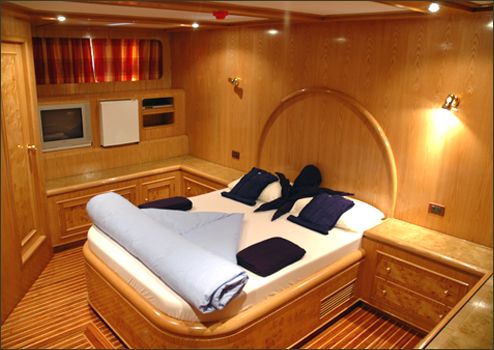 Blue O Two Blue Fin
The Blue Fin is an ideal vessel for traversing the many dive sites of the Red Sea. With premium cabins and a smaller, understated design this is an ideal liveaboard option for friends, families and couples – but singles can enjoy it too.
You can experience top-class dive travel on the Blue Fin with its following fantastic features:
All cabins have air conditioning and en-suite facilities
Large premium cabins also have bigger ensuite facilities, as well as entertainment and plasma TV's
There are special configurations to have the premium cabins with twin beds, ideal for non-couples and groups
Communal TV watching areas on the lower deck
Large communal dining room
The Blue Fin is luxurious without being ostentatious, as is reflected in its size. The Blue Fin is an exceptional choice for our Project Shark trips, which occur yearly, and will allow you to explore the best shark diving the Red Sea has to offer. Other dive travel itineraries include the northern wrecks and reefs of the Red Sea region.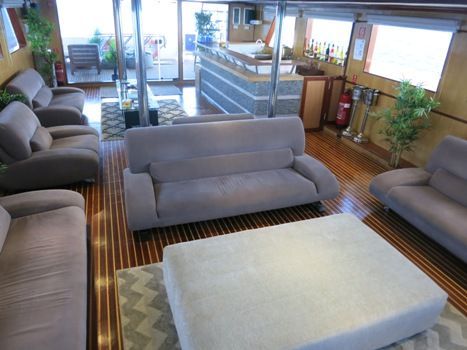 Blue O Two Blue Voyager
The Blue Voyager is the only part of the fleet that is for trips outside the Red Sea, the Blue Voyager takes you through the exciting dive sites of the Maldives. It is a steel-hulled vessel that has accommodation for up to 26 guests in 13 cabins.
The Blue Voyager has the following excellent features, ideal for liveaboard dive travel:
An ocean deck, so you can relax between dives but remain close to the water
Dining area, bar, sky lounge and a fresh-water on-deck jacuzzi
Luxurious cabins, even the smaller ones on the lower deck
Ensuite facilities in all cabins.
Air-conditioning throughout the boat
The Blue Voyager is the perfect vessel for navigating the paradise of the Maldives. It is an important part of our Project Shark trips to the southern Maldives, which will give you the chance to swim with sharks, rays and many other species of exotic marine life. When you live aboard the Blue Voyager, you can do this in style.
Take the Plunge – Get in Touch Today – info@oysterdiving.com
Places fill up well in advance so please contact us to book your place today. Here we will explore in more detail the best scuba dive sites available, the types of fish you can expect to see and the water temperatures and conditions you are likely to experience.
Book a Place on a Life-Changing Liveaboard Dive Trip
As the Red Sea has such a diverse range of dive travel opportunities many of our liveaboard trips with Blue O Two vessels focus on the area. However, if you have a particular destination in mind we can help you find the right trip for your tastes.
All of the Blue O Two boats make perfect options for liveaboard scuba diving holidays – and we may have others too! We deliver the best dive travel operations and we are confident that you will have a first-class dive travel experience.
We provide many life-changing liveaboards and resort dive opportunities for all skill levels. Make sure you book your place today so you avoid missing out, you can get in touch with us to book a place on a top-quality liveaboard diving holiday.