You'd be Bananas not to Visit the Bahamas!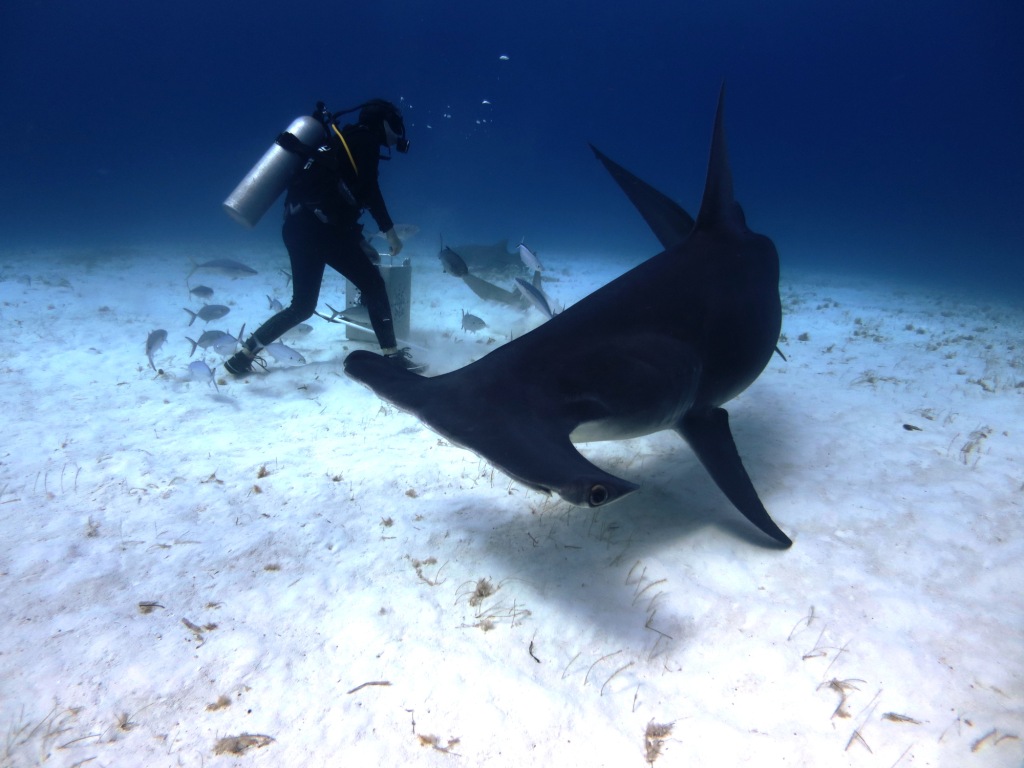 For most holiday goers the Bahamas is as a series of tropical islands bristling with palm trees, warm Caribbean sun, white sandy beaches, rum cocktails and a lovely place to relax. For scuba divers, it is the same plus so much more!
The Bahamas is well-known for its close encounters with sharks, and you can certainly do that here! If diving with sharks is your passion then this is one of the best places in the world! Reef sharks, nurse sharks, and lemon sharks, bulls are pretty common if you visit the right locations. But if you want something slightly "teethier", then it is one of the best places in the world to get close and personal to Tiger Sharks and Great Hammerheads.
It isn't just sharks though, there is plenty of other things to see. Turtles, soft corals, wrecks, caverns, caves, blue holes and reefs brimming with life can also encountered here.
On my 6-day whistle stop tour I flew directly from London to Nassau before a short internal flight to Grand Bahama.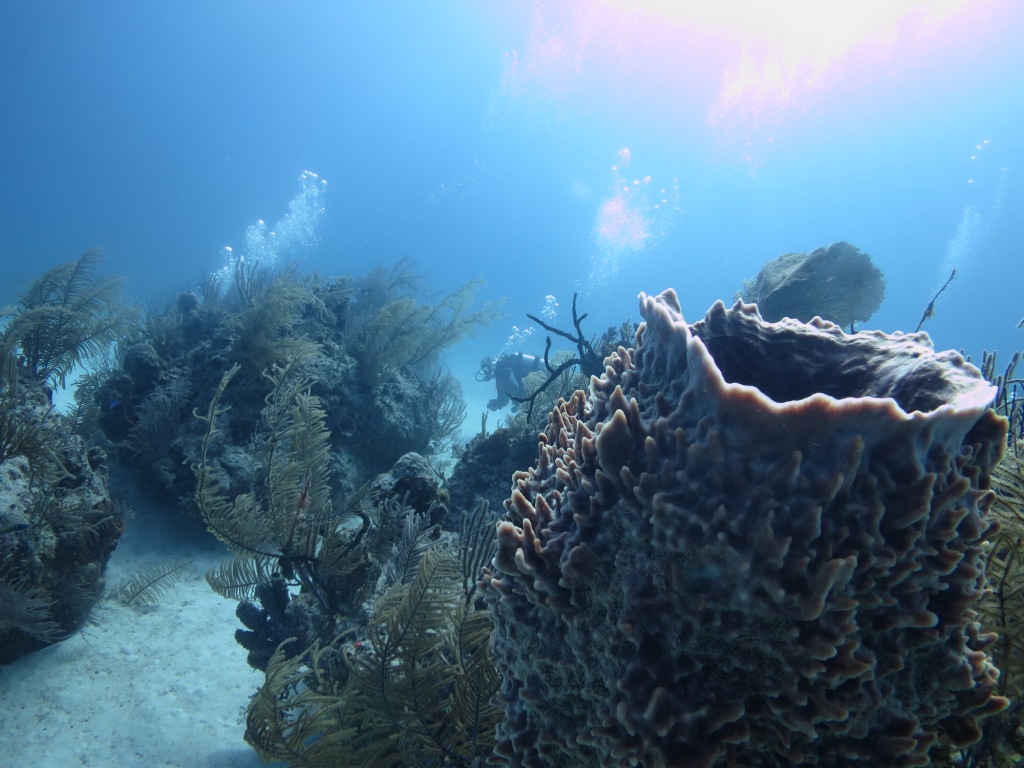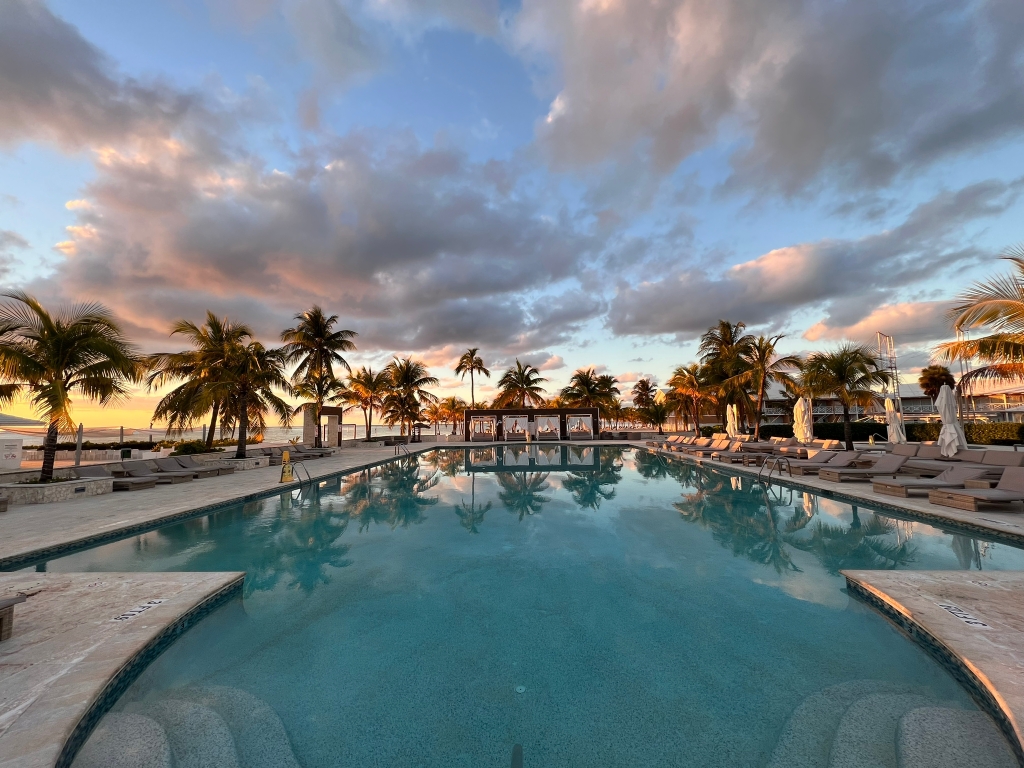 Grand Bahama

Grand Bahama is the most northern island of the Bahamas, and the closest major island to the United States, lying 90 kilometres off the state of Florida. Grand Bahama is the fourth largest island in the Bahamas island chain of approximately 700 islands and 2,400 cays.
Here we stayed at the very reasonably priced Viva Wyndham Fortuna Beach Resort, around 15 minutes from the airport. This is an all-inclusive resort so typically divers tend to do 2-morning dives and then chillout by the pool, or the stunning palm tree lined white sandy beach.
If you are used to 5-star glitz and glam then it's not for you, and you should look at Grand Point resort. The rooms are fairly basic but the food in the main buffet has a wide variety of foods and can cater for allergies and different dietary requirements. You can also dine at one of their a la carte restaurants which include an Italian, Mexican and 'gourmet dining'. The number of visits to these restaurants depend on how long you're staying and how busy they are.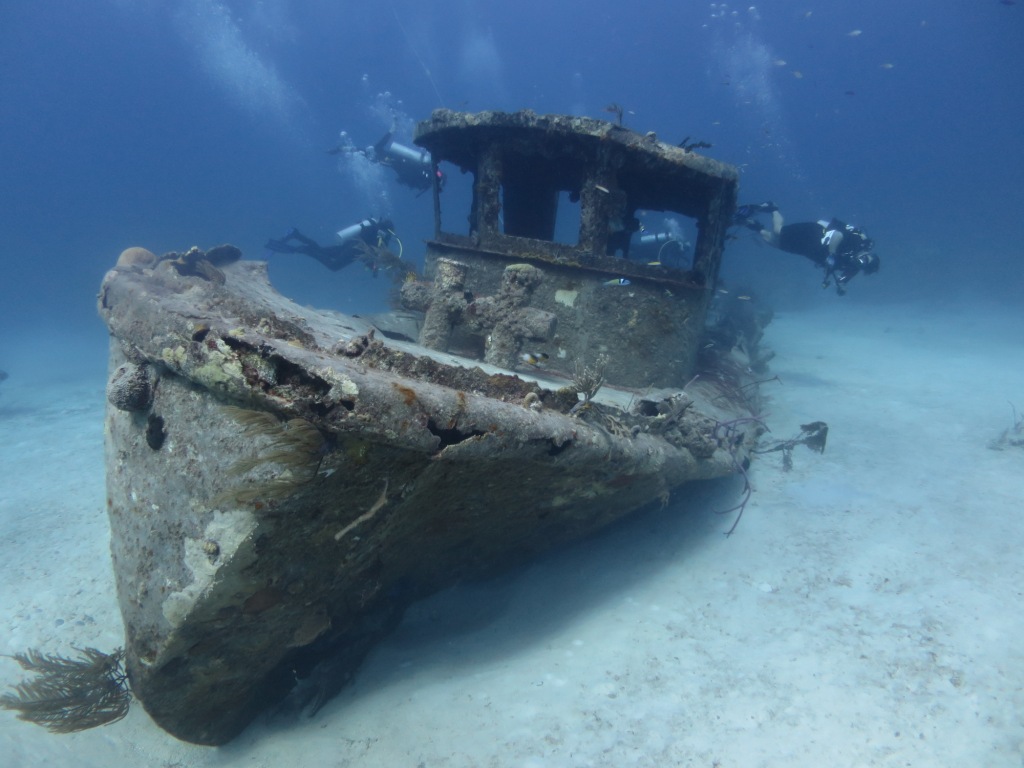 The resort is spread over a large area which means the vast beach doesn't seem to get over crowded. As a base for diving and some R&R it is spot on. The all-inclusive bar serves local beer, wine and cocktails, and there is some fantastic evening entertainment. For the slightly braver, you can have a go on a trapeze, plus there is stacks of other activities to enjoy including archery, tennis, paintball, gym, sauna, or you can treat yourself in the spa.
The diving here was even better than I imagined and there is a large variety of dive sites. We managed to do a reef dive on the 'Cave' where we saw large groupers, a couple of reef sharks cruising by, some stunning soft corals and barrel sponges. Our guide Gerome, was knowledgeable on the reef, entertaining and his big smile was infectious. Our second dive was to a small tug boat like wreck that was home to some huge fish. A giant barracuda came to check us out before we headed to the reef where another reef shark swam by.
The other dives to check out include more wrecks, caverns, and most famous of all, a day trip to see the famous Tiger Sharks on Tiger Beach. The dive centre do their own reef shark dive that is a less commercial and more ethical than one or two other places in the Bahamas. Sadly this was blown out when I was suppose to do it.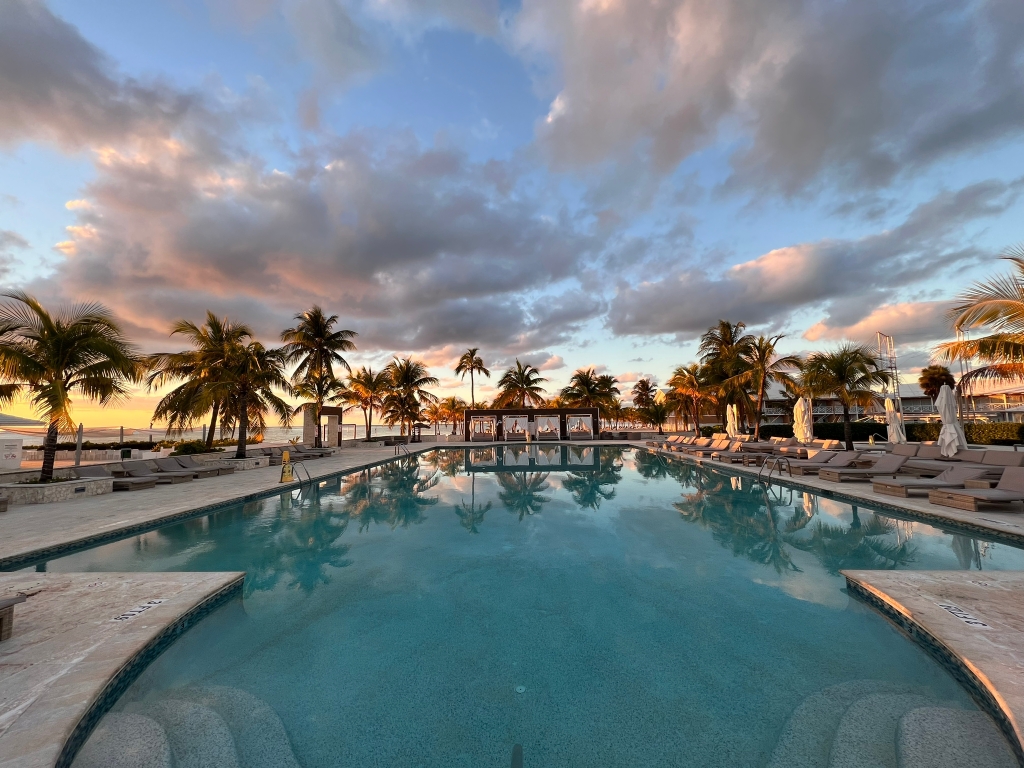 The water temp was about 26 degrees and viz a good 30m, and you'll need a full-length wetsuit if you are going on any of the sharky dives. I wore my Fourth Element Proteus II and that was perfect.
Outside the resort there is loads to do; snorkelling with turtles, swimming with turtles and/or pigs, and local fish night on Wednesdays at 'Fish Fry', Smiths point. For non-fish lovers like myself, you can also get some BBQ food to go with the rice, mac n cheese, or salad. The bar was slightly bizarre as most of the people getting down to the tunes were over 65.
Bimini, Bahamas
The following day I headed to Bimini on the 15 seater Flamingo Air flight. You're only in the air for 30 mins for the 100-mile journey. Bimini is actually 2 islands, North & South. Most tourists stay on the North Island which is about 7 miles long and ½ mile wide. Outside the airport you take a 5-minute cab to the ferry, a 5-minute ferry over to the North Island.
I stayed at the 5-star Hilton Hotel which is ideal for anyone wanting a luxury experience and the perfect beach and pool. It has two onsite pools, one on the roof with incredible views, and the other that runs the entire length of the hotel with its own a swim-up bar. Elsewhere in the hotel you'll find a large casino and several restaurants including a sports bar (Hemingway's) as well as a Sushi restaurant.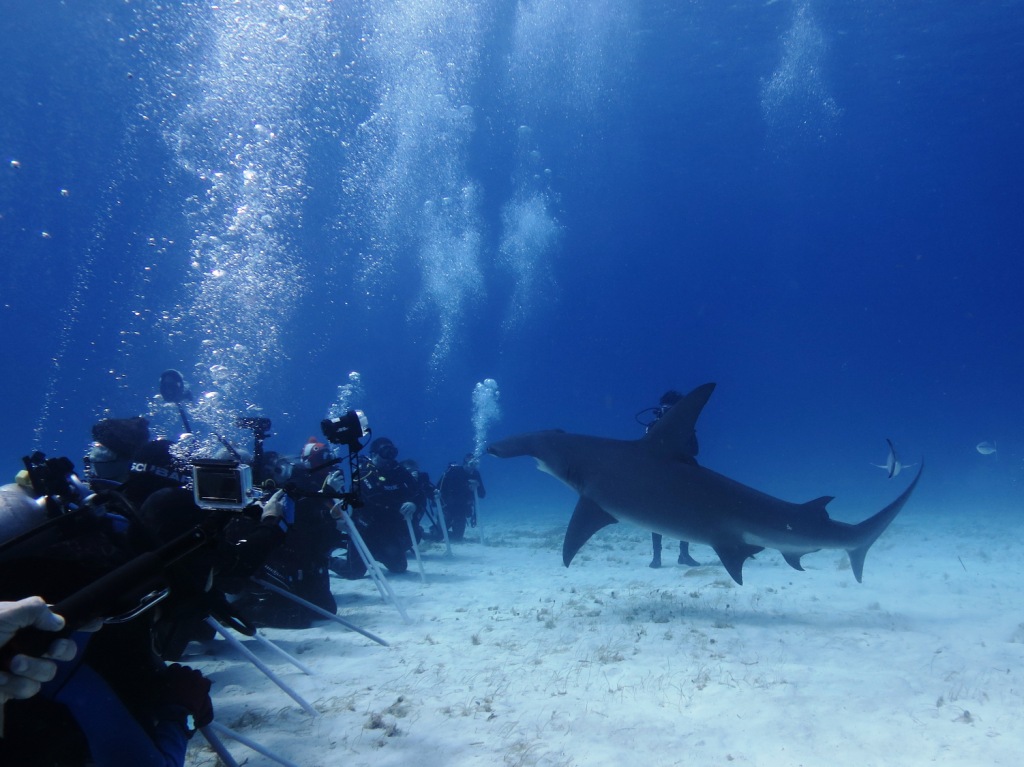 Outside the Hilton a 'tram' collects you and takes you to the private beach, which is as you can guess is 5 minutes away. Here you have a beautiful long stretch of pristine white sand, the turquoise Caribbean Sea gently lapping on it's shores, plenty of sun loungers, cabanas, as well as two pools, beach bar and loads more poolside sun beds. Cruise ships come to the island around three times a week, and a large portion of them are given access to the beach resort. With them they bring loud music, and it is quite fun to watch them stagger around after copious numbers of cocktails.
I managed to do 2 days of scuba diving on my short visit here. Diving was courtesy of Neal Watson's Bimini Diving Centre based at the Big Game Resort. They also have accommodation here that is fairly basic but very chilled. The people I met who were staying there had no complaints and appeared to have a more cultural experience and got to make some lifelong new friends.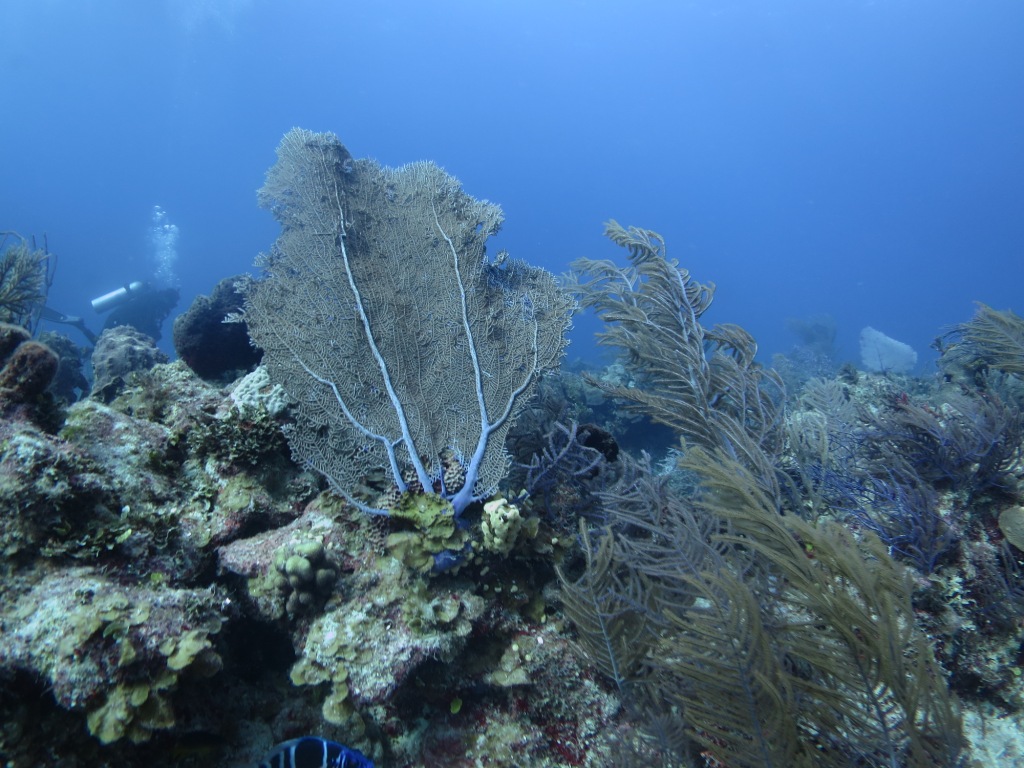 The first day of diving had been on my bucket list for around 20 years, a trip to see the Hammerhead Sharks. It didn't disappoint. As soon as we hit the sandy sea bed at around 10m we had 5 hammerheads coming in to check out the bait box. They cruised in a non-threatening manner and almost appeared to pose for people cameras. After 100 minutes I surfaced as my tank was now getting low on air. On the surface I was initially told we had 15 minutes left on the dive if I wanted to get back in the water. I figured by the time I changed tanks and got back in it would be nearer to 10 minutes, so wasn't going to bother. Someone else then said, well may be nearer to 20 minutes. So I wasn't sure if/when I'd ever get the chance to do it again so I jumped back in. Heading down the line I saw a bulky looking shark chewing on the bait box, and then I noticed it's striped appearance. A moosive flippin' tiger shark had made a guest appearance, the one shark that has eluded me all these years and for some 3,500 dives. BINGO!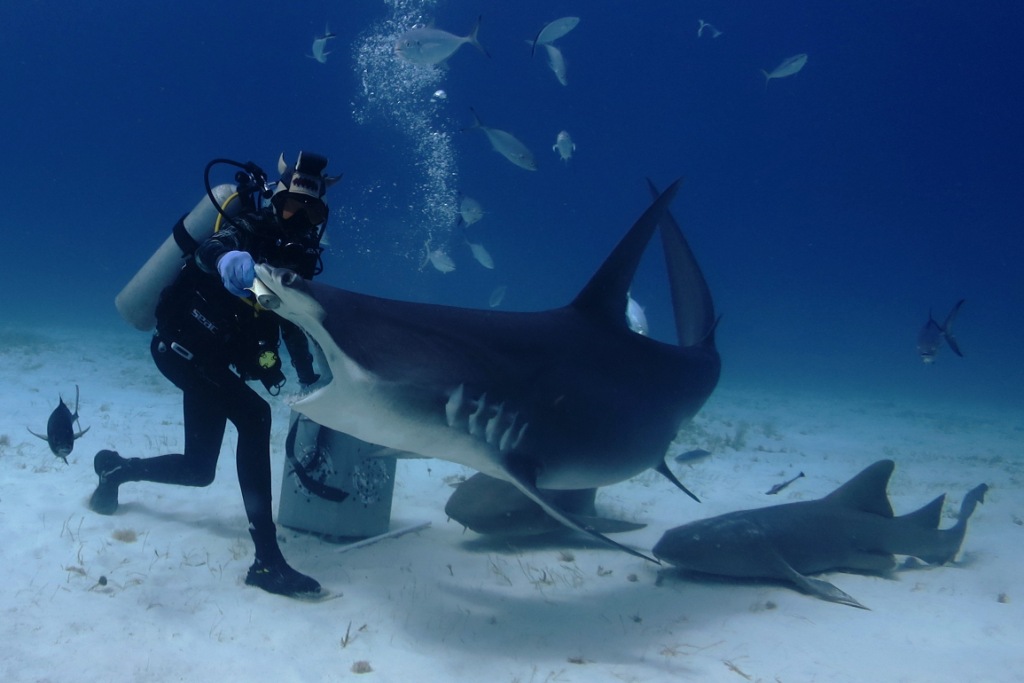 I kneeled on the floor and watched this mighty creature putting in a show in front of us, trying to get is teeth around the bait box for around 20 minutes. The two shark handlers with us on the trip did a great job of keeping it a safe distance from us so my only true worry was if my camera battery was going to last. As a safety precaution, we were issued with small bit of plastic piping to fend it off just in case!
Returning back to the hotel the adrenalin settled back down I looked back through my photos to relive the experience.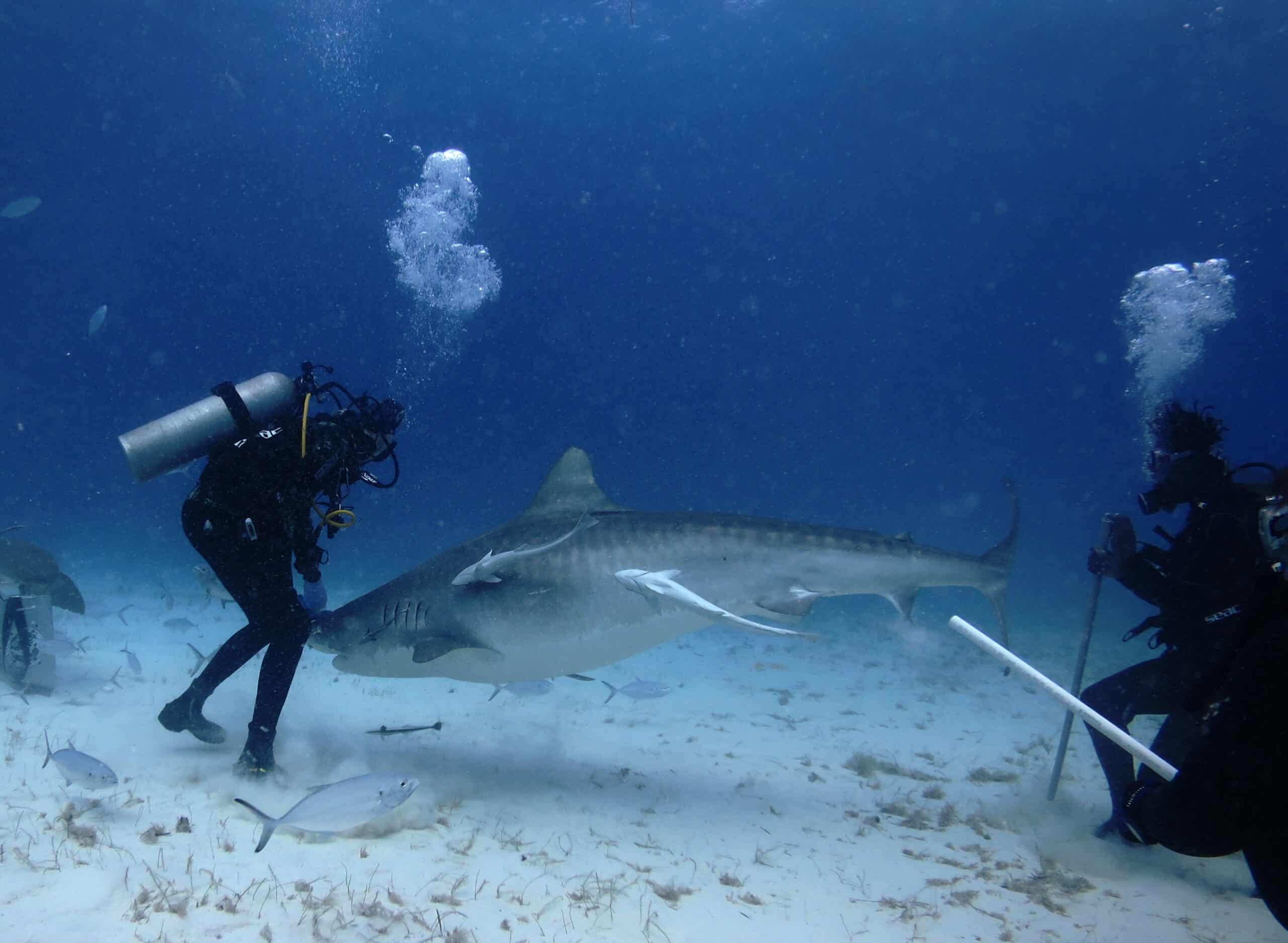 The following day I returned to Neil Watson's dive centre and we did two dives. One on the wreck of the Sapona, which has it's own unique story of smuggling and target practice by the US government. For heavy metal diving junkies, it's not the most challenging of dives at only around 3-4m but it does support quite a bit of marine life including turtles, southern stingrays, large groupers, and big schools of snapper.
The next dive was another unforgettable dive. We tried to create as little of a splash as possible to enter the water with around 30-40 Caribbean reef sharks. Here they circled us for around 50 minutes waiting for their lunch. For photographers, you could get the perfect shot and video including close-ups, panoramic shots, selfies, and arty shots. At the end of the dive when everyone was safely on board the dive boat the Captain throws a few fish into the water as a reward to the sharks for behaving and putting on a great show. The sharks got into a frenzy on the surface and everyone took some more photos.
Bimini is a very chilled and relaxed island and has a very Caribbean vibe. There are plenty of Conch stands were you buy Conch Fritters and a cold local beer. The locals are friendly and always happy to stop for a chat.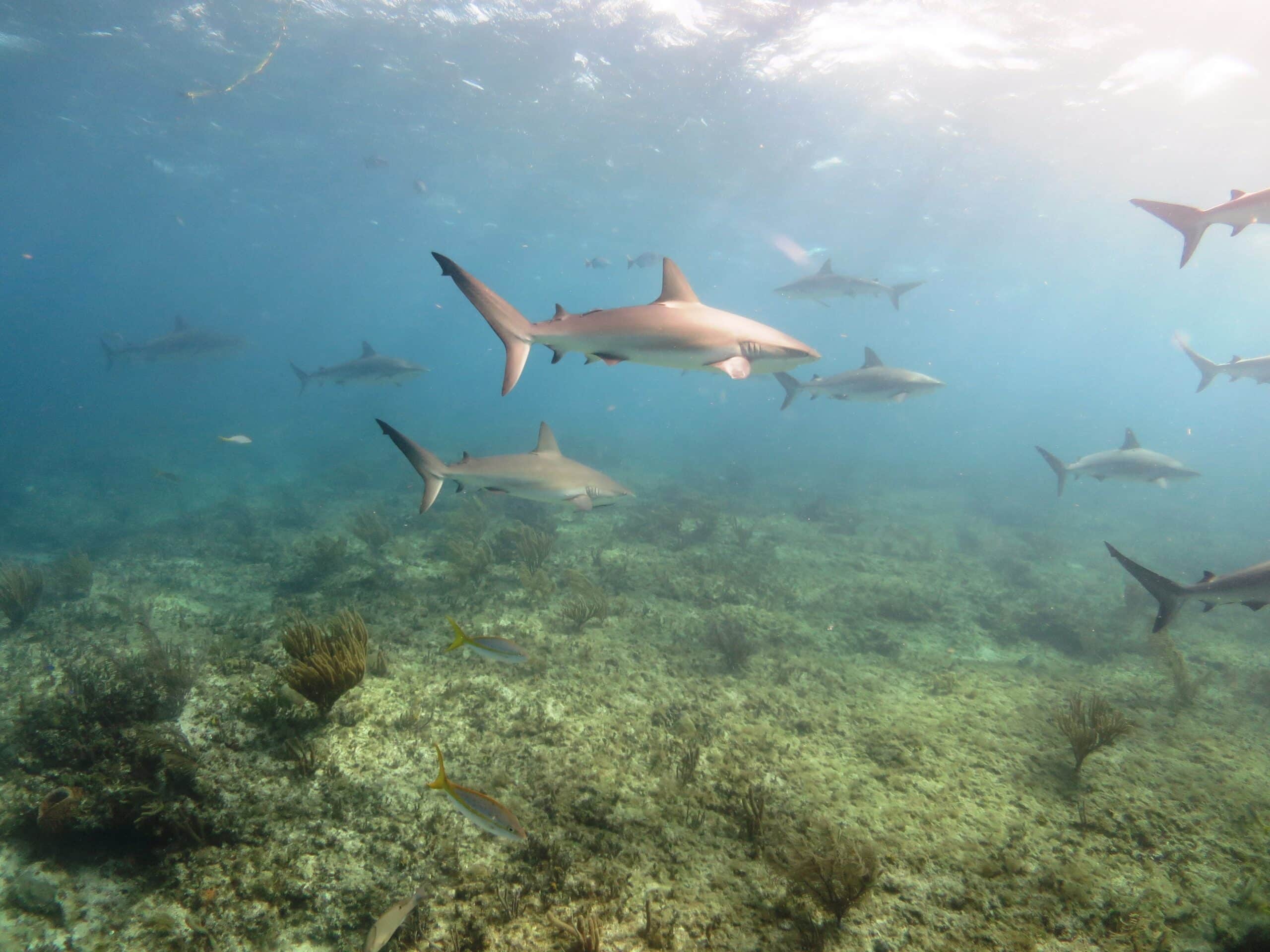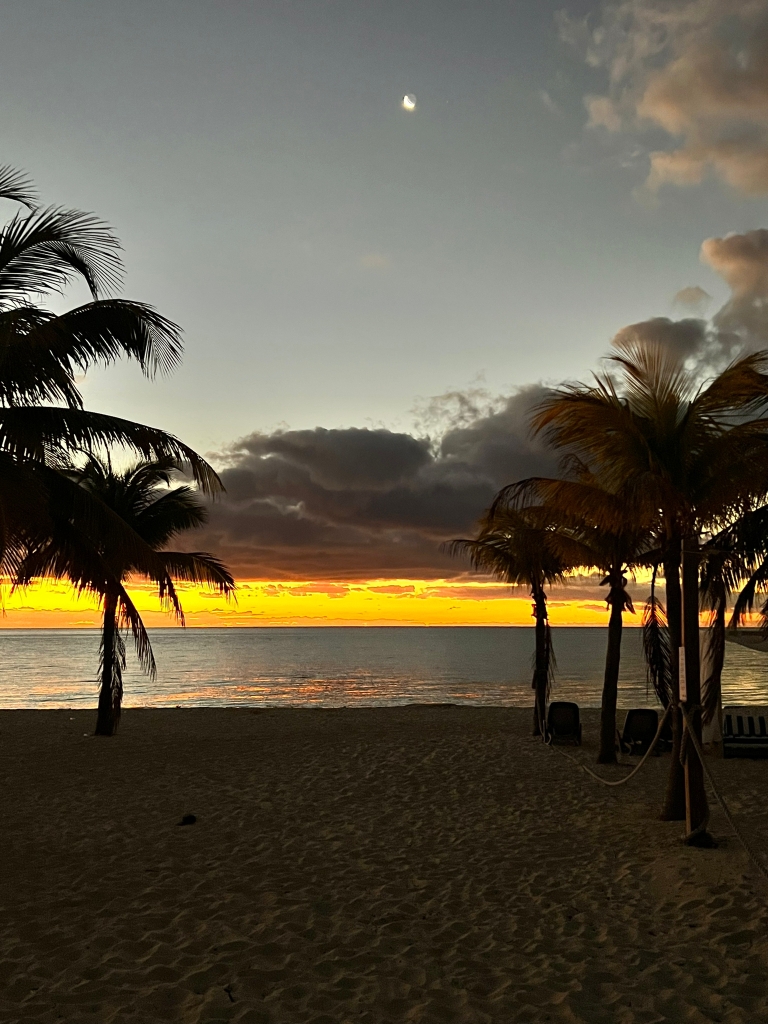 We're Coming Back
We are looking to bring a group of up to 12 people in February 2024, using all of the lessons and tips I've learned in the past week – and there are plenty! If you are interested, then please e-mail mark@oysterdiving.com and I can send you details once dates have been decided.
I can't wait to return and hopefully show some of you how great this amazing place is!