My first week at Oyster Diving
Straight in to the Pool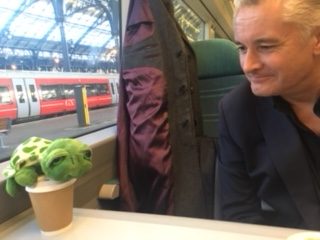 So my first week on the job as the new Head of PR and Environmental Manager has certainly been a busy one. It all started on Saturday when I travelled up to Oxford with Paul and Mark to get prepared for the huge task of seeing 120 young scouts and cubs doing their PADI Discover Scuba sessions. We all stayed in a lovely hotel to get ready for the Sundays event. We woke early and headed down to the pool and Paul, Mark, Nick and little Alex all started getting the equipment ready on the side of the pool. They call him 'Little Alex' because he has been diving with Oyster for over 10 years since he was 12 when he completed his Open Water course, he's now a Divemaster! Anyway, the first group of 12 excited scouts arrived at 8.45 in the morning and following a safety talk by Mark they were all ready to get in the water. Nick and Paul had a group each of 6 highly energised student divers each with little Alex acting as a support to them. I was very impressed with how they handled the groups as they kept talking about being safe, keeping their regulators in their mouths and how to inflate and deflate their BCD's (buoyancy control devices). It's all very different to me and my 'freediving' but looks great fun. I can't wait for my first Scuba lesson which should be soon as my kit is currently being  'specially made''. Not many scuba manufacturers make stuff for Turtles, not even Aqualung who we are partners with! The day passed by so quickly, I had a few rides on the back of Nick and Pauls scuba tanks which was great fun too and also had a play around with the scouts in the water. They were all very excited to see me there. We eventually got packed away by 6.30 in the evening, long day but real fun day. 
Monday was an office day as there was so much paperwork that had to be finished off from Sundays scout day it was all hands (and flippers!) to get all the equipment washed and rinsed off and the tanks filled with air ready for Tuesday.
Tuesday…………………………wow………………………Soho pool night with all courses back open. Apparently it was a lot quieter than normal but it still seemed pretty busy. I was really impressed how Nick and the team got everything together and by the end of the night there were lots of happy people again. Reactivates, Discover Scuba Diving and Open Water divers all had a great time in the enormous marble lined swimming pool, very fancy! I had a little go but joined in with the freedivers, they were pretty impressed when I didn't actually have to come up for air the entire time! They could only manage 2 or 3 minutes! Paul had to go to a meeting somewhere else about other diving clubs which all seemed very interesting.
Wednesday saw Mark, Paul and myself going for a big secret meeting! There were lots of people all standing around in a beautiful room listening to Paul and Mark talk to them about diving and all things Oyster. They all said how much they had enjoyed what Paul and Mark had said and had found it very interesting. That's about as much as I'm allowed to say…………………very secret! I had great fun riding the 'tube' which is like a train but it's underground.
Thursday was the London Boat show day with Paul. We had great fun looking at all the huge boats and there were also lots of other toys to use in the Ocean, I also got to watch toy boats racing around in a big indoor lake. I tried to join in but the people racing the boats didn't seem to want me to get in the way. Paul had yet another meeting with someone else that he said was VERY important and also very nice. I think they must be friends!
Friday saw Paul and Mark going to London AGAIN! I went along with them again as they want me to see everything about what they are doing this year. There is really some very exciting stuff going on that they keep telling me are BIG secrets for now. I guess we will be able to talk about it all soon enough. I sure am learning lots to do with Oyster Diving. I am sooooooooo excited about my new job. Every day is different and I am having great fun learning to scuba dive as opposed to my usual freediving.
I'll write some more soon but keep watching out for my adventures on facebook and linkedin.