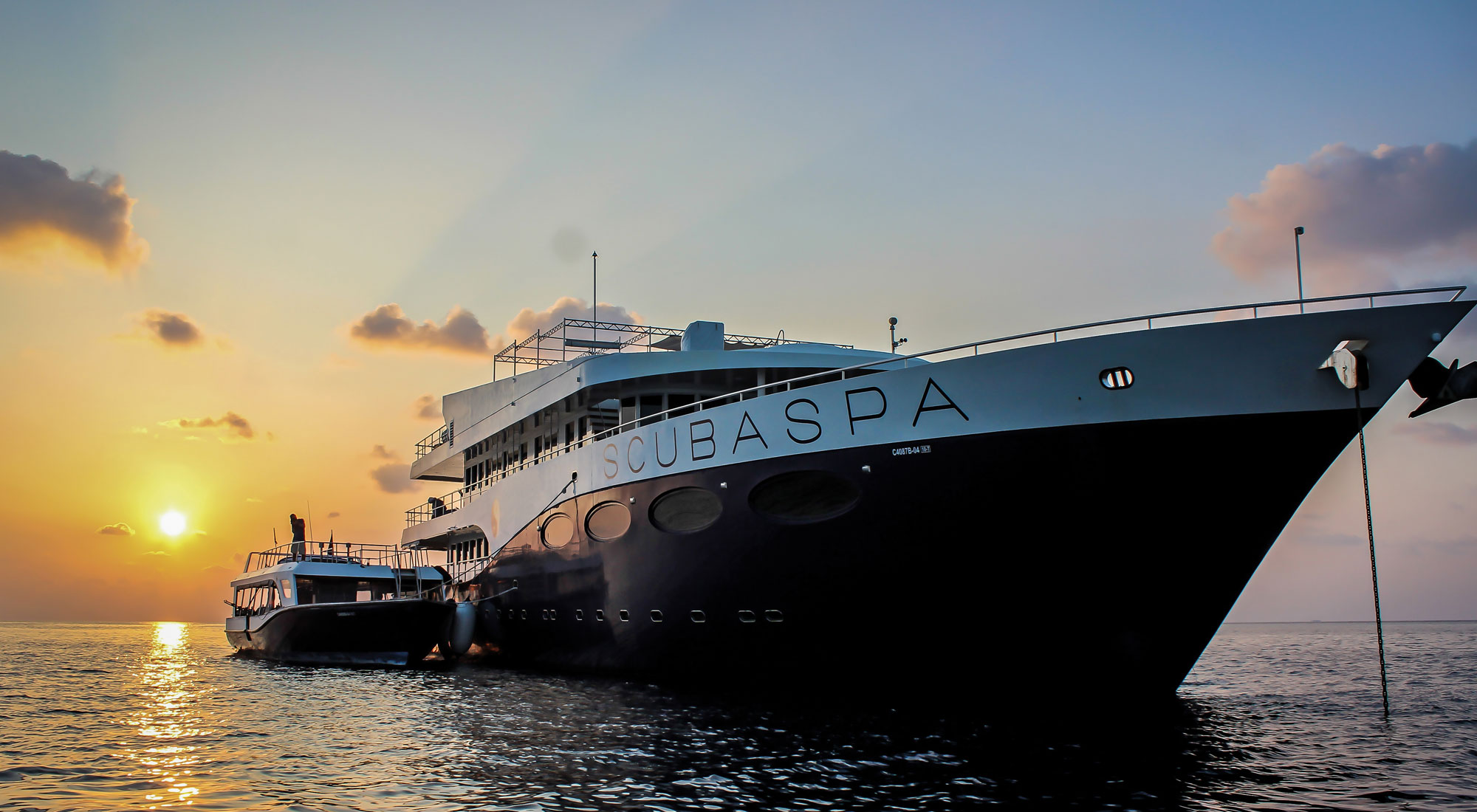 Floating Resort by Scubaspa is a new and unique concept combining exceptional spa experiences with unforgettable scuba diving. Designed for divers who travel with non-diving partners and guests with a keen interest in spas, Scubaspa's purpose-built yachts explore the picture-perfect islands and reefs in the crystal-clear waters of the Indian Ocean.
Discover the rich marine life under the ocean or indulge in daily treatments in the sumptuous onboard spa. Or why not experience both? The beauty of Scubaspa is that the choice is yours.
Four spacious decks offer a gym, Jacuzzi, and deck hosting sunset cocktails, star gazing outdoor dinners and an open-air cinema for evening entertainment. With a crew of 30 on each yacht, guests benefit from a high staff to guest ratio, including four spa therapists, a yoga master, four highly skilled chefs and a guest services manager to ensure excellent service.
Overview
Accommodation
Luxury liveaboard diving yachts Scubaspa Ying and Scubaspa Yang have been designed to accommodate up to 40 guests. With 10 cabins and nine suites on each yacht, tastefully decorated and all with panoramic sea view or port lights, guests can choose from queen, king or twin bed combinations. One suite and one cabin sleep up to three people. All have air conditioning and en suite bathrooms with shower.
Spa
The asian style 300m2 Spa is the largest of its kind in the Maldives. Spanning two decks, facilities consist of six treatment rooms, including one for couples' therapies, a secluded deck for open-air Thai massage or meditation and a shaded spa lounge for relaxation and yoga.
Dining
Dreams come true with a moonlit BBQ on a sandy beach, and a Scubaspa holiday is no exception. On all cruises, guests experience a desert island BBQ as it should be – on a picture-perfect sandy beach, the azure blue water gently caressing the shoreline, and the day's catch on the grill.
On-board internationally qualified chefs cater to all tastes and dietary requirements with a varied selection of gourmet cuisine. Guests enjoy three buffet style meals daily as well as an a la carte menu, complete with live cooking stations served in the spacious al fresco restaurant at the rear of the main deck. From roast rack of lamb to grilled Atlantic salmon, flaming crêpes suzette to sizzling tapas and an authentic sushi bar, flavours of this tropical island paradise are expertly combined with traditional European and Mediterranean favourites. Indulge in the freshest seafood, juiciest cuts and an array of tropical fruits and vegetables. Fresh lobster, cooked to order, is also available at a small additional cost. Enjoy breakfast whilst watching the sunrise, dine under the stars and relax in the sun over a leisurely lunch. All complemented by a carefully curated global selection of wines and champagnes.
Scuba Diving
Diving with Scubaspa is a pleasurable, relaxed experience with all dive related activity taking place on a separate dive boat, one accompanying each yacht. This ensures the main vessel is undisturbed by the noise and activity. Approximately 20m in length, the dive boat carries all the equipment, including air compressors and state-of-the-art nitrox; purpose built for comfort, each has plentiful seating, multiple entry points, stern platform and on-board toilet facilities. Both yachts are the only vessels in the Maldives awarded PADI 5 Star Dive Resort status. Divers of all abilities are welcomed by the five experienced, multilingual dive masters/instructors and boat crew to enjoy the very best of the Maldives from this luxurious floating resort.
Maldivian coral reefs are home to the richest diversity in the region and are the seventh largest on the globe, accounting for 5% of the world's reef area. They are world famous for diving and snorkelling enthusiasts and beginners alike, offering countless opportunities to swim with a wide variety of marine life, large and small, in crystal clear waters. Diving in the Maldives is a year-round activity with water temperatures a constant 26-29°C. Sea and sky are clearest from December to May, with plankton more abundant in October and November, making the sea murkier but with bigger fish more active and more easily seen. Mantas, whale sharks, turtles, reef sharks and hammerhead sharks are found in the Maldives all year round. The maximum depth per dive is limited to 30m; diving with a computer and an alternative air-source is mandatory, and it is prohibited to dive alone or do decompression dives. The use of harpoons or spears is prohibited and it is forbidden to remove corals, dead or alive, or any other sea animals, including fish. In the Maldives, it is illegal to collect any coral, shells or other souvenirs from the ocean.
Please check your certification level. Open water diver is certified to dive down to only 18 meters, advanced open water diver is certified to dive down to 30 meters. Night and deep dives are available only to divers with advanced diver certification. If you wish to upgrade your level, advanced diver course is available on board.