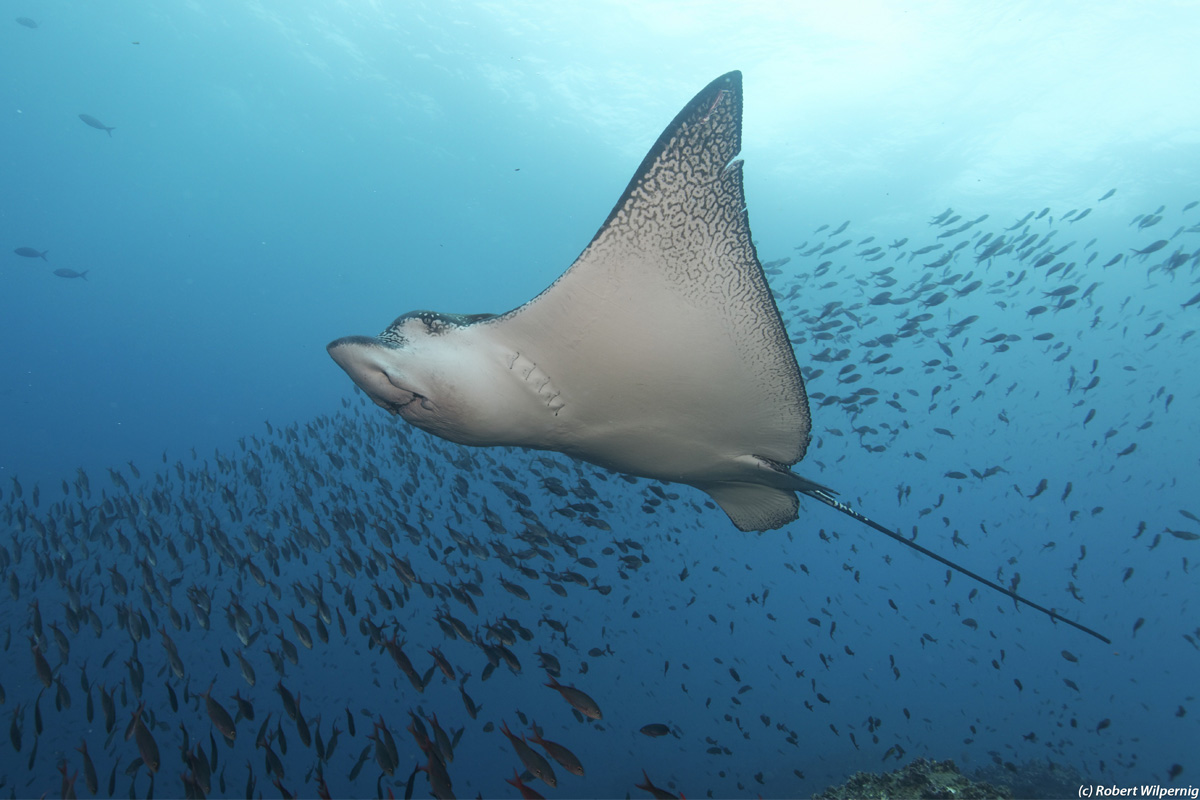 Diving in Galapagos
The Galapagos Islands offer some of the finest diving experiences, with extensive dive sites featuring a range of fascinating marine life. As a location in the south pacific, the islands have comfortable water temperatures and strong currents that attract many species of shark – particularly during the summer months.
Part of the Republic of Ecuador, the Galapagos islands contain many rare species and most non-divers think of them as the place where Charles Darwin did his important research into the theory of evolution. Today they are a destination for tourism, with particular emphasis on diving and wildlife exploration.
You can visit the 21 islands, which include Santa Cruz and San Cristobal, for land-based dives and do liveaboard diving trips for safari dives featuring the islands' famous hammerhead sharks. Our next trip is in August 2021, book your place as soon as possible to avoid disappointment.
View Our Upcoming Trips to Galapagos
Important Information About Financial Protection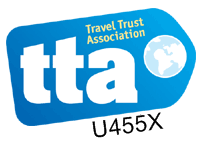 We are proud members of the Travel Trust Association.
The Travel Trust Association is a travel trade association. With 100% financial protection The Travel Trust Association exists to protect you, the customer, and they have been doing so for over 20 years. This means that any money you pay us is protected by the Travel Trust Association.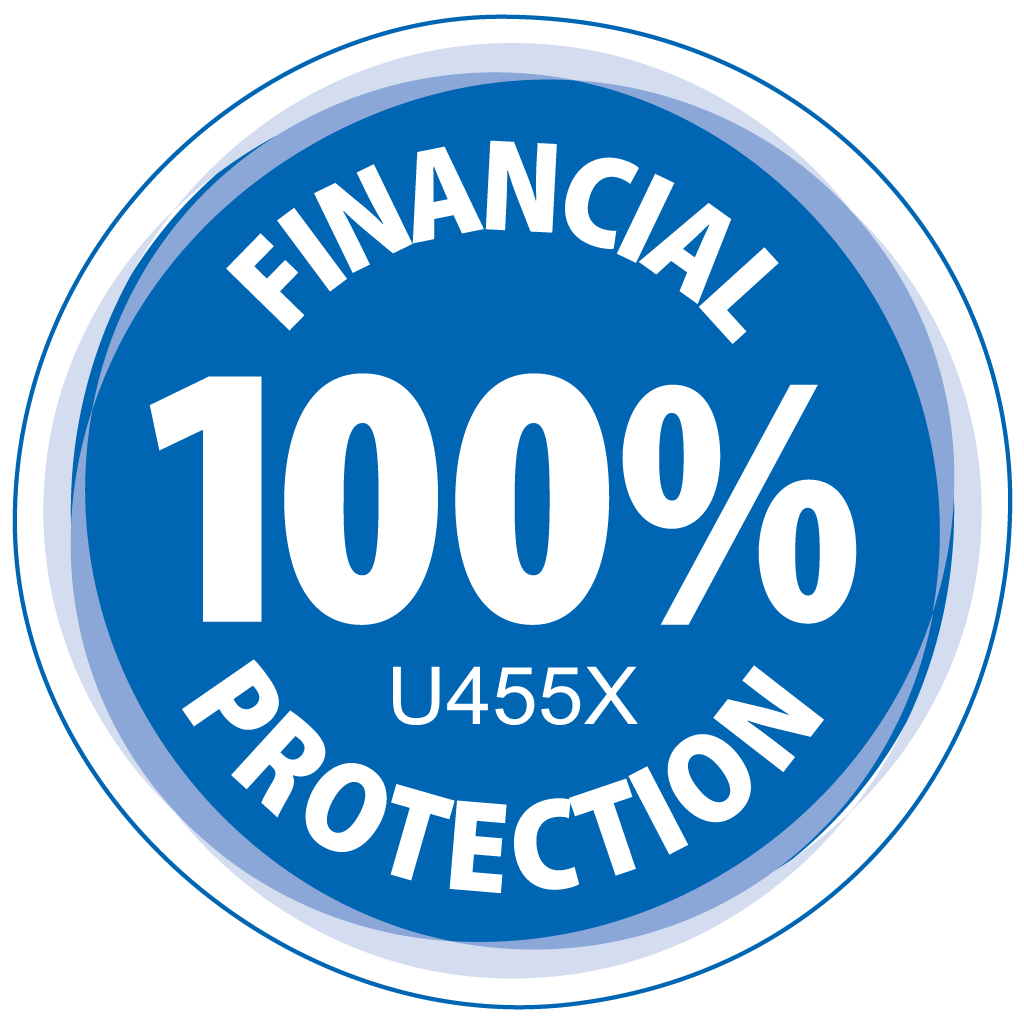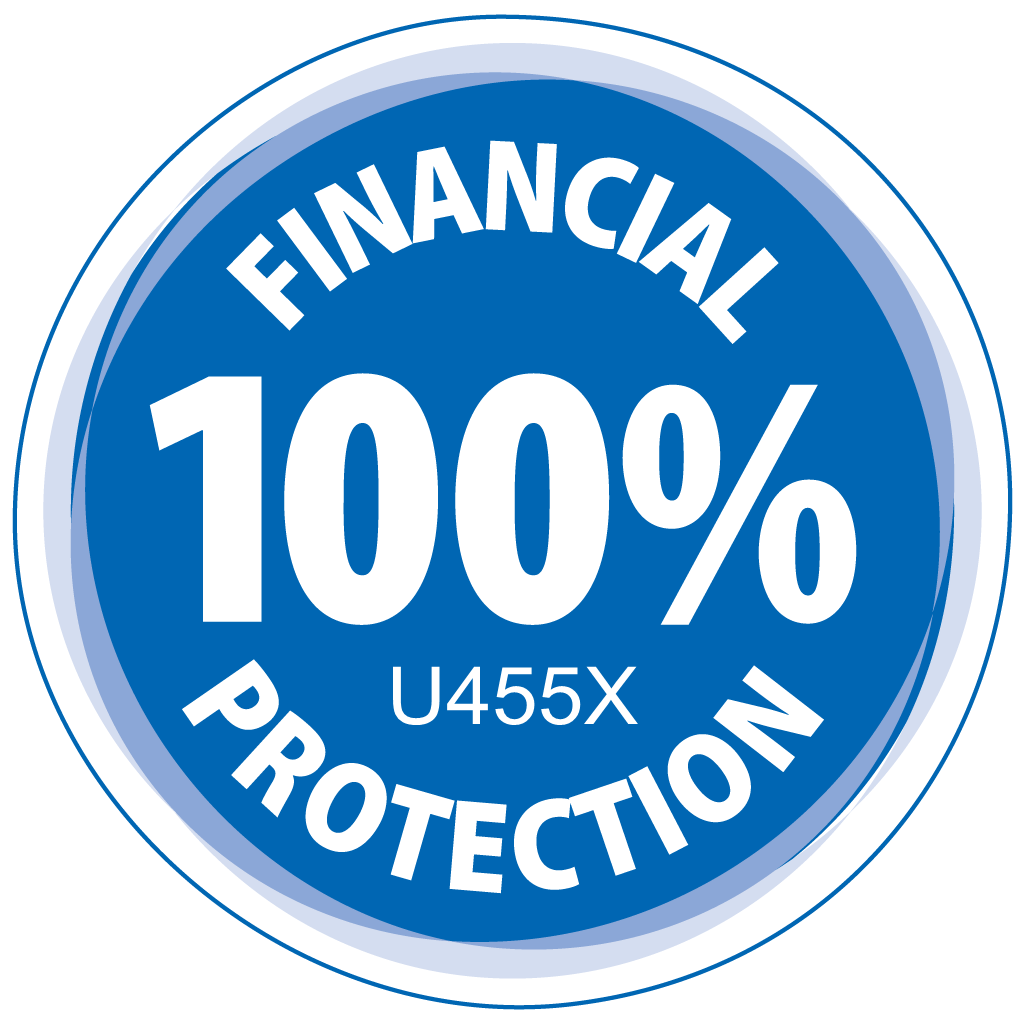 Take the Plunge – Get in Touch Today – info@oysterdiving.com
Places fill up well in advance so please contact us to book your place today. Here we will explore in more detail the best scuba dive sites available, the types of fish you can expect to see and the water temperatures and conditions you are likely to experience.
The best Galapagos diving trips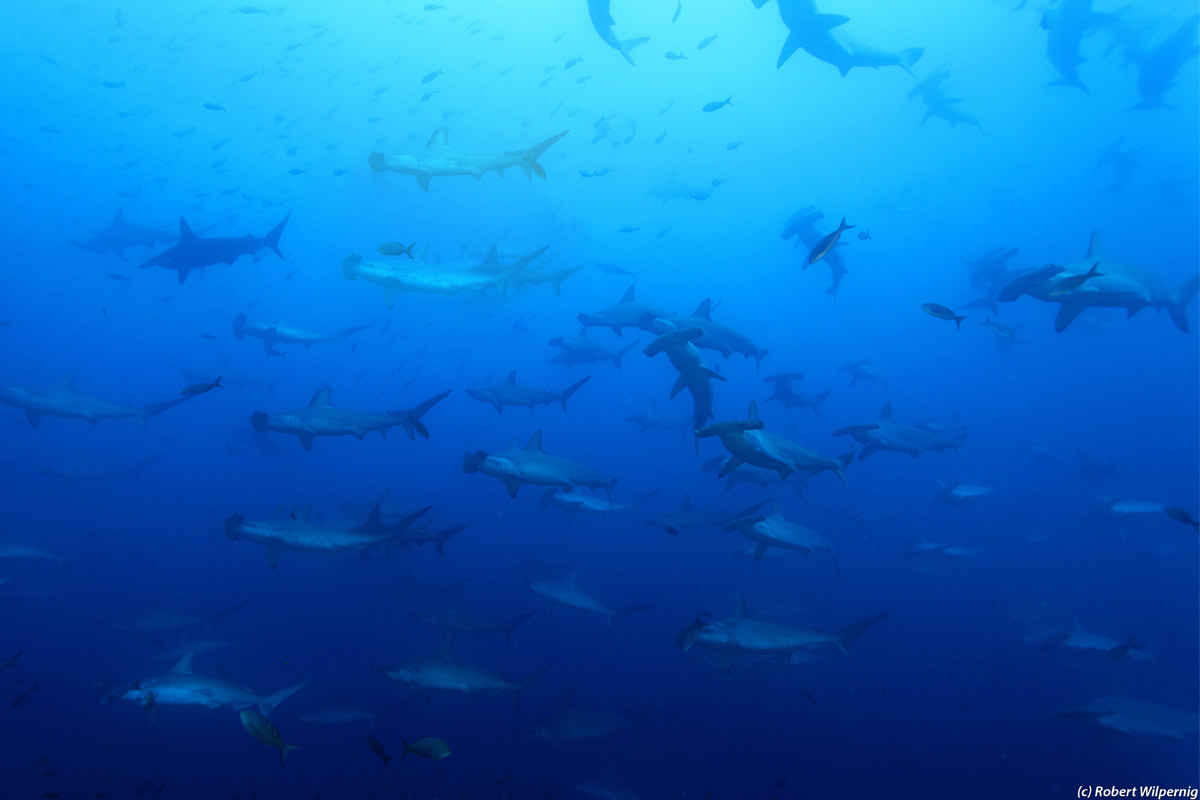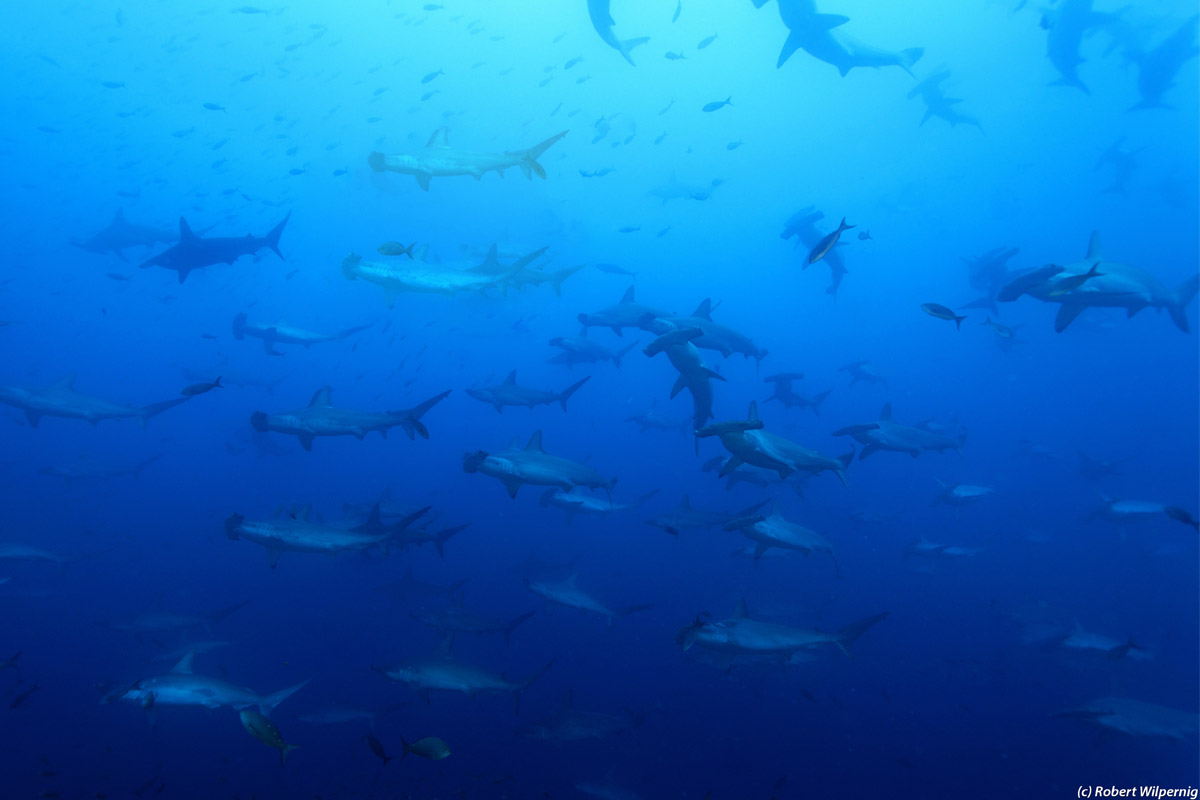 As a volcanic archipelago, the Galapagos Islands provide a blend of interesting rock formations and extensive marine life. Scuba diving holidays centre on this type of dive on the islands, it is not an established location for wreck diving.
Top diving sites in the Galapagos Islands include the following:
Kicker Rock: Kicker Rock is based off San Cristobal island and has extensive diving and snorkelling potential. Home to many sea lions, you can see an unusual range of marine life in addition to fish. Iguanas swim and hunt in these waters, so divers must keep an eye out for them.
Darwin Arch: Located at the tip of Darwin Island, this famous dive site is a liveaboard scuba dive trip that is impressive due to a large number of sharks in the area. They are drawn into this location because of the strong currents, which means this dive site is only suitable for advanced divers.
Punta Vicente Roca: This is an excellent example of cave and wall diving, situated just off Isabella island. It is a deep dive, up to 27 meters so will be a cold dive at the lowest point – but gives you the chance to see some more of the unusual creatures. You can sometimes see penguins too.
The diversity of the dive sites is the key part of the appeal of Galapagos diving trips, and our packages deliver a good sense of each type of dive. The best season for holidays is during the summer months, for better conditions and greater visibility.
See the video below for a clearer idea of the diving sites of the Galapagos:
Types of marine life in the Galapagos islands
You will see many types of interesting fish and other marine life, whether you are doing a cave dive or another type of dive – the islands are teeming with diverse life. One thing you are less likely to see in the Galapagos islands is extensive coral, but there is some black coral to view.
Types of fish and other creatures you can see when diving in the Galapagos Islands includes the following: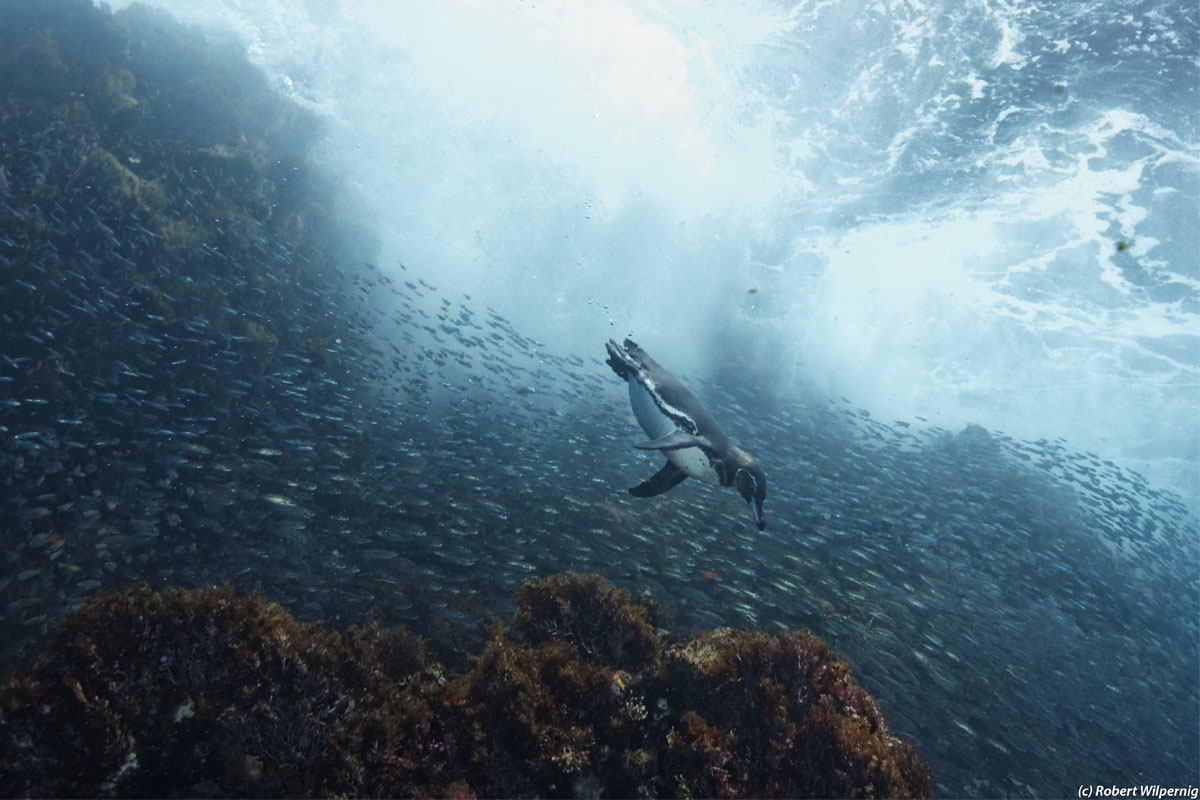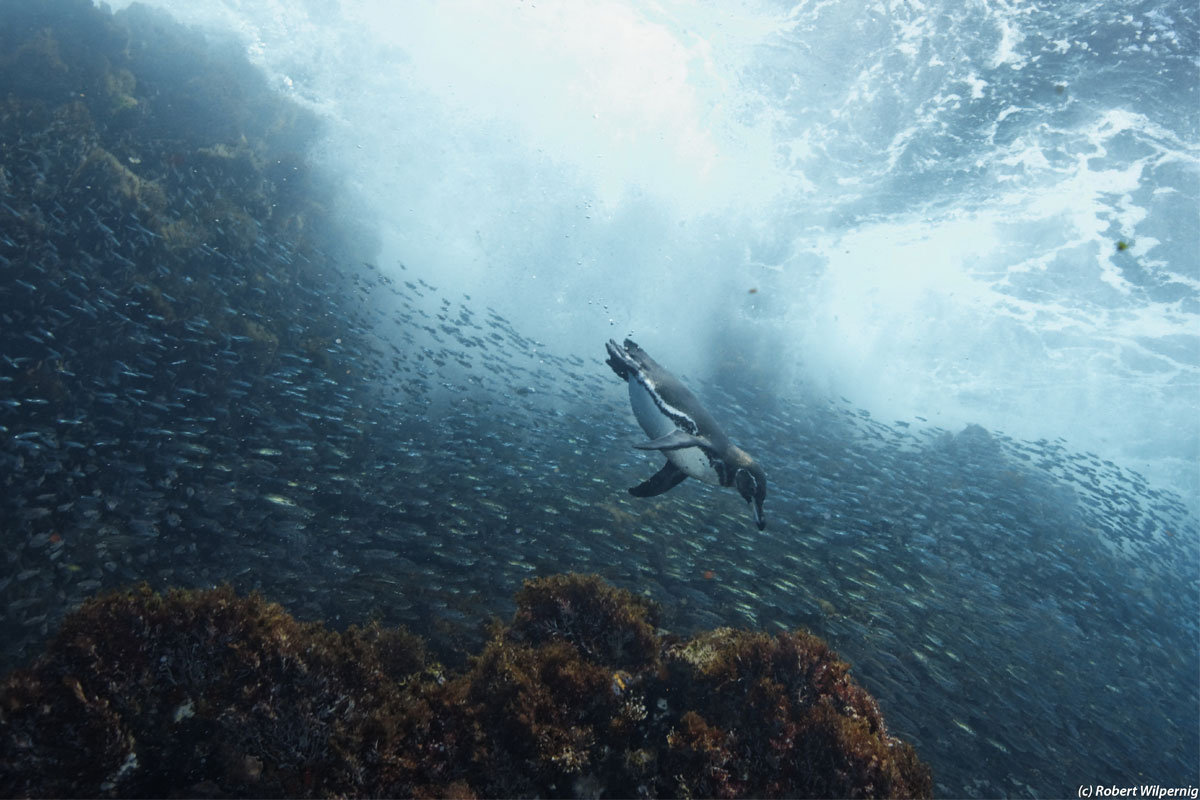 Shelter seahorses
Blennies
Nudibranchs
Hawkfish
Frogfish
Marine iguanas
Sea lions
Penguins
Galapagos sharks
EVEN MORE..
Eagle rays
Hammerhead sharks
Mola mola
Silky sharks
Sea turtles
Giant morays
Whale sharks
Barracuda
Dolphins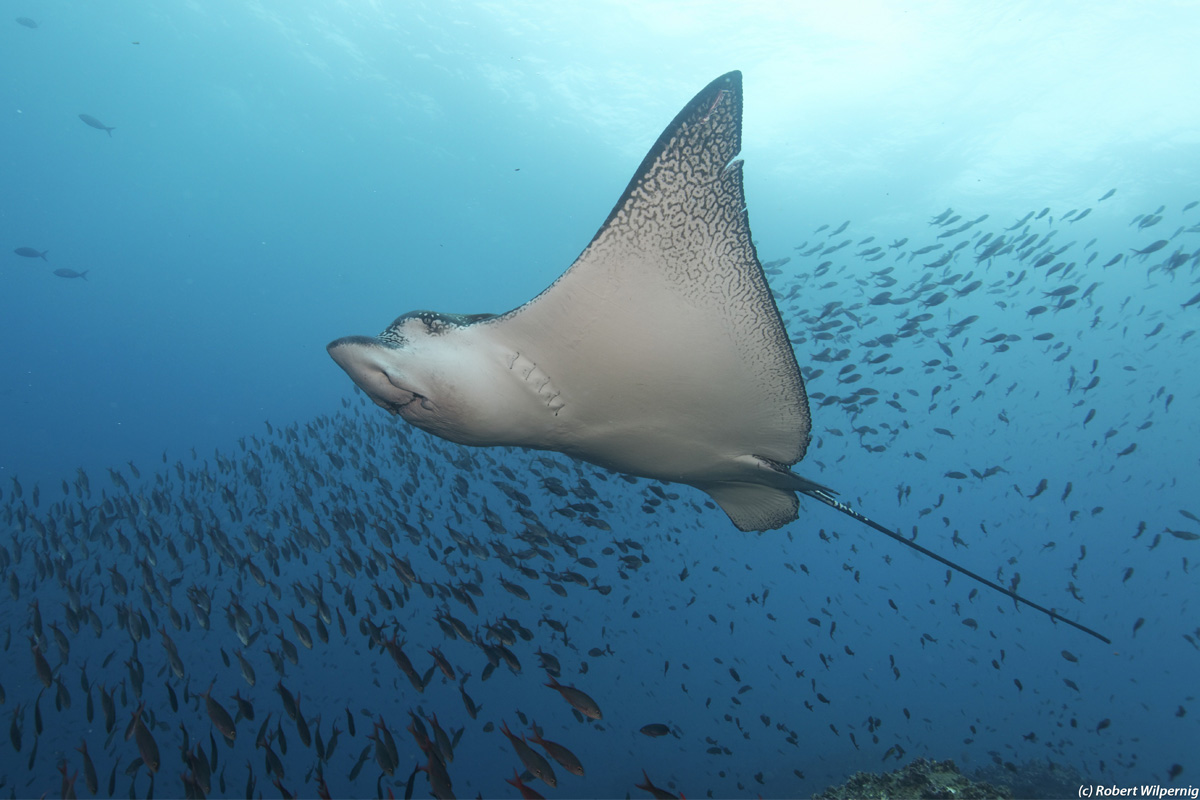 The location of the Galapagos Islands makes it a key meeting point for many different species, it is a rare thing to be able to view creatures such as marine iguanas alongside seals and penguins. If you are looking for a place to see the most life you possibly can in one diving trip, the Galapagos are the way to go.
Diving conditions in the Galapagos islands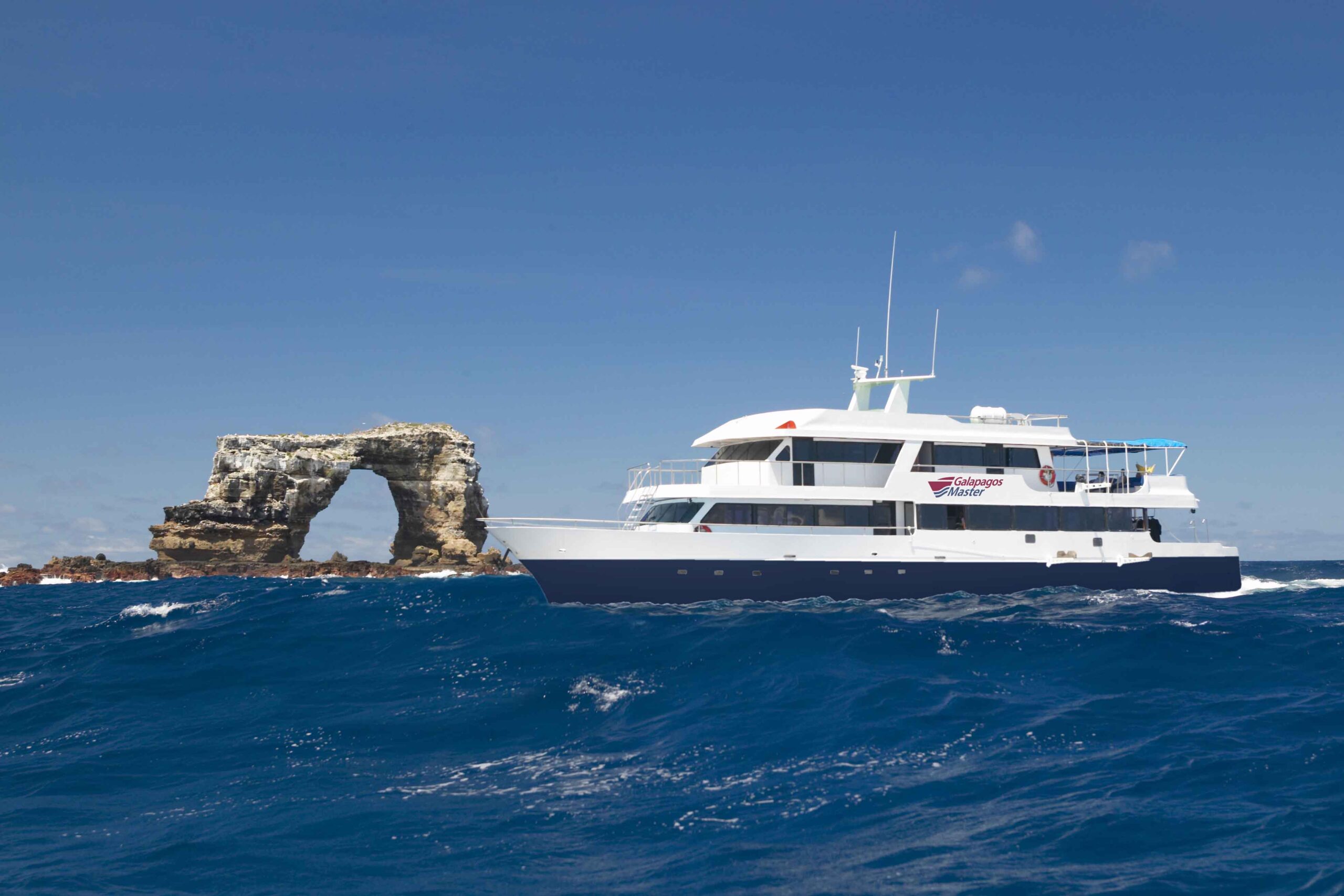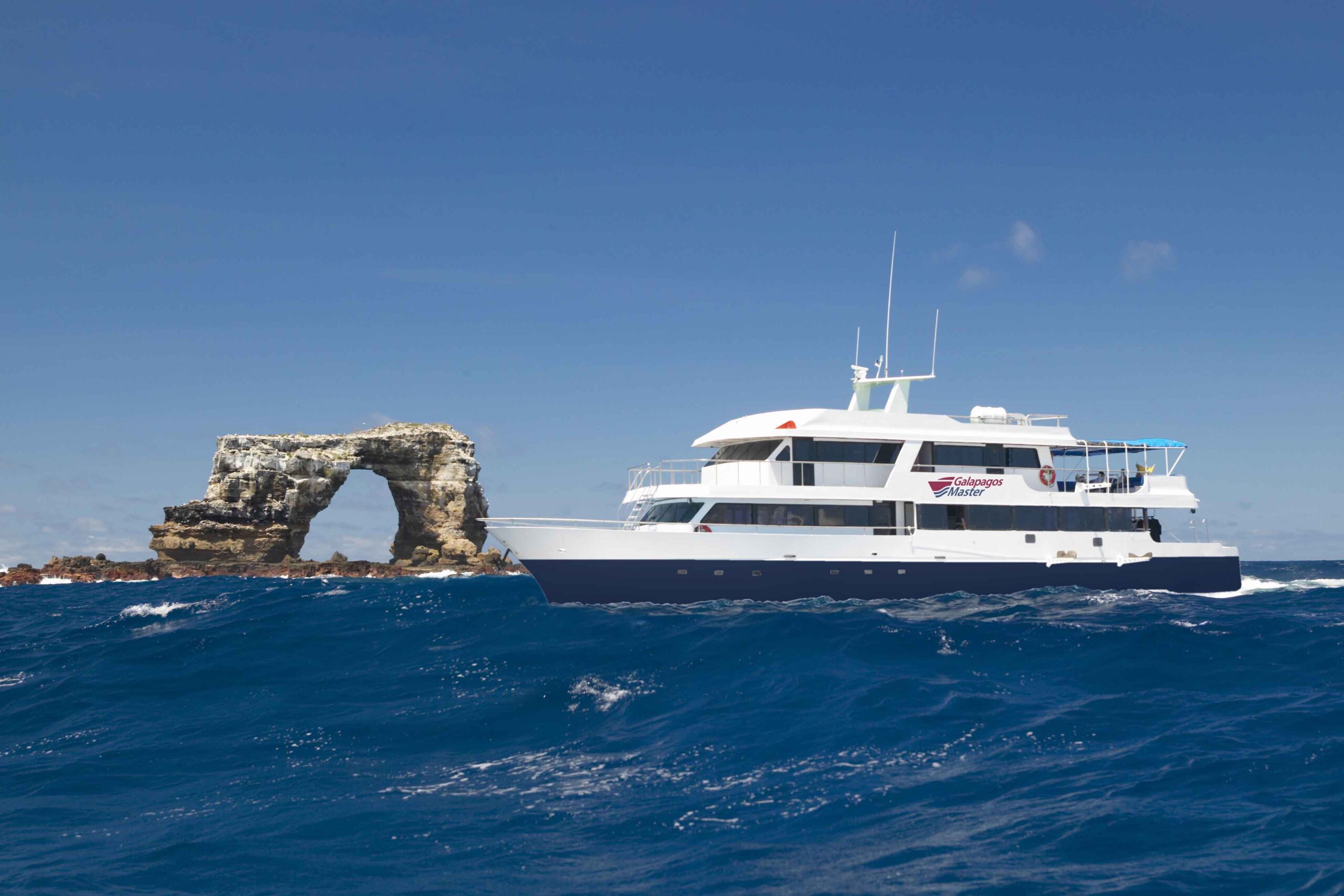 Generally speaking, conditions for divers in the Galapagos islands can be quite challenging. There are some strong currents in certain diving spots and this means they are only suitable for advanced divers, however there are plenty of opportunities for intermediate level dives and snorkelling.
The average diving conditions of the Galapagos Islands are as follows:
Water temperature: There is a big difference depending on the season 21°C to 30°C is normal during winter months. However, due to the islands' position in the southern hemisphere, the water temperature reaches 16°C to 24°C in summer. Diving in the cooler temperatures is still the best time to go as there is a greater diversity of marine life to view at this time.
Visibility: Strong currents can affect the visibility of the water, and it may be quite dark at times. 10 meters to 20 meters is the average, but this may drop at times. Paradoxically the visibility is low because of nutritious plankton in the sea, which attracts more marine life. As a result, poorer visibility is not necessarily a drawback for safari or cave dives.
Currents: As mentioned currents can be a big issue when diving in the Galapagos Islands. Certain diving spots can be unpredictable with strong swells and unexpected currents, so they are only suitable for experienced divers. However, divers capable of dealing with the current can enjoy seeing large amounts of sharks and fish that school around the currents.
While conditions are challenging, being able to navigate them provides a big payoff in terms of the marine life you can see. Colder temperatures can be less comfortable than warmer diving locations, but they also do not tend to provide the same quality and diversity of creatures you may come across.
Book your Galapagos diving holidays for 2021
Our next scuba diving trip to the Galapagos islands takes place in August 2021, with a 10-night diving experience that will show you the very best the islands have to offer. Check our testimonials page for what our happy customers have to say.
We are proud to provide memorable experiences that surprise and delight divers at the best locations around the world. Places fill up fast on trips to make sure you book your place as soon as possible.
FAQs and useful information
The following are some common questions about diving in the Galapagos Islands and the scuba diving packages we offer:
How much does it cost to dive in Galapagos?
Prices for diving packages the Galapagos start at approximately £6,000. Packages include return economy class flights and 7 nights on the Galapagos Master boat, as well as 2 in accommodation on arrival and departure. Dives will take place 3 or 4 times per day throughout the trip, and may include a night dive. A deposit is necessary to confirm your place and the final balance is payable by March 2021.
How many logged dives do you need at least to dive in the Galapagos?
As a guide, you will need a PADI certification for the open water and 25 logged dives. It is advantageous to have more dives than this and experience of diving in colder waters and stronger currents. The conditions on the Galapagos islands can be a challenge for even experienced divers.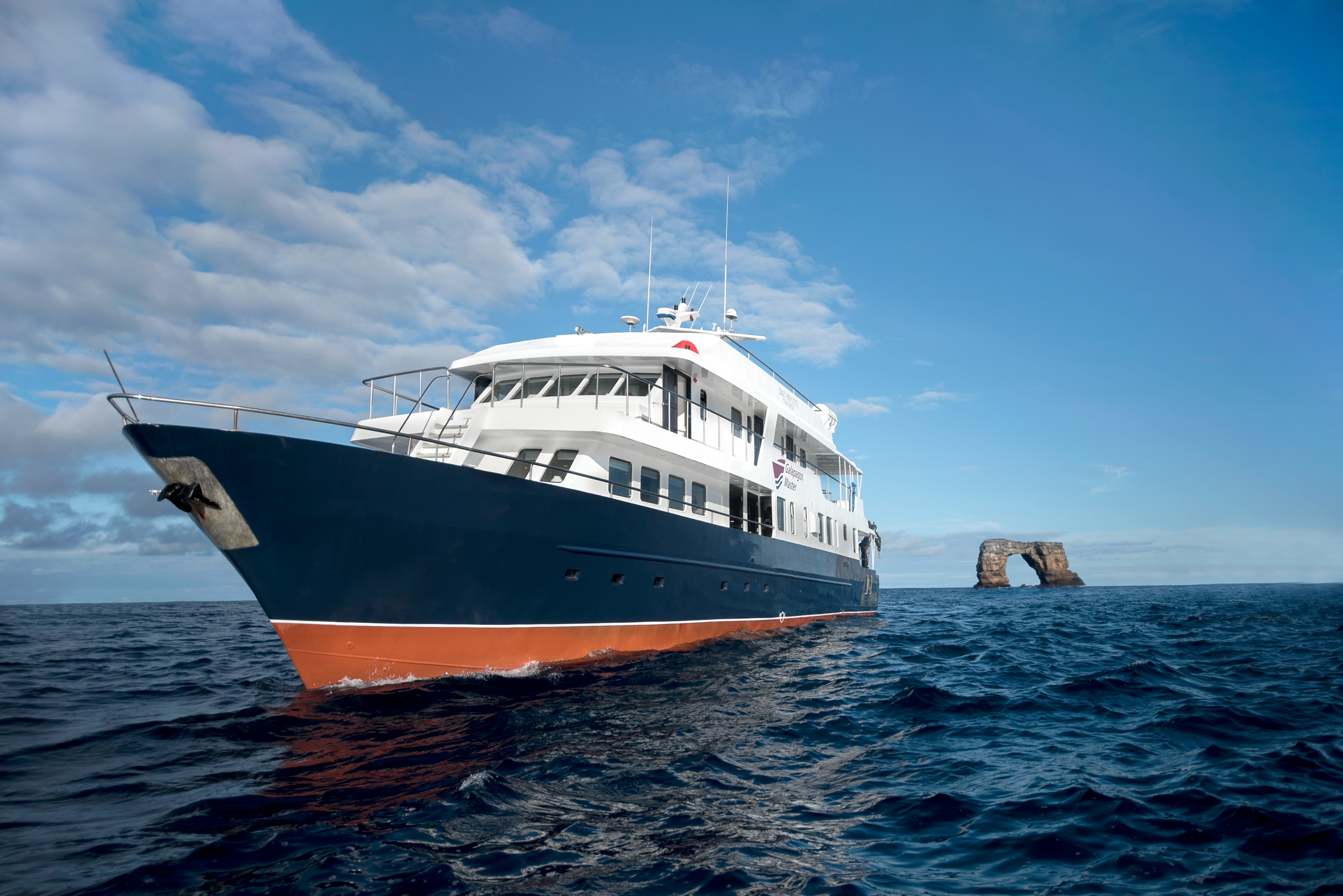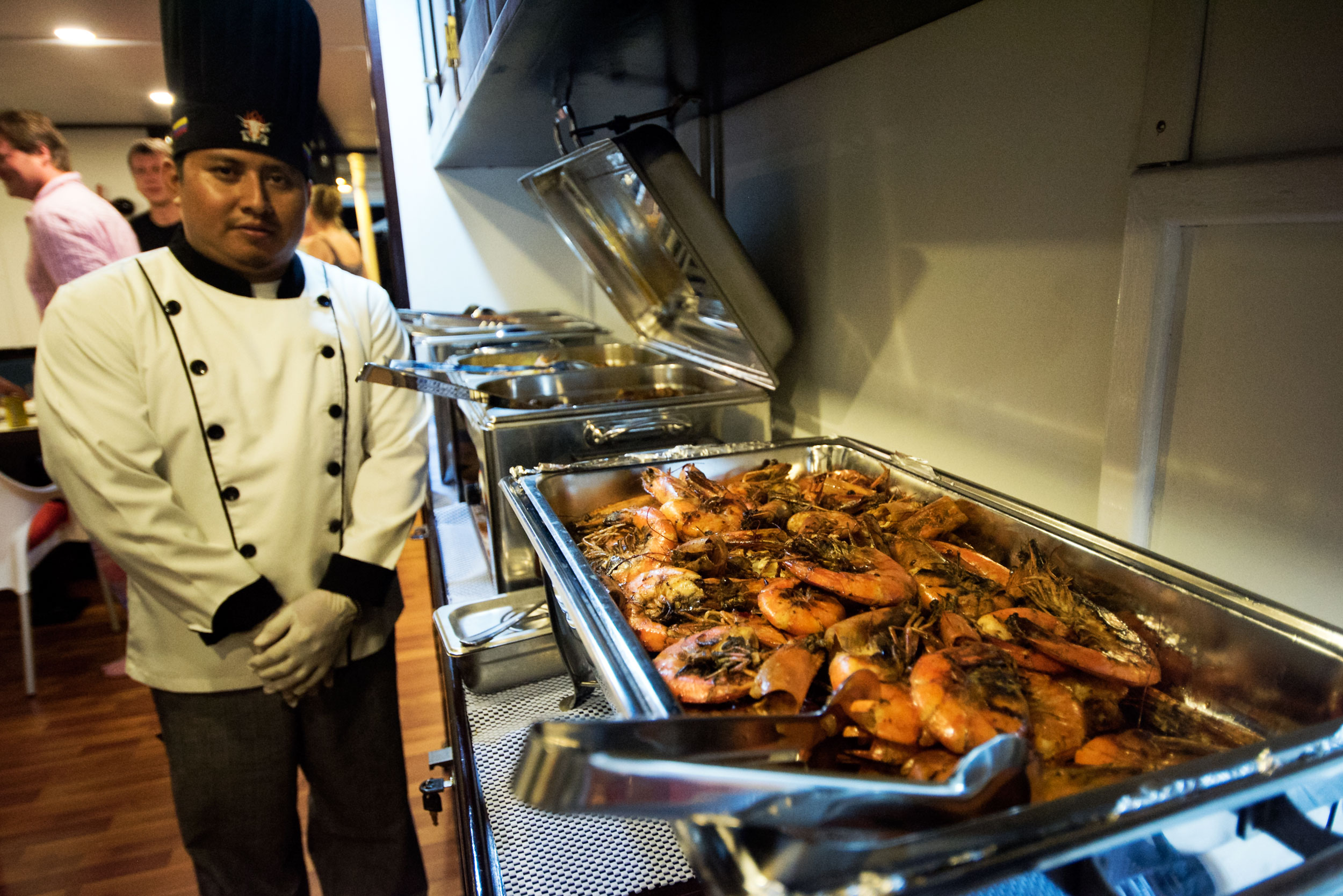 Is the Galapagos expensive?
Diving in the Galapagos islands can be more expensive than other locations, due to its remote location and the costs of liveaboard boats while exploring the area. Conditions are challenging so a good number of instructors with the relevant experience is necessary, which may influence prices in comparison to other destinations.
What language do they speak in the Galapagos Islands?
The official language is Spanish on the Galapagos islands, due to it being officially a part of the Spanish-speaking Republic of Ecuador. However, many people speak other languages including English. Your guides and instructors on our liveaboard diving trip will speak English.
Contact us today to book your Galapagos diving trip.