Blue Sharks and Wrecks – August 2020
21-23rd August 2020
This ship has now sailed but why not join us on our next trip?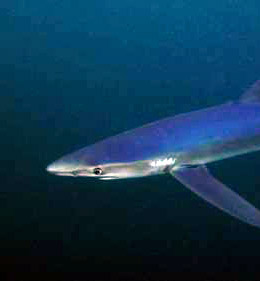 Shark Diving in the UK!
Did you know there are more species of Sharks in the UK then the Red Sea? About 41 different species in total!
Having spent the whole of the summer soaking up the sun's rays, the Atlantic Ocean is the home to a large migration of blue sharks. They come to these temperate clear seas off the Cornish coast to look for the abundance of small fish that also frequent these waters.
Blue Sharks are currently listed as 'endangered' and roughly 10 to 20 million of them are killed each year. However, for the past two years the boat has had a 90% success rate of finding these curious and lethargic predators so our chance of seeing them are really good.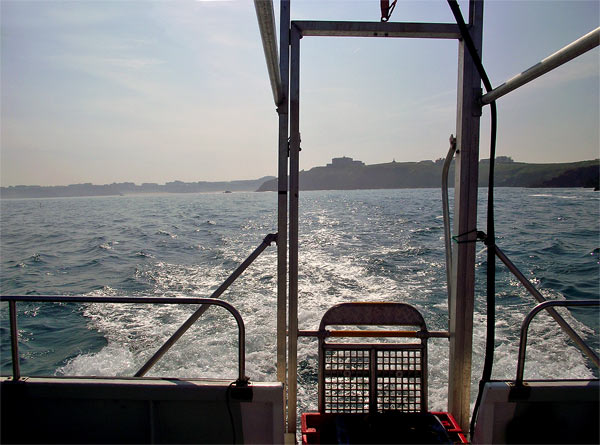 The Itinerary
We'll meet at the fantastic Victoria Hotel, Newquay on Friday night in time for a few drinks and a nice meal.
On Saturday we will head 15-20 miles out to sea to find the elusive blue shark. Often getting very close to the boat these inquisitive sleek and beautiful sharks are happy to cruise around and pose for photos. As they are scared by the bubbles, dive equipment will be left on the boat, but you can snorkel with them inside or outside a cage – it's up to you! It's very common for a pod of Dolphins to swim along side the boat as it makes it's journey out to sea and back.
On Sunday we will do a local wreck dive followed by a local reef dive or another wreck – depending on tides and conditions. The wrecks around this area are mainly First or Second World War casualties and have in the main been torpedoed by German U-boats.
Snorkellers are welcome to join us but wouldn't be able to participate on the dives on Sunday if they go ahead.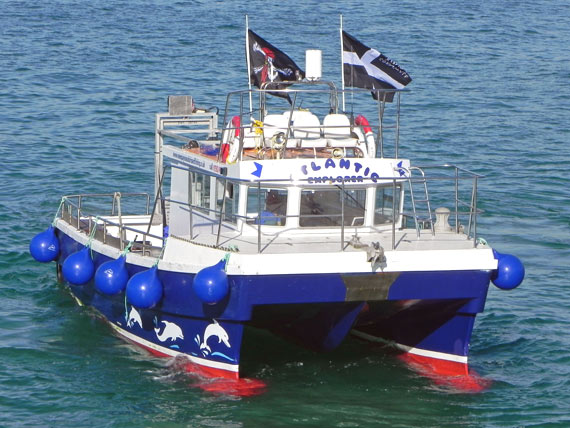 Atlantic Explorer
Atlantic Explorer is a 10m long steady catamaran style purpose built dive boat. Atlantic Explorer can accommodate 12 divers easily and has plenty of room to move around in and store your dive kit. You can choose to sit in the wheelhouse or undercover outside whilst we travel to these fabulous reefs and wrecks. To make life simple Atlantic Explorer has a divers lift that hoists you out of the water after your dive. The crew are friendly and professional and the Skipper has many years of experience and trained in all aspects of health and safety. Very importantly the boat has a separate flushing toilet accessed from the deck.
Safety – You must carry your own SMB and dive computer and know how to use it. We would be happy to offer advice on SMB's and we can provide a PADI specialty course on how to use it. The health & safety of our customers is of paramount importance to us. To this end, all crew are professional, fully trained and skilled. If you need help or advice, they will be only too happy to help and offer advice.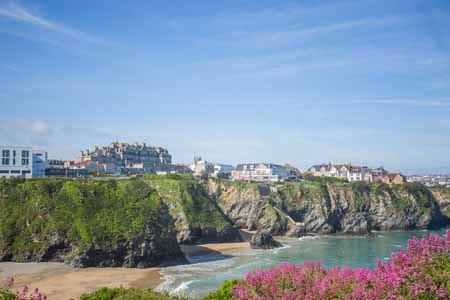 Victoria Hotel, Newquay
Hotel Victoria Newquay Cornwall has one of the best locations in town. Sitting on the cliffs above the golden sands of Great Western Beach with stunning sea views, but with the town centre's shops, bars, and attractions all but a stones throw away.
Leisure facilities at Hotel Victoria Newquay Cornwall include a small gym, an indoor heated pool and a sauna as well as the Ooh La La Spa, ideal for divers who are in need of a bit of pampering.
Price
The price based on 2 nights hotel accommodation in a twin shared room with breakfast at the Victoria Hotel, 1 day snorkelling with blue sharks, 1 day diving with 2 dives and Oyster Diving representative:
Club Members – £320
Non-members – £355
Optional Extras
Tank & Weights – £20 for 2 tanks. Includes delivery to/from our offices in Brighton
Full dive equipment: £50 includes 2-piece wetsuit, BCD, regulators, boots, mask & snorkel, fins and weight belt
Dry Suit Hire: £60
BOOK YOUR SPACE TODAY
There are only 11 spaces available (plus a member of the Oyster Team) so make sure you reserve your space early.