Dive Boots our Experts Recommend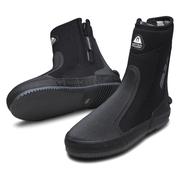 What piece of equipment is perhaps the most overlooked, but they can make all the difference to your scuba diving or snorkelling experience? Why, dive boots! Dive boots are made to keep your feet comfortable and warm while you explore the big deep blue. Are you looking for the perfect fit? Look no further than the Oyster Diving Shop!
Waterproof B1 6.5mm Dive Boot
If there's a dive boot that keeps your feet warmer than your pair of slippers at home, it's these waterproof dive boots. With an extra zipper for easy donning, these boots react to your body temperature, adjusting to the changes in your body temperature while you explore underwater. If you want good grip, comfort, quality material, easy donning, and a stylish look, the Waterproof B1 is for you! Click here to find out more about our top recommended dive boot!
Why are Dive Boots Important?
Many divers assume that they can wear dive fins barefooted. However, dive boots are made to protect the bottom of your feet during your adventures. The comfortable rubber soles prevent injury by protecting your feet from being cut on jagged rocks or coral.
Cold Water Dive Boots
If there is one thing that dive boots are absolutely essential for, it's cold water and deep sea diving. During cold water dives, it is common for your extremities to get far colder than the rest of your body as they tend to lose heat very quickly. Deep sea diving boots keep your feet warm. Simply wearing a pair of 5mm dive boots will help maintain your feet at a comfortable temperature, allowing you to dive for longer periods of time.
How Should Dive Boots Fit?
If you have never bought diving boots before, it can be difficult knowing where to start. To set your mind at ease, buying diving boots that are right for you is simple and sizing really isn't that complicated. In fact, whether you're buying men's or women's dive boots, choosing the right size is very much like picking out a pair of shoes. The diving boots you choose will depend a lot on your personal preference, the size of your feet, and the type of diving you plan to do. The best method for finding the perfect pair that fit perfectly is to visit the Oyster Diving shop and try on a variety of our diving boots.
Dive Boot Sole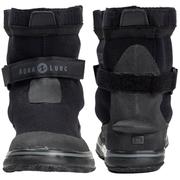 Sole thickness is an important feature when considering which dive boots to buy. If you do a lot of shore diving, having thicker soles will help protect the bottoms of your feet from getting injured on sharp rocks or corals. Thicker soles are also a must if you are diving in a hot climate as they help keep the bottoms of your feet from getting burned on the hot sand.
However, if you don't need to walk over sharp shorelines to reach the sea because you are diving straight off a boat, thinner soles will be fine. What's more having thin soles will make it easier to use your fins while you're under the water.
Dive Boot Material Thickness
The best material thickness for your dive boots will depend on the water temperature where you're planning to dive. The thicker the material, the better the thermal protection. However, thicker boots have the added complication of being less flexible – something worth keeping in mind.
Dive boot materials work in a similar way to wetsuits, that is they trap a thin layer of water between your body and the material. This thin layer of water quickly warms up and helps trap heat that matches your body temperature around your feet. Most dive boots come in 2mm, 3mm, 5mm, and 7mm thickness, so you can choose the style that suits you best. If you're unsure, an easy option is to match the thickness of your dive boots to that of your wetsuit. For example, if you have a wetsuit with a 3mm thickness, it is a good idea to opt for 3mm dive boots.
High Cut or Low Cut Dive Boots
Diving boots are typically high cut or low cut, just like socks. High cut boots tend to offer more ankle support and are an excellent choice for scuba divers who have to carry heavy scuba gear around. In contrast, low cut dive boots work well if you're diving in warm water as they offer flexibility, making them great for snorkelling or finning.
Dive Boot Fasteners
Dive boots fasten differently, depending on the dive boot style and its use. There are a couple of different fastening methods for dive boots, but the most common are:
Zips
Velcro
Slip-on
Dive boots with zips make putting your boots on and taking them off extremely easy. When buying boots with a zip, but be sure to check the quality of the zipper, ensuring that it won't leak or come undone in the water. Velcro is typically used in addition to zippers, fastening the boot in place and ensuring the boots will not fall off your feet while you're diving. Lastly, slip-on diving boots are easy to take on and off and are a popular solution for hobby scuba divers.
Dive Boots and Fin Compatibility
When choosing dive boots, one of the most important considerations you need to make is whether or not they will fit your feet with fins on. If they don't work with fins, you're unlikely to wear them. So, you want to choose boots that work. Tips for ensuring your dive boots rae the right choice is to try them on with your fins before you get into the water. If possible, bring your fins with you to our shop. This will give you a far better idea of boot fit, comfort, and compatibility with diving fins.
How to Take Care of Your Dive Boots
If you want your dive boots to last as long as possible, it is important to take care of them properly. Treat them with the same care as you would your wetsuit and the rest of your diving equipment.
Clean your diving boots after each dive by rinsing them well with fresh water and washing them inside and out with a mild, non-irritating soap. Dive boots can develop can develop a very strong odour if they are not looked after properly. So, proper and attentive care is important.
Diving Boots Our Divers Recommend
A good pair of diving boots can transform your underwater experience, keeping your feet warm, comfortable, and protected. At Oyster Diving, all of the products we sell in our shop have been tried and tested by our expert PADI divers. As experts in scuba diving boots and underwater exploration, our divers know what makes a good pair of diving boots great. That's why they would recommend these diving boots to all divers:
A Bit About Oyster Diving
So, what makes us a trustworthy source when it comes to buying the best scuba diving boots. We are Oyster Diving, a privately-owned PADI dive company who are experts in our field. All of our divers are fully PADI trained professionals with many years' experience diving all over the world. So, when you ask us a question about diving, you know you're getting an expert answer.
At Oyster Diving, we take great pride in providing a superior diving service to our customers. While we are passionate about selling top-quality dive gear, we are also dedicated to catering for the individual needs of our customers. So, if you are looking for high-quality diving boots at affordable prices, look no further than Oyster Diving. We can help you find the perfect fit!