Top 5 Best Wreck Dive Sites in the World
Guest post by Myryame Angers
Travelers love snorkeling and scuba diving as it allows some thrills and beautiful discoveries along the way. Most of us think of transparent water, cute coral fishes, and colourful coral gardens. In fact, that's what we find while diving the most iconic destinations such as the Maldives, the Caribbean, and Australia. Yet, some divers imagine dark shapes, holes and mysterious treasures hidden on the seabed. Indeed, wreck diving is amazing for many, and a little spooky for a few!
Scuba divers that are into wreck diving will go half way around the world to find the best wreck dive sites. There are a few things you need to consider while planning a wreck diving oriented holiday. In fact, there are different types of wrecks, lying at different depths, and coming from different ages! So, you need to consider both your interests and your certification level before you book anything!
First, some shipwrecks are older than others, and some have a long history behind their walls. Plus, shipwrecks can be intentionally sunk to create a reef, or there can be a tragic story behind their sinking. You might want to choose a specific area to dive on shipwrecks if you have a thing for history. In fact, areas like the Truk Lagoon are very well known to be historically rich dive sites, with all kind of wrecks dating back to the second World War. Secondly, you need to make sure you have the proper certification to dive on shipwrecks. Indeed, some wreck dives are deeper than others, make sure you are certified to reach them. Plus, if you wish to enter the shipwrecks and navigate inside, a certification is required, and available with all the agencies such as PADI, CMAS, SSI, etc.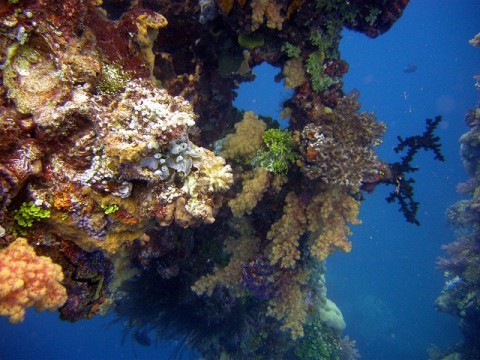 Photo of the Sankisan Maru's mast covered in corals, Chuuk Lagoon by Matt Kleffer : https://flic.kr/p/78dGZG
Now that you have all the information to set up the most important details, let's see what the best wreck dive sites in the world are.
1. Chuuk / Truk Lagoon – Micronesia: We could mention specific wrecks like the Fujikawa Maru, or the Sankisan Maru, but the entire lagoon is impressive. Chuuk, in Micronesia, is where operation Hailstone took place back in 1944, sinking an entire Japanese fleet. The lagoon now displays over 40 wrecks, so it can be quite a debate to know which is best. The Fujikawa and the Sankisan sure are impressive, and completely overgrown with massive coral formations. Plus, of the four Federated States of Micronesia, Yap and Chuuk are the islands where to head for some great scuba diving.
---
2. SS Thistlegorm – Red Sea: You probably have seen this one coming from far, have you? The entire Red Sea is famous for wreck diving, among all other types of scuba diving. Still, the Thistlegorm stands out as it was found by Cousteau, and is a "must dive" wreck for many divers. Resting at 30 meters below the sea surface, the 141 meters English cargo ship lays on the seabed since 1941. Plus, the sunken ship's bridge is only at 18 meters, allowing divers from all levels to see it.
---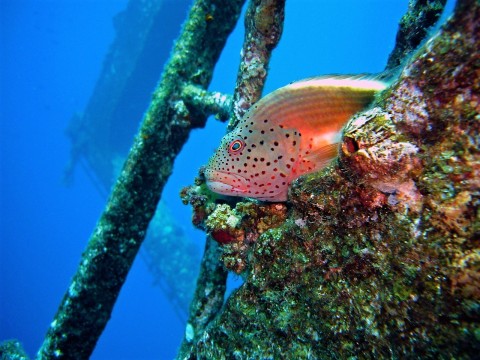 3. SS President Coolidge – Vanuatu: The wreck is arguably one of the most famous in the world. Indeed, it distinguishes from other by being the longest dive-able wreck known, with a length of 199 meters. The luxurious vessel sunk back in 1942. The wreck is home to many fish species such as barracudas, butterflyfishes, moray eels, as well as many sea turtles. Plus, as it lies between a depth of 20 to 73 meters, the shipwreck is accessible to divers from level 1 and above.
---
4. SS Yongala – Australia: The wreck was once a steamship and freight boat that launched back in 1903. A cyclone took the ship to the seabed in 1911, and it was only discovered in 1958. The SS Yongala lies at 30 meters, with its upper structure reaching at only 16 meters. Thus, anyone from level one scuba diver and up can dive the wreck. The best about is probably it's position among the Great Barrier Reef. Indeed, that makes up a great excuse to visit the "Land down under" and its famous coral reef.
---
5. USS Liberty – Bali: Any trip to Indonesia would be incomplete if not hopping on the island of Bali. Plus, if you're on the hunt for the best wreck diving in Asia, well you simply can't miss the USS Liberty wreck in Tulamben, Bali. The Japanese torpedoed the American cargo ship, and thus, the ship beached in Tulamben. It's only later, in 1963, that the ship started slipping in the sea, following Mount Agung's eruption and some earthquake. The USS Liberty has become a huge reef, colonized by many species including reef sharks and groupers. Plus, the wreck is accessible to all levels of divers as it now lies just offshore at a depth of 5 to 28 meters.
© 2018 | Myryame Angers