Swimming with Sharks: The Top 7 Places to Shark Dive in 2018
Shark diving is one of the most exhilarating experiences in the world. However, being face to face with the ocean's longest-surviving predators comes with a few health and safety considerations. When swimming with sharks, it's important to do your research. Of course, your diving instructor will explain the safety guidelines before your diving begins but it's strongly advised to do your own research beforehand, so you aren't left wondering about what you can and cannot do.
In this article, we're going to look at PADI's internationally recommended shark diving spots. If you're considering swimming with sharks, then your first port of call will be to find a location that suits you. There are thousands of dive sites across the world and we've handpicked seven of our favourites from PADI's recommendations. Take a look below at some of the best locations to swim with sharks!
Gansbaai, South Africa
Widely understood to be the home of great white shark cage diving, Gansbaai should be on every shark divers list for this reason alone. Located on the Western Cape of South Africa, Gansbaai is a quaint little fishing village lying just 160km from Cape Town. Trips will of course vary depending on which diving company you choose but generally speaking Gansbaai shark diving trips last between 3-4 hours.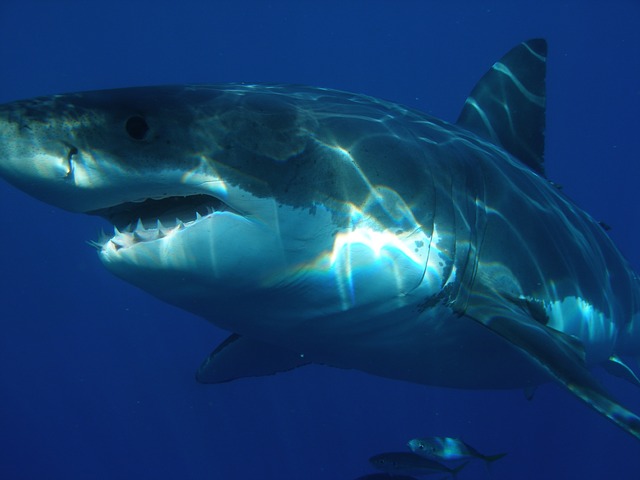 Fish Rock Cave, Australia
Australia is always going to end up on shark diving articles because of its abundance of marine life. PADI have selected Fish Rock Cave as Australia's top shark diving location for 2018. Fish Rock Cave is 410ft deep and provides an exhilarating diving experience for even the most experienced divers.
Fish Rock Cave is popularly known for its high nurse shark population. While the currents surrounding the cave can be fairly strong at times, dive guides will issue a thorough safety demonstration beforehand to ensure your diving experience is not hampered by strong currents!
Cocos Island, Costa Rica
If you've seen Jurassic Park, you may recognise Cocos Island! This remains one of the most popular diving locations across the globe, not only because of the Jurassic Park reference, but because of the phenomenal marine life. It's one of the few diving sites that's only accessible via liveaboard and you'll need to hop on a 32-hour cruise to reach the dive site!
Once you're there, you'll be greeted by hammerhead, whitetip sharks, whale sharks and mantas. Some people have even reported seeing humpback and pilot whales. Definitely a dive site for the bucket list!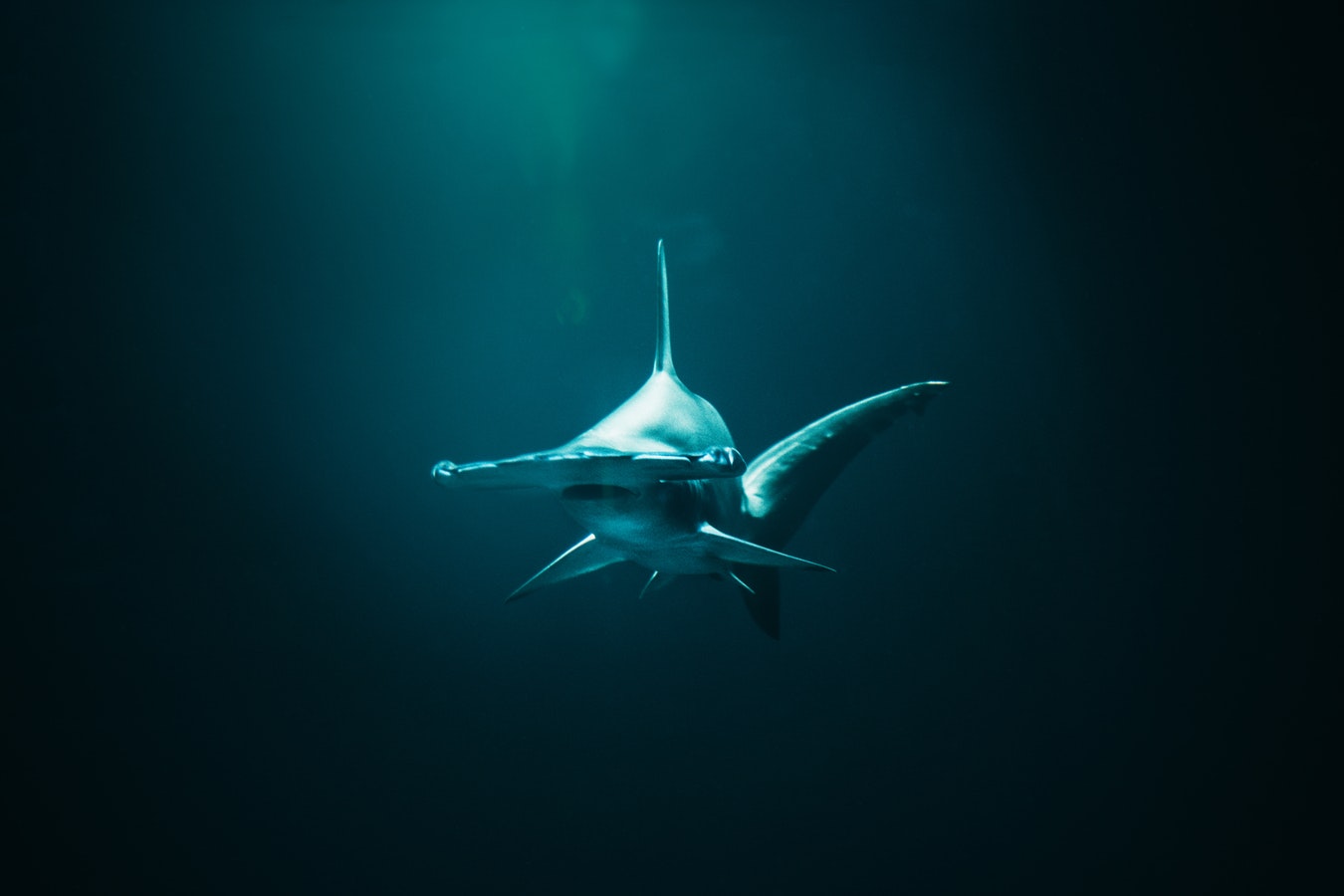 Tiger Beach, Bahamas
In comparison to most dive sites, Tiger Beach may seem a bit short on depth, being only 20ft deep. However, what this means is that you're more likely to bump into one of the resident sharks! Tiger Beach is renowned for its high numbers of tiger, hammerhead, lemon and Caribbean reef sharks. So, in contrast to the larger dive sites, Tiger Beach arguably offers a higher chance of spotting sharks because of its smaller area.
What makes swimming with sharks at Tiger Beach even better is the clear water, making it perfect for underwater photographers to capture some amazing shots.
Santa Maria, Portugal
With a variety of amazing dive sites to suit both beginner and adept divers, Santa Maria has something for everyone. It's also one of the diving spots that has exceptional visibility. You will find that all diving trips are done from RIBs.
Guadalupe, Mexico
If you're looking for a more exhilarating shark experience, why not travel to Guadalope and swim with great whites! This is without a doubt one of the most thrilling diving locations across North America mainly due to its large population of great whites. You'll have no trouble finding dive guides offering cage diving experiences with great whites, so if you're looking to brush noses with great whites, this is the closest you'll ever get.
Cat Island, Bahamas
Known to be the least-inhabited island in the Bahamas, Cat Island is perfect for underwater photography, thanks to the Bahamas' pristine underwater landscape. Cat Island is also home to oceanic whitetip, tiger, nurse, reef and lemon sharks, so you're bound to run into them!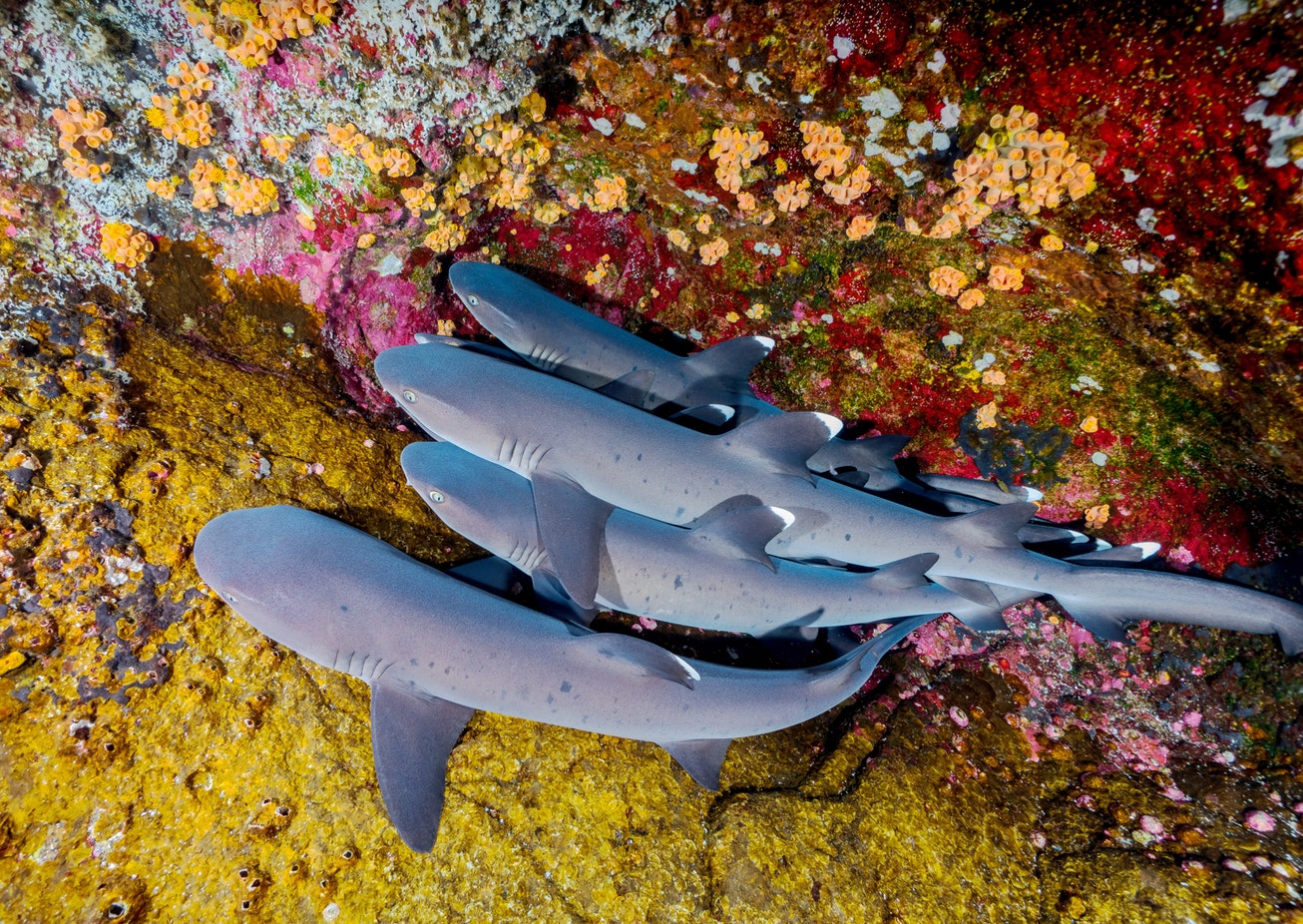 –
It's important to remember that while swimming with sharks is one of the most exciting experiences, safety must come first. Do you research and pick a diving guide that you feel comfortable with. For more information on scuba diving, or to learn more about Oyster's Diving Club, why not head over to our Dive Club page? Or, if you'd like to check out our range of scuba diving equipment for your next dive, take a look at our online diving shop!