Philippines Siren Liveaboard – The Jewel in the Pacific
The Jewel in the Pacific on board Philippines Siren Liveaboard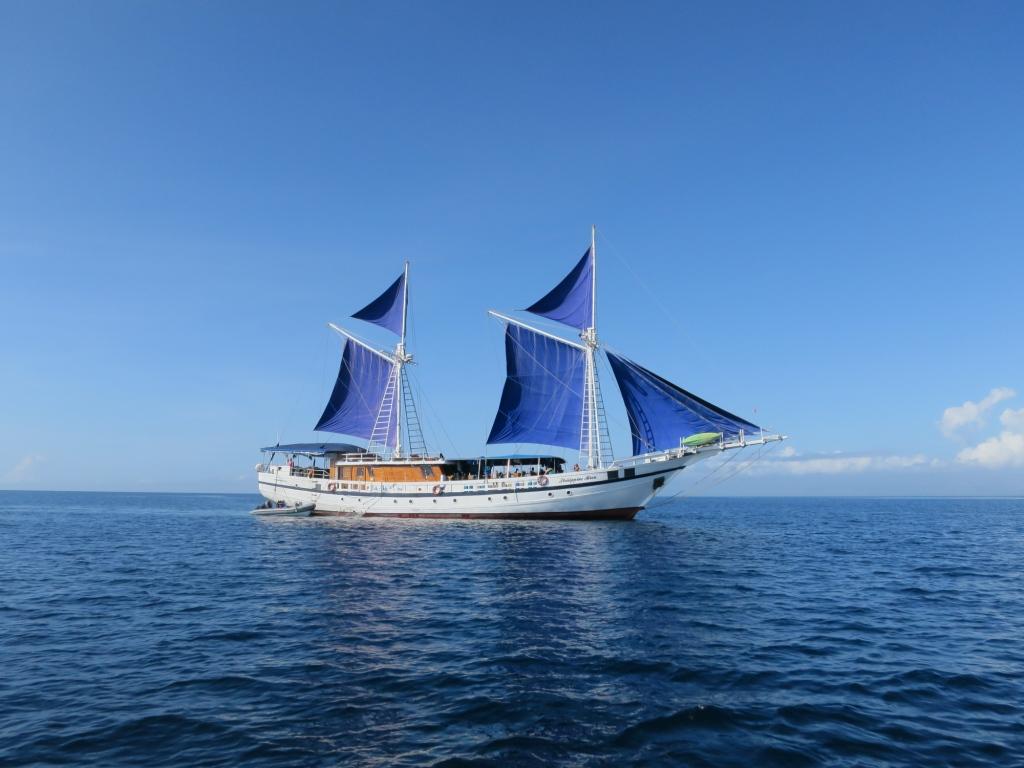 For the duration of the 20 years I've been diving and travelling the world, everyone keeps telling me "you have to go to the Philippines, you'd love it". However, distance and price and the choice of many other great diving destinations has kept me away.
View other photos from the Philippines trip on our Facebook Page.
When an opportunity arose to join the luxury liveaboard "Philippines Siren" I jumped at the chance, and this is my review of my trip. It includes information for other divers to help decide on where to go on their next diving holiday, or if they you unsure if the Philippines is for them. If you are already planning on going on a liveaboard holiday to the Philippines then hopefully you'll also find this useful.
From leaving my front door in West Sussex and arriving at the Waterfront Airport hotel in Cebu, Phillippines, it 23 hours door to door (about the same time it would take me to cycle to London). A night in a decent hotel to get over the worst of the jet lag is highly recommended. The hotel I'd selected overlooks the airport and is a REALLY short transfer ride away, has a decent pool that you can chillout and the buffet restaurant has food for all tastes.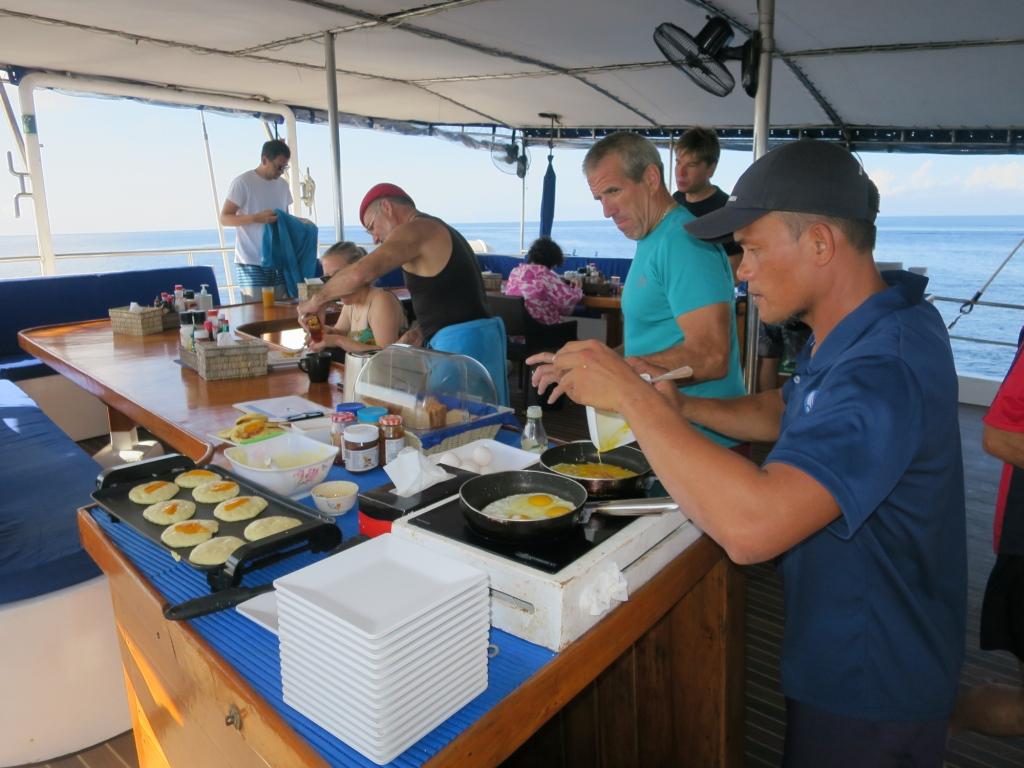 Leaving the hotel the following afternoon we made the 15 minute journey to the jetty where our liveaboard the 'Philippines Siren' was moored. After a welcome drink and meeting the 13 other dive guests we were soon boarding the yacht. The initial impression of Philippines Siren is that this is a top end luxury liveaboard. Constructed by hand from solid wood, the boat consists of spacious accommodation for 14 divers. Dining is on the back deck al fresco and the kit set up area is towards the bow of the boat. Cabins are roomy and the ensuite bathrooms are the only ones I've every come across on a liveaboard that don't have mould. The showers have constant hot water and the beds are comfortable. There is plenty of storage room for clothes and bags, and a safe to keep your valuables in. To be honest, I don't think the safe had every been used, as soon as you meet the crew you can tell how friendly and honest they are.
On the top of the yacht is a large sundeck where you can make us of the sunbeds and kick back under the rays and enjoy the views of the volcanic islands as you cruise by. You can even get a relaxing massage which is surprisingly reasonably priced too.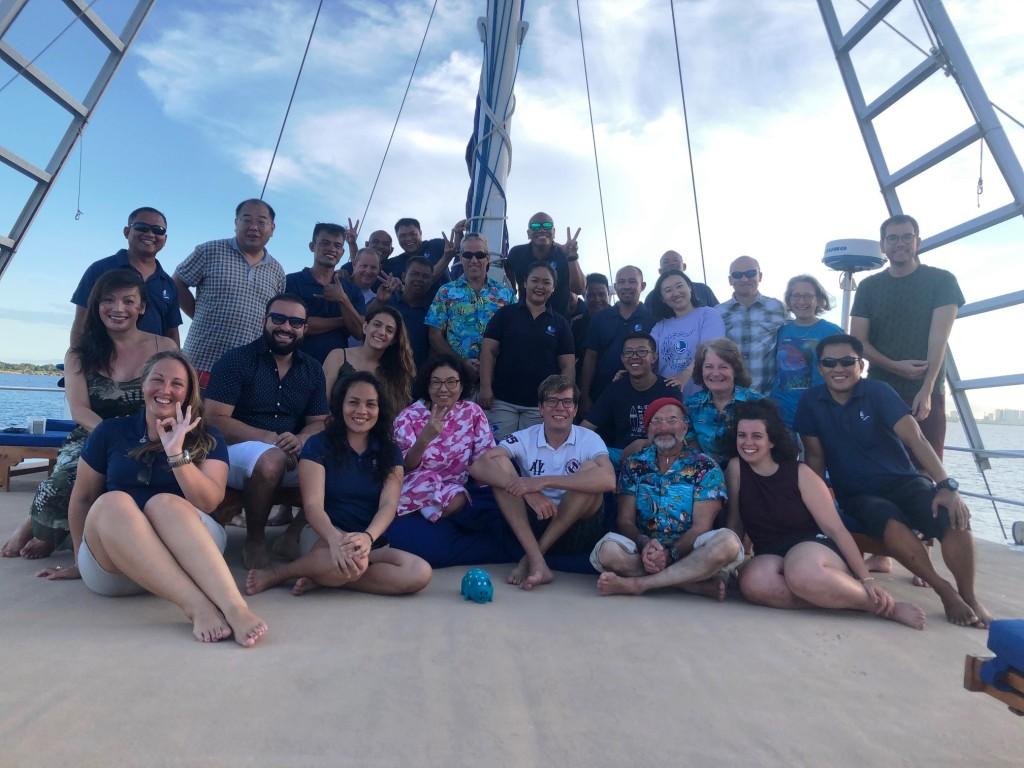 On the first evening, Chrissy our Cruise Director, introduced herself and the entire crew of 14 people. That's nearly 1 crew member to every guest! We received the most thorough safety briefing to ensure our safety and that of the boat. I genuinely believe they should use their briefing as a template for all other liveaboards around the world. Safety, comfort and fun seems to be the mission for the entire crew. They are very protective of the local environment so all rubbish is placed in to separate recycling bins, no plastic bottles were provided and there was even a can crusher for all of the empty beer and coke cans.
The crew are super friendly, very attentive and you barely need to lift a finger other then to walk to bed or roll back into the blue water.
They say that "it's the little things that make the difference", and that couldn't be truer on Philippines Siren. Free beer (a choice of 3!), a selection of juices, teas & coffee, draws under the charging tables to store your belongings and plenty of snacks. When you arrive at your dive gear they already have your wetsuit waiting for you by your tank. There is a large draw by your dive kit where you can store clothes, torches etc. When you return from the dive they put a nice clean dry towel in your draw, a brilliant touch!
Before each dive you are handed a chilled glass of water and after each dive a choice of juice or water. After the final dive of the day they'll even have a cold beer or hot chocolate waiting for you if you fancy it – which of course I did!
The itinerary for my 7 nights stay was 'Southern Visyas', famed for pristine reefs, tiny critters and fast drifts along the vertical walls. The areas we visited included Moalbol & Pescador, Bohol and various sites around the island of Negros.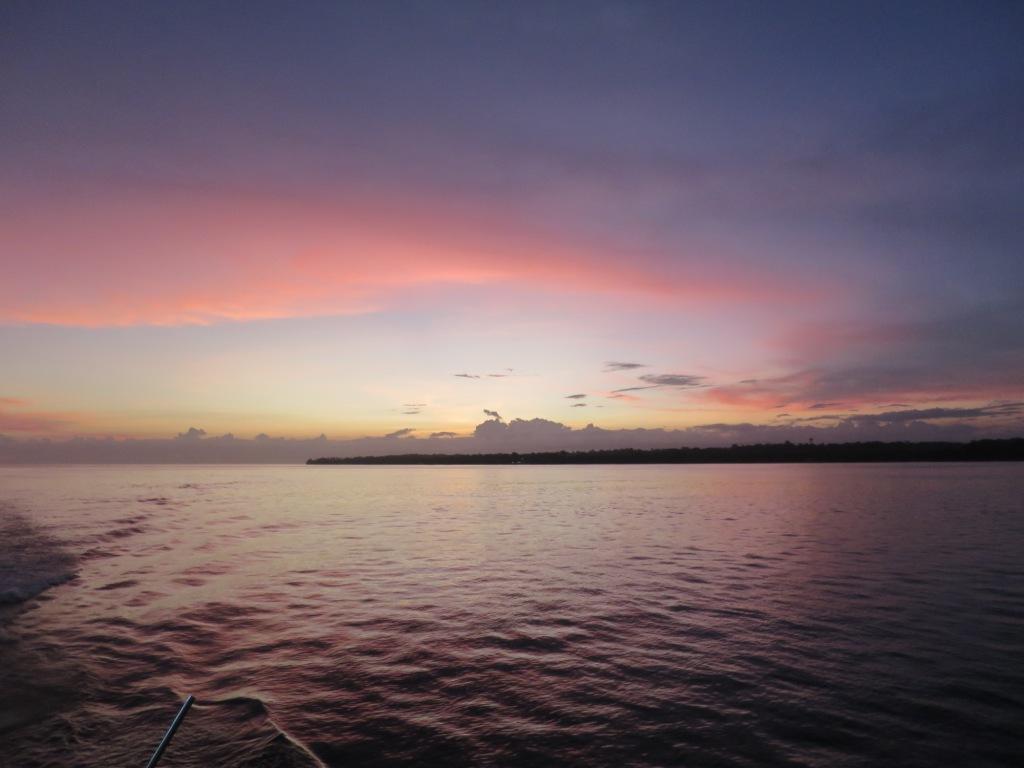 Each morning we'd awake up at 6.30am to watch the sunrise. Over some fresh coffee, a piece of toast or some cereals, Chrissy gave us a detailed and interesting dive brief. Not only did it include all of the information regarding the layout of the dive site but her affection and knowledge for the marine life meant you learnt tonnes about the sealife you were about to interact with. This really added to the enjoyment of the dive and meant you kept on the lookout for even the smallest critters.
The dives were 60 minutes long and there were 4 dives per day including a night dive. Having Nitrox included in the price of the trip meant that by the time dinner was served you still had some energy left to talk about the days diving and have a laugh with the other guests.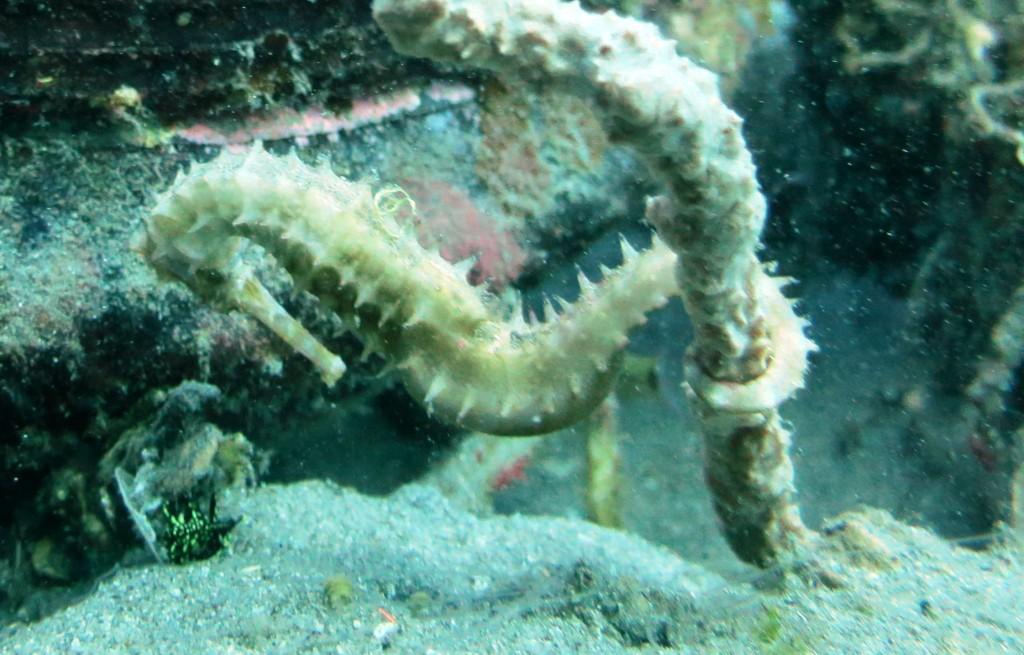 On the Southern Visayas itinerary there is an unbelievable variety of dive sites. The coral is some of the best I have experienced and included the most amazing colours such as purples, oranges and hues of green. Giant fan corals, barrel sponges, huge table corals are just a tiny fraction of the corals that swamp the reefs. As I'm a bit lazy and a tad impatient I've never been a massive fan of muck diving, but thanks to Chrissy's briefings I put the effort in and was duly rewarded with tiny shrimps, nudibranchs, frog fish, sea horses and tiny crabs such as the cute little orangutan crab. On the final day we even got to see the elusive pygmy sea horse.
In Moalbol we were treated to the largest school of non-migrating sardines on the planet. An estimated 7 million sardines dance and shape shift around the divers as you make your way along the reef wall.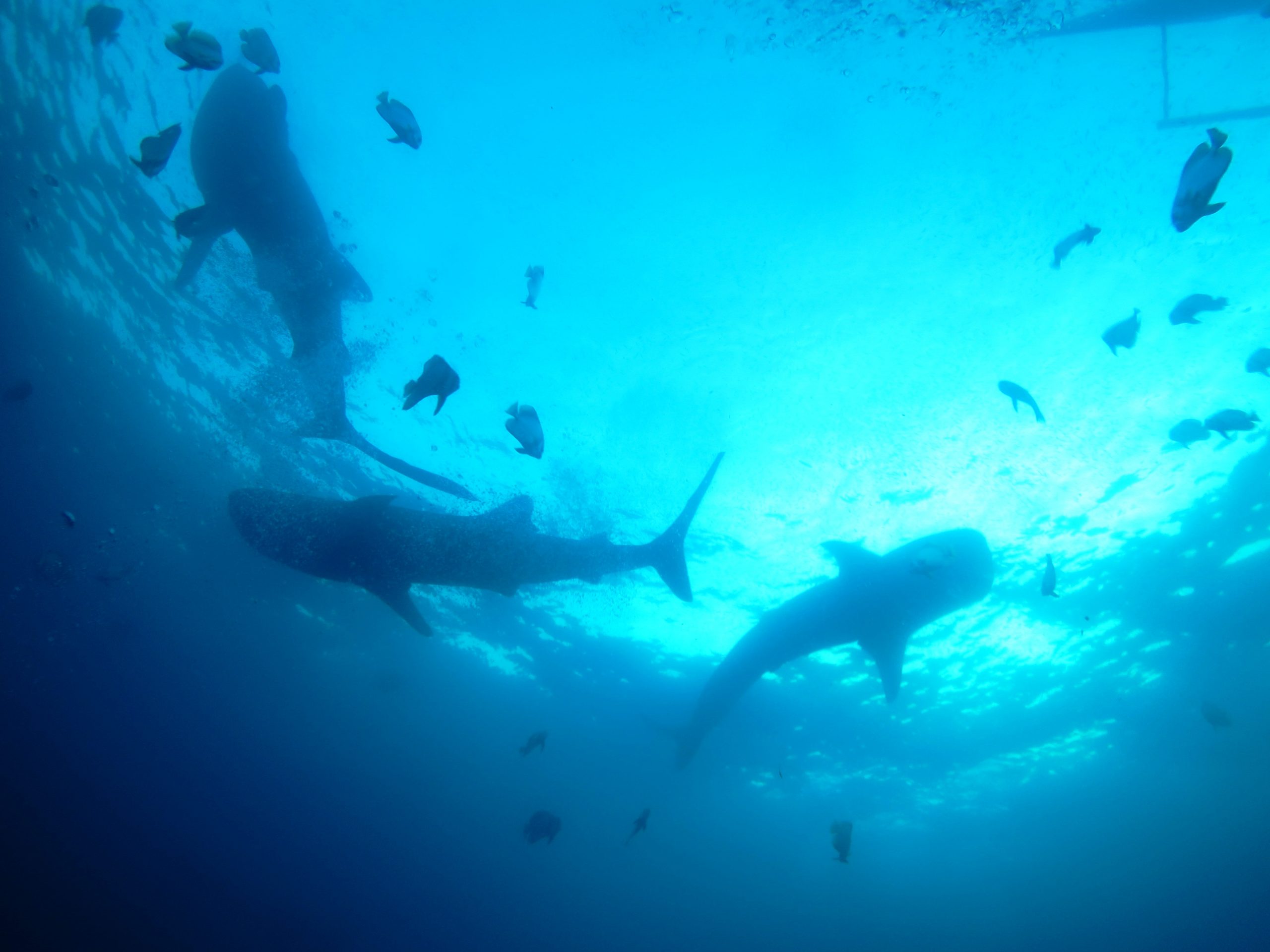 After a 5am start on the 5th day of diving we headed to the world famous Oslob. It's an area the locals have cordoned off from boats where they throw a shrimp soup like concoction into the water. This attracts dozens of whale sharks to the area to enjoy an easy breakfast. You can opt to snorkel with them, but I would avoid this as there are thousands of people queuing to get in the water. Diving is much less congested, and you can spend an hour taking the perfect whale shark photo and taking in the view of these mesmerising beasts. Some of the guests decided that the whale shark feed wasn't for them, so they headed to a nearby reef wall. The feedback we got on how great it was, almost questioned whether we'd made the right decision checking out the whale sharks.
After so much diving you clearly need to replace the burnt calories. For breakfast a temporary pancake and egg station is set up on the back deck, along with accompaniments such as noodles, bacon and sausage and fresh fruit, it was difficult not to gorge yourself. For lunch a buffet of fresh fish, a meat dish and vegetarian option was available. My favourites included the green curry, ceasar salad and the giant king prawns in spicy sauce. Dinner was equally as delicious but one of the hi-lights of the day was the presentation the chef gave to introduce the food. It's worth coming on this boat just to see it and by the second day he has all guests and crew participating in his banter.
If that wasn't enough food there were bowls of fresh fruit (best mango ever!), packets of crisps and biscuits. After the third dive there were also some tasty sacks such as pizza slices and freshly cooked donuts.
In between dives it was great to sit back and watch the green luscious islands roll by and witness the mountains that are in fact dormant volcanos.
If you aren't into macro diving and prefer your animals a little larger, then Philippines Siren heads further north for 6 months of the year to Tubbataha. This UNISECO world heritate site also has pristine reefs but also lots of different shark species and rays. The diving is more adrenalin fuelled compared to the largely relaxing drifts we'd experienced.
I went mid-January and apart from the first day the weather was perfect all week. If you want to increase the chances of even better weather then head out hear from February to around October.
The trip does come at a price but if your budget allows for it then it does provide an excellent bang for your buck. It's one of the very few liveaboards where not one person has suffered a dodgy tummy at some point and the pace of life on board leaves you feeling relaxed and well rested, unlike some liveaboards where it's more like an army boot camp.
The other guests on the boat were a joy to be around, there were people from the US, Columbia, Germany, Philippines, France, China and the UK. With so much diversity it was great hearing about their diving exploits, learning about new places to dive and hearing about their local culture and jokes. What's really nice is that we have set up a e-mail group so we can keep in touch.
After being a bit of a cynic before I arrived I can say that if you want pristine reefs, a great boat, lovely crew and to see a little bit of paradise then it is well worth the effort.
I can't wait to return to see the views, reefs and crew who now feel like old friends and never stop smiling or helping. Thank you Philippines Siren, you've been amazing!
Travel tips:
Plugs – the boat had sockets for UK, European two pin and US flat two pin
Currency – US$ are widely accepted but you get a better exchange rate if you use local Pesos
Temperature: In January the air temp was c.30 degrees Celsius and water temperature 28 degrees
What wetsuit: 5mm full length is the most common but a few divers had a 3mm shortie with extra layers
Visa – a holiday visa is available on arrival for UK and EU citizens but double check before you travel for changes.
Crew Tips – as always they say this is down to your discrepancy. I found that it was somewhere between £60 per person and 10% of the cruise. The crew are fantastic and deserve being well recognised in my opinion.
Food allergys – the chef is happy to cater for food allergys. Just let your tour operator know several weeks before you depart so they have plenty of time to get the correct ingredients
How experienced a diver do you need to be – For the Southern Visyas I would suggest Advanced Open Water with around 30 dives plus Nitrox. With 4 dives per day, Nitrox comes in handy! Some of the dives go beyond 18m so it is worth having this qualification.
On the back of this trip we are definitely going to be organising an Oyster Diving liveaboard holiday to the Philippines on Siren. Please e-mail info@oysterdiving.com if you are interested.