Philippines Scuba Diving Holiday
Malapascua, Kasai & Sangat
From 9th March 2020
Join us for 9 or 14 nights to the second-largest archipelago in the world. With over 7000 tropical islands, the Philippines is one of the great treasures of Southeast Asia. It is a place of natural wonders – a string of coral-fringed islands strewn across the western Pacific; its tropical climate makes it rich in natural resources and therefore biodiversity.
Philippines Diving Holiday Summary
• 4 Nights Malapascua (Full Board, transfers, 6 Dives and International flights)
• 5 Nights in Kasai, Cebu ( Full Board, Transfers, 8 Dives).
• Optional 5 nights Sangat, Coron Bay
Diving in the Philippines
Below sea level, the Philippines boasts some of the world's best diving. The 7000 coral-fringed islands are surrounded by deep blue seas that contain some of the richest marine life on Earth. Thought by many to be the apex of the coral triangle, diving in the Philippines offers you a wide variety of marine environments to choose from. Dives on steep walls and offshore pinnacles, critter hunting in coastal reefs, wreck diving a sunken Japanese fleet and the opportunity to get up close to Thresher Sharks.
DURATION: 9 or 14 nights
QUALIFICATION NEEDED: PADI Open water or equivalent – no minimum number of logged dives required.
Stop 1: 4 nights Malapascua Exotic Island Dive Resort | Diving Philippines
About Malapascua Exotic Island Dive Resort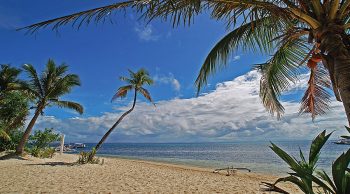 Malapascua Island has an impressive reputation for such a small location. The diving in Malapascua is most famous for its thresher sharks, but it is also one of our staff favourites. Looking for laid-back long-haul diving at affordable prices? Then look no further! The experienced dive team have an impressive reputation for finding the sharks. Discover beautiful reef diving on the local sites or take a day trip to one of the picture perfect islands of Gato or Calanggaman. Step ashore and forget your everyday stresses and strains as the friendly staff welcome you to their slice of paradise.
It's time to relax!
Accommodation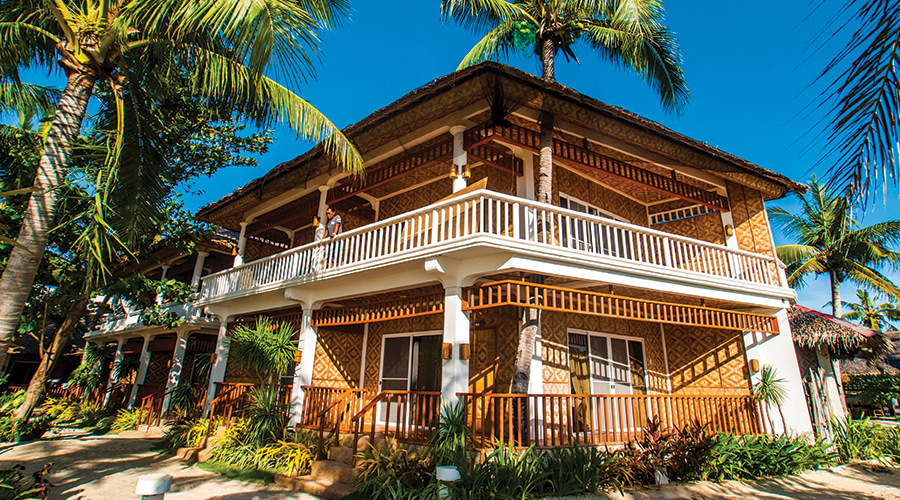 This Exotic Resort is Malapsacua's original dive centre resort and has not lost any of its charm as it has grown to provide an increasingly high standard and service. There are only 29 rooms on site, and we recommend the deluxe rooms as standard, with either 1 double or 2 twin beds. Super deluxe rooms are larger with two queen beds.
The beachfront rooms are close to the action, whilst the deluxe and super delxue rooms are set back from the main hotel buildings. All room grades have AC, mini bar, en-suite and TV. Hot water in Malapascua can be provided by solar energy. Deluxe rooms grades upwards have a better supply to round the clock hot water.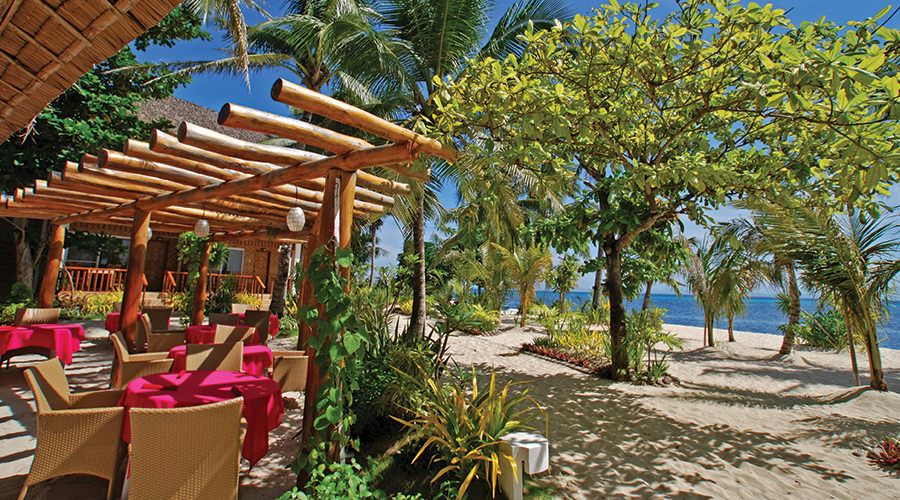 Exotic resort has a beautiful beach front location. Step out of the dive centre and onto the white beach. The restaurant serves an moth watering range of international and Asian dishes, so there is something for all tastes. The on-site bakery means you really should leave room for desert. Breakfast is served buffet style. Book full board and you will receive a daily in resort credit allowance for lunch and dinner. Divers – make sure to stop for a massage to ease away those aches and pains before heading up to enjoy the sunset from the OneUp bar! So, splash in and see for yourself why divers come back year after year to the Exotic Resort.
Tucked away on the northern most point of Cebu itself, the endless white beaches and lush tropical groves of Malapascua are only a short 40-minute boat ride from Maya jetty, which itself is about 3 1/2 hours from the international airport.
• Guests 60 (29 rooms)
• Rooms Chose your perfect room grade
• Restaurants On site serving a wide range of tasty international, Asian and European dishes
• Food and Drinks Happy hour in the OneUp bar with sea views
• FacilitiesThe pioneer dive resort on Malapascua
• Diving Daily scheduled thresher shark dives plus several reef diving options plus a night dive!
• Diving Extras Kit hire and PADI dive centre
• Internet Access Free Wi-Fi at the restaurant
Diving in Malapascua
Malapascua is a tiny island in the Philippines with a big reputation that is all too well deserved. A diving holiday in Malapascua mixes up big fish sightings with macro and muck diving against a backdrop of flourishing soft corals. The star of the show are the Thresher Sharks at Monad Shoal. Normally shy and elusive, the Exotic Resort has a proven track record for getting you closer and witnessing behaviours seldom seen before! When you are not looking for the big fish, spend an hour or two on one of the many gorgeous reef dives. The macro is impressive and particularly good for nudibranchs in all colours, schooling cat fish, pygmy sea horses and even frogfish
Exotic Resort are proud to have been the first centre on the island to regularly dive with Malapascua's famous Thresher Sharks. They have even created a specialty focusing purely on these beautiful sharks. The dive centre has been recognised for their conservation efforts by the government and given a prestigious award to mark their hard work. Exotic Resort are the island's only 5* PADI IDC centre as well as well as being a fully technical resort with nitrox on tap too. So, no matter what level of diver training you need, the hard-working team will take you through to certification with a smile along the way.
Most divers will take their first breaths underwater at Malapascua on one of the nearby local reefs – North Point, Dakit Dakit, Buntong Bato. There is plenty of marine life, with a gently sloping seabed. Soft corals grow in abundance. Start your day with Monad Schoal and the lure of the Thresher Sharks calling. There are 6 boats on the ever-expanding fleet. These are a range of traditional and stable bancas and speedboats. Dive sites are on average under 50 minutes from the resort but there are special trips arranged to the more remote Calangaman Island, Gato Island and Chocolate island.
Stop 2: 5 nights Kasai Village Dive Resort, Cebu
Kasai Village Dive resort and spa is nestled in one of Cebu's diving meccas – Moalboal. Pescador is only a short ride away. Dive over 30 sites with options for new divers through to technical divers. House reef and boat diving await and there are a range of action-packed day trips for those dry days! Under the water or above it, this is an exclusive getaway perfect for those looking to escape the daily grind and demanding crowds.
You will feel the friendly atmosphere at Kasai Village from the moment you step inside. The resort has only 24 rooms so you will never feel crowded. There are two room grades at the Kasai Village – Pool side and sea view. The pool side rooms are surrounded by the pool itself and lush gardens. The Sea View rooms have their own private terrace with inspiring views of the Tanon Strait. All of the rooms have a, en-suite bathrooms and mini bar.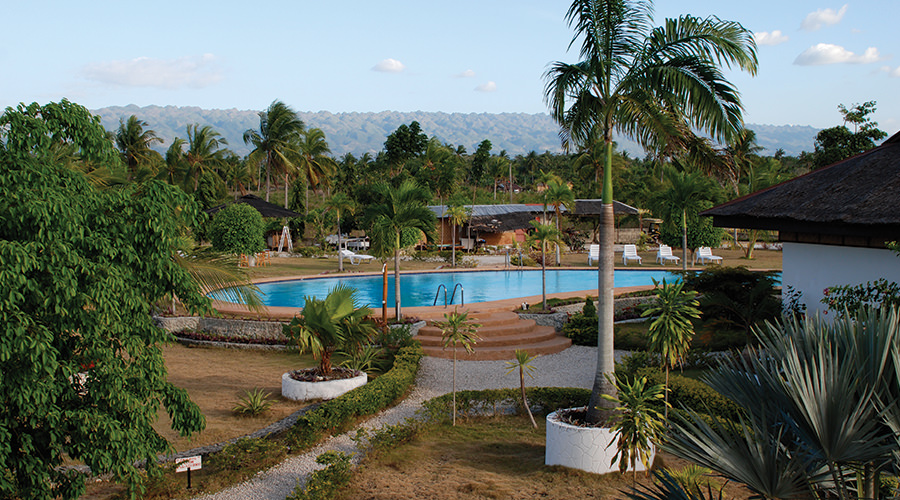 Kasai Village sits right on the water's edge. Jump into the pool to cool off or stroll down the custom built jetty and you are on the house reef. Or why not borrow one of the resort kayaks to really explore. There's beach volleyball and day trips into the lush jungle or historic trips to Cebu City can be organised locally. The onsite spa will banish your stresses and strains with a wide range of spa treatments on offer.
At Kasai Village there really is something for everyone, above and below the water!
Tropical escapism for just 30 guests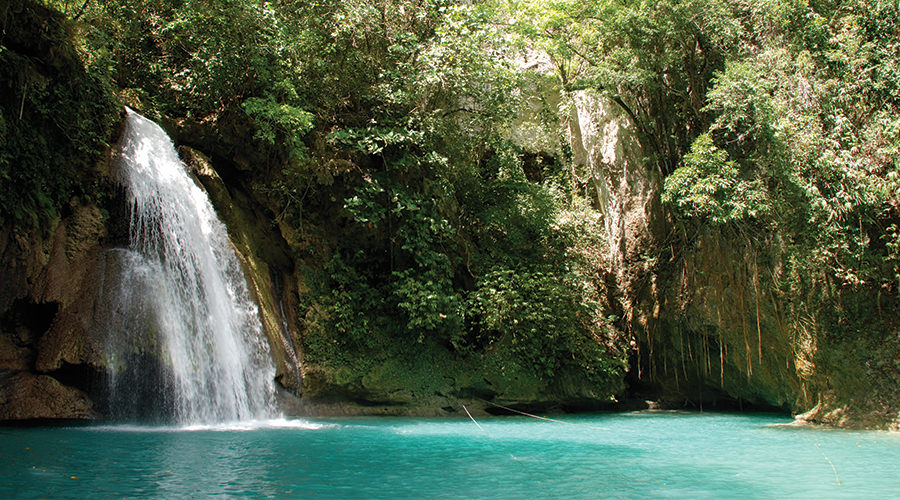 Rooms: 13 luxurious rooms each with their own terraces and magnificent views
Restaurants: Enjoy at bite at the Kasai Restaurant and try a Kasai Colada at the Rock Bar
Food and Drinks: A range of flavours from Asian to Western, all made with fresh, local produce
Facilities: Kayaks, volleyball, spa and wellness centre, motorbikes for rent
Diving in Cebu
Diving in Cebu has to be one of hottest dive holidays in the Philippines. With luscious healthy reefs and little current, you descend down in clear water to explore the likes of the legendary Moalboal marine park. Lose yourself in the moment as you watch swirling sardines, barracuda, turtles at Pescador. And if you are really lucky, a passing whaleshark will cruise on by on the house reef. Here you can really escape from the crowds to an inviting blue sea. An exceptional location for photography, divers can spend hours underwater discovering new behaviours and those hard to find critters with great visibility. Excellent wall diving adds to the excitement. Let the warm blue waters of the Philippines entice you in to a diving holiday you will never forget.
Optional Stop 3: 5 nights Sangat Dive Resort, Philippines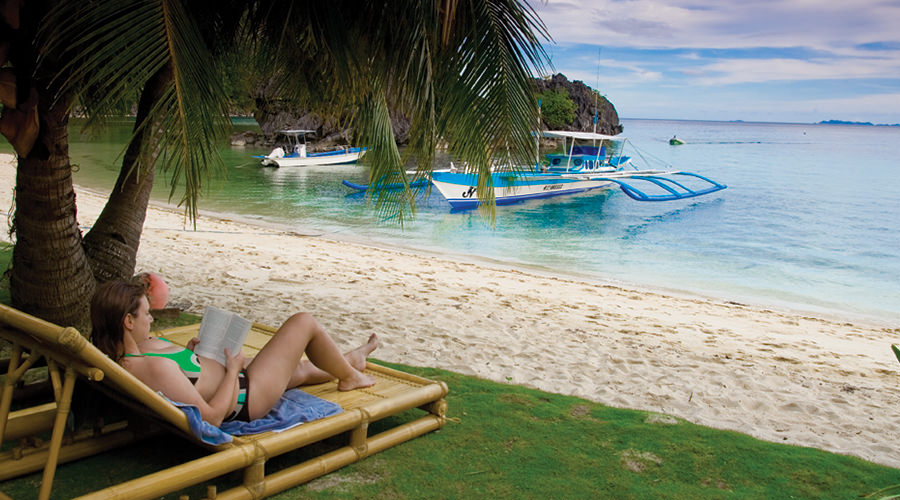 If you want secluded diving in the Philippines that brings mind blowing wreck diving and sumptuous reef diving to your doorstep then this is the place! The tiny island of Sangat lies on the north of Coron Bay in Palawan and is your gateway to a Philippines diving adventure like no other. Forget the Japanese fleet of Truk Lagoon! The aquamarine waters around Sangat are the resting place for no less than 11 World War 2 warships, sub chasers and supports vessels from the Japanese Imperial fleet. Like their sister ships, the wrecks are covered from bow to stern in corals and home to the myriad of fish that characterise Philippines diving. This is the creme de la creme of scuba diving holidays without a doubt!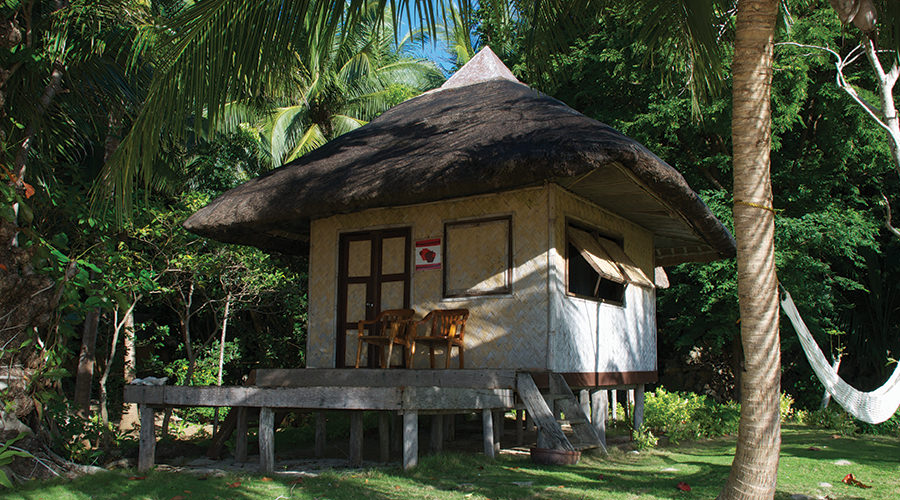 The Sangat resort has been welcoming divers and non-divers alike for over 15 years. In this time they have lovingly built more than just a hotel. Pick from the charming hillside cottages or beach chalets. Splurge on the Lambingan Villa for the utmost intimacy and private slice of paradise. The Bungalow suites are spacious and built with families or groups in mind. There are only 15 rooms across the entire resort and all are offered on a full board basis. The restaurant prides itself on the wide range of tasty fresh meals prepared by their chef each day including freshly caught seafood. At the end of the day, relax at the fully licensed Island Bar with fellow guests exchanging stories about yet another perfect day.
The Wrecks
Between the Battle of the Philippine Sea (19-20 June 1944) and the Battle of Leyte Gulf (23-26 Oct 1944) the Japanese fleet was moved for safety from Manila Bay to Coron Bay which was thought to be a safer anchorage. However the US Navy were aware of the fleet's movements and on the 24th of September began what was at the time the longest air raid sortie ever mounted. The Akitsushima and Okikawa Maru were the first ships to be attacked and despite their armaments, were no match for the air forces. The Olympia Maru was the next target. In rapid succession the Japanese vessels were sunk, with the Kyokuzan Maru being the last to sink. Today these wrecks lie smothered in corals at depths that range from recreational to technical, a permanent testament to the men that lost their lives that fateful day. Whilst some have suffered significant damage in the sinking, the wealth of artefacts that can still be seen, especially inside, is quite incredible.
Divers will instantly be drawn to the many varied wreck and reef dives. The wreck diving is incredible. The famous Okikawa Maru and Irako Maru wrecks are a must see but do not over-look the equally impressive other wrecks, most within a short boat ride. Dive on lavish coral gardens of Dynamite Point reef or speeding drift at Calumbuyan reef. The bio diversity is never ending and wreck or reef, diver or snorkeller, you can find grouper, tuna, lion fish and snapper. Sea snakes wiggle along the reef top. Follow the guide to see the miniscule macro life, brightly coloured nudibranchs, rare crustaceans and sea horses. Take a trip to the Barracuda lake to warm yourself on a dive in geothermal waters. Or spend a rest day touring the bay from the kayaks. At Sangat you can do as much… or as little… as you like.
Diving in Sangat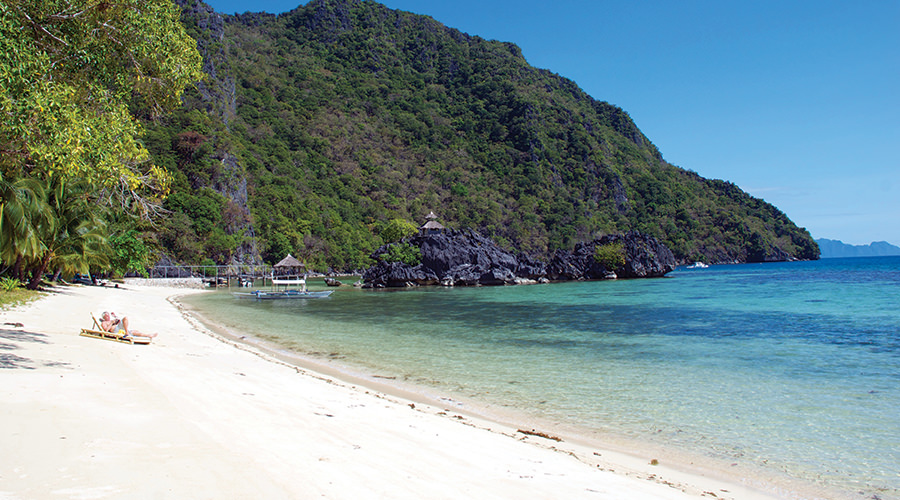 Few scuba divers realise that Truk is not the only place you can dive with Japanese war wrecks. Sangat, located in the Philippines, has plenty of coral smothered wrecks to dive, far from the crowds of other divers. This is a wreck diving holiday like no other. See the anti-aircraft guns, cranes, warships and sub chasers all in one historical journey into the region's past. There are reef dives as well that will suit all experience levels with an abundance of bright corals and vibrant marine life. There are deep water penetrations to be made as well as caves to explore. This is a Philippines diving holiday at its most secluded with the breath-taking backdrop of the Calamian Islands to complete a magical recipe.
Sangat dive resort have been diving these waters for over 15 years and know every ripple and drop off, every engine room and hold penetration. The centre was completely refitted in 2008 to bring it up to the standards of today's discerning diver.
Guests: Only 50 people can enjoy this tropical hideaway
Rooms: 24 traditional, tropical chalets offering stunning views of Coron Bay
Restaurants: Enjoy the Sangat Island restaurants buffet and relax at the Island Bar and Rock Bars
Food and Drinks: A mix of local and international dishes made with fresh local ingredients and plenty of the famous San Miguel beer
Facilities: Watersports, island hopping, nature excursions, rock climbing, boat charters
Diving: Sangat Island has a comprehensive on-site dive facility fitted-out with all the equipment you'll need for any underwater adventure
Flight Details
| | | | |
| --- | --- | --- | --- |
| Outbound Flight | | Depart London Heathrow – time tbc | Arrival Cebu – time tbc* |
| Return Flight | | Depart Cebu – time tbc | Arrive London Heathrow – time tbc |
* denotes arrive next day.
Price
4 Nights Malapascua (Full Board, transfers, 6 Dives and International flights)
5 Nights in Kasai (Full Board, Transfers, 8 Dives).
Total Package cost* – £2,295 for Divers or £1,875 for non-divers
Optional 5 nights Sangat – includes domestic flight to Sangat, (Full board, Transfers, 8 dives) and adapt the flight home. Add on Package for divers is £1,060 per person, and £725 for non-divers.
This package has been put together and is supplied by our Tour Operator partner 'ScubaTravel'. *Prices are based on the flight price at time of going to website (1/5/19). So, the sooner we receive your deposit the better chance we have of securing this price. As the flight price goes up over time then we will adapt this package price.
Payment schedule:
£600 deposit required to secure your place.
Balance payable 13 weeks prior to departure.
Dive Equipment
If you need to hire equipment then it is £145 from us for the entire duration including BCD, regs, weight belt, mask, fins and boots. Does not include torch, SMB or dive computer. Diving courses are available but extra charges will apply.
All prices are subject to availability and may change. The earlier you book the less chance there is of any price increases!
To book
Please contact us directly…
0800 699 0243 / info@oysterdiving.com
Oyster Diving offers and sells flight packages as the agent of ATOL holders. When you pay us for a flight package you will be supplied with an ATOL certificate. Please ask for it and check to ensure that everything you booked (flights, hotels and other services) is listed on it. For further information or for more information about financial protection and the ATOL Certificate go to: www.atol.org.uk/ATOLcertificate.
Philippines Travel Information
Flight time: Approximate flight duration time from UK to Manila is 15 hours.
Airport Terminal Fee: Passengers travelling within the Philippines are required to pay airport terminal fees. These can be from 20PHP – 200PHP for domestic flights and 750PHP for outbound international flights. Please ensure that you retain enough cash to pay these fees upon departure.
Time Zone: The local time is 8 hours ahead of UTC (GMT).
Passport and Visas: All travellers must be in possession of a passport that is valid for at least for six months from the date of departure. Most foreign nationals do not need to obtain a visa before entering the Philippines for stays up to 21 days and it is possible to extend your stay beyond this by visiting an Immigration Office while in the country and obtaining a visa extension. Visa and Passport regulations are in a constant state of flux and we always advise guests to check for updates and changes at your local Filipino Embassy. You will be required to show a confirmed onward ticket out of the Philippines (within the maximum number of days you are allowed to stay in the country) upon arrival.
Language and Religion: There are over 170 different languages and dialects spoken in the Philippines, however, Tagalog (aka Filipino) is the most widely spoken language in the archipelago. Nearly all Filipinos who work in the tourism industry speak good English, and English road and street signs are found nationwide. Almost 90% of the population is Christian. The largest religious minority is Muslim, and they make up about 5% of the population.
Currency: The local currency is the Philippine Peso (Php). The vast majority of all hotels, resorts, shops and restaurants will accept a wide range of credit and debit cards. Please note that in some cases away from the major cities you may be asked to pay a service charge for credit card handling. This can range from 3.5 – 6.0%. ATM's are easily found throughout the Philippines in airports and in any major centre of population (Manila, Cebu, Dumaguete, Puerto Princesa, Boracay etc). Normal banking hours are 09.00am – 15.00pm. Traveller's cheques are not very popular as they are not very easy to exchange so most guests prefer to carry cash and / or use credit cards. There are also money changers at airports and in the cities.
Electricity: On board the yacht we have both 220V and 110V with 2 round pin sockets. (European style) Please make sure you bring a universal adapter with you if necessary. Electrical current on land is 220 Volts with the US-style flat 2-pin sockets.
Telephone: The Philippines has excellent mobile phone coverage and telephone system, however, in less populated areas; you may find that there is no mobile coverage. The country code is +63 or 0063. To call the UK from the Philippines, dial +44 or 0044 and remove the first 0 from the area code of the number you are calling.
Climate and Weather: The Philippines is a tropical country and the weather is fairly even all year round. The year is roughly divided into two seasons; 'rainy' and 'dry'. The rainy season generally begins in early June and can extend through to November. In general the months with greatest rainfall tend to be July and August. The rainy season often brings days of uninterrupted sunshine punctuated by occasional thunderstorms and rain. The dry season runs from November through to May but there is always the chance of light rainfall during this period. The warmest months are usually March through to May and the highest humidity is in June, July and August. Year round coastal and inland temperatures range from 27°C to 28°C, up to 33°C to 34°C, with an average of approximately 31°C. Evenings are marginally cooler.