Our team review the new Aqua Lung AquaFlex 5mm wetsuit
The NEW Aqua Lung AquaFlex Wetsuit reviewed
We were pleased to see our Aqua Lung Rep come to the store last week to show off the new range of wetsuits.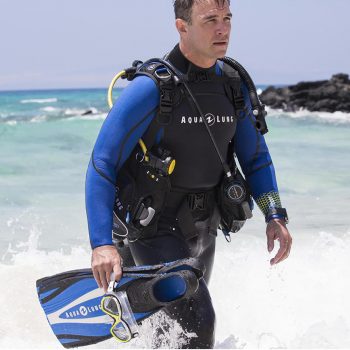 Traditionally Aqua Lung have had very comfortable wetsuits that tend to be a good fit for most divers, particularly the female shape. However despite there being nothing wrong with their wetsuits they've never really had a top-of-the-range to compete with the likes of Bare, Forth Element and Waterproof…until now!
The new AquaFlex 5mm full length is a great addition to the Aqua Lung range of wetsuits. It comes in a mens and womens cut with a good range of sizes. The key difference is that the neoprene used is super-stretchy, in fact they claim it is 3 x as stretch as standard neoprene used on most wetsuits. This therefore helps to keep the wetsuit snug against the body minimising the flush through of water and ultimately giving better warmth retention and comfort.
As it is soooo stretchy it is really easy to put on and take off, even over Paul's dinner baby bump! The well designed cuffs help minimise water movement and are designed to reduce the chances of any fraying. They've event thought of putting a special pad on the left sleeve to stop your dive computer sliding around.
Much of traditional heat loss comes from the kidneys so they've added an extra layer of insulation here and pre-bent the arms and legs for extra comfort and reduce strain.
Even though it possibly not as funky looking as a Fourth Element, for the price it is pretty good value and definitely worth considering if you're in the market for a new 5mm wetsuit. I would say that what makes your final decision is down to your personal taste.
For more information or to purchase your AquaFlex wetsuit visit our online store.