Depending on the season, Truk Master moves between Truk Lagoon and Bikini Atoll. This is one of the few liveaboards to dive these routes.
Built of steel, M/Y Truk Master is the newest liveaboard yacht to ply the waters of this lagoon, welcoming aboard 16 guests for 7 or 10 night Truk Lagoon dive safaris, whilst on the Bikini itineraries availability is limited as M/Y Truk Master carries 12 divers only. The 4 decks provide ample space for relaxation, dive equipment, and camera preparation, whilst the experienced crew ensures you receive only the highest quality service on your diving vacation.
Overview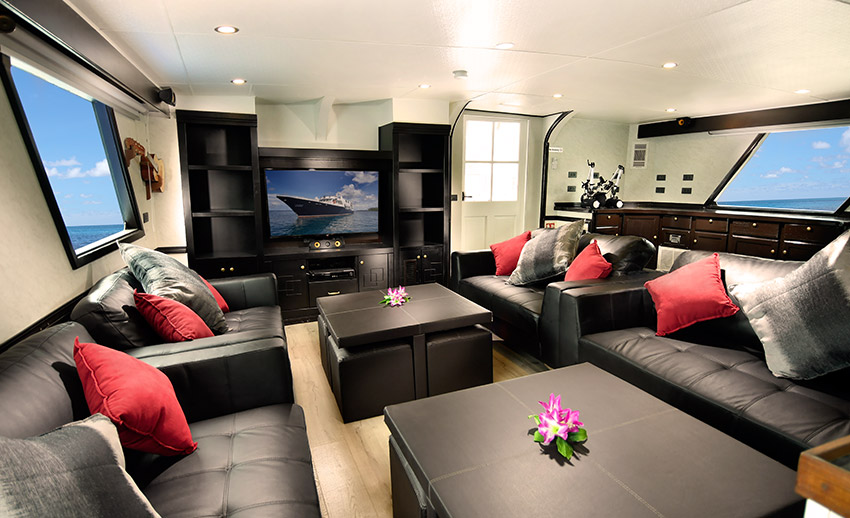 Choose between 2 world class diving locations, depending on the season.
Truk is best known for its world-class wreck diving and with over 60 wrecks, from supply vessels (Maru) to planes and a submarine, tightly packed into a coral reef lagoon. It is easy to appreciate why divers travel to this area time and time again. During WWII, the Japanese fleet used Truk as one of their main staging points for attacks on the allied forces but in 1944 the American led "Operation Hailstone" surprised the fleet resulting in the plethora of dive sites which we can see there today.
Many historical artifacts such as medicine bottles and newspapers along with articles of war, which include aircraft wings for the Zero Fighter planes, tanks, guns, gas masks and ammunition, can still be found at many of the sites., whilst the wrecks themselves are encrusted with corals, you can still clearly see telegraphs, steering columns and mounted guns. There is also the opportunity to explore engine rooms and holds. Surrounded by a coral reef, there are many
excellent coral pinnacles and deep channels with schooling pelagics too!
Bikini Atoll is part of the Republic of the Marshall Islands, which covers nearly 1 million square miles of idyllic emerald-green coral atolls, surrounded by the crystal-blue waters of the Pacific. A one of a kind diving paradise, as it features not only beautiful reefs, corals and wonderful marine life. Above all, it is the final resting place for some of the most significant warships in history. Bikini Lagoon is the first UNESCO World Heritage site for the Marshall archipelago and is undisputedly ranked first on any serious wreck divers' bucket-list. This is well justified; nowhere else on earth will you be able to dive such a unique collection of historic battleships, cruisers, as well as the world famous USS Saratoga aircraft carrier with its 270m (888ft) flight deck.