Equipping your SuperYacht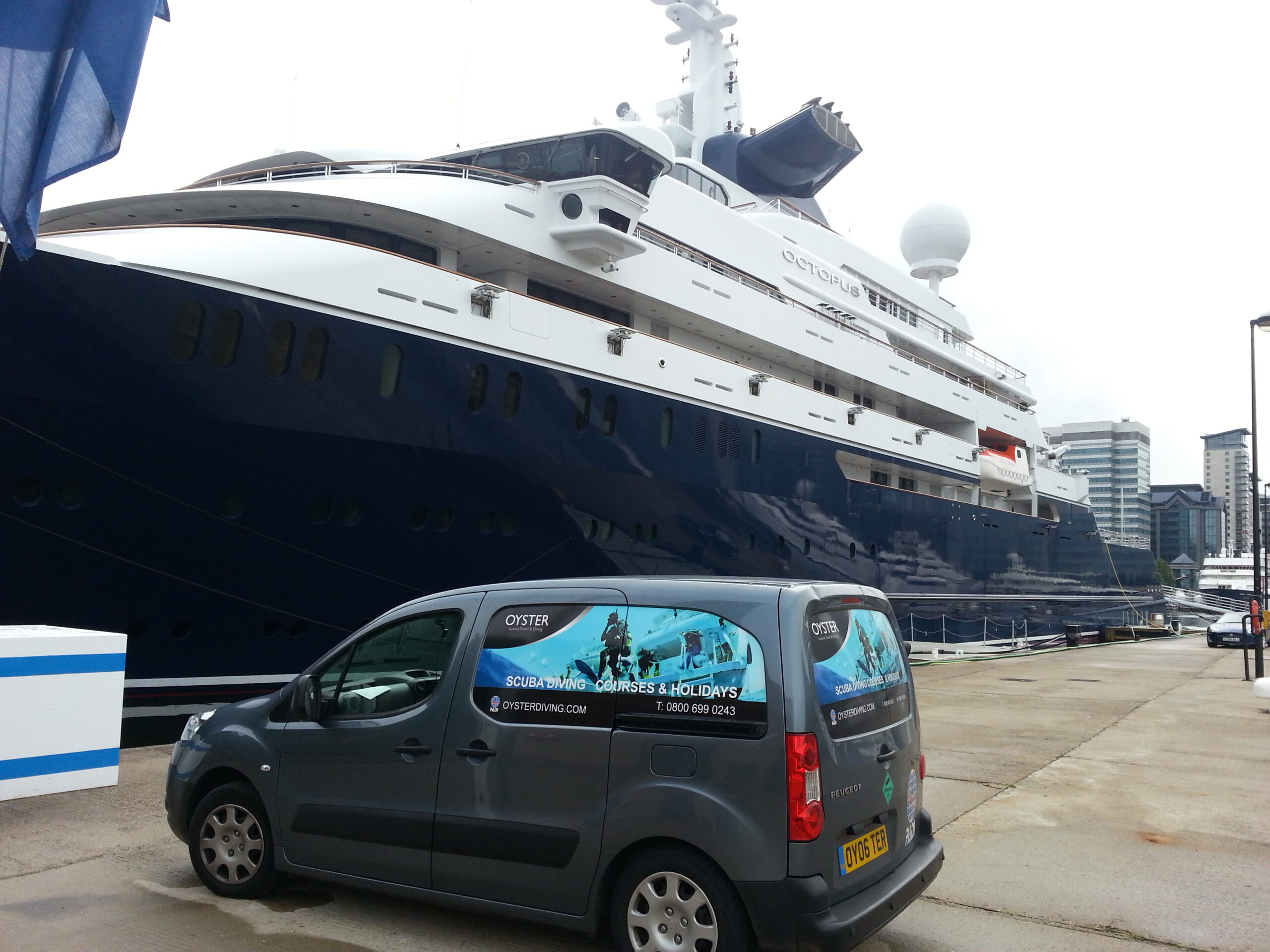 Scuba diving provides a truly unique and unforgettable experience for you and your family, friends and guests. It is the only leisure activity that combines tranquillity, adrenalin, exercise and relaxation. You experience what it feels like to be weightless, witness intoxicating colours and delve into the underwater world; one containing a breath-taking variety of species such as dolphins, turtles and fish as well as historical wrecks.
Scuba diving is a great activity for any one over the age of 10. Regardless of age, sex, sporting ability, social skills and intelligence, anyone can be a great diver and it's a great activity for all the family to enjoy at the same time.
To get your yacht equipped to offer scuba diving safely is relatively simple but there are some basic health and safety necessities that you should consider. So we have teamed up with Oyster Diving, the UK's premier PADI scuba diving and travel centre to offer you this advise:
Proper Training
Scuba diving is regarded as a very safe sport, but without the proper training by a professional instructor, you could leave your self vulnerable. Plus, it's likely that you won't be covered by your insurance if an accident does occur.
Many yachts have a full-time instructor on board to train guests and keep an eye on them before they jump in and while underwater. If you don't have an instructor then just tie up with a dive centre where the PADI open water course can be completed in as little as 4 days. To save on valuable holiday time many students opt to do the Open Water referral, where they can complete the theory and pool training before they depart which just leaves the four completion dives once you arrive on the yacht.
Getting Geared Up
Each scuba diver should have a good fitting wetsuit, BCD (buoyancy control device), fins, mask & snorkel, fins, wetsuit and regulators. Many yachts carry a range of sizes depending on how many guests they have and their ages. Depending on the time of year you are diving you might like a range of wetsuit thicknesses or even drysuits to ensure that all the divers keep warm.
There are many great scuba brands out there, but Aqua Lung are the world's largest diving equipment manufacturer and have a great range, good quality, competitively priced and very stylish. It also means your equipment is easy to maintain anywhere around the world as parts are more likely to be readily available wherever you moor up.
Remember your scuba kit is a life-support system so keep your equipment serviced in line with the manufacturers instructions which for most brands is every 12 months or 100 dives whichever comes sooner. The easiest way to do this is to let Oyster Diving send you a plastic crate, you then simply place the dive kit inside and send it back to them for servicing. They will then return it to you within a few weeks.
Scuba cylinders can either be hired from a local dive centre but it is often easier and less restrictive to have your own. Cylinders will need to be hydrostatically tested, the time frame for doing this is dictated to by local law, but Oyster Diving recommends getting them tested every 12 months. This will then comply with all of the laws around the world and ensures your tanks are in good working order.
To give you an idea of how much pressure is in a full scuba cylinder, a car tyre is normally filled to around 2.2 bar, a bottle of champagne is around 5 to 6 bar. A scuba cylinder has 200-300 bar! So, remember to have a room where you can safely stow them so they don't fly around your yacht.
To fill your cylinders you will need a compressor that can fill your tanks with filtered breathing air. There are many sizes and shapes of compressors available depending on how fast you want to be able to fill your tanks, how much room you have to house it and if you want to the ability to offer mixed gases for technical divers.
The most important thing to remember is that your compressor needs to be installed by a professional technician. Oyster Diving work with the same team that look after and maintain the compressor for the Royal Navy amongst many other high-profile customers and they are able to meet any boat around the world. The air from the compressor should be tested every three months to ensure that there are no impurities such as carbon monoxide and oil residue. Oyster Diving can mail out a small test cylinder that can be sent back to them for testing. You will then receive a certificate showing that your air is fit for diving.
Time to Get Wrecked – a quick guide to the best dive sites in and around the Med
Once you have your equipment and are trained to use it, then it's time to jump into the water. These are Oyster's top dive sites for the Mediterranean:
Malta together with it's sister islands of Gozo and Comino have many fascinating wrecks, some from the second world war and others sunk on purpose to act as artificial reefs. They can be found at various depths so suitable for all divers. However our favourite is the Um el Faroud, a 110m Libiyan oil tanker that suffered a huge explosion, it couldn't affordably be repaired so in 1998 was scuttled and lies at a maximum depth of 34m.
The Azores are for those crave adrenalin with their diving. Various species of sharks including blues, makos and even a hammerheads make this a true gem. Other large pelagics such as humpback whales, sunfish and turtles can all be found here.


The Dalmatian coast off Croatia is rapidly becoming a hotspot for divers. With crystal clear water it has a vast array of fish species, nudibranchs and sea horses. Clinging to the underwater limestone cliffs are sponges and caves smothered in colourful soft corals.
Cyprus. The 178m wreck of the Zenobia sank in 1980, is one of the world's most famous diveable wrecks. This large ship is suitable for all experience levels and you can impress your friends by having a selfie sitting in the cab of one of its cars or trucks that are still in its hold. For more advanced divers there is the engine room to explore!
Illes Mede islands located towards the French boarder was the first marine reserve in Europe. Home to large groupers, schools of barracudas and eagle rays. If you go at the right time of year (late spring) you may even find a large sunfish or two.

Sardinia is a real treat. Great visibility and huge underwater cliffs, underwater caves and tunnels can be found along the coast. Home to nudibranchs, red corals, lobsters and octopus, in the protected area of the Marine Park of Lavezzi you can see a school of around 50 huge groupers at the aptly named 'Grouper Reef'.

Kas – the diving in Turkey is still in its infancy. It has rich marine life and clear blue, warm waters. A variety of dive sites include drop offs, caves and wrecks. There is a good chance of spotting moray eels, hawksbill turtles, octopus and amberjacks. For tech divers there is an Italian bomber plane at 6-70m.

Island of Chios, Greece has a labyrinth of underwater caves, large and colourful reef formations, vertical walls and splendid ship wrecks. This area is particularly good for beginners!

Portofino,Italy. You'll be pleasantly surprised how diverse the marine life is around this area. The national marine park offers big rocky structures, cliff walls and reefs that are home to big groupers.

Cote d'Azur, France offers diving all year round. There are 85,000 square kilometres of marine reserves filled with wrecks from both world wars including a sunken submarine that are now encrusted with life.
To spice up your diving then why not throw in a few toys. These are our favourites
Toy Department
Paralenz underwater video camera – this is similar to a Gopro but is less prone to flooding, auto-corrects the white balance and even tells you the depth and water temperature on playback
Underwater scooters are great fun and mean you can cover a much larger area as you fly through the water like a human torpedo
Ocean Reef full face mask – the full face mask offers a great field of vision, it never fogs up, automatically clears itself of water and you fit an underwater communication system so you can chat to your family and friends, or even turn yourself in to an underwater TV presenter
The Aqua Lung i770R dive computer. This easy to read computer tells you how long you can spend at your current depth, how long your air is going to last and logs your complete dive on the Diverlog app.
Heated vests – if you are planning on diving in the middle of winter then you can wear a vest that runs on battery power that will keep you toasty warm
Spare air cylinder – a small cylinder that clips on to your scuba kit containing emergency air
Nautilus lifeline marine rescue – in the unlikely event you get lost at sea, this clever little device will send a broadcast to all AIS equipped ships up to 34 miles away as well as a DSC message to the marine radio on your own vessel. Before you know it you'll be back on the boat sipping a cold drink.
For more information on any of the above then please get in touch with Oyster Diving, the dive experts based in the UK. Info@oysterdiving.com  www.oysterdiving.com +44 7920 516006 or 0800 699 0243.