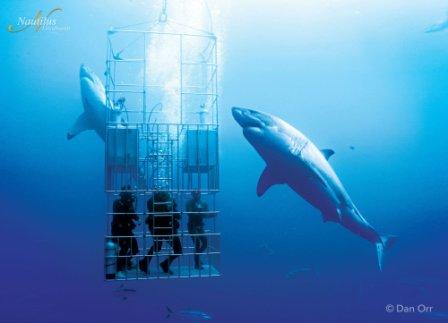 The boat departs 23rd October 2022
Guadelupe Island is the best destination in the world for diving with Great White Sharks. Guadalupe is renowned for some of the biggest great white shark encounters in the world, a large abundance, and clear blue water. It is not uncommon to have 4-5 Great Whites circling around the cage at any one time. 261 individual white sharks have been identified in the bay that we will be diving in. So please join us for this adrenaline-fueled, heart-pumping once-in-a-lifetime holiday to dive with the king of apex predators.
Join us for this fun, exciting and adrenaline-fueled
holiday of a lifetime!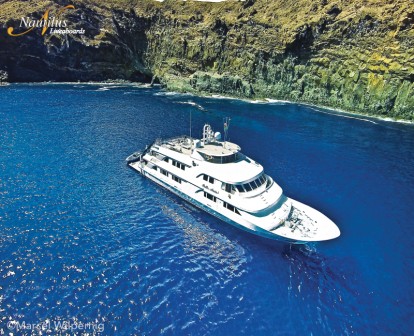 Each day we will be doing 3-4 submersible dives and with only 5 boats having permits to dive here we believe we have picked the best boat and best value. Non-divers are welcome and can also do shallow water shark cage dives.
Just the scenery alone at Guadalupe is quite stunning and feels almost like Jurassic park, as if you are at the edge of the earth in the deepest, darkest and most remote part of the pacific.
It doesn't matter if you are a super experienced diver who has seen almost everything, a first-time shark diver or a non-diver braving our shark cages, all are welcome! The boat caters to a wide variety of dive skill levels and interests – ultimately, it is always about the diving experience.
We will arrive on site the evening before diving starts, to ensure we have a nice calm dinner, a peaceful quiet sleep, and as early a start as you wish on your first dive day. Sleeping in and having a late breakfast is  encouraged!! It's your holiday after all. The boat crew put in as many cages in the water as needed to provide "freestyle shark diving", which means that certified divers always get 3 or more submersible cage dives and everyone gets virtually unlimited diving in the surface cages. There is none of this regimented "hour in/hour out" tightly-scheduled diving that other boats offer. The cages open early and stay open late. We will also get a full dive day on our last day of the liveaboard.
After this we will transfer by bus to nearby San Diego where you can relax at the hotel or have a go at some of the spectacular local dive sites that include kelp fields, mako sharks, wrecks and blue sharks.
PRICES
Package includes:
Return economy flights from London
6 nights aboard Belle Amie
4 nights hotel accommodation in San Diego
All meals and soft drinks on the boat
6 days diving on Belle Amie
4 days accommodation in a 3 star minimum hotel in San Diego on a room only basis
Price based on the above package based on multiple occupancy:
£3,835 in a twin stateroom
£4,185 in a Superior Suite
£5,460 in the Premier Suite (only 1 available)
Please note that prices are based on current prices and subject to change outside of our control. This can include changes in exchange rates and flight prices increases.
Payment schedule:
Initial Payment  £200.00
Apr 2021 £500.00
Oct 2021 £650
Jan 2022 £500
Apr 2022 £500
Final Payment 01 Aug 2022