My first winter being a diver in the UK
My first winter at Oyster Diving
You've probably (hopefully?) read my first few blog articles about first few weeks here at Oyster Diving.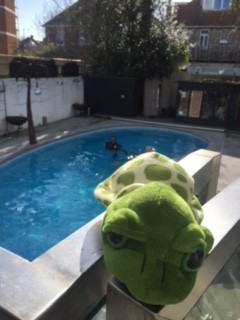 Since my last post a lot has happened. I've attended some school presentations where we will hopefully be teaching their students to dive, and fingers crossed even take them to the Maldives next year.
At the beginning of February, I was with Nick and Mark at the outdoor pool in Brighton. With an outside temperature of 3 degrees I thought I was going to freeze when I jumped in the water. However, both myself and our students were pleasantly surprised at how warm the pool was.
Despite the long winter months, we have been busy. I guess a lot of people have been jumping on planes and going on holiday to warmer climates. I've done a few pool sessions at the pool in Soho in central London, Surrey & Berkshire, Oxford and Kent.
The weekend that really stands out was on the 3-4th March when we went to Wraysbury. The country was covered in snow and ice, and the air temperature peeked at around 3 degrees. We had ten brave customers there completing their PADI open water and dry suit courses. The water was a chilly 3 degrees which quickly made my flippers go numb. All the students did really well and despite the cold all, but a couple completed their diving courses. On the plus side Wraysbury was crystal clear with viz of around 10m. It was a great weekend, and everyone had huge smiles on their faces despite the cold.
Last Tuesday I went to the National Geographical Society for a presentation by two of the worlds greatest scuba divers. The night was in aid of the Scuba Trust. The first speak 'Ahmed Gabr' is the world record holder for the deepest ever scuba dive – over 320m! It was really interesting to hear about 4 years training, the effects of the gases we was breathing at such great depths and the 14 hours of deco he had to do on the way up. The second speak Didier Noirot is famous for producing some of the best underwater video and camera work ever taken. From his beginnings as an assistant with Jacques Cousteau travelling around the world and discovering new diving destinations like Sipidan.
The next few months are quite exciting, tomorrow I head to Silfra in Iceland with Nick and nine of our dive club members. Not long after I have my first trip to the Red Sea on a dive liveaboard and then we are teaching school kids to dive. I may have just found the best job in the world and I look forward to sharing my adventures in my next blog post.