Diving Holidays We've Enjoyed in 2018
2018 has been another fantastic year for the whole team at Oyster Diving! We have been on some incredible dive holidays this year and if you hadn't heard about them in our various review articles, we thought we'd some up some of the best here!
Silfra, Iceland
March 2018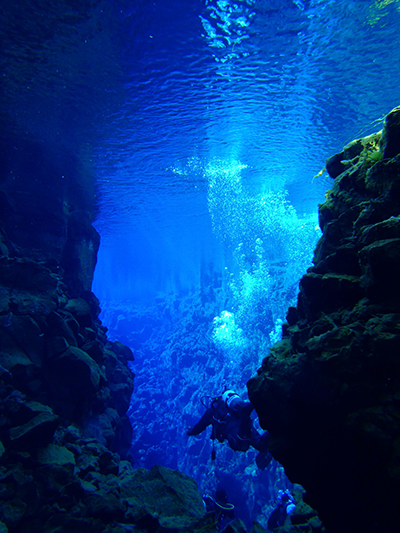 The Silfra Rift in Iceland offers up some of the most amazing dive experiences our planet has to offer. The waters of Lake Baikal are a diving paradise and full of stunning landscapes, jaw-dropping sculptures, and sights you simply don't want to miss. The reason we schedule our dive holidays to Silfra, Iceland in March is because diving is only possible in February and March when the water is at both its clearest and its warmest.
On this trip to the Silfra Ice Rift, we saw the incredible ice formations the destination offers up, the dazzling light displays, and even a few face-to-face encounters with seals! It was a fantastic dive trip and one we will never forget. It is such a privilege to be able to dive such unique locations around the world and Silfra, Iceland is certain to never disappoint.
Malta Family Scuba Diving
30th July – 6th August
Here at Oyster Diving, we always enjoy taking dive trips to Malta because this stunning location has some of the greatest diving opportunities for divers of all abilities. We designed this dive holiday experience specifically for customers with young families of differing abilities.
During our dive trip to Malta, we all enjoyed exploring the amazing World War II wrecks as well as spotting some of the amazing marine life, including rays, groupers, octopus, and even dolphins. The majority of our diving took place in the morning, leaving the afternoons for families to soak up the sun or explore the island. What's more, most of the diving was done from the shore – perfect for those who suffered from sea sickness. Malta is one of our favourite diving holiday locations and we really enjoyed this trip!
Liveaboard Shark Diving in the Red Sea
31st August – 7th September 2018
The shark diving trips we offer throughout the year are some of our most popular and with so many great sights and dive locations as beautiful as those offered by the Red Sea, it's hard not to see why. This trip combined the best the Red Sea has to offer and the deep drop-offs, schooling hammerheads, spinner dolphins, and remove off-shore reefs certainly did not disappoint!
The trip was guided by our friend, Elke Bojanowski, Marine Biologist, known to many as the 'Red Sea Shark Lady'. One of the top experts on the Red Sea and shark behaviour, Elke pointed out various species and helped us discover the best the Red Sea had to offer.
During this trip we lived aboard the gorgeous Blue Melody, the boat which won the prestigious 2012 Diver award for 'Liveaboard of the year' and SportDiver 2013 'Best liveaboard'. As expected, this incredible boa
t did not disappoint and ensured we had everything we needed to enjoy our dive trip in comfort.
The Top Dive Locations We Enjoyed:
Daedalus Reef
Brother Islands
Elphinstone Reef
You can read more about our adventures in the Red Sea on this incredible dive trip in this holiday review article here. If you were unfortunate enough to miss out on this diving holiday, don't worry, we have plenty of great dive trips coming up very soon for you to enjoy, including another shark diving holiday in the Red Sea in August, you can view the itinerary here.
Newquay Shark and Wreck Diving Weekend
5-7th October 2018
Shark diving holidays are some of our most popular and we are excited to announce that we have another trip planned in October – right before the end of the year. October is the perfect time to see Blue Sharks as they spend the whole summer soaking up the sun in the Atlantic Ocean and then migrate to the clear seas and cool temperatures off the Cornish coast in search of the small fish that frequent these waters.
The Newquay shark and wreck diving weekend is a great opportunity to head out into the big blue and see these incredible creatures in their natural habitats. On Saturday we will enjoy heading out in the boat around 15-20 miles where we will be able to get close to these inquisitive sharks and maybe even spot some dolphins, too. On Sunday we will take part in a local wreck dive followed by a local reef or another wreck (depending on weather and tide conditions). You can discover a full itinerary of the trip here.
Makadi Bay, Red Sea Diving
6-13th November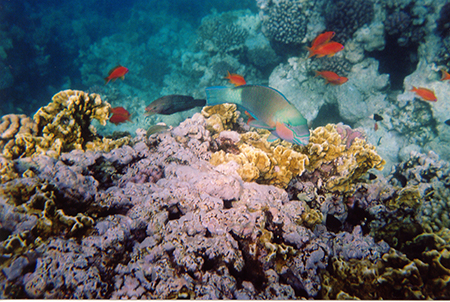 This diving holiday is going to be another incredible dive experience. What makes it even better is that we've catered it to be aimed at new divers. So, whether you've been diving before or not, this holiday would be ideal for you.
Situated on the western coast of the Red Sea, Makadi Bay is nestled between Safaga and Hurghada and boasts stretches of white sand beaches, crystal clear waters, and inshore reefs perfect for inexperienced or brand new divers to explore! Home to an exquisite array of colourful and varied marine life, this tranquil holiday destination is a paradise for snorkellers and divers alike.
The dive centre is based at the hotel next door, making everything really easy to get to, and it has all the facilities you would expect from a PADI 5* IDC Centre. Not only can you learn how to dive in Makadi Bay, but we are privileged to have Carlo Cogliati (a famous marine biologist and professional photographer) working at the dive centre and providing FREE workshops on underwater photography. This dive holiday should not be missed and is suitable for divers of all levels and abilities!
Mexico
2nd – 13th February 2019
Early next year we have a very special dive trip planned to Mexico! Offering up some of the most varied marine life found anywhere in the world, if you love diving, Mexico can't be missed! We have carefully timed this trip to ensure it coincides with the best weather, coinciding with bull shark and sailfish season. You can also expect to see plenty of turtles, tropical fish, and possibly even a ray or two!
Mexico is one of the top ten diving locations in the world and it's an experience you really want to be a part of! We are still accepting signups for the Mexico trip, so you're not too late! Find out more about our Mexico diving holiday here and give us a call today to book your place – you do not want to miss out!
Discover More Oyster Diving Holidays Today
If you would be interested in participating in a diving holiday this year or next, we have a range of incredible locations to choose from. You can find out more by visiting the Holidays section on our website. We look forward to taking you on an unforgettable diving holiday very soon!